Verified Magzter Subscription Coupons, Offers & Promo Codes For Jan 2021
| Magzter Subscription Offers | Discounts |
| --- | --- |
| Magzter Gold 3-Year Subscription | Flat 67% OFF - Starting At Rs 3999 |
| Magzter Gold 2-Year Subscription | Flat 63% OFF - Starting At Rs 2999 |
| Magzter Gold 1-Year Subscription | Flat 50% OFF - Starting At Rs 1999 |
| Magzter Bundle Offers | Up To 90% OFF |
| Magzter International Magazines | Up To 33% OFF |
| Online Magazine & Newspaper Subscriptions | Up To 75% OFF |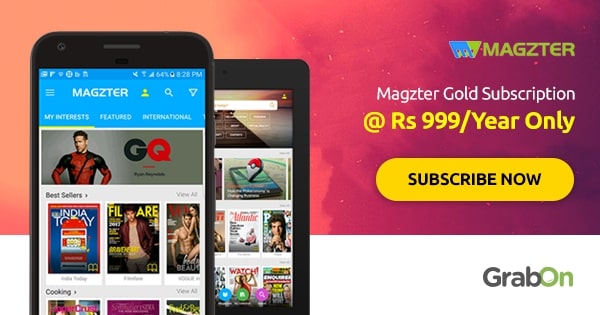 About Magzter - A Brief Review
The brand claims to be the world's largest and fastest-growing global digital magazine newsstand with headquarters in New York. Its services are also available on their mobile app launched in 2011 across various devices and platforms. The app is available for download on all Apple devices, Android mobile phones and tablets. It is also available in stores like Amazon App store. It is genuinely one of the only self-service newsstands that makes the digital publishing process easy.
Magzter also provides publishers with the opportunity to better reach their target audience by creating individual apps for them. These are the reasons so many publishing houses are making the jump from print to digital publishing. It brings you a ton of magazines that you can read, browse and purchase on your mobile devices, tablets, etc. with a single tap!
What Does Magzter Offer?
It offers you a wide variety of magazines and digital publications to purchase from, and when I say variation, I mean it! Over 9500 magazines are available from 5000+ publishers who have made the jump from print to digital publishing due to the ease of publishing. From fashion to lifestyle, automotive, art, and more, the brand offers magazines across various verticals and categories. It allows you to access your favourite magazines on mobile version anywhere at any time.
Why Choose Magzter?
If the sheer volume of magazines on display isn't enough for you to choose Magzter, then let me provide you with some more reasons as to why you should get it. With the help of proprietary technology, the website makes it possible for publishers to switch from print to digital publishing with just a click. Upon creating an account, you can preview magazines for free and purchase the latest magazines with one single click.
The most recent issues will be pushed directly to your mobile devices as soon as they are released. Not only this, but the brand also brings you 'all you can read' subscription with Magzter GOLD. This will give you unlimited access to thousands of magazines for a low cost per month. The icing on the cake is the fact that in case you delete your virtual purchase from your mobile device or have bought a new smartphone/ tablet, you can access your digital magazine as it stores all of your purchase over the cloud.
At Magzter, it is easy to find everything you need in one click. If you're a person who loves to read then you can also explore Reader's Digest and IndiaReads. These two are again amazing sites that give you accurate and bold information with no doubt. Subscribe to them according to your need and enjoy the services.
FAQs
How to Download a Magazine from Magzter?
To download a magazine follow the below steps -
Login to your account
Right-click anywhere to bring a drop-down menu from the top
Visit the Purchases section and select the magazine you want to download
Click on Read Now button and you can see the magazine getting downloaded
Let all the pages load and then you can read the magazine offline
What magazines can I buy from Magzter?
The world's largest digital magazine store has more thousands of magazines under its roof. From Forbes to Filmfare, to India Today, to The Week, to Business Today, to Vogue, it is the ultimate store where you can find magazines of all types and genres. Be it news, automotive, health, education, science, comics, fashion, travel, sports, technology, or children, the platform serves you with a plethora of fields and interests.
Can I read Magzter on Kindle?
Yes, it can be read on kindle which comes with a monthly subscription of Rs. 399 and a yearly subscription of Rs. 3,999.
What is Magzter gold offer?
Magzter Gold is priced at Rs. 399 per month. It is like a premium membership that gives free and unlimited access to more than 5000 bestselling national and international magazines. Besides this, it also gives access to the most read articles from world-class magazines.
Can I Share the Gold Access with Family Members?
Yes, it can be shared with 4 friends or family members. By subscribing to the monthly or yearly Gold access, you can share with your loved ones for free.
How can I avail Magzter coupons with GrabOn?
GrabOn through its dedicated resources strives to provide the best coupons and deals to online shoppers. It has all the updated and verified coupons of Magzter which you can grab by visiting GrabOn's website. The company also notifies its customers with all the latest and exciting coupons and deals to help them save more on everything!