Handbags are not just functional products anymore. Today, fashion and bags go hand-in-hand and have become a style statement. New seasons bring in new collections with some purses so small that fitting a lip crayon in them is next to impossible.
If these latest styles and designs represent a person's taste and choice, it is essential to find an ideal bag that speaks for you, and with so many brands popping up every day, it might seem unattainable. That's why, we have collated a list of the best handbag brands for you to find your "Bagwati." (For people who don't know, it's a ZNMD movie reference!)
Our Top Picks:
| | |
| --- | --- |
| Best Overall | Baggit |
| Most Budget-friendly | Lavie |
| Most Durable | Calvin Klein |
| Best Trendy Designs | Caprese |
Top 23 Handbag Brands in India
Are you looking for the perfect bag to match your attire and get a classy look? You have come to the right place. Below is the list of top handbag brands in India from which you can select your chosen bag.
Last update was on: March 22, 2023 2:03 pm
Van Heusen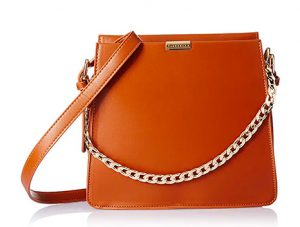 Van Heusen is an international brand with over 128 years of rich history. The brand entered the Indian market in 1990 and has even since carried a reputation for delivering high-quality, minimalist, and timeless products. The brand boasts a blend of fashion and functionality in its handbag collection while addressing all the needs of modern women. Women today are ambitious and always on the go, and that requires them to carry their world in their handbags! Match your power outfits with a powerhouse of a bag.
Key Features
A well-known brand for affordable yet high-quality bags
Spacious and sophisticated styles
Price Range: Rs. 799 to Rs. 3499
Aldo
Aldo, a brand that most people are aware of due to Punjabi rap songs, is a worldwide one-stop-shop for fashion accessories like bags, shoes, watches, and eyewear. Founded in Montreal, Quebec, Aldo specialises in curating pieces that are high in quality and craftsmanship. The brand is dedicated to providing cutting-edge styles for you to stay at the top of your fashion game.
Big brands do come with expensive price tags. Add Aldo bags to your wardrobe by leveraging the Tata Cliq offers. Tata Cliq is an online portal with products from the best and the most authentic brands.
Key Features
Finely crafted handbags for any style or occasion
Outstanding quality in various sizes and colours
Price Range: 2,999 to 17,999
UCB
Started in 1965 by the Benetton family, United Colors of Benetton (UCB) is a clothing brand with expertise in delivering trendy and high-quality products. Today, 60 years later, the brand has made a place in people's hearts and widened its offerings by including accessories and footwear collections. UCB's handbags are all about refined and elegant styles that match you perfectly. The brand currently operates 5,000 physical stores in over 120 countries.
Key Features
Known for its excellent cloth quality and durability
A globally responsible brand that is continually innovating materials and design processes
Price Range: Rs. 3,999 to Rs. 6,499
Fastrack
Fastrack is India's earliest accessories brand that has carved a niche for itself over the years. Launched in 1998 as a sub-brand of Titan, Fastrack is famous across the country for its effortlessly cool and affordable collection of watches, sunglasses, and bags. This brand understands that even though handbags today are viewed as a style statement, their functionality is uncompromisable. Fastrack's well-designed bags are comfortable to carry for your daily routines or even for parties.
Key Features
Marries aesthetics with elegance in all its handbags
Budget-friendly collection
Price Range: Rs. 795 to Rs. 4495
Giordano
A Chinese clothing brand for men, women, and kids, Giordano was established in 1981 in Hong Kong. The brand is famous across the globe for its affordability, simplicity, and fabulous designs. And all these aspects reflect in their handbag collection. Their bags trump quality over everything else, making them highly durable and reliable. As a recognition of its success, Giordano has been listed in the "Top 100 Brands Making a Difference" by Forbes Magazine. So, without further delays, bag these stylish bags and make heads turn in any room you enter!
Key Features
A trendy collection of bold, classy, and nude coloured bags across various sizes
Prices that won't dent your wallet
Price Range: Rs. 758 to Rs. 6950
Accessorize
If you are looking for quirky and playful additions to your outfits, this is where you want to be! Accessorize was established in 1984 at Covent Garden, London to provide effortless style solutions for fresh looks. As the name suggests, this brand is about accessorising your outfits – from jewellery, belts, and scarves to handbags. The Accessorize London's bag collection is one-of-a-kind, with satin, sequins, and beads embellishing them. These arm candies will surely be the perfect plus-one for beach getaways or formal meetings!
Key Features
Ethically and consciously chosen raw materials to improve sustainability
The collection includes card holders and clutches to beach and shoulder bags
Price Range: Rs. 1200 to Rs. 9500
KLEIO
A home-grown brand and a fashion accessories goliath, KLEIO made its way to the top in a short span of time amongst other notable competitor brands. This brand today is a name synonymous with luxurious style and sophistication. Inspired by the Greek word for glory, KLEIO aims for every woman to feel glorious when partnered with their bags. Their diverse, sustainable, and minimalistic designs use state-of-the-art technology to provide comfortable, trendy, and reliable products while keeping the pricing at bay.
Key Features
Highly stylish and spacious bags for you to carry your entire world within
Interesting and quirky prints for all age groups
Price Range: Rs. 505 to Rs. 4,999
Lino Perros
Launched in 1999 by Sanjay and Natasha Dua, Lino Perros is a sub-brand of Sumitsu Apparel which is touted to be one of the most beloved handbag brands among women across the country. Interestingly, this brand started as a men's accessories brand before extending into the women's range. Since its manufacturing unit is present in India, these handbags are reasonably affordable despite their luxurious look and feel. Lino Perros has attracted a large audience by delivering the best of both worlds!
Key Features
Well-known for its high-end bags
Available across all major e-commerce sites
Price Range: Rs. 698 to Rs. 4495
Cathy London
Established in 2013 by two brothers, Cathy London is a brand that aims to deliver products of the highest quality while keeping them affordable. The brand uses vibrant colours and floral and animal prints to add a feminine yet strong touch to all your outfits! Cathy London keeps its products sustainable and cruelty-free by using PU leather as its raw material, which is equivalent to regular leather but does not involve killing animals.
Key Features
Wide range of handbags with lively prints to choose from
Spacious and functional designs
Price Range: Rs. 1,299 to Rs. 9,999
Esbeda
Esbeda is an Indian luxury handbag brand founded by Intouch Leather House India Pvt. Ltd. in 2006. Designed ceaselessly to appeal to the needs of strong women, the bags of this brand are of premium quality, stylish and available at competitive prices. All their products are made with PU synthetic material of eye-catchy colours to complement your outfits.
Key Features
World-class hi-fashion brand
Access the latest fashion movements at budget-friendly prices
Price Range: Rs. 1,080 to Rs. 4,880
Calvin Klein
Calvin Klein is a brand that needs no introduction! One of the most well-known brands in the denim and lingerie industries is dipping into the handbag industry, and no wonder it's doing wonders! Its handbag collection, just like its apparel counterpart, is highly durable and reliable, making it the #1 choice for rough and tough use.
As one of the most expensive brands on the list, adding a bougie piece of accessory from this brand can put you in hot water. But there's a solution to it – you can try the offers by Ajio for ultimate discounts on top brands.
Key Features
One of the most renowned fashion labels in the world
A collection of highly durable handbags
Price Range: Rs. 3,699 to Rs. 11,499
Baggit

Here comes the go-to brand of bag lovers- Baggit! This brand revolutionised India's fashion industry with its remarkable range of bags. Started with the sole motive of providing world-class products to Indian customers at an affordable price, Baggit has been winning millions of hearts and tons of awards for its outstanding quality of bags and accessories.
To buy the stunning handbags of Baggit at an unbelievable price, you can check out the offers and coupons for Myntra. Myntra is no doubt a one-stop destination for all fashion-based products in India.
Key Features
PETA-approved vegan fashion brand
Made with materials like faux leather, cruelty-free fabrics, and straw
1-year warranty for any manufacturing defect
Price range: Rs. 400 to Rs. 3493
Maango
Mango is a Spanish fashion brand that has entered the Indian market and created its own space in the industry. Besides its good clothes, the brand is also known for its stunning collection of bags. Once you start using the bags of Mango, there's no going back! It is sure to become your favourite brand. The company currently has more than 2000 stores spread across 100+ countries.
Key Features
From sparkly to satin bags, the brand has purses for every season and occasion
On-trend fashion accessories at affordable prices
Price range: Rs. 594 to Rs. 8990
Wildcraft
An Indian brand you can blindly trust, Wildcraft manufactures various handbags using superior quality materials. Be it a sling, a wallet, a mini pouch, or a laptop bag – this brand is one of the leading producers of bags in the country. It has hundreds of exclusive stores and over 4000 multi-branded stores in India and other countries.
Key Features
One of the largest outdoor-friendly brands in India
Multi-functional, lightweight, and weather-resistant bags
Price range: Rs. 649 to Rs. 5,499
 Tommy Hilfiger
Launched in 1985, Tommy Hilfiger is one of the leading premium fashion and lifestyle brands globally. It is known for its top-quality cloth used in manufacturing apparel and bags. The handbags available at Tommy Hilfiger are exquisite, well-designed, and trendy.
Key Features
A circular fashion brand that aims to reduce carbon and water footprints
New collections and designs every season
Price Range: Rs. 1,799 to Rs. 6,999
Allen Solly
One of the oldest fashion brands in the world, Allen Solly, has some of the best-selling products of all time, be it formal wear, partywear, shoes, or accessories. Post its acquisition by the Aditya Birla Group in 2001, Allen Solly expanded its presence in India more so than ever. The handbags the brand offers are exquisite and lavish and come at reasonable prices.
Key Features
Made with 100% polyurethane material
Casual satchels bags for social gatherings and 9 to 5 work-friendly bags
Price Range: Rs. 766 to Rs. 3,599
Lavie
Lavie is all about love, style, and comfort. Since the company unveiled the first set of bags in 2010, it has completely changed the Indian handbag market. The products available cater to modern women's wants with the latest trends, colours, and designs. It has a massive collection of bags under one roof, from fashion backpacks to clutches to school bags to wallets. These bags will surely draw everyone's stares, so the wait is finally over! Get incredible deals & offers on Lavie bags to save big! You can avail of up to 70% discount.
Key Features
Every Lavie bag goes through a 5-step design process for the highest quality
The brand pledges a percentage of its profits to empower women
Price Range: Rs. 599 to Rs. 6,499
 Hidesign
Hidesign is an Indian leather goods manufacturing company based out of Pondicherry. Over the years, it has established a unique name in the industry because of its par-excellent quality bags. The company specialises in laptop bags, wallets, and handbags made of leather. The bags produced by the brand are not just good in quality but also outstanding when it comes to design.
Key Features
Artisanal handcrafted leather bags
Every bag uses strong brass buckles that stand the harsh test of time
Price Range: Rs. 898 to Rs.38,998
Da Milano
Another top brand on our list is Da Milano. The company is known for its perfect blend of luxury and affordability. Be it laptop bags, travel bags, wallets, mobile covers, or any other accessory, it makes sure to provide its customers with an incredible range of products. The company has also changed the sphere of the industry by creating its name in the global market.
Key Features
Every bag is curated with the finest leather by a house of gifted craftsmen
Designs that culminate fashion and fantasy
Price Range: Rs. 799 to Rs. 24,999
Caprese
Ever since its inception in 2012, Caprese has become the one-stop destination for people looking for a fantastic collection of bags. From sling bags to pouches, from clutches to handbags, from suitcases to laptop bags, you name it, and Caprese is sure to have it. The bags offered by the company not only personify perfection but also redefine fashion.
Key Features
Confident and free-spirited aesthetics to suit any occasion
Wide range and vibrant coloured bags
Price Range: Rs. 879 to Rs. 2,999
Guess
The renowned American clothing brand Guess has also made it to this list because of its promising yet alluring range of bags. The handbags produced by the company are finely crafted and thoughtfully designed to satisfy the needs of its customers. Not only this, you can rely on its products in matters of comfort, quality, and durability.
Key Features
Bags come with the brand's signature logo and design
Classy and timeless look
Price Range: Rs. 3,199 to Rs. 16,999
Flying Berry
Flying Berry is an Indian brand started in 2015 in New Delhi by Abhay Agarwal. The brand offers excellent quality handbags and accessories for a woman. Flying Berry has a team of in-house designers who design each bag intricately with no compromise on the quality of the product. The brand believes in employing local citizens. All the products at Flying Berry go under the 5-Step Quality Check to ensure they only provide the best to their customers.
Key Features
An authentic Indian brand that crafts and manufactures bags solely in the country
Premium collection at affordable prices
Price Range: Rs. 599 to Rs. 2,759
Michael Kors
Are you looking for style and durability? Check out the Michael Kors purses! You can explore different types of handbags, like clutches, totes, satchels, etc., that are perfect for everyday wear. Plus, all the handbags are made from high-quality materials that last longer than most brands. Whether you are looking for a small travel bag or a stylish option for daily use, the Michael Kors brand has the perfect options for you.
Key Features
Bags that visualise an iconic yet modern lifestyle
The handbag collection features a mix of trends, unique colours, and prints
Price Range: Rs. 4,500 to Rs. 1,32,000
Handbag Buying Guide
How to choose the best handbag?
Choosing the best handbag that beautifully goes with your outfit is yet another daunting task. Don't worry! We have given a simple list to select the ideal bag that matches your attire easily.
A black little sling always goes with any type of western wear
Pick a pretty looking golden box clutch to match with your Indian wear
Opt for a solid leather shoulder bag when you are heading for work
Go for an embellished purse clutch while attending a party or gathering
Select a petite handheld bag when you are going for shopping or movie
If price is your biggest concern, do check out the trending offers of Marks and Spencer to minimize the expenses spent on buying stylish and elegant design handbags.
Conclusion
Someone rightly quoted, "Behind every successful woman is a fabulous bag." Accept it or not, every woman considers a handbag as the most precious accessory. Women tend to look for huge discounts and offers while shopping online. If you are one among them, do check out the coupons of BigSmall stores to cut the cost spent on handbags. Having an excellent purse in your closet is no less than a blessing. Even if you don't own one, it's never too late!