Are you looking for the best backpacks for men? Well, backpacks are the perfect accessory for men – they not only offer convenience but also add an uber-cool factor to your look. Buying the best backpack for men isn't that easy, though, because many popular bag companies are playing with marketing gimmicks to get maximum consumers in this segment.
Backpacks need to be as comfortable as stylish and trendy they look. The way men use backpacks has changed over the years now – they are no longer limited to carry school and college books! From carrying gadgets to cameras to files, folders, and laptops, investing in a good backpack requires thorough research and understanding. And that is why here we are with the list of top backpack companies in India – to help you choose the best backpack for yourself.
Our Top Picks:
| | |
| --- | --- |
| Best Expandable Bag | Skybags |
| Long-lasting Backpack | American Tourister |
| Most Stylish Backpack | Tommy Hilfiger |
| Best Budget Bag | F Gear |
List of Top 13 Backpack Brands in India for 2023
Last update was on: January 30, 2023 7:50 pm
Top Backpack Brands In India
American Tourister Backpacks
(GrabOn Recommended)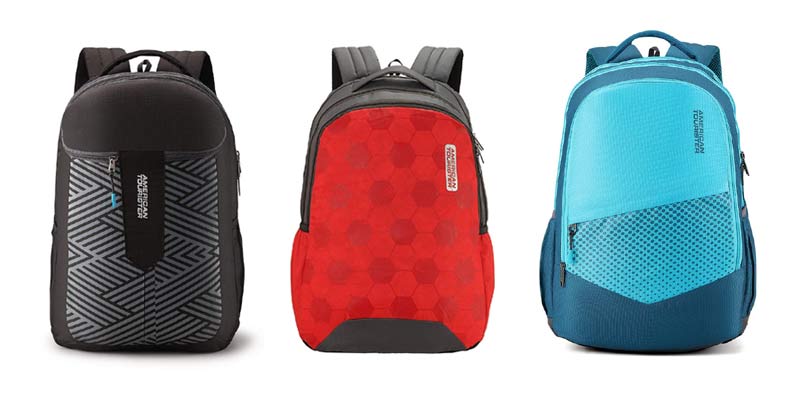 The most preferred luggage brand across the world American Tourister Backpacks offer economical backpacks that are stylish, high quality, travel-friendly, and durable.
You get multiple compartments and side pockets to store all your basic needs
If you would like the backpack to be laptop-compatible, you can check American Tourister 27 Ltrs Grey Casual Backpack that comes with a separate laptop compartment
You can also look for features like water resistance, gunmetal finish pullers, and zipper closure styles
They are quite lightweight and come with great shoulder padding that makes carrying them a breeze
American Tourister Backpacks are generally smaller, and due to their graphics designs it has become popular as school bag brand
Skybags Backpacks
(Most Popular Choice)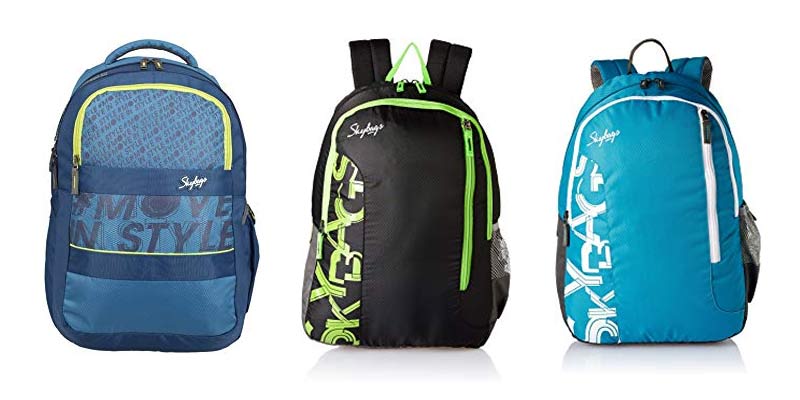 Among the most popular backpack companies, Skybags is a well known International brand from the house of VIP Industries of India. Lightweight, durable and stylish, Skybags range of bags and backpacks fall in the affordable range for most people.provide
Skybags offer durability at an affordable price and hence are preferred by school going and college going youngsters
It comes in both zipper and drawstring compartment closure types
Many designs including geometric, graphic, solids and textures are available to choose from
You can get waterproof and semi-waterproof variants of backpacks as per requirement
Skybags are designed to be used as luggage bags, while Wildcraft backpacks are more of an outdoor requirement. In addition, Wildcraft backpacks are priced lower than Skybags and offer more rugged use. Therefore, it is always a better choice for people who do not wish to bother about its usage.
Wildcraft Backpacks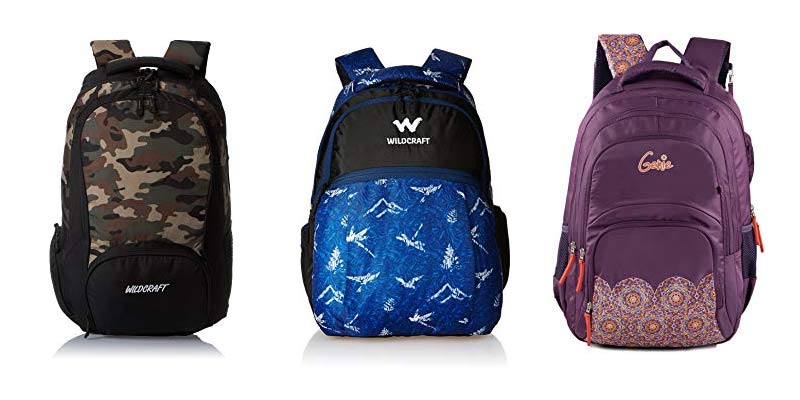 An Indian brand, Wildcraft, offers an exhaustive range of spacious and comfortable to carry backpacks for school. Colleges, official and recreational purposes. They are more durable with simple designs, making them a preferred college bag brand. Wildcraft backpacks come in various popping colors that will make you go from work to a casual get-together or a weekend ride effortlessly.
They are compact, offer different compartments, and are nicely padded with adjustable shoulder straps. The arms don't hurt even if you carry it for long hours.
One of the most popular bag companies from India, Wildcraft is known for its durable and long-lasting products
There is provision for a side fabric pocket to carry a water bottle and a quick-grab haul loop to grab it on the go
Between American Tourister and Wildcraft Backpacks, if the price is the deciding factor, then put your money on AT backpacks. However, for more extended and varied use with just one bag, place your bet on the Wildcraft range of backpacks.
Tommy Hilfiger Backpacks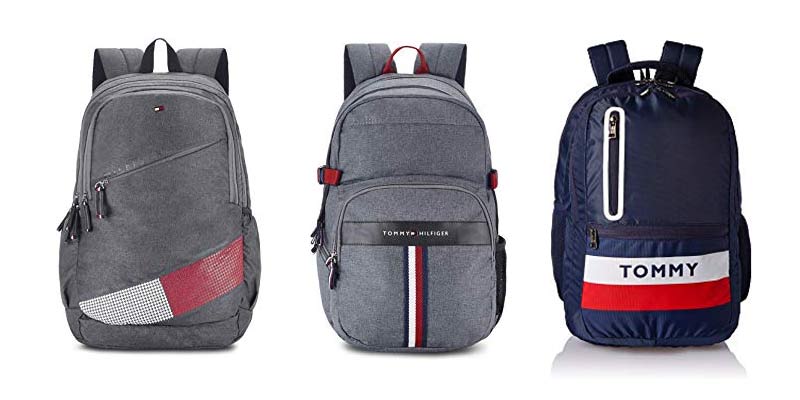 Tommy Hilfiger backpacks are for people who like solid or print designs with a classy style quotient. The bags are carefully designed, keeping in view the functional utility and offer utmost comfort to the user. The colour combinations are generally not so vivid.
Thick shoulder straps combined with padded back cushion provide excellent comfort
Tommy Hilfiger backpacks are colourful yet classy and have a professional appeal
Compartment closure ranges from durable zips to drawstrings
The brand claims their backpacks are designed for rugged and rough use, so they are preferred by men who travel daily
Very durable material, so each Tommy Hilfiger backpack lasts longer
F Gear Casual Backpacks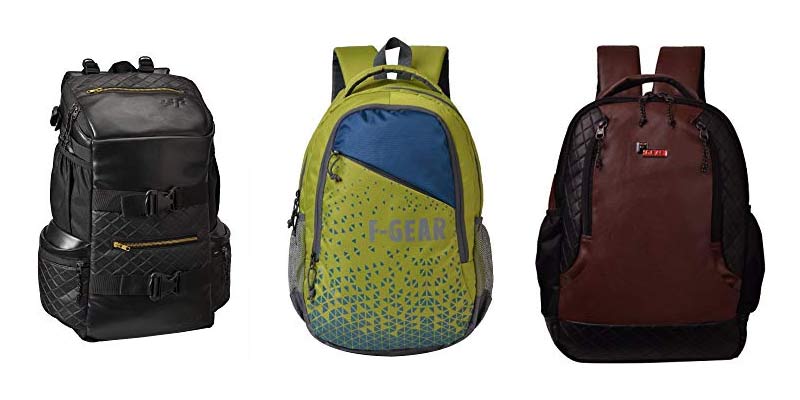 F-Gear offers some amazing backpacks for men – that are not only stylish and trendy but can also be used interchangeably for various purposes. You can place your files and folders and even carry a laptop in F Gear Backpacks.
You can choose from casual backpacks and laptop bags though most casual backpacks from F Gear also have laptop compartments.
F Gear backpacks are water resistant
Attractive colour combinations and designs such as graphics, colour blocked and textured
Adjustable well padded shoulder straps with flap, zip or drawstring compartment closure
Come with a mesh pocket for keeping a water bottle or an umbrella
They mostly have a single compartment feature with small pockets to keep other things
F-Gear backpacks come with the promise of quality at affordable prices
Nike Backpacks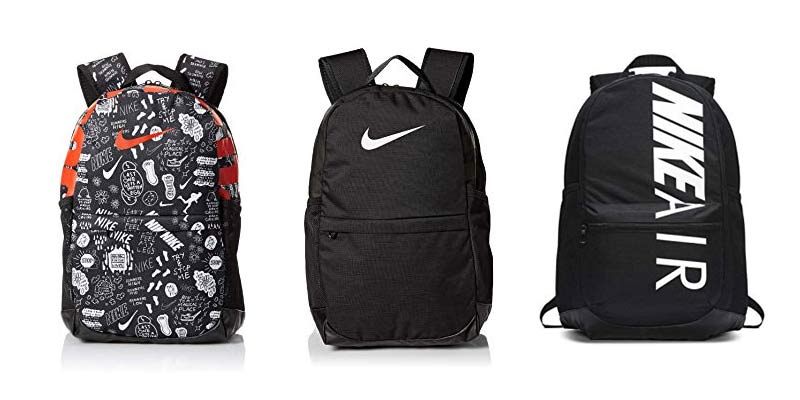 Nike Backpacks are hard to ignore, given the fact that the brand logo is always catchy and hard to miss. A lot of Nike designs are inspired by the football gaming industry so many football lovers would automatically be drawn to Nike Backpacks for men.
Nike offers both works and play backpacks in a single variant, without compromising on style and comfort
Spacious backpacks prepare you for almost anything – carry all that you want in Nike Backbacks without worrying
The brand offers attractive colored backpacks ranging from solids, geometric and color-blocked designs
Nike backpacks are lightweight, come with back padding and a top haul loop provides alternative carrying options
Attractive colors and stylish looks make it a top brand of bestselling backpacks in India
HRX by Hrithik Roshan Backpacks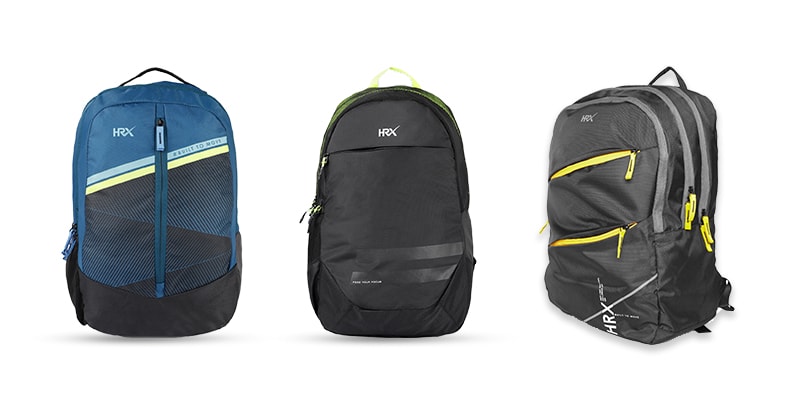 Endorsed and owned by superstar Hrithik Roshan, HRX backpacks are indeed a hit with his fans. So you can't miss sporting an HRX Backpack if you are a fan of the superstar! Just like him, HRX Backpacks for men are sturdy, stylish, fashionable, and durable. A new entrant in the Indian market, HRX claims its products are based on a life philosophy to keep pushing.
HRX backpacks for men come in funky colors and sleek patterns to rev up the personal style quotient of the user
They come with a haul loop, two padded and adjustable shoulder straps A haul loop, two padded and adjustable shoulder straps
They also have a stash pocket for quick access to small things
HRX backpacks are mostly unisex, so you don't have to worry about carrying your sister's backpack as well!
Fastrack Backpacks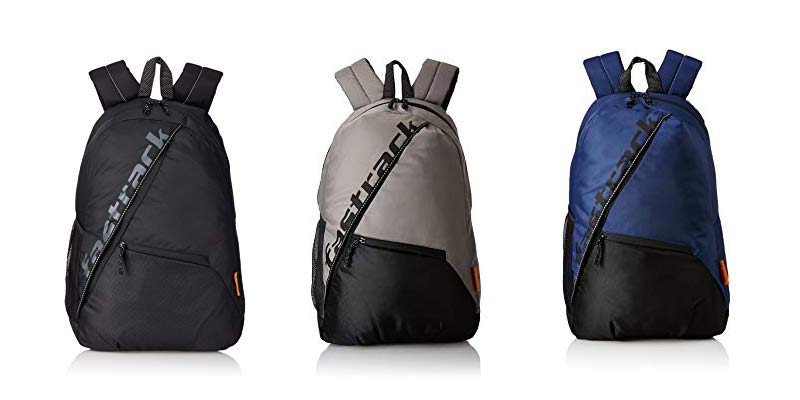 Fastrack is a household name for college going men and women and youngsters who look for value for money while upping their style quotient. Fastrack offers a decent range of affordable backpacks with many features and attractive designs that appeal to the young generation.
Fastrack backpacks are generally unisex so you can use them interchangeably
They specialise in school and college backpacks and are suitable for carrying books.
Some variants come with laptop compartments, but many users have felt that the padding is light and unsuitable for laptops
Provisions to carry small nitty-gritty with mesh pockets both inside and at the sides is a plus of Fasttrack backpacks
Fasttrack backpacks are not waterproof but water resistant
Gear Backpacks for Men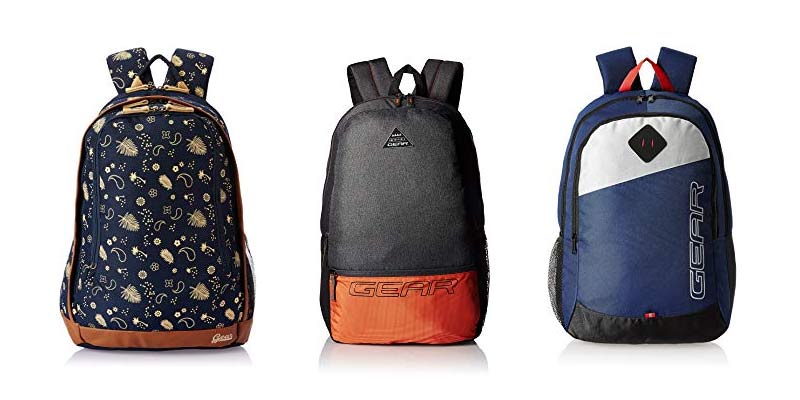 Another popular brand of backpacks for men, Gear has a wide range of functional backpacks to choose from. They come in different designs and appeal to different users on the utility level.
Gear backpacks are more vibrant and colourful with fashionable motifs and designs that appeal to men who want to add a bit of style to otherwise normal routine travel
Grab handle, dual adjustable back strap with anti-sweat fabric padding are some of the key features of Gear backpacks.
You can choose from an array of designs with or without laptop compatibility and other utility pockets and features
The price range is affordable, and they are as durable as they are reliable
Puma Backpacks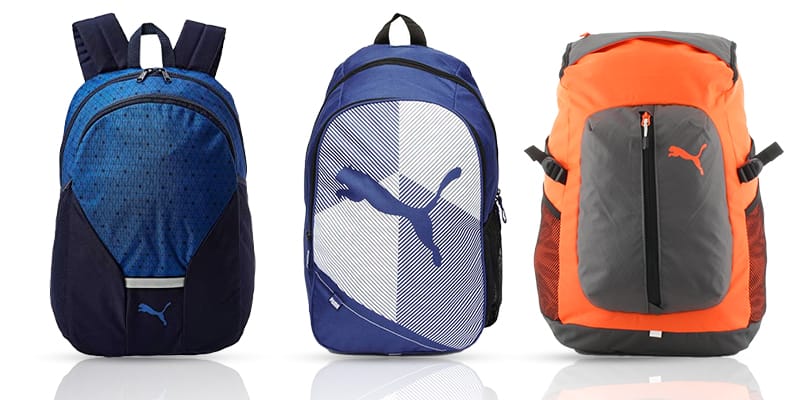 Whether it is adventure, gym, casual, or sports – Puma Backpacks have it covered for you. Puma as a brand has been associated with various sports, and sports gear is its speciality. No wonder Puma backpacks for men are also sporty looking, chic, tough, and resistant.
They are designed with a view that anything and everything can be stored in a backpack – so they offer ample space
Puma backpacks are a blend of excellent space yet look compact and are easy to carry
Safety is a huge criterion for Puma. The backpacks for men are designed to be used ruggedly and be loaded with bulkiest items at all times without the straps coming off
They come in popping colors and various graphic and geometric designs
Harissons Backpacks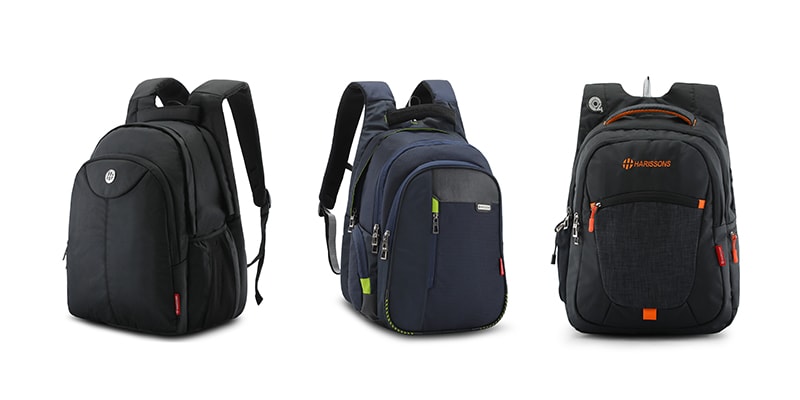 Harissons focuses on utility with style. You will find bags that look trendy and also have abundant features in them that make them functional for today's youth. Harrisons bags have everything from USB ports, headphone jacks, inbuilt rain protectors and more. With a bag like this, rain or shine, you will always be prepared.
Range of bags available from duffles, messengers and even vintage models.
Good quality material as your daily partner needs to be strong.
Enough storage space and compartments for all your essentials so you don't leave anything home.
Moreover, you can buy the bags online at a discounted price by making use of Harissons' offers.
Swiss Military Bags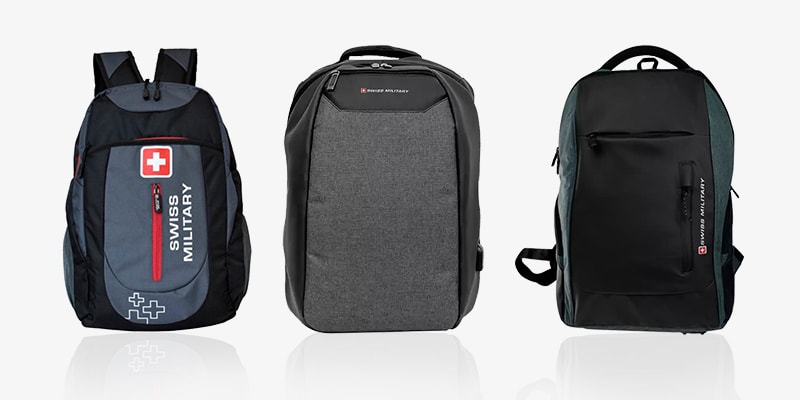 The dedicated Indian Swiss Military website gives you plenty of options for bags. Travelling, laptop, luggage, trolley, backpack, duffle, foldable, you can find them all. 
You can find bags as per the occasion, type of bag or even the color.

The bags are of great quality, durable and cost effective at the same time. 

There are huge discounts on the bags at all times.
Swiss Military is an international brand that brings in innovative products to fill the gaps in the demand supply chain and makes them affordable for the buyers. They cater to hundreds of products dedicated to making the lives of the customers simpler. You get a huge variety and range of bags on the website. 
So here is the list of best backpack brands for men. Basis your functional needs, you can easily choose one for yourself or even gift them to someone. Backpacks are a great gifting option in the times of today when everyone is on the move. You can get decent backpacks in all budgets, but online deals are generally attractive with amazing offers. So, start using BigSmall deals and discounts while buying your favorite backpacks online.