A beard certainly makes men look rustic, hotter and rugged. It is believed that bearded men have it easy when it comes to catching the attention of women. No wonder film starts to sports personalities – everyone sports or has sported a beard! While beards have been such a rage, beard oils have also become popular. Why, sporting coarse facial hair definitely isn't a turn on, and that's why beard oils have emerged as one of the leading men's grooming products.
But choosing the best beard oil in India is not easy, so many brands have beard oils that one would surely get confused. To help you, we have made a list of best beard oils as below.
Have a Look at 10 Best Beard Oil In India for 2022
Last update was on: June 24, 2022 7:02 am
Ustara Beard Growth Oil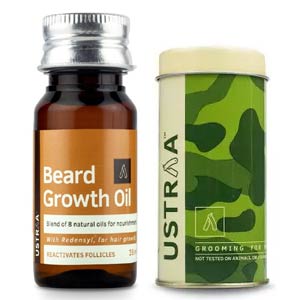 Ustara from the house of Happily Unmarried has been gaining prominence as a mens' grooming brand. Ustara Beard Growth oil also lives up to the customer's expectations on both quality and price. This specially formulated beard oil in India boasts of –
Containing a powerful combination of 8 natural oils, Argan Oil, Almond Oil, Avocado Oil, Castor Oil, Acai Berry Oil, Olive Oil, Gooseberry Oil, Watermelon Seed Oil along with redensyl it work wonderfully together to keep your beard in great shape.
It also contains vitamin E which boosts hair growth
Ustara beard oil promotes hair growth, strengthens hair follicles, soothes itchy and dry skin and fights irritation
Leave it through the day or overnight after massaging with soft hands
Free of SLS and parabens, a completely natural product
Content: 35ml
Type: Beard Oil for Beard Growth
Beardo Beard and Hair Growth Oil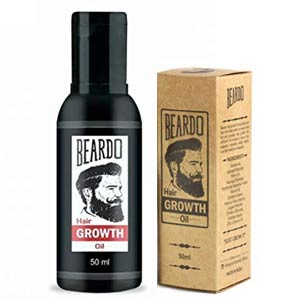 The Beardo Beard and Hair Growth oil is one of the top-selling beard oils in India. Get the best coupons for Beardo to get beat deals at GrabOn.
Extracts of hibiscus, amla, coconut and sesame make Beardo beard growth oil very effective in combating issues like patchy beard growth or slower facial hair growth.
The product also contains vitamin B6 that prevents hair loss, enhances hair growth and makes it voluminous.
The product also nourishes the skin under the beard tackling problems such as itchy and dry skin.
The oil is light to use and mildly fragrant, lending smoothness to the beard, taming the frizz and making the hair shine.
Many users have reported Beardo Beard and Hair Growth Oil as the best product in the category even on Quora.
Content: 50ml
Type: Hydrates skin, Manage beard, improves growth
Hajamat Beard Oil for Men

Have you been searching for a beard oil that can really do the job? If so, Hajamat beard oil may be the perfect choice for you. This product is made with natural ingredients and is designed to nourish and protect your beard. Not only that, but it also has a subtle scent that will make you smell great all day long.
Thanks to 100% organic argan, almond, avocado, amla, aloevera, apricot, cedar wood, orange oil, and other ingredients which heals dry skin while protecting natural oils.
Your beard regime is enhanced with a sumptuous combination of woody musk and rich oud to nourish the skin and facial hair.
It contains antioxidants and restorative properties that help repair cells by promoting shine and hair softener.
So if you're looking for an effective and affordable beard oil, Hajamat may be the right choice for you. While shopping online, do check out the latest Hajamat deals to cut down the cost spent on beard oils.
TruMen Beard Growth Oil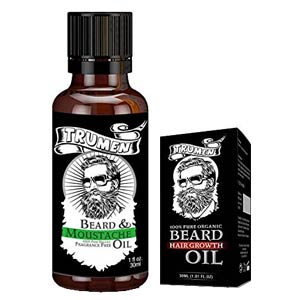 While a rough and tough full-bodied beard is enviable, you can't ignore the fact that to sport such a magnificent beard you also need to moisturise the skin underneath it to keep it healthy. TruMen Beard Growth Oil does just that for you and is ideally India's best-selling beard oil.
A blend of essential oils such as rose hip, jojoba, grape seed, cedar, and mandarin, along with Vitamin E, it is specially formulated to promote beard growth and moisturise the skin under the beard.
Your skin feels hydrated and well-nourished, and the beard feels smooth and soft.
Using TruMen's beard oil will fight beard itch and beard druffs giving you a well-groomed well-kept beard.
It is a purely organic, fragrance-free beard oil without any harmful chemicals, colorants and sulfates.
Beardhood Beard and Hair Growth Serum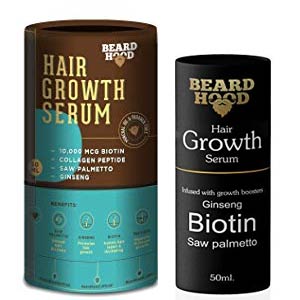 One of the best beard growth oils in India, Beardhood Beard and Hair Oil Growth Serum is a powerful blend of scientifically backed ingredients that can help men grow a full-bodied beard. Being a serum, it is non-sticky, fights beard frizz and makes the beard shiny.
It contains the combination of extracts of Biotin, Ginseng and Saw Palmetto that boost facial hair growth, moisturise the skin and the hair, increase hair volume giving you a denser beard and smoothens the unkempt ends.
Ginseng also prevents hair from falling out and regenerates new hair growth.
The application of this serum makes your beard hair soft, shiny, manageable and smooth to the touch
This product is free from sulfates, parabens, dyes or chemicals, making it a safe product to be used on the most delicate part of your body
Price: Rs. 399
Content: 50ml
Type: Beard and hair growth
Incredible Man Beard Oil for Men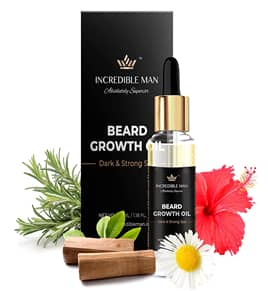 Do you want to look stylish by maintaining a healthy beard? If so, Incredible Man brand beard oil is the right choice for you. It has come with natural, 100% vegan and cruelty-free ingredients. Hence, we have listed among the best beard brand oils that are in huge demand.
This beard oil makes use of ingredients like sandalwood, rosemary, almond oil, olive, coconut, sunflower, aloe vera, castor, jojoba, and chamomile to nourish beard hair and promote blood circulation evenly.
The Incredible Man products are GMP and FDA-approved too.
The main advantage of using this beard oil is that it helps you to get rid of patchy beard
How To Use: To achieve the maximum results, apply the Incredible Man natural beard growth oil twice daily.
Price: Rs 190/-
Content: 28 ML
Type: Minimise Itchiness, Dryness, and Promote Beard Growth
Brahma Bull Beard Growth Oil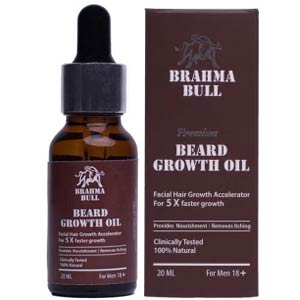 Brahma Bull Beard Growth Oil is renowned for stimulating healthy beard growth in men above the age of 18 years and thus finds mention in the top 10 beard oils list in India. The brand claims that it can make beard hair grow 5 times faster.
Contains Argan Oil, Jojoba oil, lemongrass Oil, rosemary, cayenne pepper, coconut oil along with vitamins B and E that promote healthy facial hair growth
The hair gets nourished from the roots, hair follicles get strengthened and there is less hair fall giving you a lush and thick beard
Comprises of hair re-growth molecules that work by controlling the shrinkage of hair growth follicles
Penetrates the roots of hair, clears dirt and debris and conditions and softens the beard and nourishes it to boost hair growth.
Even effective for aging men or who suffer from poor blood circulation
Urbangabru Beard Oil Natural Growth Softener – Conditioner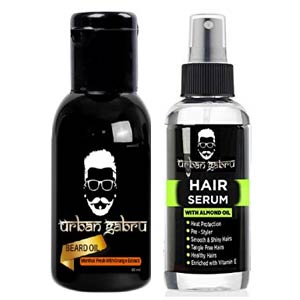 Rapidly gaining popularity among the youth, Urbangabru has captured the hearts of consumers with an effective range of grooming products. This best beard growth oil is an exclusive blend of ingredients that promote consistent hair growth and also tackle problems like beard dandruff, acne dry and itchy skin.
The oil claims that the users give you a manly, mess-free full-bodied beard thanks to all-natural ingredients including argan oil, jojoba oil, sunflower oil, almond oil, orange oil, and menthol.
Not only does the oil nourishes the beard hair but also strengthens it and all you have is tamed, soft beard unlike the unruly, brittle ends that look messy
Apart from supporting the overall health of the beard, the oil also maintains your skin's hydration levels and prevents itching and irritation
Though it works as a conditioner and softens the brittle beard, it does not leave a greasy touch to the beard.
Content: 30ml
Type: Strengthens beard and helps in growth
Bombay Shaving Company Beard Growth Oil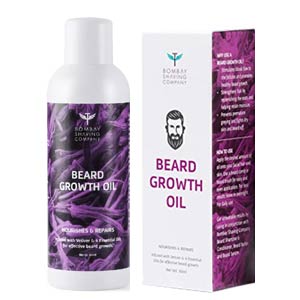 A quality beard oil with an excellent blend of essential oils to stimulate hair follicles for faster growth and prevent skin from itching or getting dry, the Bombay Shaving Company Beard Growth Oil is suitable for both growing boys and men alike.
Fusion of sesame oil, coconut oil, vetiver oil, amla oil, jojoba oil and Brahmi oil that nourishes and repairs beard hair and promotes beard growth
Effective for patchy beard growth and regular use can full-bodied beard. The hair grows faster and consistently
Also works on issues of acne and irritable skin under the beard, keeping both the skin and the beard healthy and shiny
The oil leaves the beard hair softer, shinier and tamed enabling you to style it easily
The oil has no side-effects as it is free from chemicals, sulfates and parabens
Content: 30ml
Type: Healthy mustache and beard growth
The Man Company Beard Growth Oil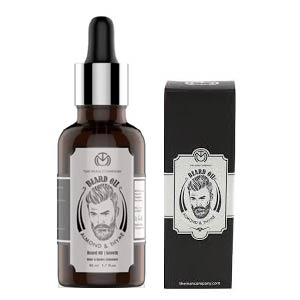 The beard oil from the Man Company is as masculine as the name sounds. Because the brand caters to the grooming needs of men exclusively, it claims to understand beauty and health issues of the gender much better. The Man Company Beard Growth Oil is an exceptional blend of essential oils and vitamin E.
Exceptional blend of almond oil, thyme, rosemary, lemon, geranium, argan oil, hazelnut oil and jojoba oil along with Vitamin E makes your beard grow thick and long and also makes your skin feel amazing
Enhances hair shine and softness nourishes the beard and the skin underneath and prevents any buildup of dirt under the beard that may cause itching or hair fall
Regular application makes the beard manageable, soft, shiny and thick that is as amazing as you had always wanted
Being natural, it deeply conditions the beard without the risk of any side-effects what so ever.
The oil is earthily scented with thyme that relaxes your mind as well
Man Arden 7X Beard Oil (Royal Oud)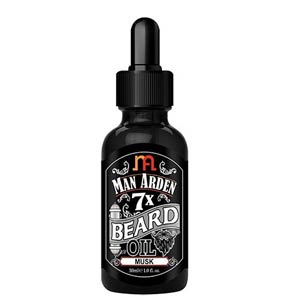 Simple, uncomplicated and yet effective, that is Man Arden 7X Beard oil with Royal Oud. A perfumed formula that is pleasing, using this beard oil is effective for a full-bodied lush beard that not only looks great from the outside but is also healthy from inside.
The formula is a blend of 7 essential oils including jojoba, castor oil, grape seed oil, almond oil, argan oil, olive oil. An additional dash of vitamin E makes it all the more powerful
The oil not only strengthens the hair follicles and makes it grow faster in a consistent way, but also nourishes the facial skin and works on the roots the hair to give you an amazing beard
Frizzy ends, brittle hair, rough and unmanageable beards will be a thing of the past now that you are using Man Arden beard oil
The itching and scratching will ease, the beard will feel softer and well-conditioned.
The oil is also effective to control beard dandruff
Captain Thug Medieval Beard Growth Oil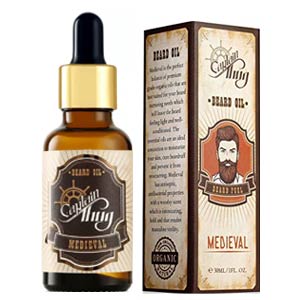 For a softer, fuller beard naturally grab a bottle of Captain Thug Medieval Beard Growth Oil with natural Argan and Jojoba oils. The product rests its formulation on Aromatherapy and blended by skin care experts to strike the perfect balance of a dense beard with soft and hydrated skin.
The powerful oils used in the product include Apricot Kernel Oil, Bulgarian Lavender Oil, Cedarwood Oil, Wheat Germ Oil, and other hydrating oils along with extracts of aloe vera
The use of this product fights skin dryness and beard dandruff, nourishes beard hair, facilitates hair follicles for stimulating hair growth and gives you a beard that is soft, dense, healthy and manageable with an unmatchable shine
The product claims to have been tested on real beards and is 100% free from synthetic and harmful chemicals.
It also has antiseptic, antibacterial properties and is scented
Why Use A Beard Oil?
Sporting a beard may be stylish and appealing, but it can easily be passed off as something unhygienic. Bacteria can find a way in the beards especially the area below the nose where you sweat the most. Dust can get accumulated in the beard hair. The skin becomes flaky and itchy because the beard sucks away all the moisture from the skin. That is why it is a must to invest in a good beard oil to keep beard clean, hygienic and skin healthy and free from grime and dirt.
Using a beard oil makes the facial hair soft, smooth, manageable and also tame them so as to accentuate a crisp and tidy look. Beard oils also prevent irritation and itching on the skin beneath the beard and help the hair grow faster and better. Applying a good beard oil just after washing your face should do the trick, making you look well-groomed with a rustic side to your personality.
Although the list of top beard oils in India has come to an end, we hope you are able to pick your favorite beard growth oil now that you know the ingredients, features, and prices of the best beard oils. Making an informed choice is every consumer right and we support you in this. If you have used any other beard oil and it has given you favorable results, do let us know. However, if you are planning to buy one, you can safely choose from the list of best beard oils above.