Whether you are a yoga enthusiast or a newbie trying to get in shape with workouts, the right type of yoga mat can help in perfecting your posture and performance. A low-quality slippery mat can make you lose focus on the asanas while paving the way for injuries. A perfect yoga mat must be lightweight, supportive, and grippy. Plus, its thickness, size, material, and texture should meet your specific personal needs.
We have evaluated the yoga mats in the Indian market to compile a list of the top yoga mats that can elevate your practice sessions. Be it an intense session of Vinyasa yoga, powerful Bikram yoga, challenging Ashtanga yoga, or flowy Ashtanga yoga, these yoga mats can help you have a perfect balance while striking a pose.
Our Top Picks:
| | |
| --- | --- |
| Best Overall | VIFITKIT |
| Most Affordable | Fitness Mantra |
| Most Slip-Resistant | Boldfit |
| Most Supportive | Lifelong |
 Top 11 Yoga Mats in 2023
From thick and supportive to lightweight and easy-to-carry, find the ideal yoga mat that suits your needs and enables you to perfect your practice with superior cushioning and grip.
Vifitkit 4mm Anti-Skid EVA+TPE Yoga Mat
This anti-skid yoga mat from Vifitkit is a great choice for yoga practitioners looking for a mat with superior comfort and extensive durability. It's made from two high-grade materials, EVA and TPE, to help you provide unparallel support while reducing joint and muscle pains. The 4mm thickness of this mat provides optimal cushioning, making it ideal for any type of floor exercise you wish to do. Also, the waffle design of this mat is there to give you extra grip and stability while also providing air circulation throughout the mat thereby preventing sweat build-up during your workout session.
Designed using 100% non-toxic material, this yoga mat from Vifitkit also has an ergonomic design that helps align your body correctly in each pose, allowing you to get into the perfect shape for each exercise. Combining all these features, one can say that this is one of the best mats available in the market today.
AmazonBasics Yoga and Exercise Mat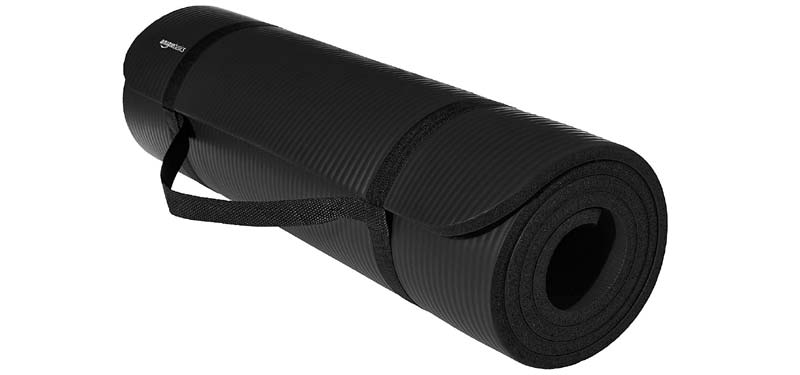 The AmazonBasics yoga mat is designed with an extra thickness of 12 inches to take your practice sessions to the next level. It creates the much-needed cushioning effect between the floor and you to perform workouts, yoga, meditation, or pilates with ease. The textured surface of this yoga mat promotes a traction effect for better stability while trying planks, tricky poses, or a downward dog posture.
It doesn't matter if you are a veteran yogi or a beginner. This mat can keep you comfortable throughout any workout session. This exercise mat is durable and lightweight, which lets you roll it up and carry it with the elastic shoulder strap.
Strauss Anti-Skid Floral Yoga Mat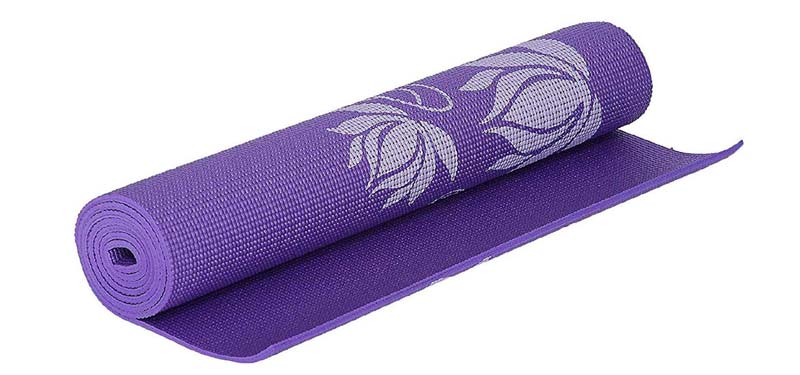 If you are on the lookout for a yoga mat that can provide a durable service, stay hygienic, and offer top-notch support to your joints while sweating out in the gym, then look no further than the ones offered by Strauss. This yoga mat with smell-resistant and sweat-absorbent foam with a textured pattern offers great support during workouts.
The anti-slip bottom of this washable product helps in achieving perfect balance even on hard and smooth floor surfaces. With measurements of 173 x 61 cm, this yoga mat is much longer and more spacious than the standard products in the market. The compression-resistant ability and rebound resilience feature of this workout mat makes it look like new even after practicing asanas and exercises on it regularly.
Boldfit Anti-Slip Yoga mat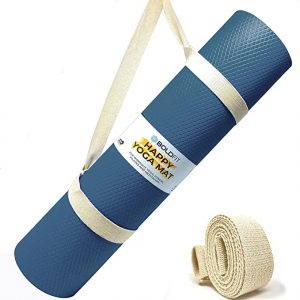 If you wish to discover an effortless and secure yoga experience, you can try Boldfit's Anti-Slip Yoga Mat. It offers optimum comfort no matter how advanced your poses are. With its generous dimensions, it's the ideal choice for yogis of all sizes. There's even a non-slip surface to keep you firmly grounded whether you are indoors or outdoors.
Crafted with lightweight EVA material, this durable mat is extremely resilient to wear and tear and can withstand even your most intense yoga sessions. And with its superior cushioning and anti-slip performance, you can be assured to get the best support and stability to take your practice to the next level.
Yogarise Anti-Skid Yoga Mat
This anti-skid mat from Yogarise is made from excellent quality, eco-friendly materials designed to give you comfort and stability while practicing yoga. Its superior design features a lightweight and durable carry bag with a stretch closure for easy and secure transport. The non-slip surface of this mat provides great grip on both hardwood floors and carpeted areas, allowing you to hold poses for longer periods of time with confidence.
The mat's construction is highly resilient so it will last through many workouts without compromising quality or performance. With this anti-skid yoga mat, you can get the ultimate support needed to practice safely at home or during yoga classes. The best thing is that this mat also comes with a lightweight yet sturdy carry bag which also has a side pocket for storing small items such as keys or phones, making it perfect for taking your practice on the go.
VELLORA Anti-Skid Yoga Mat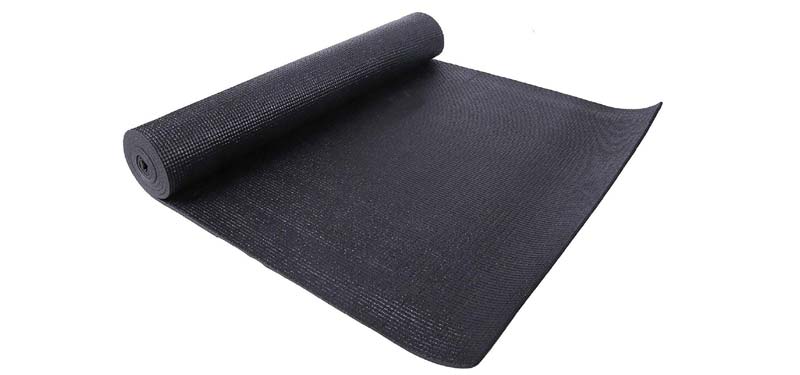 The Vellora yoga mat packs in an array of top-notch features that you will look for in a premium mat right from non-slip exteriors, stability, and dual side usage to slip-resistant ability. It has an exceptional resilience feature that lets it maintain your balance even while doing a strenuous workout. This washable product is simple to clean, as it is designed with the latest moisture-resisting technology.
It is made from lightweight and reliable TPE biodegradable material that is free of phthalates, latex, PVC, and silicone. The well-integrated anti-tearing net of this yoga mat measuring a width of 24 inches and a length of 72 inches makes it an excellent choice for yoga and gym workout activities.
The Cube Club Performance Mat
To get the highest quality and most effective yoga experience, you definitely need to order the performance yoga mat from The Cube Club. You will really love this product because it's reversible with two different colors and offers a unique grip and anti-skid performance to add an extra level of comfort during your practice. It has been specially designed to provide a stable base for any type of yoga you practice. From hatha to vinyasa, as well as other forms of exercise such as Pilates or strength training, the mat is perfect for all.
Every part of this mat has been carefully crafted to maximize comfort while still providing excellent durability. All in all, The Cube Club Performance Mat is an ideal solution if you are looking for exceptional comfort, convenience, and performance at an affordable price point. Whether you're just starting out on your journey or have been practicing yoga for years, this mat will keep your posture correct while allowing you to focus on enjoying every breath.
Fitness Mantra Yoga Mat Anti-Slip and High-Density Yoga mat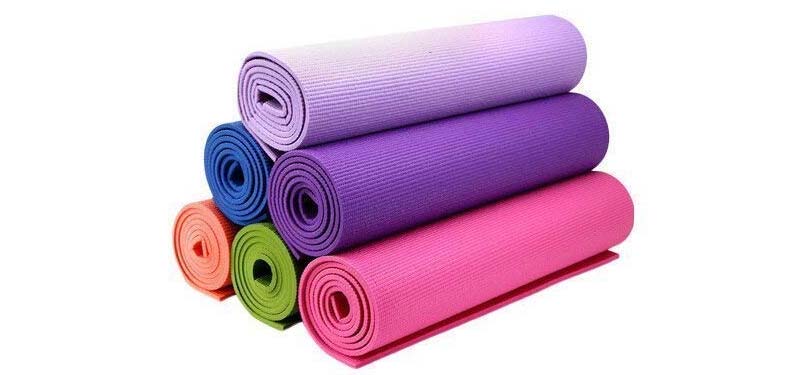 The premium yoga mat from the house of Fitness Mantra is designed with innovative moisture-resistant technology, which helps you maintain it easily using soap and water. This mat is crafted out of TPE biodegradable silicone material which makes it a 100% non-toxic product. You need not worry about making your mat damp with sweat while practicing hot yoga, as it does not absorb sweat or water.
The non-slip textured surface of the yoga mat prevents issues like skidding and slipping while working out. It has a thickness of 4 mm and measures 60 cm in width and 180 cm in length.
SOLARA Premium Large Yoga Mats
This yoga mat from SOLARA is designed to improve stability and comfort during your yoga practice. The mat measures 72 inches by 26 inches, making it large enough for anyone to stretch out comfortably. Its extra-thick design can help protect your joints from the hard ground beneath you. Its top layer made from TPE material gives you the surety that your hands and feet will get a superior grip and prevent you from slipping, even during the sweatiest of workouts.
The lightweight nature of this mat makes it easy to roll up for storage or transportation. Also, it comes with a convenient carry strap for added portability and convenience, taking your yoga journey a level up.
Lifelong LLYM93 Yoga mat for Women & Men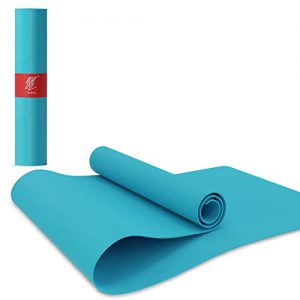 To find the perfect companion for your yoga practice, you have the Lifelong LLYM93 Yoga Mat. With its water and sweat-resistant coating, this mat is perfect to get that maximum grip and stability so you can stay comfortable during your session. It's made of high-density foam which ensures cushioning and shock absorbency, while still being light enough to easily transport anywhere. The multifunctional design of this mat features a unique texture that offers an extra layer of grip to help you avoid slipping when transitioning between poses.
Another important factor why you can consider purchasing this product is because it's available in different designs and multiple colors. By offering superior comfort, support, and style, this mat is a perfect choice for yogis at any level, from beginners to advanced practitioners.
MAXWELL®FIT-Yoga Mat with carrying strap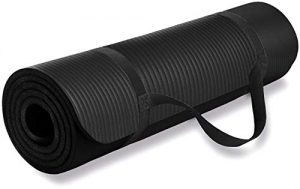 Check Price on Amazon
Accompanied with a carrying strap, this particular yoga mat from MAXWELL is great for different sorts of exercises. Measuring 6 feet long by 2 feet wide, it ensures maximum comfort and freedom of movement, regardless of your body type and size. Its odor-free composition makes it easy to maintain, while its anti-skid texture will provide you with improved stability during your yoga session.
Built using premium quality materials, this yoga mat ensures durability and long-term use. Its lightweight design further enhances mobility without compromising your comfort and stability. So, if you are looking for a versatile mat for different forms of exercise such as Pilates and other floor workouts, do purchase a MAXWELL yoga mat.
To conclude
When searching for the right yoga mat, it can be easy to feel overwhelmed because of the end number of options available online. But with this article, you will come to know about which brand's product will be good for you. With a few key considerations in mind – such as thickness, material type, and size, we have mentioned above a list of top yoga mats. And because purchasing a yoga mat is an investment not only in physical health but also in emotional well-being, you are advised to take time to choose wisely. Just as an excellent yoga mat could make the difference between simply going through movements or connecting deeply to yourself on a spiritual level, similarly, you can also consider purchasing the best fitness tracker bands to keep day-to-day track of your fitness progress.
Things To Know Before Buying A Yoga Mat
Slip-resistant: It is important for you to look for a mat with a non-slip surface that provides a good grip for stability and safety during practice.
Quality: A mat with the right thickness should be looked for, that could meet your needs and preferences. Say, for instance, you observe, thicker mats provide more cushioning for joints and bones, while thinner mats are more portable and easier to store. Now the choice is yours!
Material: Before making a final purchase, ensure to consider the material of the mat, as some materials like natural rubber or cork are more sustainable and eco-friendlier, while other materials like PVC provide better durability and grip.
Think About Thickness: Different mats will have different thicknesses – thicker mats are more comfortable, while thinner ones offer more stability while keeping your body close to the ground – so think about what type of practice you'll be doing and choose accordingly.
Cleaning Matters: Most yoga mats can be easily cleaned with a gentle cloth and some mild detergent but make sure to check what cleaning instructions the manufacturer recommends before purchasing since some materials may not respond well to certain cleaning products or require specific methods of washing and drying.
Size: This point is particularly very important. You need to consider the size of the mat because if you are a taller or larger individual, you may need a longer or wider mat for comfort and proper alignment during poses.
Style: Look for a mat that suits your style and preferences, as there are many mats available in different colors, patterns, and designs that can inspire and enhance your practice.
Determine Your Budget: Finally, it's important to determine your budget so that you can narrow down your choices. Yoga mats come in a wide range of prices, from as low as Rs 250 to upwards of Rs 3000 depending on the type and quality of material used. Consider how often you will use your mat, how long it needs to last, and what features are important for your practice when deciding on an appropriate price range.
FAQs
1. What should be the ideal thickness of a yoga mat?
A typical yoga mat is around 3-5 mm thick. However, if you have joint issues or need extra cushioning, you may want to consider a thicker mat, such as 6-9 mm.
2. How can I clean my yoga mat?
You can clean your yoga mat with a mixture of water and mild detergent or a specialized yoga mat cleaner. After cleaning, allow the mat to air dry before rolling it up.
3. Can I use a towel instead of a yoga mat?
It is otherwise okay to use a towel instead of a yoga mat, but the main issue is that a towel cannot provide the same level of stability and grip as a yoga mat. So, it is best to invest in a proper yoga mat for optimal practice.
4. How often should I replace my yoga mat?
It is recommended to replace your yoga mat every 6-12 months, depending on how frequently you use it and how well you take care of it.
5. Can I use my yoga mat for other exercises?
Yes, you can use your yoga mat for other exercises such as Pilates, stretching, and other floor exercises.