Our Top Picks
MuscleBlaze Whey Protein 1kg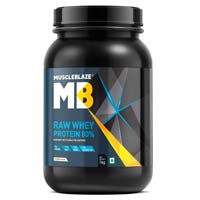 Rs. 1199
AS-IT-IS Whey Protein 1kg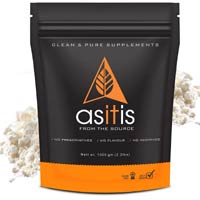 Rs. 1087
Bigmuscles Whey Protein 1kg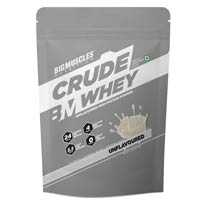 Rs. 749
Are you a fitness freak looking for ways to keep yourself healthy? If yes, we highly recommend you opt for the best whey protein brands by shopping online. They are a great source of proteins and other essential nutrients to promote overall well-being.
Top 15 Best Whey Protein Powders
We have curated the list of the best whey proteins for muscle gain and other tremendous health benefits by considering the brand reputation, quality standards, consumption, online reviews, ratings, and more. Have a look:
Optimum Nutrition Whey Protein Powder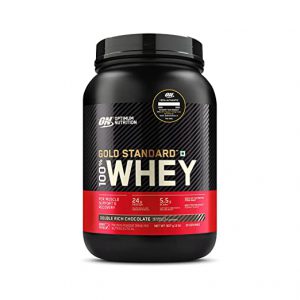 One of the best-selling whey protein powders in India, Optimum Nutrition helps to kick-start your day with high-intense workouts by supplying enough nutrients to the body. While making this product a part of your diet, you will feel comfortable as there are no added preservatives. Also, this product enhances digestion and helps in muscle recovery.
Per Serving: 24g Protein, 3g Carbohydrates, 1g Fats
Flavours: Chocolate, Cookies & Cream, Mocha Cappuccino
Available Sizes: 100 Grams
Benefits: Muscle Recovery, Digestion
AS-IT-IS Nutrition Whey Protein Concentrate 80%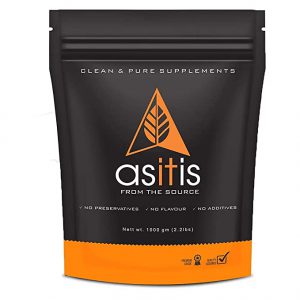 If you are looking for a soy-free whey powder in India, then you can consider AS-It-Is Nutrition Whey Protein Concentrate. Free from additives, preservatives, flavoring agents, it is a high-protein concentrate that can help you develop lean muscles. With 24 grams of proteins and 5.4 grams of BCAA's in each serving of 30 grams, you can be assured that you are consuming an effective muscle gain and synthesis whey powder.
Suitable protein powder for moms-on-the-go, As-It-Is Nutrition provides all nine essential amino acids easily broken down and absorbed by the body. You only get 2.5g of carbs and 1.5g of fat per serving. Moreover, because it is unflavoured, you can take full liberty in mixing it with your favorite juices, smoothies, or pancakes. This product can be availed for cheaper than the actual pricing by utilizing the Asitis Nutrition promo codes.
Per Serving: 24g Protein, 5.4g BCAA
Available Sizes: 100 Grams, 250 Grams, 500 Grams, 1 Kg, 2 Kgs, 5 Kgs
Benefits: Muscle Regrowth, Amplifies Workouts
BigMuscles Nutrition Whey Powder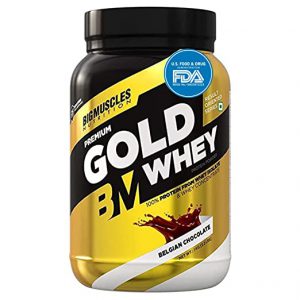 Bigmuscles Nutrition Whey Protein is an ultra-filtered high-quality product with 100% pure organic ingredients. It is a highly versatile and beneficial supplement used by anyone looking to improve overall health and fitness.
Moreover, this product is a perfect choice for bodybuilders, athletes, and fitness professionals because it is fully loaded with essential amino acids and has a fast-digesting nature. Hence, we have listed among the best whey isolate protein brands as it promotes muscle strength and ensures speedy recovery. Apart from this, you can also try the best fitness supplements for better results post-workout.
Per Serving: 25 Grams
Flavours: Belgian Chocolate, Caffe Latte, Cookie & Cream, Rocky Road, Salted Caramel, Smooth Banana Cream, Strawberry Milkshake, Vanilla Crème, Salted Caramel Latte
Available Sizes: 500 Grams, 1 Kg, 2 Kg, 3 Kg, 4 Kg, 5 Kg
Benefits: Lowers BP, Treats Diabetes, Reduce Inflammation
MuscleBlaze Raw Whey Protein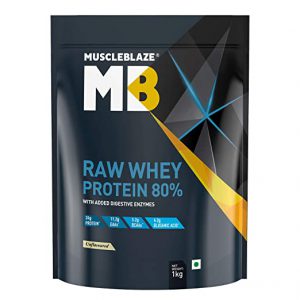 MuscleBlaze Raw Whey Protein comes with added digestive enzymes to enable easy absorption of the whey proteins by the body in whatever way you consume it. An unflavoured vegetarian whey powder, it offers 24 grams of proteins, 12.2 grams of EAA's, 5.2 grams of BCAAs, and 4.2 grams of glutamic acid in each serving of 30 grams. Highly recommended for muscle gain and synthesis, quicker recovery, and reduced muscle loss, it has zero sugar and is Aspartame free as well.
Being unflavoured, you are free to have it in many tastes and forms and so it does not taste monotonous. It is also a product that offers excellent value for money for budget-conscious customer and is one of the best whey powders in India. Additionally, there are countless daily deals and promo codes MuscleBlaze offers to its customers that can be found on the official site (under the 'MuscleBlaze Coupons' section). Be it whey protein powders, fit foods, mass gainers, etc, you are sure to find some exciting offers each day.
Per Serving: 24 grams protein + 5.2g BCAA
Available Sizes: 250 Grams, 500 Grams, 750 Grams, 900 Grams, 1 Kg, 2 Kgs
Benefits: Improved Metabolism, Digestion, Weight Loss
Oziva Whey Protein Powder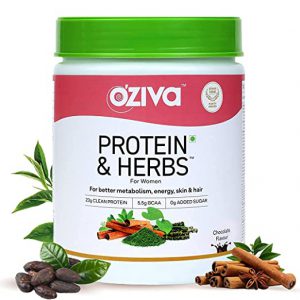 Made of chocolate flavour, Oziva whey protein powder is an excellent option for women looking to control their weight. The formulation of green tea, flax seeds, and cinnamon helps to improve metabolism, sleep quality, and burn calories. The presence of cold protein isolate and its concentration treats post-workout soreness and increases energy levels.
Oziva whey protein powder is suitable for women aged between 16 to 65 years. If you are planning to buy this product, you can use the Oziva promotional offers to get this whey protein powder at a minimal price. Further, if you have any health problems, consult a healthcare professional for using this protein supplement powder.
Per Serving: 5.5g BCCA, 23g protein, and 0g added sugar
Flavours: Cafe Mocha, Chocolate, Mango, Almond, Black Shakar, Vanilla
Available Sizes: 100 Grams, 500 Grams, 1 Kg
Benefits: Weight Loss, Improves Metabolism, and Hormonal Balances
Isopure Low Carb Whey Protein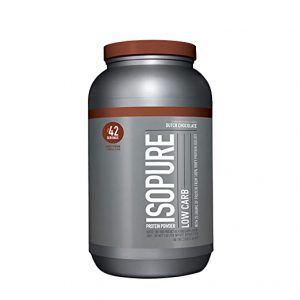 If you are looking to gain lean muscle without putting on fats or bothering with carbs, then Isopure Low Carb Whey Protein is ideal whey powder for you. Eggs, soy, peanuts, and tree nuts along with dairy and wheat make for a 100% pure whey protein isolate with just 1.5 grams of carbs per serving (31 g). Every serving provides 25 grams of proteins and aids your weight management goals.
Loaded with BCAAs, this whey powder is glutamine enriched, gluten and lactose-free, and does not contain Aspartame. You get the Dutch chocolate flavor but if you want a vegetarian version, then opt for a toasted coconut flavor.
Weight: 1.36kg
Per Serving: 25gm Protein per serve – 3 lbs
Flavors: Chocolate
Benefits: Reduces Hunger, Muscle Growth
Ultimate Nutrition Prostar 100% Whey Protein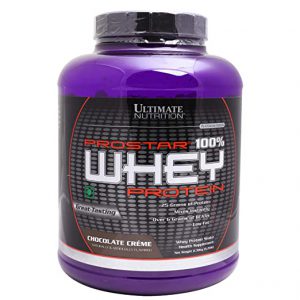 Whether you are looking to build muscles or lose excess fat, Ultimate Nutrition Prostar 100% Whey Protein is your best bet. In each serving size of 30 grams, you get an impressive 25 grams of proteins with all essential and nonessential amino acids. It has just 1 gram of fat per serving. Six grams of BCAA's aid enhanced muscle recovery and repaired muscle faster.
It also acts as an antioxidant and helps boost immunity. Available in 13 delicious flavors, you will be spoilt for choice with this.
Flavors: Chocolate
Benefits: Body Toning, Muscle Core Strength, Reduces Unwanted Fats
NAKPRO Whey Protein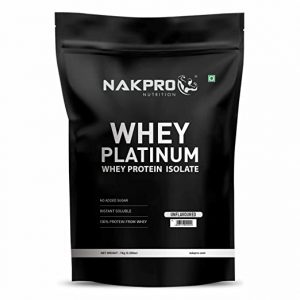 NAKPRO Whey Protein is loaded with muscle-building ingredients that help to increase your strength and size. Additionally, there are no added sugars, and it is available in various delicious flavours, including blueberry.
Moreover, this product is recommended for adults who want to use it as a supplement or part of a weight-training program. Additionally, it can be used to increase your nutrient intake, which can help you to achieve optimal health and fitness goals. So, what are you waiting for? Order your NAKPRO Whey Protein Concentrate today!
Per Serving: 5.1g BCAA, 4g Glutamine, and 5.3g carb
Flavours: Blueberry, Lychee, Mango, Strawberry, Banana, Chocolate, Coffee, Cookies & Cream, Cream Chocolate, Vanilla
Available Sizes: 500 Grams, 1 Kg, 2Kg
Benefits: Better Digestion, Reduces Muscle Loss, Bloating
XLR8 Whey Protein Powder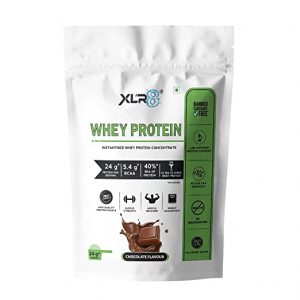 One of India's most trusted whey protein powder brands, XLR8, comes in chocolate-flavored protein concentrate. It does not contain sugars or preservatives, making it an excellent choice for fitness freaks who desire to build lean muscles. Start using this powder by adding 150 ml of water or milk per your choice. Put one scoop of protein powder into it and stir well for 30-40 seconds.
If you are still in a dilemma and want to know more about the benefits of consuming whey protein, check out the guide to consuming whey protein powder to make an informed decision.
Weight: 908 Gram
Per Serving: 5.4g BCCA, 24g Proteins, 17.2g EAA
Flavours: Chocolate, Mango, Strawberry, Lassi, Coffee, Kesar Badam, Chocolate Fudge, Figs & Honey
Available Sizes: 454 Grams, 907 Grams, 1.815 Kg
Benefits: Improve Stamina and Muscle Function
GNC Whey Protein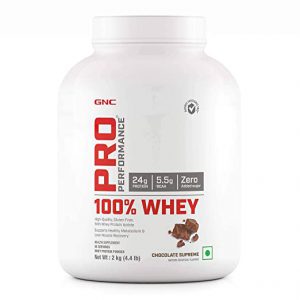 GNC Whey Protein is a highly-rated ultra-macronutrient formula that comes in chocolate flavor. It is vegan-friendly, gluten-free, and has zero added sugar, making it a great choice for those on a healthy diet or who want to increase their protein intake. It also tastes better with shakes than other supplements, thanks to its unique and delicious chocolate flavor.
Furthermore, it is enriched with 9 essential amino acids responsible for muscle growth. Additionally, GNC Whey Protein is ultra-dense and low-glycemic, making it a good choice for people with diabetes or other blood sugar issues. You can get this product relatively low using the GNC coupons and deals while buying from the e-store.
Per Serving: 24g proteins, 2g fat
Flavours: Chocolate, Chocolate Fudge, Strawberry, Vanilla, and more.
Available Sizes: 1 Kg, 2 Kgs
Benefits: Healthy Metabolism, Reduces Fatigue, Muscle Cramps
Himalaya Quista Whey Protein Powder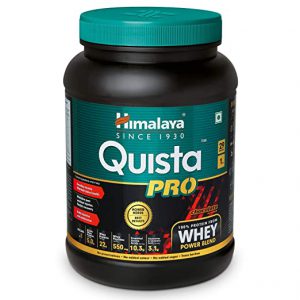 Himalaya whey protein powder is enriched with herbal ingredients like Ashvagandha, Hadjod, and Pomegranate to cure joint pains, connectivity tissues, and fatigue. If you are someone looking for a healthy and active lifestyle, consume once a day after high-intense exercises.
Moreover, it has a perfect blend of all the essential proteins and nuts to improve your overall health. You can also get additional cashback by using the Himalaya promo codes from GrabOn to make your purchases.
Weight: 1 Kg
Per Serving: 5g BCCA, 22g Proteins, and No Added Sugars
Flavours: Chocolate
Available Sizes: 500 Grams, 1 Kg, 2Kgs
Benefits: Muscle Gain, Best For High Intense Exercises
Abbzorb Whey Protein Powder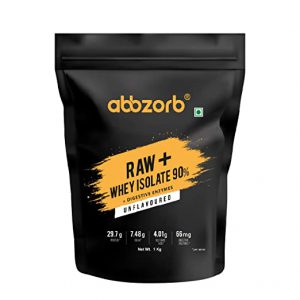 Abbzorb Whey Protein Powder is a high-quality, raw protein powder that is perfect for people looking to gain muscle and improve their protein synthesis. It is made with raw whey isolate, which is a type of premium, pure protein. This means it is free from gluten and has no hidden sugars or maltodextrin.
Additionally, it contains 66 mg of added digestive enzymes, which help to break down food properly and maximize the absorption of nutrients. This protein powder is also suitable for people who are lactose intolerant. It doesn't contain dairy products, so lactose-sensitive individuals can safely consume them. Hence, we have listed them among the safest whey proteins in India.
Per Serving: 29.7g Protein, 7.4g BCAA
Flavours: Raw
Benefits: Builds Lean Muscle Mass
Myprotein Impact Whey Isolate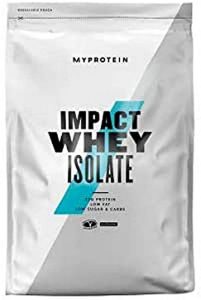 Myprotein Whey Isolate is available in the purest form and retains all the natural nutrients. The presence of L-glutamine supplies enough amino acids to heal the pain. Due to its fast absorbing properties, it is advised to consume 30/60 mins post-workout to enjoy the benefits. You can also have this powder by adding it to the milk, or water, or as a breakfast routine.
Above all, this whey isolate seems to be pricey. Is there any alternative? Yes, start using the MyProtein coupons to cut down expenses when using the codes from GrabOn.
Per Serving: 18g Proteins, 1.9g Fats, and 2g Carbohydrates
Flavours: Mango, Chocolate
Available Sizes: 250 Grams, 1Kg, 2.5Kgs
Benefits: Build Lean Muscles, Better Digestion
MuscleBlaze Beginner's Whey Protein Supplement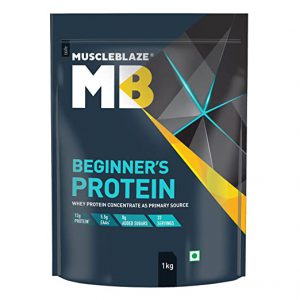 Boasting of a premium protein profile, MuscleBlaze Beginners Whey Protein Supplement is powered by 12 grams of protein from whey protein concentrate as the primary source. It also provides 12.5 grams of carbohydrates. It does not contain any sugar and is suitable for building immunity, muscle strength, and growth. It also provides 2.18 grams of glutamic acid id and 5.5 grams of EAAs. In addition, it also gives 2.6 grams of BCAA's and 1.50 grams of dietary fiber in each serving.
Optimized to be taken with milk, make a shake of a single serving (30 grams) with 200 or 240 mL milk and consume it 2-3 times a day. You can have it in the morning, post-workout, and in between meals for maximum benefit. And if you are someone who is lean, and struggling to gain weight, check out the list of the best weight gainer supplements we curated for you. This is definitely going to be worth the read.
Flavors: Chocolate, Blueberry, Magical Mango, Cookies & Cream
Available Sizes: 500 Grams, 750 Grams, 1 Kg, 2Kgs
Benefits: Muscle Recovery, Improves Strength
Optimum Nutrition(ON) 100% Whey Gold Standard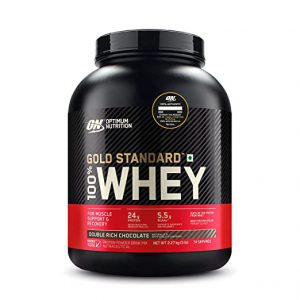 One of the world's largest producers of sports nutrition products, Optimum Nutrition brings to you ultrafiltered whey protein concentrate and whey protein isolate with Optimum Nutrition(ON) 100% Whey Gold Standard. 30.4 grams serving scoop gives you 4 grams of proteins with 1 gram of sugar and 1 gram of fat. It also provides 5.5 grams of naturally occurring Branched Chains Amino Acids (BCAAs) as well as 4 grams of glutamine and glutamic acid in each serving. Other building blocks of ON 100% Whey Gold Standard include valine, isoleucine, and Leucine.
A vegetarian product, it comes in as many as 12 flavors, so you can choose the best of taste and whey. Moreover, it is a bit expensive to buy. Do not worry! You can get them at reasonable prices. All you need is to check for the latest coupons of protein supplements, select the desired product, and apply the code during the final payment to avail of them at a discounted rate.
Whey protein: 24 grams/serving
Calories: 120 Calories/serving
Flavors: Vanilla Ice Cream, Chocolate, Strawberry
Available Sizes: 100 Grams
Benefits: Speed Recovery, Build Muscle Strength
Our Top Picks
| | |
| --- | --- |
| Best Overall | Optimum Nutrition |
| Best For Weight Loss | MuscleBlaze |
| Best For Muscle Gain | Bigmuscles Nutrition |
| Best Budget | OZiva |
Curating Best Whey Protein Powders
| | | | | |
| --- | --- | --- | --- | --- |
| Brand | Absorbency | Flavour | Beginner-Friendly | Value For Money |
| Abbzorb | 4 | 3.8 | 4 | 4.1 |
| Bigmuscles Nutrition | 3.8 | 3.6 | 3.7 | 3.6 |
| GNC | 3.5 | 3.6 | 3.3 | 3.6 |
| Himalaya | 3.7 | 3.8 | 3.8 | 3.9 |
| Isopure | 2.7 | 2.7 | 3.3 | 2.5 |
| MuscleBlaze | 3.7 | 3.7 | 3.8 | 3.7 |
| Myprotein | 2.8 | 2.8 | 2.7 | 2.8 |
| NAKPRO | 3.5 | 3.2 | 3.5 | 3.6 |
| Optimum | 3.5 | 3.7 | 3.9 | 3.8 |
| OZiva | 4.3 | 3.5 | 3.4 | 3.5 |
Absorbency
Absorbency is the property that makes the whey powder dissolve completely in water or milk. We have chosen this as a key parameter to rate the products accordingly.
Flavours
We have made a list by considering the flavours used in whey protein powders. They blend perfectly with chocolate, mocha cappuccino, salted caramel, banana cream, strawberry, vanilla, mango, almond, coffee, badam, figs, and honey.
Beginner-Friendly
If you are a fitness freak looking for the best ways to improve your overall health, these whey protein powders are worth investing in. They are best suited for beginners because they contain enough nutrients and proteins.
Value For Money
Finally, we have considered budgeting as one of the key parameters to evaluate the products. Of all, the whey protein products from Abbzorb are a bit affordable to buy online versus other brands on the list.
Benefits Of Whey Protein Powders
Whey protein powder is the most-purchased supplement worldwide for myriad health benefits. Let's discuss them in detail!
Promotes Muscle Growth: Give yourself a whey powder daily to strengthen the muscles as it is rich in leucine, a branched-chain amino acid.
Lowers Blood Pressure: Many studies have shown that consuming dairy products reduces blood pressure. You will notice tremendous results when consuming 54 grams daily for 12 weeks.
Treats Type 2 Diabetes: Type 2 diabetes is a chronic disease caused by high blood sugar levels. To overcome this health problem, taking whey protein with high-carb meals effectively moderates insulin levels.
Reduces Inflammation: Inflammation, if untreated, may lead to chronic diseases and an unhealthy lifestyle. Consuming 20 grams a day of whey supplement minimizes inflammation greatly.
Whey Protein Powder Buying Guide
Know Protein Content
Whether you want to treat illness or be fit for yourself, calculate the percentage of protein content available in the whey supplement while shopping online. This will give you an idea of using this powder for a specific purpose. If you are unsure about it, consult a healthcare professional for better advice.
No Artificial Sweeteners
You need a supplement to boost your overall health, not the sugary content. The supplement should contain cane sugar, corn syrup, and maltodextrin in zero or limited quantities.
Brand Reputation
In the online market, there are so many brands that are selling whey supplement powders. It is vital to keep a tap on those popular brands like Himalaya, MuscleBlaze, and Oziva and purchase as per your needs.
Price
Finally, we end buying guide with the pricing factor. You can choose from whey proteins under 1000, 2000, or even more. This analysis helps to keep an eye on your budget and make a purchase decision accordingly.
Final Verdict
This is the list of the best whey protein powders in India. Out of these, you can pick the one that best matches your preferences, be it for high-intense workouts or budget constraints. Also, consuming whey proteins in a recommended dosage helps to improve muscle strength and stay fit for a long time.
We all know that proteins are the building blocks for our bodies and the essential ingredient for muscle building. Whey protein powders have made it easy for people looking to have great bodies without investing their time in making small frequent meals. Invest in a good whey protein powder to build and maintain a fit body and make your dreams of having a great body a reality.
Whey Protein FAQs
1. What is whey protein?
Whey protein is an amalgam of proteins isolated from whey (a liquid obtained after the milk is fermented). It promotes muscle growth, and lowers BP, inflammation, diabetes, and losing weight without causing side effects.
2. How is whey protein made?
As we all know cheese is produced from milk, the fatty acids in the milk coagulate, and then the whey is separated from the liquid.
3. Which whey protein powder brand is best?
Experts suggest using the BSN Syntha-6 Protein Powder due to the presence of fiber content, fats, essential and non-essential amino acids, and other nutrients to boost overall health. You can take this chocolate milkshake flavored 1 scoop any time of the day/night.
4. When to take whey protein?
Depending on your health and fitness goals, you can have whey protein powder accordingly. If you want to build muscles or lose weight, then it is good to have whey protein after the gym or exercise.
5. How much whey protein should I take?
Healthcare professionals recommended eating 25-50 grams daily to stay healthy and fit post workouts. Consuming excess amounts in the long run results in kidney damage and osteoporosis.
6. What is a whey protein isolate?
Whey protein isolate contains 90% protein, less lactose, and fats. Isolate is available in flavored form and is a bit more expensive than concentrate ones. It helps to improve the body's metabolic activities, digestion, and muscle recovery.