Think of the year 1996. India had just opened its doors to the rest of the world. American companies like Domino's, Pizza Hut, and Coca-Cola were beginning to set up shop here. This was when McDonald's entered too.
You must remember that in 1996, eating out was not a trend in India. In fact, even in the year 2003, only 3 of the 100 meals people ate in a month were eaten out. This was the market that McDonald's launched in. Not only was the demand low, but there were also no supply chains for McD to rely on. For instance, there was no lettuce supply chain in India. Everybody everywhere used cabbages in burgers.
So, what did McDonald's do? It built the chain from scratch. Yes, the giant wished to make profits. But that would come years later. First, it had a market to build. McDonald's is planning to invest a sum of Rs. 100 crore in the current financial year. It this they are planning to expand the number of outlets. They are going to open 30 new outlets in India.
Ordering the McDonald's Cheapest Burger and Wraps Online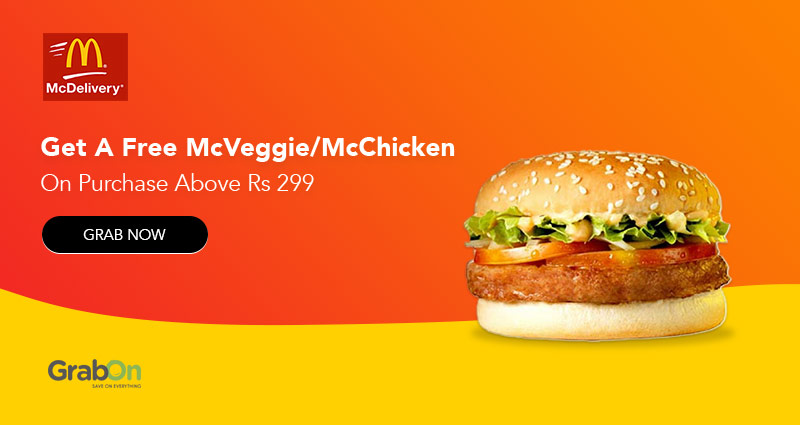 McDonald's prices were, and continue to be, unmatched. This is the case not just in India, but worldwide. The self-service, the lack of waiters and waitresses, and the quantity-purchase of raw materials make sure that the burger is big and cheap.
But in India's case, the burgers are especially cheaper. According to the Big Mac Index, our country has the cheapest McDonald's burger. The Chicken Maharaja Mac costs Rs. 215 at present. Its foreign equivalent, the Big Mac costs $4.11 (about Rs. 300) in Britain.
Another reason why we have it so cheap is that McD introduces innumerable deals here. As apps like Swiggy and Zomato make online ordering popular. McDonald's aides it with more discounts than before.
Below are some of the deals at Swiggy where you can save for your favorite burger –
Get 50% OFF Flat On 1st Order
Rs. 30 Cashback if you have Paytm wallet
Get 25% OFF if you have Axis Bank Delight Debit Cards
Some of the coupons from the Mcdonald's itself are listed below. We would update the list when we get a new coupon. Do check the list for the latest offering.
| Mcdonald's Offer | Coupon Details |
| --- | --- |
| 1 Small Fries Free On Order Above Rs. 100 | GB100 |
| Free Masala McEgg priced above Rs. 100 | MCEGG100 |
| McAloo Tikki Burger Free for Order above Rs. 199 | GB199 |
| McVeggie/McSpicy Burger Meal Free for Orders above Rs. 199 | GBNU199 |
| American Cheese Supreme Burger Free for order above Rs. 299 | GB299 |
| Regular Burger Meal Free Orders of Rs. 499 | GB499 |
| Free Medium Meal on total order value of Rs. 599 | GB599 |
Top McDonald's Deals
| McD Deals | Details |
| --- | --- |
| 2 medium fries for Rs. 129 | Verified Deal |
| 2 McVeggie burgers for Rs. 159 | No code required |
| Purchase 2 filter coffees, grab 1 chocolate cookie free | Limited period offer |
| McSaver Chicken Kebab Meal + Coke + Fries for Rs. 214 | Limited time offer |
| Get 2 Filter Coffee, Grab 1 Chocolate Cookie absolutely Free | No code required |
In addition to the above, you can also avail yourself of free shipping for your orders. Use the coupon "GOFREE" to get free shipping. You can check out all the coupons for Mcdonald's on GrabOn's main website.
McDonald's Extremely Indian Menu
"Localized menu, delivered with precision quality at a price that works", this was the formula that made McDonald's click. Today the fast-food giant has more than 320 million customers in India every year, and it all comes down to a simple Aloo Tikki, a humble Chicken Kebab burger, and a modest Naan-styled wrap. What's common in these dishes is that they're all very localized, very Indian.
Sure, there were flops just like there were hits. For example, there was a Dosa Masala Burger, that just didn't work. Oh, and there was a Masala Chai Latte that went away as quickly as it came. But there were quite many other dishes that stuck, and Indians loved them! Here are is a glimpse of these classic Indian McD dishes:
Burgers with an Indian Spice
In the world of burgers, McD remains unchallenged. The fast-food chain provides the choicest of options for Indian taste buds. The non-vegetarian options include McChicken Burger, McSpicy Chicken Burger, Chicken Kebab Burger, Filet-O-Fish Burger, and American Cheese Supreme. And then, of course, there is the Indian version of Big Mac, the Chicken Maharaja Mac.
Vegetarians have more options in an Indian McDonald's than any other. The fare starts from as low as Rs.49 with McAloo Tikki Burger. Others from the spread include McVeggie Burger, American Cheese Supreme, McSpicy Paneer Burger, and the Veg Maharaja Mac. We have already mentioned the coupon above where you can get a free McAloo Tikki burger free on any order of Rs. 199 and above.
And Wraps to Die For
Whether vegetarian or non-vegetarian, there is a Big Spicy Wrap for everyone at McDonald's. The giant has also introduced Chatpata Aloo Naan and Chatpata Kebab Naan, which may be Indian in the formula, but are other-worldly in taste.
Some Signature Sides
Here is a wholesome menu of sides, fries, and everything nice. From Veg Pizza McPuff, Masala Wedges, and Fries to Chicken Strips, and Chicken McNuggets. There is also a Piri Piri option for those who like a shake-shake bag.
Sinful Desserts
With devilishly delicious muffins and soft serves on the menu, you will never be disappointed. End your meal with a tub of McFlurry Oreo, or indulge in the Brownie Hot Fudge. New entrants like the Vanilla Chocolate Muffin and the Chocolate Chip Muffin are also a must-try.
And Of Course, Drinks from McCafe
A variety of teas like Strawberry Green Tea, Moroccan Mint Green Tea, and English Breakfast Tea are served at McCafe. For coffee-freaks, there are lattes, americanos, cappuccinos, mochas, and flat whites. There are also iced teas, frappes, coolers, shakes, and smoothies of all kinds. But what we swear by is McDonald's Hot Chocolate and its American Mud Pie.
History of McDonald's India
The timeline of McDonald's is somewhat like this:
1948 – A small restaurant is established by brothers Maurice and Richard McDonald in California
1955 – The first franchise is opened in Ilinois
1961 – Ray Kroc buys the McDonald's Corporation from the brothers
1970 – McD has more than 1,000 outlets to its name
1988 – It crosses the mark of 10,000 outlets domestically and internationally
1996 – McDonald's comes to India
This is where our story starts. 1996, the year when McDonald's opened its first store in India. But let's backtrack a little. How did McDonald's reach here?
It was in 1994 that McDonald's contacted Amit Jatia. In 1995, the deal was made – Jatia was to be their partner in the south and west India in a 50:50 joint venture. He opened the first McD store in 1996, but it wasn't until 2009 that he actually started to make profits. The perseverance of 15 years paid off, and by the end of 2010, Jatia had bought out McDonald's stake in the south and west ventures and became the sole owner of McDonald's India.
When you walk into a McDonald's today, you see a huge menu for vegetarians. This was all thanks to Jatia's vegetarian family. By adapting to the vegetarian values of the family, McDonald's adapted to the vegetarian values of the country. In order to localize the menu, they took quite a few steps:
They removed pork and beef from the menu
McDonald's replaced Big Mac (McD's signature beef-patty burger) with the Chicken Maharaja Mac
They introduced Aloo Tikki Burger in 1997 and priced it at Rs. 20
They run two separate production lines- one for the veg fare and another for non-veg. This cost them a lot more money but secured the trust of vegetarians in the country
In 2001, they started localizing all the equipment that went into making a burger.