Who doesn't love Swiggy? The startup is making lives easier, one order at a time, and we can vouch for it. The app has 1,40,000 restaurants onboard and clocks nearly 1.5 million orders daily. This tells us that we're not alone in our love for it.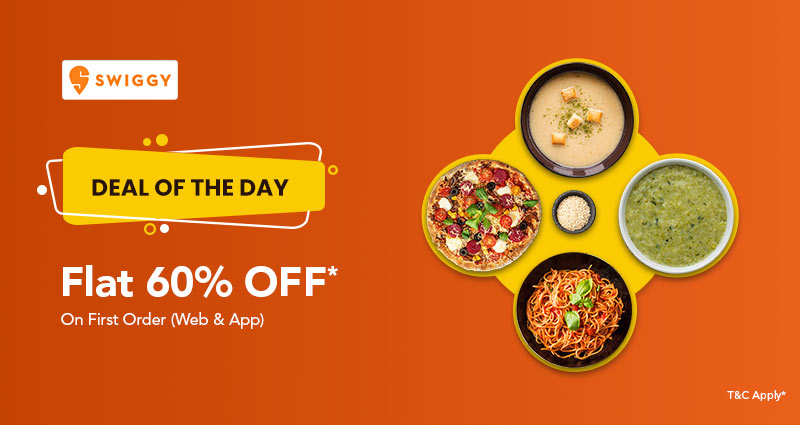 So, for your benefit, we have decided to put together all the things that make Swiggy the best food delivery platform in India.
Ordering the Cheapest Food Online – Saving Tips
For food delivery platforms, discounts and offers are their most significant way to compete. Therefore, as the leading food-tech startup, it is no surprise that Swiggy has offers that are too good to be true. One look at the offers will tell you that the food delivery company has its very skin in the game.
Let's look at some of the coupons available for new or 1st-time users.
Swiggy New User Coupons
| Swiggy Offer | Coupons | Offer Details |
| --- | --- | --- |
| 60% OFF on Food Orders | DEAL60 | Orders above Rs. 149 |
| Flat 60% OFF On First Order | WELCOME60 | Code is Not for Dominos orders |
| 50% OFF On 1st 5 Orders | WELCOME50 | Save Up To Rs 100/Order |
| 50% OFF On First Order | HSBCNEW | HSBC Credit or Debit Card Payment Offer |
| 25% OFF with Ujjivan SF Bank Debit Cards | UJJIVAN100 | Can be used once per month |
| Flat 20% OFF on HSBC Credit Cards | HSBC20 | Minimum order value should be Rs. 400 |
| Flat 40% Off with Fincare SFB Debit Cards | FINCARE150 | Maximum discount of Rs. 150 could be availed |
| Swiggy SUPER Membership Program | No code required | FREE Delivery + Exclusive Offers for Existing Users |
| 60% OFF Select Restaurants | SWIGGY60 | 60% Off on select food orders |
You can check out GrabOn's dedicated page for Swiggy coupons and deals for a detailed list. There are few coupons available for old users too.
| | |
| --- | --- |
| Total Deals: | Coupons(38), Offers(16) |
| Best Food Deal: | 60% OFF on Food Orders |
| New User Offer: | Up to Rs. 120 OFF |
| Bank Offer: | Swiggy-Axis Bank Offer, 40% OFF |
| Wallet Offer: | Rs. 30 Cash back |
Swiggy Old User Coupons
| Swiggy Offer | Coupons | Offer Details |
| --- | --- | --- |
| 60% OFF On Food | DEAL60 | Maximum Discount Rs. 120 |
| 50% OFF + Extra 10% Cashback with Amazon Pay | SWIGGYIT | Rs. 100 Maximum Savings |
| 60% OFF in Select Restaurants | SWIGGY60 | Order Value above Rs 99 |
| 25% Discount On Axis Bank Delight Debit Cards | 150AXIS | 3 times Per User/Month |
| Flat 50% OFF | SWIGGY50 | Minimum Order Value required |
About Swiggy
Swiggy's Unique Features
1. Swiggy Genie
We all have days when we don't want to step out. We also have days when we cannot step out. And post-covid, we frequently have days when we should not step out. For these days, Swiggy Genie is a blessing. Originally launched as 'Swiggy Go,' Genie makes your life easier in two ways: one, it picks up and drops items for you; and two, it buys supplies from the nearest stores for you.
2. Health Hub
Swiggy's all-new feature, Health Hub, is currently the talk of the town. If you are health-conscious, then two things must be of utmost importance to you. One, how much carb, protein, or fat does my food have? And two, does it meet my health goals? These concerns are taken care of with Health Hub. All dishes under Health Hub feature their nutritional values. This will make your selection more effortless than ever. Alternatively, you can also choose your health goals, and Swiggy will show you dishes that are right for you.
3. Best Safety Standards
Swiggy encourages restaurants to follow the best safety standards. These include regular temperature checks, sanitization every 4 hours, usage of masks, and safe packaging. Those restaurants that consistently adhere to these are given the 'Best Safety' badge on the app. Customers concerned about safety can look out for the badge and order only from those restaurants.
4. Meat and Pet Care Stores
Essentials like meat and pet food can also be ordered from Swiggy now. Just find your favorite store, browse their items, and place the order. Prompt delivery and very minimal delivery charges are the USP. If there's one issue, then it is that Meat Stores and Pet Care Stores are not available in smaller cities.
5. Swiggy SUPER
Its membership program, Swiggy SUPER, comes at a price of Rs.149/month, which is about $2. On signing up for this program, customers get free delivery on all orders above Rs. 99. Apart from that, customers can also escape late-night surcharges and surge fees during rain. You also get access to exclusive coupons and discounts for 1 and 3 months for Rs. 49 and Rs. 129 respectively.
6. Cloud Kitchens
You must have found eateries on the app that do not offer to dine. These are Cloud Kitchens. The brand started the Cloud Kitchens concept three years ago, wherein it helped brands create kitchens mainly for online deliveries. While it did not have many takers, in the beginning, their demand plummeted during the lockdown. Over this period, over 200 existing restaurants created cloud kitchens in different parts of the country, with the help of Swiggy.
History
Swiggy's timeline can be charted like this:
2013 – BITS Pilani graduates Nandan Reddy and Sriharsha Majety create Bundl, a website to assist in courier deliveries
2014 – They see the potential in hyperlocal deliveries, and halt Bundl for the time being
2014 – Along with an IIT alumni, Rahul Jaimini, they found Swiggy, and the parent company is named Bundl Technologies
2015 – Swiggy receives its first funding of $2 million from Accel and SAIF Partners
What followed is a series of fundings that brought the company's valuation of $3.6 billion in April 2020. But the road wasn't always so smooth. In 2016, its losses jumped 65 times, and most of its rivals shut shop. Dazo and Eatlo halted operations; Grofers bought Spoonjoy; TinyOwl was merged into Roadrunner, and even Ola Cafe saw the end of its days. But Swiggy had to its claim what none of its competitors had: excellent logistics operations.
Before Swiggy, food-tech startups like Zomato, TinyOwl, and Foodpanda focused only on the tech part. They left the delivery to the restaurants or outsourced it to third-party logistics providers. On the other hand, company had its focus clear from the very start: it would build its own logistics network. The brand is getting a $450-million investment which got closed recently. This will further boost its presence in India.
Says Mukul Arora, partner at SAIF Partners, "They are truly customer-obsessed. They were able to figure out that the delivery experience in the food delivery market was broken." A sharp focus on customer experience became its biggest strength, and in less than four years, it became the fastest startup to become a unicorn.
FAQs
Which is better, Swiggy or Zomato?
Both Swiggy and Zomato have a different roadmap in front of them. For Swiggy, the focus is logistics. In this effort, it has acquired Mumbai-based Scootsy Logistics and the milk delivery startup, SuprDaily. On the other hand, Zomato's focus is on food. The Zomato app gives foodies dine-out options, restaurant reviews, menus, and much more. So, while it is doing a lot in terms of delivery, Zomato is doing a lot in food. In terms of daily orders, Swiggy is leading. It has 1.5m orders per day, in contrast with Zomato's 1.2m. On the other hand, in terms of downloads, Zomato has 100m+ downloads, contrasting with Swiggy's 50m+.
How does Swiggy make money?
The company follows a seven-stream revenue model. It makes money in the following ways:
Through commissions paid by restaurants
By promoting restaurants on the app
Through delivery charges and surge prices
Through Swiggy SUPER membership fees
Through Swiggy Genie
By providing ready-to-use space for cloud kitchens
Through affiliate income from featured banks, wallets, etc.
Why is Swiggy successful?
The food-tech apps before Swiggy outsourced their delivery. On the other hand, it built its expansive logistics network from scratch. Its sharp focus on customer experience is the main reason why it is successful. According to Mukul Arora, partner at SAIF Partners, "They are truly customer-obsessed."