Dark chocolates are the love of many. Many of us turn to dark chocolates when we need to manage our weight but can;t let go of the love for chocolates. And for some others, it might just be a habit. Either way, dark chocolates provide many advantages to us. This can also depend on the type of ingredients used and is varying for different chocolates and brands.
In this article we are going to cover these aspects of chocolate and will also tell you some or the users' favourites. But before let us see what makes the chocolates what they become, if you directly wish to visit the list we made for you, scroll once and there you'd be.
Best Dark Chocolate Buying Guide/ Factors to consider
Dark chocolates are made by combining sugar and fats with cocoa.
There are a lot of factors that decide which dark chocolate is going to be better for you. One of the things is the sugar content in these dark chocolates. All of them do have sugar. But in varying quantities. The sugar is added to balance the bitter taste of the chocolates. The more cocoa is present, the less sugar would be added. Also, such chocolates would taste bitter than those with more sugar, in which the cocoa content will be less. Usually you can find chocolates with 50%, 70%, and even 90% cocoa content. The higher it gets, the bitter it gets. But being bitter is not the only factor that decides how good the chocolate is.
There are vegetable oils that many of the chocolates possess. Although this is not a good ingredient for people to consume, many of the chocolates will have this mentioned as an ingredient at the back of their packets.
Similarly, you would also find sugar mentioned at the back. As a thumb rule you could consider that if the sugar is written first, it has more sugar Thus you might want to avoid that one if less sugar is a priority for you. On The other hand, choose the chocolates which have sugar mentioned last in their ingredient list. Source of info: healthline.
Best Dark Chocolate Bars in India
Last update was on: May 30, 2023 2:33 pm
Lindt Excellence 85% Cocoa Dark Chocolate 2 X 100 G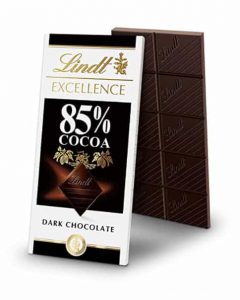 It is an extra fine dark chocolate containing cocoa, fats, demerara sugar, vanilla beans, cocoa butter. It's 85% cocoa which is a good thing. It is an intense dark chocolate made with cocoa beans which is not too bitter and will give you the right amount of pleasure. The company has been making dark chocolates since 1845. This chocolate is good for vegetarians. It also gives you a strong aroma and a perfect blend of taste, flavour and the essence.
It retains its flavours as it is not processed with Alkali. Whereas the 90% cocoa chocolates are processed with Alkali because of which they lose a lot of flavanols. It comes with great packaging with ice packs so it doesn't melt on the way.
---
Pros:
Healthy chocolate
One of the best brands in dark chocolate
Can eat without getting worried of gaining weight
Satiating enough which doesn't make you want to gulf the whole packet at one time
Cons:
Bitter at first, and takes time to get used to
---
Cadbury Bournville Fruit and Nut Dark Chocolate Bar 80g (Pack of 4)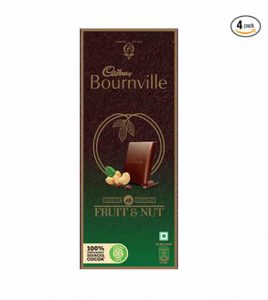 This dark chocolate is from the premium brand which is yet very easily affordable for many Bournville. The speciality of this brand is that it uses the finest cocoa beans in making their dark chocolates. Get this dark chocolate if you need to relax after a heavy meal or just use it as a snack. It is filled with the goodness of fruits and nuts that gives it a unique texture and feel. It is an irresistible option in the list.
---
Pros:
Good packaging inside ice packs
50% cocoa
Value for money
Best if you are venturing into dark chocolates for the first time
Cons:
Not for you if you don't like fruits in your chocolate
Not for those who are allergic to nuts
---
After Eight Mint Chocolate Thins 300 g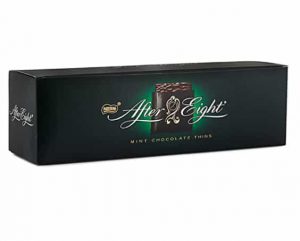 It has a peppermint flavour to it which will send your taste buds to a trip to Disneyland. It is made with 100% peppermint oil which is then blended in rich dark chocolate making this a mint of dark chocolates. Additionally, they don't have artificial colouring, preservatives and or flavours. It is an imported chocolate which is manufactured in West Yorkshire in the UK.
---
Pros:
Great taste and mouthwatering
Eggless
Free from colourants
Unique combination of mint and dark chocolate
Perfect for dark chocolate lovers who want to try something different
Cons:
Not good for lactose intolerant people who switch to dark chocolates as this one has milk
Has nuts
Might melt when they arrive as per customers
Irresistible
---
Cadbury Bournville Rich Cocoa 70% Dark Chocolate Bar 3 x 80 g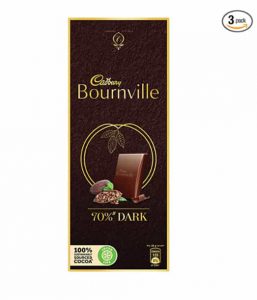 It is only 70% dark chocolate. However great if you need to try something not extremely bitter. 7-% dark chocolates contain antioxidants, fibre, potassium, calcium, copper, and magnesium. Iit is in the sweet spot for dark chocolates as it is rich in cocoa, but not that bitter. The higher the dark chocolate content gets, the butter it becomes. 70% or more is what you should try to get the real taste of dark chocolate. It is also known as a healthy percentage as it contains less sugar. If you are looking for dark chocolate, you should go for 70% or more.
---
Pros:
Value for money
Come sin good packaging
Many offers available
Cons:
100kcal more than other brands
Not dairy free
---
Sugar Free D'lite Rich Cocoa Dark Chocolate Bar 80g (Pack of 3)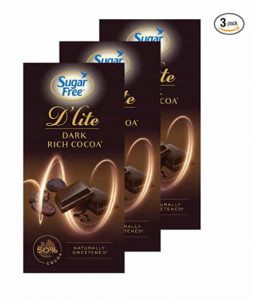 This chocolate has 50% cocoa. Now you would imagine it has more sugar. But in fact it has no sugar at all. It is a sugar free chocolate. Their sweetness is provided by a polyol called Maltitol. Other than that it is a rich dark chocolate and it'll surely treat your taste buds. It however contains emulsifiers and flavouring. Emulsifiers are used to prevent cocoa and fats from separation, but are not the best for health. So you might want to think about that.
---
Pros:
No added sugars
Exquisite taste
Minimum of 50% Cocoa
Natural sweeteners
Value for money
Good packaging
Cons:
Contains emulsifiers
50% cocoa
Contains dairy products
Little expensive
---
Fabelle Wood – Centre-Filled Luxury Dark Chocolate Bar 131g (Pack of 2)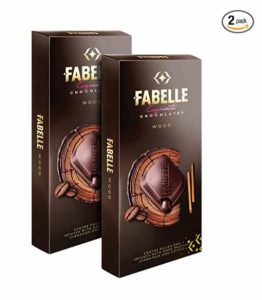 This dark chocolate has shells within which you find mousse that is infused with cinnamon and coffee providing you with an extremely exotic taste. The bars are handcrafted by the master chocolatiers of ITC. It is called to 'awaken your senses with its earthy flavours'. It is a  unique chocolate experience where you get mousse flowing at every bite that melts in the mouth.
---
Pros:
Premium chocolate
Provides you with a luxurious feeling
Delectable
Completely vegetarian
Value for money
Great packaging
Cons:
Contains milk, so isn't suitable of you are lactose intolerant
---
Amul Dark Chocolate 150g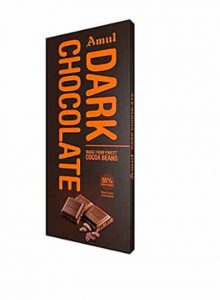 The Dark Chocolates by Amul are very popular among dark chocolate lovers This is because of the price, but also because of the quality that it offers. They are made with the finest ingredients (fine particles' approx 20 micros) and the choicest ingredients. The cocoa is delicious to taste and is one of the world class ones. This particular one is 55% dark chocolate and has other ingredients like milk etc.
---
Pros:
No vegetable oils
Natural source of antioxidants
Contains no fats
It's vegan
Cons:
Contains artificial flavours
Has milk
Contains emulsifiers
Sugar is listed as the first ingredient
---
Hershey's Exotic Dark Chocolate Blueberry & Acai 100 g (Pack of 3)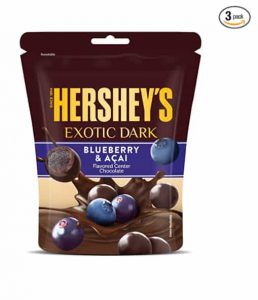 Love dark chocolates and blueberries? This is the effect one for you which has exotic blueberry flavours inside rich dark chocolate. It is also available in flavours of pomegranate and raspberry. However it might not be the one for you because if you are looking for something specifically for weight loss purposes such as the sugar content and other ingredients.
---
Pros:
Exotic flavours
Delectable and refreshing taste
Cons:
Not for the diet conscious
---
BOGATCHI Premium 99% Dark Chocolate 80 gm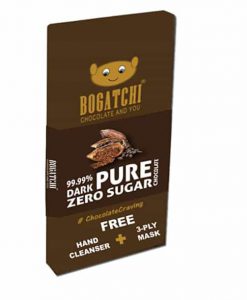 If you want to enjoy premium quality chocolate, the BOGATCHI chocolate is for you. It is made with the finest cocoa from Africa. It is free from gluten, so you can enjoy it without any worries. The dark chocolate, made from real cocoa beans, has a rich and intense taste. Enjoy it on its own or add it to your favourite recipes!
---
Pros:
99% dark chocolate
100% gluten free
Amazing taste
Pure form of chocolate
Vegetarian
Has less sugar
Keto diet, low on carbs
Cons:
Probably bitter
Definitely expensive
---
Amul 99% Cacao Chocolate 125g (Pack of 2)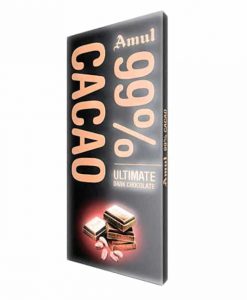 99% cocoa? Yuck, that's bitter. But only if you are trying dark chocolates for the first time. If you have had the 55%, 75% and the 90% cocoa chocolates from Amul, then you can go for this too. T is really bitter. But folks like me can still eat it like a sugar coated pineapple piece. Moreover, it is vegetarian and is allergen free.
---
Pros:
No sugar
Bitter at its best
Full rich taste
Nicely packed
Cons:
Extremely bitter
Not for those with a sweet tooth
---
FAQs
What are the benefits of dark chocolate
Dark chocolate is loaded with antioxidants and is believed to have some protective benefits. It contains plenty of beneficial flavonoids that we can find in other antioxidant-rich foods as well as plants. Dark chocolate also has a high concentration of magnesium, potassium, and calcium. Some people might prefer to eat dark chocolate as a treat rather than a healthy snack, but it's not all that bad for you if you choose to do so.
Which dark chocolates should you avoid?
But if you are conscious about health, and if that was why you were looking for dark chocolate, you might want to avoid compound dark chocolates. These are the ones which contain vegetable oils and sweeteners in addition to cocoa. These oils are usually not good for health and thus should be avoided. Check the ingredients at the back of the chocolate before you buy them.
How are dark chocolate made?
Dark chocolates are made by adding sugar and fats to cocoa.
What is bittersweet?
Bittersweet is another name for Dark chocolates. They are also called semisweet.