1 glass of milk is something we all have been feasting on since our toddler days. Nothing feels better than a glass of milk especially when it is served by moms.
Cow Milk, although it is very nutritious and provides you with calcium which is good for bone development, it's not all good. Especially if you are fitness conscious or are simply avoiding daily processes. Dairy milk is full of saturated fat. This is the worst kind of fat. It can cause heart problems, breast cancer, or can simply be a means of increasing cholesterol in your body. That doesn't sound so good, right? Needless to say it cannot be consumed by those diagnosed with lactose intolerance.
Why Almond Milk?
Almond milk is the best substitute alternative for milk obtained from cows.
It is prepared by adding water to crushed almonds and filtering it. In order to increase its thickness, texture and taste. Flavors are added too. It is a completely synthetic type of milk which can also be made at home. But the viscosity of factory made milk is much better.
If you are also concerned about sugar, you need to check for the ingredients at the back of the box as some of the varieties have added sugar to it. On the other hand, there are also a few unsweetened varieties which you can buy. It also has many other nutrients including calcium, potassium vitamins, fibers, and protein. It on the other hand is also a source for some fats, and carbs. Here is the composition of a cup of Almond milk (source: Healthline)
Calories: 39
Fat: 3 grams
Protein: 1 gram
Carbs: 3.5 grams
Fiber: 0.5 grams
Calcium: 24% of the Daily Value (DV)
Potassium: 4% of the DV
Vitamin D: 18% of the DV
Vitamin E: 110% of the DV
The nutritional composition however differs from brand to brand and in this article we are going to discuss the different Almond Milk brands.
So, let's see the best Almond milk to buy in India:
Best Almond Milk Brands in India
Last update was on: November 25, 2022 10:51 am
Urban Platter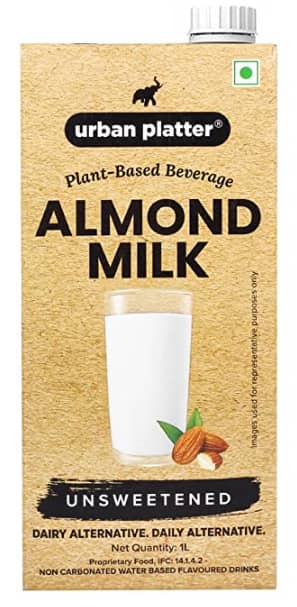 The almond milk from Urban Platter contains premium California almonds and the purest water from the springs of Himalayas. With the Urban Platter almond milk, you get all the nutrients and benefits of almond milk without getting added sugar.
Why Urban Platter Milk?
40% more Calcium than dairy based milk
Naturally high in proteins
Packed with
Low in fat
Epigamia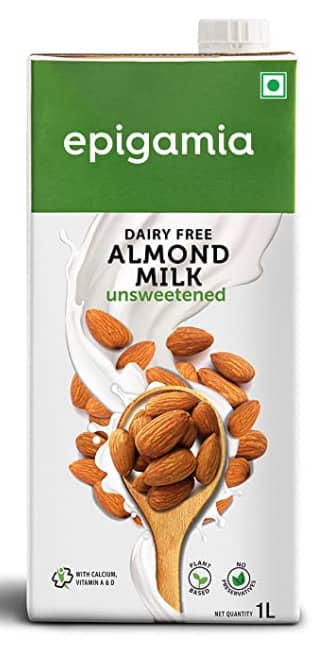 With 4% almonds and 2X the Vitamin A and D as compared to toned milk, Epigamia is a healthier option that tastes just as good. It has a plant based gluten free product. You can also find ones with no added sugar. Additionally, the products are gluten free and have 0 preservatives. The milk also suits a keto diet. It is a rich source of calcium and it can be used for various recipes like morning cereal breakfast and smoothies.
Why Epigamia Almond Milk?
Low on calories
Loaded with calcium and vitamins
Easy to digest
Dairy free
Good for health
Tastes good
Well packed
137 Degrees
137 Degrees Almond Milk is Made with 100% California non-GMO whole almonds, this milk is a great source of calcium, protein, and vitamin E. Not to mention, it has a low calorie count at 60 Kcal per 180 ml. So go ahead and enjoy a glass straight from the almond milk carton without any guilt! With its creamy and nutty taste, 137 degrees Almond Milk is perfect for those who are looking for a nutritious drink that won't empty their pockets. Rich in unsaturated fats, this almond milk is also a good source of Vitamin E and Calcium.
Why '137 Degrees' Almond Milk?
Soothing flavour
Value for money
Healthy
Unsweetened
Lactose and gluten free
Vegan
So Good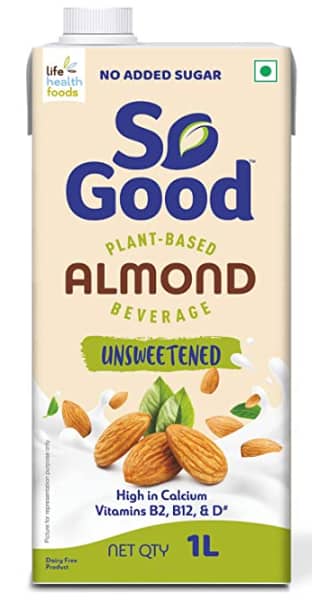 Ever since the So Good brand has been around, it has been one of the most renowned brands for milk beverage lovers. It serves many loyal fans with a wide selection of milk beverage products for everyone to enjoy so you can choose exactly which drink is best for you.
Your body needs Vitamin D and magnesium, which is what you'll get from a few glasses of the So Good creamy goodness, the Almond milk.
Why So Good Almond Milk?
Finest almonds
Gluten free milk
Unique formulation
Sugar free
Only Earth
Only Earth almond milk is a well-known product for smoothies, desserts or anything you wanted to use milk in. It is low in calories and fat and does not contain any additives. It is produced from almonds which are 100% organic and sustainably sourced. It is indeed a very nutritious alternative for those who would like to include it into their diet.
Why Only Earth Milk?
Fine quality
Same day dispatch
Naturally creamy
Rich in proteins, vitamins and fiber
Silk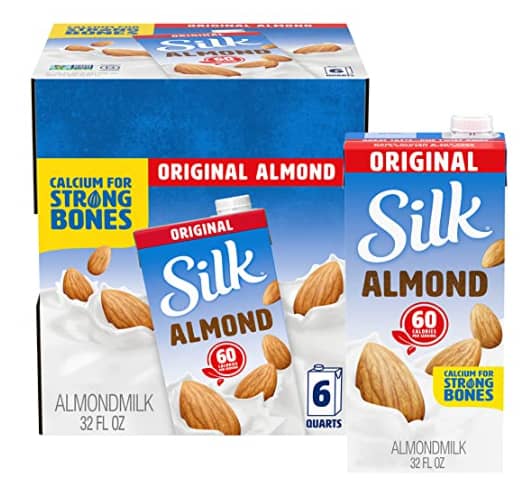 Silk almond milk, an all-natural probiotic drink, is a healthy snack and alternative beverage that delivers all the nutrients from the best quality raw Almond. So now you can drink as much as you want without feeling guilty. Try adding it to your tea, smoothies, and desserts for a full-bodied flavor to choose from.
Why Silk Almond Milk?
Variety which is low in saturated fats
Low in calories
No added sugar
50% more calcium than milk
Allnutt
The Allnutt brand is an excellent one, offering a variety of almond milks. The most sought after flavours that you can get are vanilla, cinnamon, cocoa and turmeric-almond milk. Its products are perfect for those who are looking for a natural dairy free drink with the goodness of real milk that will be beneficial for their body and mind.
Why Allnutt Almond Milk
Cold pressed
Variety of flavours
Nutrition rich
Raw Pressery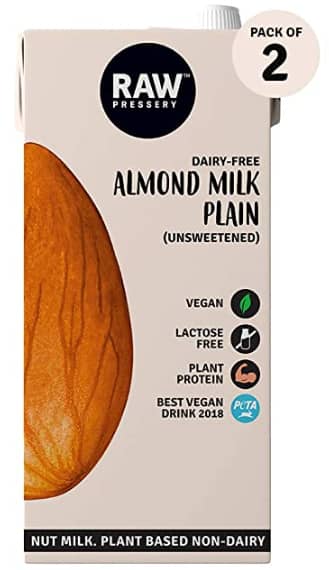 Raw Pressery almond milk is a natural, dairy-free, whole food, plant-based alternative to dairy products. It is an unprocessed, whole food, plant-based alternative to dairy products. You can find it at many major ecommerce sites and the Raw pressery website for sale as well. Raw Pressery almond milk is a healthy alternative to those who are lactose intolerant or allergic to milk, and even for the kids. It's made of almonds, water, and sea salt.
Why Raw Pressery Almond Milk?
Low in calories
Low calcium and vitamins
Free delivery
Affordable
Blue Diamond
Blue Diamond non-dairy milk is a great source of almonds, which are an essential source of protein and fiber. Almonds help lower cholesterol and improve blood pressure. Many people opt for almond milk because it's tasty and healthy. So, what are you waiting for? Try Blue Diamond almond milk today!
Why Blue Diamond Almond Milk?
Delicious taste
Best Californian almonds
45% of daily value calcium
25% of daily value Vitamin D
Orgain
Orgain almond milk is a great source of protein which is full of nutrients. It is high in vitamins and has no side effects. In addition, it is also a good source of magnesium. This mineral is known for boosting metabolism and also for detoxifying the body. The product does not only provide nutrition, but also can help those looking for weight loss.
Why Orgain Almond Milk?
10g of plant-based protein in every serving
Lightly sweetened
Almond milk is not only great for a healthy diet, but it's also an excellent source of protein and can be used in many different recipes. If you're looking to make the switch from regular milk, almond milk is a great place to start. Let us know which one is your favorite.