Popular DataCamp Promo Code, Offers and Discount Codes for March 2021
| DataCamp Coupons | DataCamp Offers | Validity |
| --- | --- | --- |
| Learn Data Science at DataCamp For Free | Free Offer | March 2021 |
| DataCamp Yearly Plan | $25 Per Month | March 2021 |
| DataCamp Monthly Plan | $29 Per Month | March 2021 |
| DataCamp Yearly Professional Plan | $300 Per Year | March 2021 |
| DataCamp Yearly Enterprise Plan | $499 Per Year | March 2021 |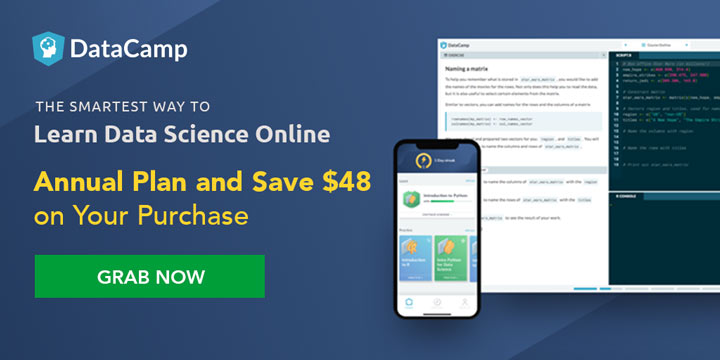 About Datacamp
Enhance your career by learning to code. The demand for data science and machine learning is increasing in the market constantly and learning them would be very helpful. If you want to find the right platform to learn to program, your search ends here. Datacamp offers premium courses where you can learn tons of languages like Python, SQL, Scala, Tabuleu, Theory, Shell, Git, etc. At datacamp you learn with interactive techniques and tasks. You master coding as you do it. You have access to plenty of career tracks in different courses which will make you better professionals and industry-ready. There are multiple packages to choose from. The free package gives you access to the first chapters of all courses at no cost. You can either upgrade to the paid packages and enjoy more benefits.
Datacamp Payment Options
You can purchase the subscription by paying through your bank cards or net banking. You need to create an account before you can sign up for any package which can be done in a few very simple steps from the signup page. In datacamp, your account gets charged on a subscription basis. If you choose a monthly subscription, you will be charged automatically every month. The same applies for an annual subscription.
Datacamp Cancellations Policy
You can cancel your subscription anytime you like. However, you can't get refunds for the days that you do not need to use the service. For example, if you have 20 more days remaining for your subscription to expire, although you can't get a refund for the 20 days, your account is deactivated only after the completion of the billing cycle, i.e. after the 20 days. You can cancel the service by logging into your account or sending an email to support@datacamp.com. Business accounts should be canceled at least 30 days prior to when the subscription expires. Savings You can also pause your subscriptions any time you like. You will not be charged for that month. Annual subscriptions cannot be paused.
Datacamp for business
It is an awesome tool for businesses to help their employees upskill and learn new data skills. If you sign up as an organization, you can track the progress of your team, set assignments, and create custom programs that suits your employee needs.
How to save more with Datacamp
Annual subscription
Savings is one of the major benefits of an annual subscription. In the Basic pack you pay $25 every month, where if you take a Premium ack, you not only get all the features of the Basic pack but more benefits at a price of sony $ 8.25 which you pay annually ($ 99).
Coupons and deals
Another way to save when you buy the subscriptions is when you use coupon deals while you pay. There are many codes present on this page which will help you make worthwhile savings.
Tips to learn coding
Dedicate time for learning
Ask questions
Use more interactive material and code challenges
Meet and interact with like minded coders/learners in online or offline scenarios