More About Zara
Being a Spanish fast fashion store, Zara was founded in the year 1975 by Amancio Ortega and Rosalía Mera. The brand was the first to be opened by the Inditex Group, world's largest apparel retailer. There are over 6500 Zara stores across 88 countries. Zara is considered to be one of the largest international fashion brands. The firm started out by offering lookalike products of popular fashion clothing at lesser rates. Soon Zara expanded its store outlets and in time changed their design, trends and manufacturing process. Zara started using a group of fashion designers for creating new patterns and collections. They focus on the key elements of fashion production.
Zara houses wide range of collections from clothes, shoes, perfumes, bags to much more. The firm uses natural fibers and environment-friendly materials for manufacturing if their products. To add up to that, they collect old clothes, recycle them and give them the NGOs in need. They let you donate clothes that you no longer need, it is then recycled at their unit. Zara has undergone immense changes and has had new versatile and innovative product discoveries. With 43 years in the fashion industry, they continue to deliver great products.
The Ultimate Fashion Store
Zara focuses on consumer needs and the trends in the market. Hence the Zara collection keeps changing every season, each year. Their Zara collections in accessories and clothing line are impressive. The store collections are definitely worth checking and if you don't have the time, you can always visit the Zara online shopping India website. There are plenty of Zara stores in India, each store has its own unique collections. Zara clothing online has its own range of offers. Some go on sale, some are available at really less price and some are just worth buying. If upgrading to a trendy look and hoping to keep the clothes long is what you want then Zara India online is the best fashion place for you. So what are the things you can possibly get? There are T-Shirts, dresses, trousers, boxers, jumpsuits, jeans, shorts, shoes, perfumes, bags and so much more. Zara has products for women, men, and kids. So whatever be your requirement, this is the ultimate fashion destination for all your needs.
Zara And You
Zara believes in working together to focus on design, distribution, manufacture, and retail. Their customers are at the heart of their business model. Everything else revolves around it. They make continuous in making in products at affordable prices. And when they do, they do not compromise on quality and customer needs.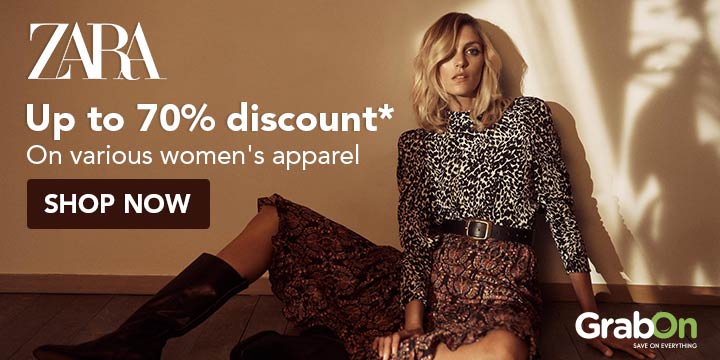 Grab Zara Offers
Buying Zara products can bring happiness, but getting to save a bit more on your purchase brings more. Zara offers a sale on their collections from time to time. There's sale at the store or there's Zara online sale India. To help make your purchase easier there are Zara fashion vouchers. These vouchers can be used to avail Zara clothing offers, either at the store outlet or on online. The Zara sale is something you shouldn't ever miss, from coolest collections to best of discounts, you get it all. And if you happen to miss out on that, there are great Zara discount coupons you can get here. So, be sure to check this space out and grab those incredible deals. Own a Zara soon and happy shopping.