Latest Udacity Coupons, Offers & Promo Codes For Jan 2021
| Udacity Coupons & Offers | Offer Details |
| --- | --- |
| Udacity Online Courses | Flat 10% OFF + Extra 10% OFF |
| Programming Nanodegrees | Up To 15% + Extra 10% OFF |
| Data Science Nanodegrees | Up To 15% + Extra 10% OFF |
| Digital Marketing Nanodegrees | Up To 15% + Extra 10% OFF |
| Udacity Free Trial | Get A 7-Day Free Trial |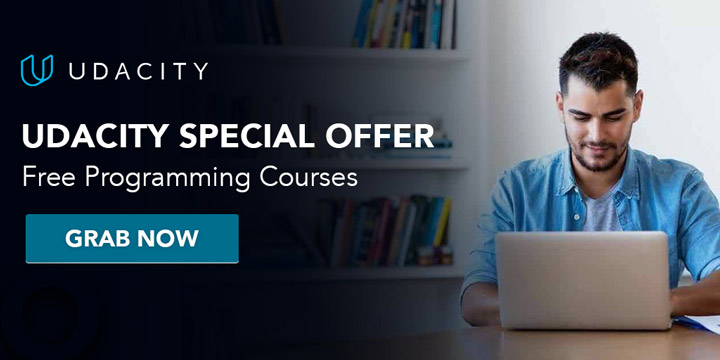 Education - The Synonym for Empowerment
The power to educate people is something that can influence for generations to come. Education not only empowers you with knowledge but also fast-tracks your professional growth. With the advancement of technology, you can now learn anything at low costs (or no cost). Udacity is one such platform, which will educate you without charging you a lot of money for most of their courses.
Udacity is one of the growing platforms providing the best quality of courses for different sectors. Also, you can turn up your career by learning the best skills in the market with Byju's and Udemy and land up having your desired job or field you always wanted. Free courses are also available.
Udacity was an ambitious experiment started by Stanford instructors Sebastian Thrun and Peter Norvig. They decided to offer their "Introduction to Artificial Intelligence" course online to everybody for free. Initially, 160,000 students in more than 190 countries enrolled. When they realized that their initiative can impact the world, they decided to carry it forward. Their efforts helped millions to nurture and grow. With their mission to democratize education, they have ensured that people learn freely, without the worry of student debts and loans. World-class mentors and program instructors, if you are curious about the innovative fields of the world, these courses are what you are looking for.
Nano Degrees from Industrial Giants
With industry collaborations with giants and big names like Google, AT&T, Facebook, Salesforce, Cloudera, etc., Udacity offers Nanodegree programs and credentials, designed with such thought that professionals become Web Developers, Data Analysts, Mobile Developers, etc. The students learned to acquire real skills through a series of online courses and hands-on projects. You can try the Machine Learning Course to ensure a smooth transition into the field of Machine Learning. You can opt for their Udacity Artificial Intelligence, to understand the fundamentals of automation. The courses cover nearly all aspects of modern innovation and technology.
Free Courses- Let Money Not Stop You From Learning
Udacity also offers a number of free online courses and tutorials. Their team believes in the power of learning to uplift, empower, and transform. They are always open to opportunities that act as a catalyst in creating and providing world-class programs that directly connect the students of today with the jobs of today, tomorrow, and beyond. You can choose the free programs that are divided from Beginner, Intermediate to Expert. The teaching process considers your level of expertise and starts from the fundamentals. You can take your own time to complete these courses (self-paced) and learn at a speed that you deem fit.
Empowering Students Through World Class Education
In the eyes of Udacity, education is not just a one-time event but a lifetime opportunity and experience. Education should empower the student to do wonders in life and not just their schools or at their jobs. The courses and nano degrees teach the skills that industry employers need today, delivers credentials endorsed by employers, and also educates at a fraction of the cost of traditional schools.
Great Opportunities with GrabOn
Don't let cost affect your learning. Udacity offers a lot of Nanodegrees and Courses which might pinch your pocket. Although they are really affordable, why would a good deal hurt you? Check this page frequently to get the best deals and offers. Never miss out on discounts and promo codes, and make your learning cheaper with GrabOn.
Latest Headlines
Udacity partners with Amazon Web Series - A one-of-its-kind machine learning course has been launched by Udacity, in collaboration with AWS. The course will teach the fundamentals of Machine Learning, in the first phase. 325 students will then be chosen for the advanced AWS Machine Learning Nanodegree Program. The course will not only teach the ins and outs of machine learning but will also educate the students on AWS' machine learning tools and how to use them.