India's First Fully Automated Laboratory
Available across 2000 Indian cities and towns, Thyrocare aims to provide affordable healthcare without compromising on quality treatment and diagnostic. Associated with bigger and stronger brands Thyrocare invests in the best of technology and grade A instruments, procedures, quality reagents/chemicals, and IT to get you the best and most affordable healthcare. This clinical chemistry laboratory reached the top ranks becoming one of India's first diagnostic laboratories to receive renowned accreditations, the likes of ISO 9001-2000 back in 2001, and continued to add more feathers to the cap in the form of ISO 9001:2008 NABL in 2005 and certifications like College of American Pathologists in 2007.
Latest Thyrocare Offers, Coupons, & Promo Codes for your Health Checkup - Jan 2021 (Updated)
| Health Test | Thyrocare Coupons & Offers |
| --- | --- |
| Aarogyam 1.1 | Flat 27% OFF |
| Aarogyam 1.2 | Flat Rs 405 OFF |
| Aarogyam 1.3 | Flat 27% OFF |
| Aarogyam B | Flat Rs 225 OFF |
| Aarogyam C | Flat 27% OFF |
| Infection Checkup Profile | Flat Rs 540 OFF |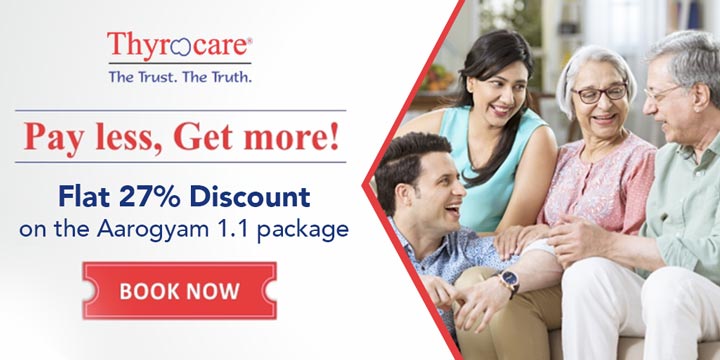 Reaching Staggering Numbers With Utmost Accuracy
Operating out of a Centralized Processing Laboratory in Mumbai for running specialized tests and Regional Processing Laboratories throughout major Indian cities, as much as 25,000 samples are brought in by means of air cargo which are then processed accordingly overnight. Occupying a 120,000 sq. ft space of automated systems, the CPL has a capacity of processing 50,000 samples a day. The set up in Navi Mumbai working 24x7 has the combined capacity of processing 40,000 samples a day in and day out. All of this made possible by the seamless integration of IT and logistics, well-coordinated inventory management, data collection, and at the same time a thorough pre-analysis quality check ensuring the integrity of samples and proper storage. 2,00,000 sq. ft. is in place to make sure that over 50,000 samples are processed 24x7 with precision and speed at a turnaround rate of 4-8 hours.
Smooth And Error Free Processing
Thyrocare has broken new grounds with the introduction of the industry's first barcode system across all of the collection points spread throughout the country. Identifying and segregating sample vials with the help of a barcode not only makes the handling easier but also speeds up the process. Once the barcoded vial is put through the automation process, it is passed on to the correct analyzing mechanism the output data is collected, organized and the reports are uploaded on the website thus making the process error-free, faster and smoother.
Quality Health Care Made, Even More, Affordable
Thyrocare is known far and wide for providing quality diagnostic at affordable prices, what if we tell you, we can slash the prices even more for you? Too good to be true? Well, Thyrocare coupons and offers give you just that and much more. Offers up to 63% off on wellness packages, discounts on preventive care for ICICI bank credit and debit cards, all the deals and offers you can't say no to are all stacked up for your convenience here at GrabOn. From Electrophoresis to ELISA, from Chromatography to Mass Spectrometry, all the diagnostic tests run by laboratories are covered in these wellness packages. Photometry, Nephelometry, and CLIA are used to test for APOLIPOPROTEIN - B, IMMUNOGLOBULIN G (IgG), Serum Globulin, based upon which the correct step is mentioned. For more such offers don't forget to keep checking this space!