Practo: Finding Doctors Made Easy
Running around to get your doctor's appointment at a suitable time can be a bit of a tedious task. Well, what if we tell you that you are just a tap away from your doctor? Cool, right? With Practo, you can book an appointment with a specialist for your area of concern in a jiffy! Not just this, Practo also lets you order your medicines and book lab tests online, and consult a doctor for all that you need. To help you "Upgrade Your Healthcare Experience", Practo lets you get a full body checkup, followed by a detailed session with the concerned doctor. You can then go ahead and order the medicines on Practo and keep your complete medical history under one roof.
We Have Listed Top Practo Coupons, Promo Codes & Offers For Today. Book Appointment Online for 18 January 2021
| Practo Coupon Code Category | Practo Offer & Promo Code | Applicable To |
| --- | --- | --- |
| Practo First Order Offer | Flat 20% OFF | New User |
| Practo Doctor Consultation Offer | Rs 100 OFF | All Users |
| Practo Online Order Codes | Flat 20% OFF | All Users |
| FREE Thyroid Profile Test | On Prior Bookings | All Users |
| FREE Home Delivery | On All Orders | All Users |
What Can You Get Through Practo?
You can find clinics, doctors, and even order medicines online from your nearest medical store while using Practo promo codes to get the best offers. So, you must be thinking, 'what kind of doctors can I find here?'. Well, you can find doctors from all disciplines:
Ophthalmologist
Dermatologist
Cardiologist
Psychiatrist
Gastroenterologist
Gynecologists/Obstetrician
Neurologists
Urologists
ENT(ear, nose, throat)
Not only this, but you can also find super specialists, viz. among Dentists you'll find -
Orthodontist
Endodontist
Prosthodontists
Pediatric Dentist
Implantologists
Therapists
Acupuncturists
Physiotherapists
Psychologists
Audiologists
Speech Therapists
Dietician and Nutritionists
The wide variety of medicinal practices and practitioners available include traditional medicines, eg - Ayurveda, Yoga, Siddha, Homeopathy, Unani, Yoga, and naturopathy. Labs are also available if you need to get tests and checkups done. All labs starting from Thyroid Profile to Lipid Profile, X-ray, HIV 1&2, Pregnancy Tests, Culture and Sensitivity-urine, stool routine and CT scan, can be located using the app.
Along with Practo, there are other apps that you can check before booking a consultation. LetsDoc, for instance, lets you book online consultations with doctors around you at a nominal fee. Another app, Docprime, gives you an option to search for the particular clinic or doctor you're looking for. You can also book tests, order medicines and do much more on these apps from the comfort of your home.
You can even hunt for gyms around your areas! The ones you would like to visit. When body and mind are being taken care of, how can beauty be far behind? You can also find spa/salons to groom and heal yourself. A body massage at a spa can be very soothing and relaxing. A spa treatment can cure you as much as medicines would. Pamper yourself by visiting a salon; treat yourself at places offering the best treatments. It would be best if you did not worry about the costs, as Practo would list all kinds of salons along with the loss of services offered there. The same is the case with the doctors; on many occasions, even the fee is mentioned. So you can always choose quality services that best suit your budget.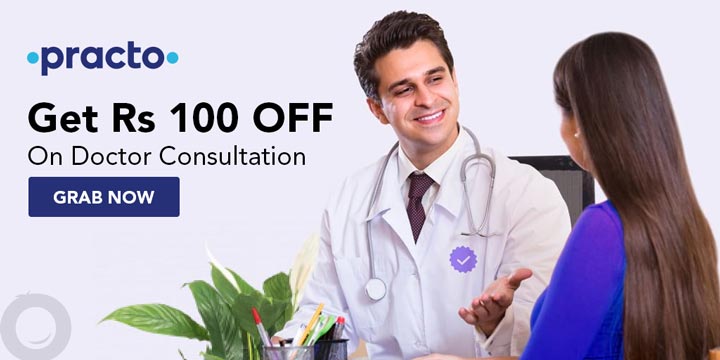 Practo Online Offers
You can make use of a lot of offers while purchasing medicine online through Practo. Swipe cards during payment and avail up to a 15% discount. Use the Practo coupons via GrabOn, to get the best discounts and offers on the purchase of life-saving but expensive medicines. The shipping of the medication is free. Make sure you use GrabOn for such fantastic and excellent deals.
Practo Refund And Cancellation
As such, there is no refund and cancellation policy mentioned on the site about the products sold. However, you can always contact and refer customer care to clear your doubts regarding the same.
Latest Headlines
Practo brings doctors and patients online - Practo has partnered with hundreds of experienced doctors across the country to launch 'India Health Hour'. The Health Hour enables patients to receive audio/video/text-based consultation from doctors between 5 pm and 6 pm every day. The consultation is free of cost and helps the patients avoid crowding medical establishments. This ensures social distancing in the times of pandemic. The consultation is not just limited to COVID-19 symptoms. Instead, it caters to a range of medical specialties, including dentistry, gynecology, orthopedics, ENT, ophthalmology, pediatrics, physiology, homeopathy, Ayurveda, cardiology, psychiatry, dermatology, general surgery, stomach & digestion, diabetes & endocrinology, neurology, and cancer.