If you're a frequent flyer in India, there's a good chance that you'd have booked a flight through EaseMyTrip. In recent years, it has been one of the fastest-growing ticketing platforms in India. So much so that after the Covid-19 pandemic of 2020, it has been one of the few businesses to recover swiftly.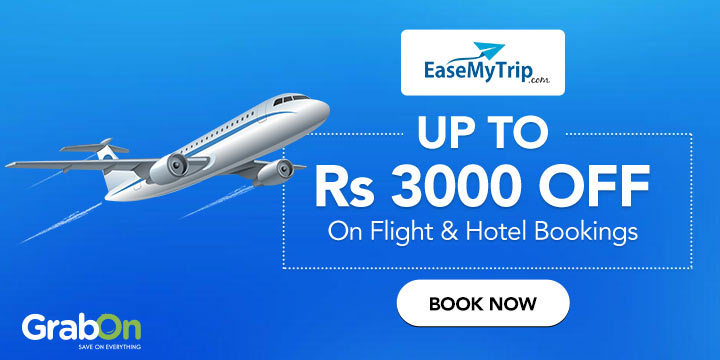 Ever since its launch in 2008, EaseMyTrip has attracted millions of travelers through its easy-to-use user interface and affordable rates on flights, buses, and hotels. Their USP through all these years has been them charging no convenience fee or hidden costs to their users. With 52,000+ travel agents and more than 9 million users, the travel website spread its wings over the whole country and even the world. The brand made its stock market debut during covid times. It was still oversubscribed by 159 times.
With the 2nd Covid-19 wave on its downside, with proper vaccination, the tourism industry is anticipating a boom soon. EaseMyTrip is expecting o grab a lion's share of this surge in the tourism industry.
Save while you Book Flight Ticket and Hotels on EaseMyTrip
As mentioned earlier, at EaseMyTrip, you don't have to pay any convenience fee for your bookings. That itself saves you a lot when it comes to your travel fares. But there are a few more ways in which you can get a budget booking experience here.
You can look for budget-friendly flight/bus/train options for starters by using the various filters provided. You can also filter the search results by the time of departure or duration to find cheaper travel options.
Then, there is the world of coupons. When you are making your travel bookings, you can make huge savings using coupons. You can find various offers on the website itself that you can use.
Other than that, you can also refer it to your friends and family such that for every booking they do, you both can earn money in your wallet. Use this money to make significant savings on travel/hotel bookings (though this money can only be used on the EaseMyTrip app). You can accumulate up to Rs. 2,000 by referring the app to various people.
List of Top EaseMyTrip Coupons
ju
| EaseMyTrip Offer | Coupons | Offer Details |
| --- | --- | --- |
| Rs. 3000 OFF | EASEF** | Domestic and International Flight Bookings |
| Sign Up Rs. 1000 Discount | ***FIRST | Air Tickets/Hotels |
| Couple Offer | FLYCOUPLE | Rs. 2500 OFF |
| Weekday Hotel Offer | EMT** | Flat 20% Off, Up to Rs. 2000 |
| Rs 700 Off On Domestic Flights | EMTVISA | All Users |
| 20% OFF on Oberoi & Trident Hotels | OBEROI20 | The Offer is valid on selected properties |
| 20% OFF On Treebo Hotel Bookings | EMTTREEBO | Maximum of up to Rs 1000 Off |
| | | |
We have listed above some of the effective and working coupons for EaseMyTrip. The travel aggregator also gives out student and senior citizen discounts. You can follow the above link to get further details.
5% student discount on domestic or international flight tickets (maximum Rs. 3000)
5% senior citizen discount for people above 60 on domestic or international flight
About EaseMyTrip – The Rise
Due to this and the pleasant and straightforward booking experience they provide, EaseMyTrip has survived the national financial crisis in 2020. According to a report by CRISIL, EaseMyTrip was the only profitable online travel agency in India during the financial years 2018-2020. It was recorded as the fastest growing online travel agency with a growth of 19% in the same period.
This company gained a profit margin of Rs. 32.9 crores in the fiscal year 2020 alone. Easy Trip Planners, which owns EaseMyTrip, recovered the most from the pandemic. By December 31, 2020, it had recovered 70% of the previous year's bookings, which is a remarkable feat.
Services offered at EaseMyTrip
Started as a small-scale travel agency based in a garage, EaseMyTrip.com has since expanded its footing in other aspects of India's travel industry. Now, when you visit www.easemytrip.com, you can avail of a range of travel services from flight bookings to holiday packages.
Affordable flights
Initially, a platform for travel agents to book flight tickets, EaseMyTrip.com soon turned into a portal where middle-class Indians could book flights cheaply. As of now, the website has domestic flights available at fares as low as Rs. 1,373 (which is nearly the fare you pay for an AC 3-tier train ticket).
Buses everywhere with EaseMyTrip
Pick from more than 10,000 bus routes and 1,000 bus operators when you book a bus ticket at EaseMyTrip.com. Avail of best discounts and offers while choosing from a wide range of seating options.
Instant train bookings
Book a train ticket to any station of your choice without any hassle. Avail features like live status and PNR status on the website. At EaseMyTrip, Tatkal reservations for trains are made delay-free and instantly. Users can also book special trains run by IRCTC throughout the country.
From luxury to money-saving, EaseMyTrip has all kinds of Hotels
Be it a 5-star hotel like The Taj or a simple, cozy one that is within your budget, the brand finds the right hotel for you to have a comfortable and memorable stay. You can book hotel rooms in major Indian & international cities at prices as low as Rs. 900. While booking, you can save heavily by using various bank offers and discount coupons available on the website.
Hail a cab
Need pick-up from a place? Just go to the website and book a cab without spending a lot. It only takes 5 minutes to book a taxi here, and cancellations can be made for free 24 hours from booking. EaseMyTrip is in partnership with more than 4,000 cab operators around the country so that the users can get a cab.
Have a Holiday like no other with EaseMyTrip
Be it a honeymoon or a simple getaway from day-to-day life ordeals, EaseMyTrip has holiday packages suitable for all kinds of trips. Here, you will have that once-in-a-lifetime vacation multiple times because of the cheap rates.
EaseMyTrip's history
2008 – Founded by Nishant Pitti, Rikant Pitti and Prashant Pitti as a Business-to-Business-to-Customer travel agency
2011 – Began functioning as a Business-to-Customer company
2012 – Introduced international flight bookings on the website
2013 – By providing travel options to various corporates, it began operations in the Business-to-Enterprise channel as well
2014 – Android App of EaseMyTrip launched
2019 – Introduced travel insurance and collaborated with IRCTC for train tickets
2020 – Devised a service where users could book flight tickets through Whatsapp
2020 – Overtook Yatra as the second-largest Online Travel Agency in India
2021 – Filed for an IPO worth Rs. 510 crore, making it the first travel agency to be listed on the Indian share market