There are few debates that are as old as time itself: Men vs Women, Marvel vs DC, Batman vs Superman(they even made a movie about it!), etc. However, nothing is older or more intensive than the old, Delhi vs Mumbai. These cities are always arguing and trying to get a one-up against one another. While Mumbaikars complain that Delhi has no civic sense and embodies everything that is wrong with the country, Delhiites complain how posh and pretentious Mumbaikars are. We decided to go past the BC-MC and SoBo quips and do better analysis, settling this debate for once and for all. We decided to argue on certain points that no one else seems to argue on- you know, the important ones.
If you are planning for the next trip to India's Mumbai (commercial capital) or Delhi (National capital) then you might want to check Makemytrip. Do check out some of the best discounts for flight ticket bookings in India.
Delhi Vs. Mumbai Comparison – Which city is better to live in?
1. Crime Rate
One of the most important factors about judging a city is undoubtedly its safety. Whether you are a tourist or a resident of a city, it is extremely important to know how safe the city you are traveling in is.
Delhi ranks 1st out of 19 major Metropolitan cities in the country for crimes (reported) while Mumbai ranked 15th.
In terms of most number of murders reported, Delhi ranks 5th, while Mumbai comes in at 16th.
Delhi also ranks 1st, when it comes to kidnapping and abduction. Mumbai ranks 7th on this.
When it comes to crimes committed against women, Delhi is 1st again. Mumbai ranks 12th.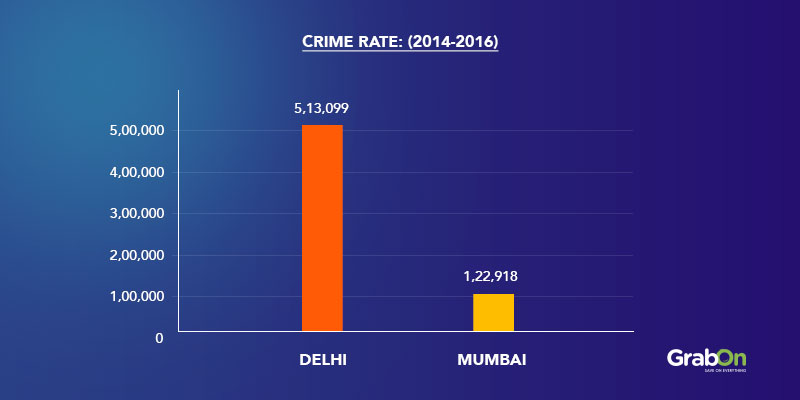 Based on these rankings, it is absolutely clear the Capital of the country is not exactly the safest place to be. Guess Mumbai is the more civilized one after all..*cough cough*
Verdict: Mumbai wins this round, hands down. And by a huge margin!
Mumbai – 1
Delhi – 0
2. Air Pollution
Fancy some long-breathing and pranayama every morning? Oops! The top 9 of the top 10 polluted cities in the world are in *collective gasp*…India.
Delhi ranked as the most polluted city in 2016. It still ranks as one of the most polluted cities in the world.
Mumbai, ranked comparatively much lower at 94 (2016).
In the national rankings, Delhi (PM2.5 reading- 143)features in the top 10 list of India's most polluted city.
Mumbai does not feature in this top 10 list as well!
So, if you are looking for a city that is better to breathe in, Mumbai(PM2.5 reading-64) is your choice. If you are looking to be a scuba diver wherever you go, Delhi.
Verdict: Mumbai wins this round as well!
Mumbai – 1
Delhi – 0
3. Ease Of Doing Business
The Ease of Doing Business Index was originally created by the World Bank. If the ranking is high, it indicates that the resources available in that state are better. It also indicates stronger property rights within the state or country.
Maharashtra ranks higher in terms of ease of doing business (92.88 out of 100).
Delhi ranks pretty low with a score of (31.69).
P.S: Although this is a state-wide comparison, it can be inferred that Mumbai, the finance capital of the country, ranks better when it comes to ease of doing business. Delhi loses this one again! Argh! Buckle up, Delhi!
Mumbai – 1
Delhi – 0
4. Cost of Living
Cost of living is defined as the "cost of maintaining a certain standard of living." The cost of living can also be defined as the cost required to maintain a living standard in different geographical locations. According to Mercer, the world's largest human resource consulting firm:
Mumbai is the most expensive city to live in India. In fact, it is the world's 55th most expensive city to live in, beating the likes of Paris and Seattle!
Delhi ranks 2nd in India and 103rd in world rankings.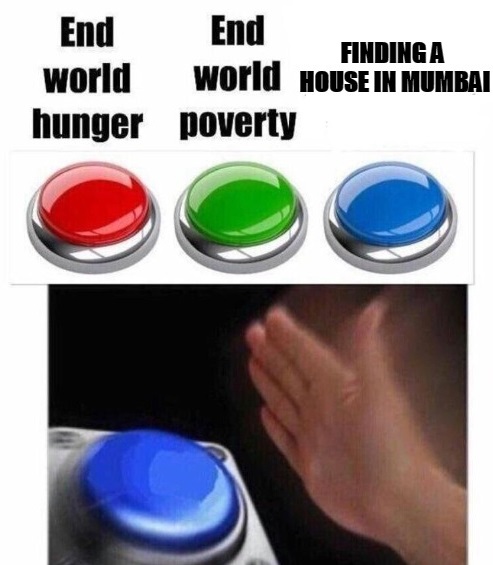 Delhi wins this one, hands down! Let's not forget how expensive rents can be in Mumbai. According to old folklore, you have better chances of finding Atlantis than a house in Mumbai. Even a simple 1bhk can go up to 25K/month in Mumbai. Delhi, although quite expensive, is much better than Mumbai.
Mumbai – 0
Delhi – 1
5. Gross Domestic Product (GDP)
Gross Domestic Product or GDP is defined as "the monetary measure of the market value of all the final goods and services produced in a period of time."
Mumbai leads the GDP ranking in India with an estimated $310 billion.
Delhi occupies the 2nd spot with $293.6 billion. However, Delhi is growing as one of the fastest cities in Asia.
P.S: Here, the GDP is measured based on GDP at PPP (Purchasing Power Parity). It basically means the purchasing power across different cities in regards to an equal denomination. In this case, it is Rupees.
Mumbai – 1 (And..another slam-dunk for Mumbai!)
Delhi – 0
6. Literacy Rate
Another important aspect to measure if the cities are going to make your stay comfortable are their literacy rates. Literacy rates also help you tell how much progress these cities have made.
Delhi has a literacy rate of 86.21% as per the 2011 Census.
The male and female literacy rates (Delhi) are 90.94 % and 80.76% respectively.
Mumbai, on the other hand, has a total literacy rate of 89.73%.
Male and female percentages (Mumbai) stand at 92.56% and 86.39% respectively.
Mumbai fared far better than Delhi in terms of literacy rate, thus not breaking the stereotype Delhi has. Guess that settles it then…
Mumbai – 1
Delhi – 0
7. FDI Inflow
Foreign Direct Investment (FDI) Inflow is defined as "the value of the inward direct investment made by non-resident investors in the reporting economy". Which means, how much investment is done in that geographical region by investors from other states/countries.
Mumbai ranked 1st when it came to Indian cities which received the highest FDI during 2014-2017 with a whopping $35.53 billion inflows.
New Delhi came 2nd with $25.50 billion in inflows, during the same period.
Someone make the Mumbai juggernaut stop? Guess there is absolutely no winning with Mumbai.
Mumbai – 1
Delhi – 0
(Guess there is absolutely no winning with Mumbai.)
8. Food
The reason of existence. Food is that one thing we just cannot live without. And considering that these two cities have some of the best food in the country, this just gets tougher.
Delhi has Karim's, momos,gol gappa, kebabs.
Mumbai has vada pav, missal pav, usal pav and dabeli.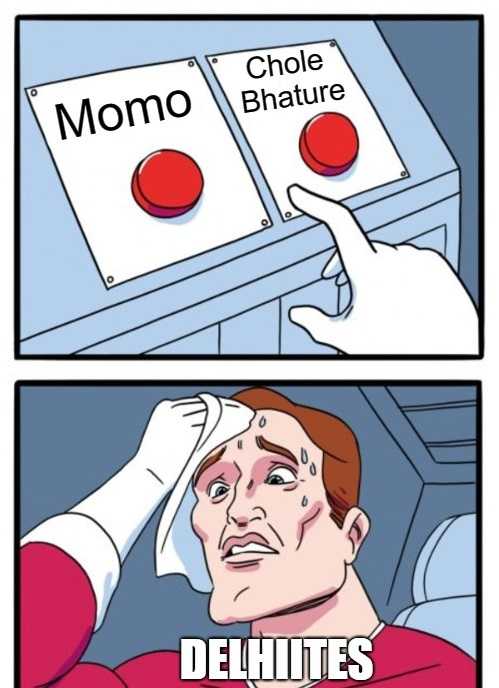 When it comes to food, these two cities go neck-to-neck with choices and both can spoil you completely. So, when it comes to food, it is a close tie. We are gonna go with a tie because we love food and choosing one food over another is a cardinal sin (unless it is a Pineapple Pizza because that sucks).
Also, hot take: When it comes to food, these two cities got nothing on Kolkata.
Mumbai – 1
Delhi – 1
9. Weather
Weather is much more diverse in Delhi than Mumbai. While Delhi experiences the highs and the lows (and the in-betweens), Mumbai is kind of about the highs only…
Be it hot summers or cold winters, Delhi will let you experience both.
Mumbai, with its coastal-like climate, hardly has much variance.
Delhi has a pretty dry climate, which makes the summers better, with not much of sweat, despite the soaring temperatures.
Mumbai's moisture-laden weather gives you sticky weather! Unless you don't drown during the monsoon.
Delhi also gets pretty cold during December-January with temperatures as low as 1°C to 2°C.
In winters, Mumbai has no winters. If Mumbai ever gets a winter, you can kiss the earth goodbye.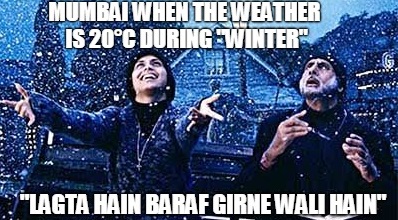 Wohoo! Delhi is back into the game… I guess? Anyway, the weather is probably one of the most important factors you consider before you move to another city. Considering that Delhi won this bout, things are looking good!
Mumbai – 0
Delhi – 1
10. Transportation
How we wish we all had Aladdin's magic carpet or the Jetsons' time portal. But sadly, we don't. Hence the over-relying on transportation.
According to Ola's Ease of Moving Index 2018, Delhi ranked first when it came to the city with the most comfortable transportation system.
Delhi also has the best surface quality to ride on, which means it has better roads.
New Delhi also has a better transportation system, when it comes to affordability.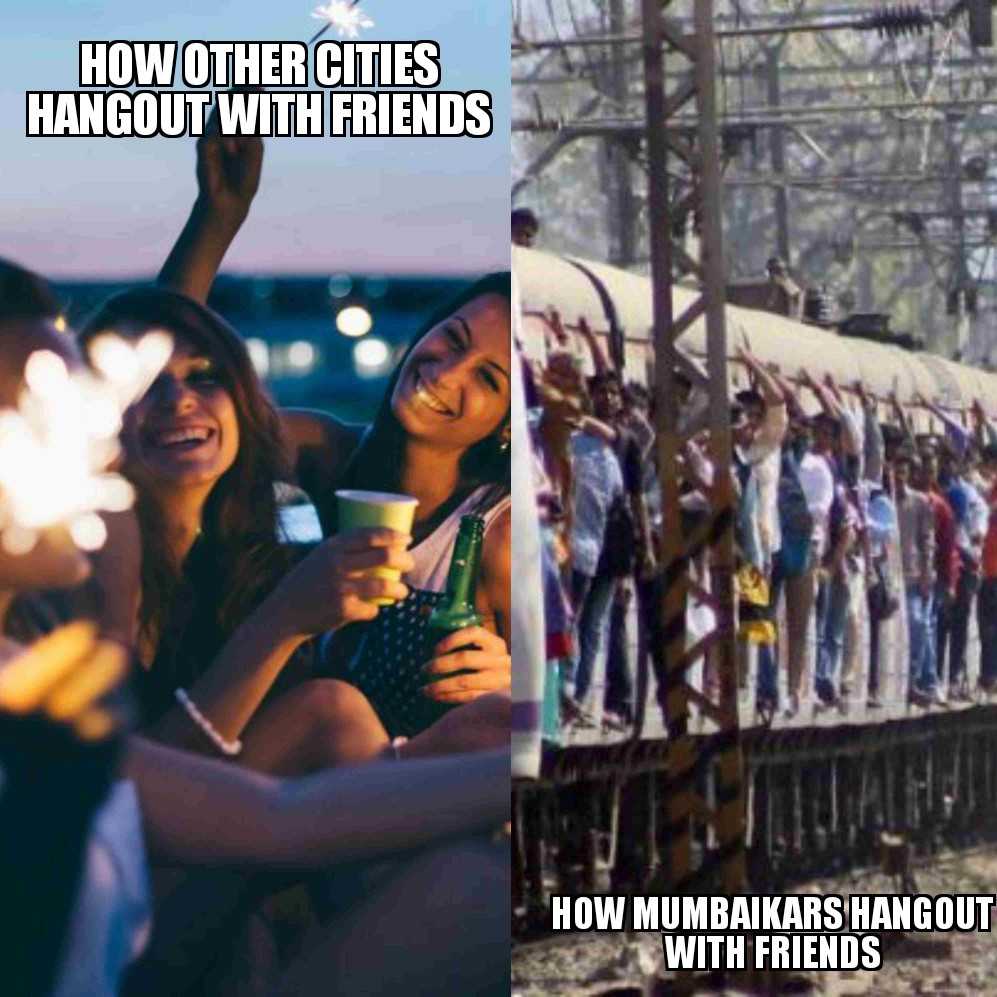 That wasn't hard to guess, considering what hanging out means in Mumbai. Not to forget, the autowallahs in Mumbai reject you more than your parents reject your Goa trip. Delhi wins another important metric as well!
Mumbai – 0
Delhi – 1
Review Overview
Mumbai: 6
Delhi: 3
Tie: 1
So, that's our take on the Mumbai vs Delhi debate. Let us know if you agree. And if you want to unload your thoughts and abuses(if you are from Delhi), let us know in the comments!