To all the men out there, what if you are asked to vote for the most comfortable piece of clothing? We are pretty sure the winner would be none other than the 't-shirt'. This is all because of its versatile uses. It is the most common apparel available in every person's wardrobe in significant numbers.
But, the truth is you can never get enough t-shirts in your entire lifetime. With the change in styles, patterns, and trends, the demand for t-shirts is also ever-increasing. Want to know which are some of the best t-shirt brands before you make your next purchase? This article will help you out!
Top t-shirt brands for all the dashing men out there!
Were you looking for some of the most exquisite range of t-shirts? The below list of top brands can indeed offer you! So, let's get started with the top 10 t-shirts brands for men without any further ado.
Jack & Jones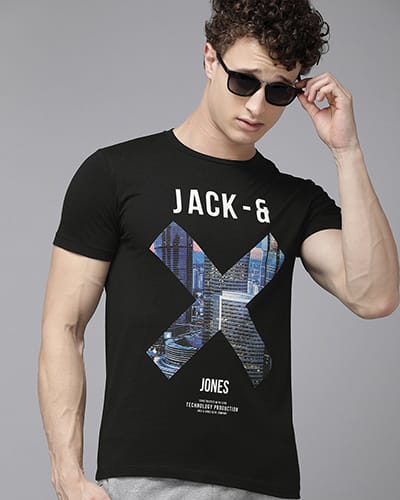 Jack & Jones has taken the men's clothing world by storm. Established as a jeanswear brand in Denmark in 1990, it has become the bestseller in the world. Be it polo t-shirts, round neck t-shirts, v-neck t-shirts, or any other patter, and the company caters to various needs of its users. Moreover, the fabric used in making t-shirts is simply incredible. Once you wear a t-shirt from Jack & Jones, you are sure to fall in love with the brand!
Price Range: Rs. 500 to Rs. 2509.
Pros:
Trendy designs
Affordable
Widely available
Cons:
Not so durable
United Colors of Benetton
United Colors of Benetton is yet another leading fashion brand for men. Founded in 1965, the Italian company strives to make you look cold and savage with its swanky range of t-shirts. Its t-shirts are so flexible that they can be worn anywhere from work to parties.
Price Range: Rs. 500 to Rs. 2599.
Pros:
Good quality
Affordable
Durable
Awesome fit
Cons:
Straightforward designs
Wrogn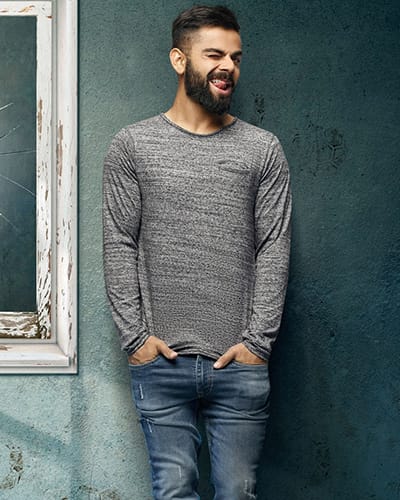 Co-owned by the Indian Cricket Team Captain Virat Kohli, Wrogn is another good brand for men in the market. The company designs awesome t-shirts for men that are dead gorgeous and worth the price. Long sleeves, short sleeves, simple yet catchy design, etc. You can get whatever you are searching for and look damn appealing.
Price Range: Rs. 600 to Rs. 1999.
Pros:
Flexibility
Affordability
Youthful designs
Cons:
Quality
H&M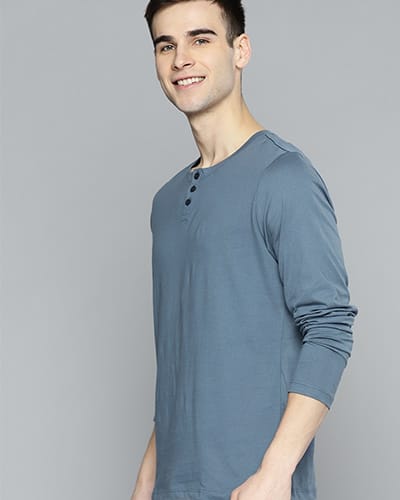 In search of the most voguish collection of t-shirts? Your search ends here! Launched in 1947, the Swedish multinational clothing company, H&M is all you have been looking for! Over the years, the brand has truly revolutionised the fashion industry with its extraordinary range of products. The company is also the top manufacturer of men's t-shirts that are exceptionally comfy yet smashing. To avail its t-shirts at a phenomenal price, you can use the H&M discount code and save big!
Price range: Rs. 700 to Rs. 2299.
Pros:
World-class designs
Top-quality
Long-lasting
Cons:
Limited stock
Straightforward design
Louis Philippe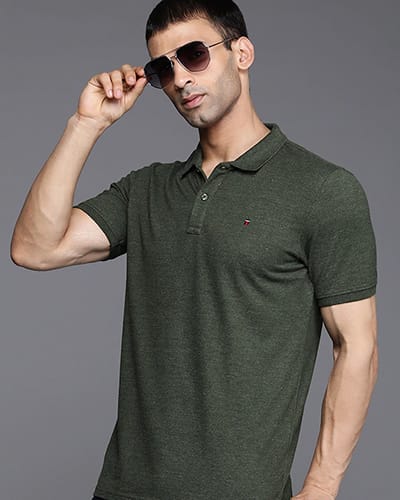 Do you love wearing t-shirts all the time? Well, the Louis Philippe brand offers an extensive collection of t-shirts for teenagers, adults, and elders too. You can choose the desired item and get it delivered to your home. All you need to do is simply add the t-shirt to the cart. During the final payment, use the latest Louis Philippe coupons to get them at a discounted rate.
Price Range: Rs 690/- to Rs 2499/-
Pros
Easy to wash and maintain
Look stylish and ultra-modern
Available in multiple colors and design patterns
Made of breathable fabric materials
Cons
Expensive to buy for limited budget people
Tommy Hilfiger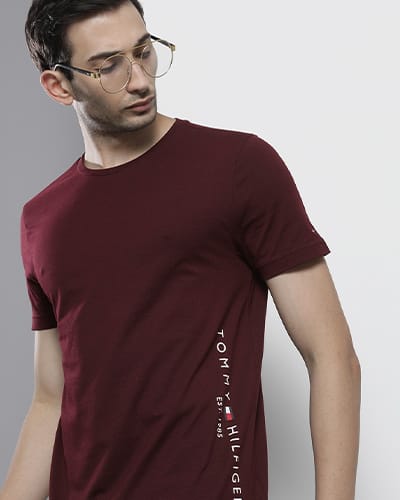 Next on our list is Tommy Hilfiger. The premium clothing and fashion brand is best known for its affordable range of products across the world. This brand has changed the fashion industry with its unique and promising designs. It also has an outstanding collection of t-shirts for men that are sure to make one stand out from the crowd.
Price Range: Rs. 800 to Rs. 4599.
Pros:
Gives a classy look
Has a brand image
Good quality
Cons:
Outdated styles
Fundamental designs
Spykar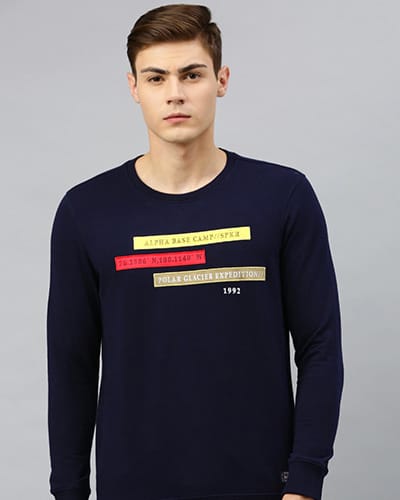 Established in 1992, Spykar is an Indian brand known for its innovative designs and par-excellent quality products. It sports some of the classy t-shirts for men that are sure to be loved by one and all. With its youthful styles and charismatic colors, the brand has become one of the go-to brands for buying t-shirts for men.
Price Range: Rs. 800 to Rs. 1899.
Pros:
Wide range of patterns
Affordable
Cons:
Not durable
Not so trendy designs
Levis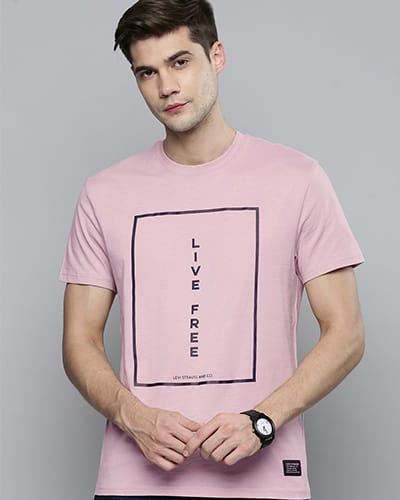 The American clothing brand Levis stands next on our list. The company is famous for its denim jeans and a wide range of stunning t-shirts. Founded in 1853, it has become one of the leading fashion brands across the globe. Its t-shirts are made using top quality material and designed to match the running trends of today.
Price Range: Rs. 900 to Rs. 2599.
Pros:
Extremely durable
Stylish
Affordable
Cons:
Limited designs
Fundamental design
Zara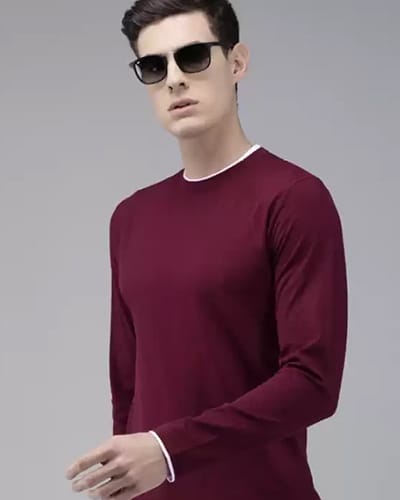 The Spanish apparel company has crafted its unique place in the market with its mind-boggling range of clothes, accessories, shoes, and beauty for men, women, and kids. When it comes to men's wear, the company is best known for its exotic t-shirts. From delicate designs to magnificent colours, you can get the most stylish set of t-shirts for your beau.
Price Range: Rs. 900 to Rs. 3000.
Pros:
Trendy designs
Good quality
Availability
Fitness
Cons:
Pricey
Accessibility
Ed Hardy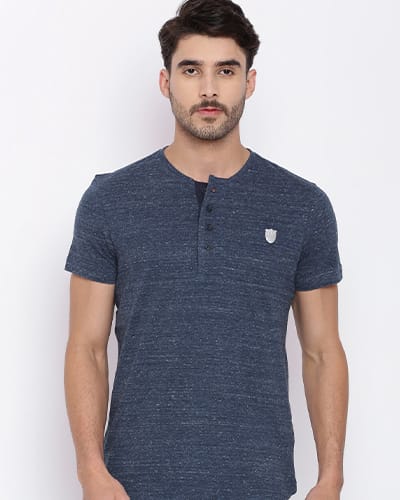 If you are an art fanatic person, then Ed Hardy is all for you! Inspired by renowned American tattoo artist Don Ed Hardy, the brand celebrates his artwork with its fascinating clothes range. All the t-shirts of Ed Hardy are super funky, ever-stylish, and sure to make you look attractive.
Price Range: Rs. 1000 to Rs. 2475.
Pros:
Fancy designs
Good quality cloth
Durable
Cons:
Very flashy designs
Expensive
Calvin Klein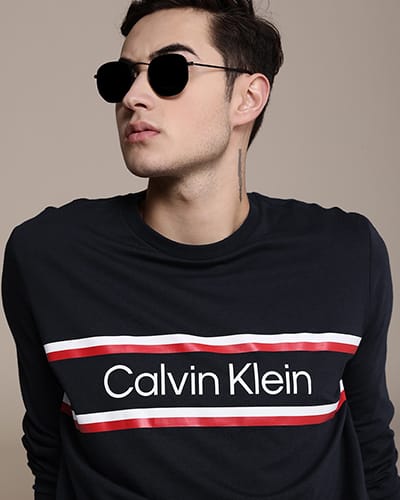 Are you looking for a decent yet fashionable t-shirt brand for men? Calvin Klein is all you need! Over the years, the company has created its impressive image in the market with a fabulous collection of t-shirts for men. Wear them with a pair of jeans or put on a jacket over them. They are sure to make you look picture ready wherever you go.
Price Range: 1200 to 5000.
Pros:
Good quality fabric
Durable
Awesome fit
Classy designs
Cons:
Very basic style of t-shirts
Super expensive
Amazing Tips for Buying Men's T-Shirts Online
It's a daunting task for men to choose tees due to the plethora of options available in the market. In a hectic work schedule, you may not want to spend hours on research work. So, we made things easy for you by bringing the hassle-free tees guide for men after in-depth research for a couple of days. Read the below-mentioned information to buy the t-shirts online without having a second thought.
Know Different Types of Men's T-Shirts
Tees are available in multiple colors, materials, and design patterns in the world of the thriving fashion industry. They are simple yet comfortable to wear, supporting kids, teens, adults, and elders. Due to their versatile nature, they are available in different types. Scroll down to know more!
Half Sleeve
Half sleeves are simple and stylish tees that feature a neckline close to the neck crew. The neckline comes with the base of the neck, making it suitable for all skin types.
Long Sleeve
Long sleeves are similar to the half sleeves models. The only difference is long sleeves come with long arms, making it ideal for wearing in the chilling winter months to give a warm feel to the body.
V-Neck
V-neck t-shirts resemble the shape of "V" around the neck, hence the name. It is the perfect choice for people with round faces and looks great on jeans. While selecting the V-neck, make sure the neckline should not be lower than the armpits.
Polo Collar
Tees featuring polo collars are often referred to as Polo collar T-shirts. They are available as a knitted wave type with solid short sleeves and printed patterns. Cotton and Elastane fabrics are widely used in the manufacturing process to offer comfort and a masculine look.
Machine Washable
As tees are made of 100% cotton materials, they do not cause allergic reactions to the body. Cotton is a breathable material, so it easily wipes out the oil stains, bad odors using the washing machine. It saves gallons of water, energy, and the clothes stay longer than expected.
Easy to Wear
When it comes to comfort options, nothing can match with the tees. No matter what the fabric is, design, or color, it offers extreme comfort levels to men. Not just that, it also saves your valuable time and effort while hanging out with friends for parties. Moreover, you can wear these awesome tees on trousers, shorts, jeans, etc.
Budget-Friendly
In contrast with other models, t-shirts are available at cheap prices due to the low manufacturing cost. If you are a fan of tees, you can purchase in bulk rather than spending thousands of bucks on clothes that don't fit your body shape.
Conclusion:
When in doubt, wear a t-shirt! It is sure to make you look elegant and snappy. Next time you plan to buy a t-shirt, don't forget to go through the above list and choose the brand you liked the most. Happy Shopping! 🙂