Whether you are looking for a refrigerator with smart features or a large capacity, there are plenty of models available in the digital marketplace. It's hard to pick the right one that best suits your purpose – home or commercial applications.
To make the buying process easy, we have come up with a list of the best refrigerator brands in India by considering the brand reputation, refrigerator type, capacity, BEE rating, price, warranty, and more.
Deciding top brands was kind of easy for us, as we relied on Statista's latest market share data about refrigerator brands to decide that. However, as we didn't have precise market share data for other brands, we decided to consider the above-mentioned parameters, total reviews and overall rating to decide the rankings.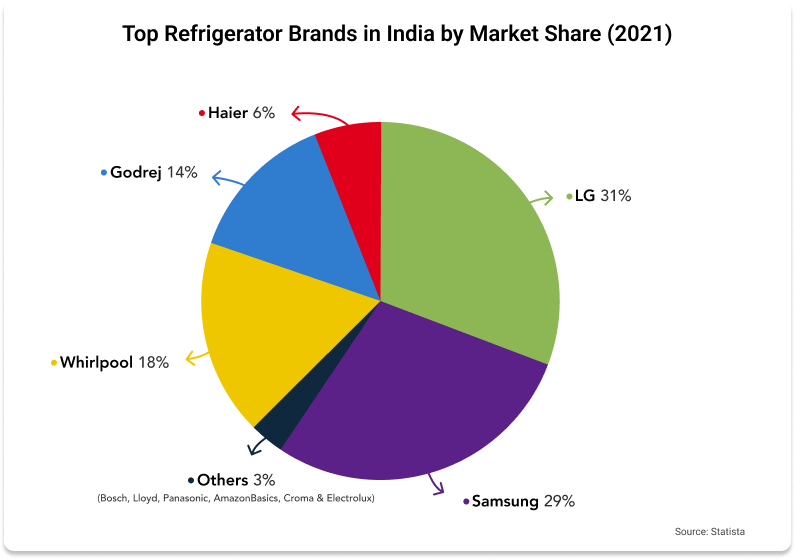 Top 11 Best Refrigerator Brands in India
Below, you not only will find some of the best fridge-making brands in India, but will also discover some of their top-rated & best-selling fridge models. Our list covers all kinds of models, so whether you are a bachelor or live with family, you should be able to discover the perfect fridge model for yourself.
1. LG
Life's Good, as LG says, has been the company's motto since it was launched. Quality, value for money, innovative features, and durability are some of the top features of LG products. Overall customer satisfaction has made LG a loveable brand. They are the first choice for many household appliances, including refrigerators.
Attention: GrabOn is offering as much as 47% off on all the leading refrigerators buying marketplaces like Amazon, Croma, Flipkart, Tata CLiQ, Vijay Sales, and more. Now who says that buying a refrigerator is an expensive deal!?
You can get single-door, double-door, side-by-side refrigerators and mini-refrigerators at great prices from LG. Adjustable shelves, thermostat control, water, and ice dispensers, deodorizer, moisture control, and models with built-in stabilizers are all available in LG fridges. Twist ice-maker tray makes it easy to remove the ice cubes from the tray into the container provided. The company understands that refrigerators in Indian households are used many times a day. That's why LG refrigerators come with durable smart inverters that not only make them last for years, but also provide noiseless operation & great energy efficiency. Here are some other features that you would commonly see in high-rated LG refrigerators:
Support for inverter connection and auto-inverter switching in case of power loss.
Fast ice-making, with some models capable of building ice in as little as 2 hours.
Pest-proof connecting cables & body.
LED lightning for power saving.
Optimal-moisture maintaining lattice-patterned box cover.
Anti-bacterial gasket.
Amazing 10-year warranty on compressors.
Supports solar energy.
"Pull Out Tray" for quickly accessing frequently used items.
Storage space for bottles as big as 2L.
Samsung has been the favourite home appliance brand in India now – thanks to great products on offer at budget prices. Quality customer support and service options add to its brand value. Samsung refrigerators offer more space and are made for all kinds of usage. You will generally feel that the storage capacity of Samsung refrigerators is more than other brands.
You can get two-door fridges that can make the lower levels easily accessible. The latest  temperature control technology for the freezer and fridge has made Samsung a widely preferred refrigerator brand in the country. Other features include such as stabilizer-free operation, auto-connect with home inverter (in case of power outages), adjustable shelves and bottle racks, deodorizer, water, and ice dispensers in some high-end models.  If you are still not convinced about why Samsung refrigerators are a worthy investment for a household, here are more unique things you can see in many Samsung fridges:
Digital display.
Interior LED lighting.
31% faster food & ice cooling with Power Cool & Power Freeze.
Digital inverter compressors provide energy efficient, silent & durable cooling performance.
Spill-proof toughened glass in Samsung refrigerators can hold up to 175 kg of weight safely.
Cool pack allows keeping food frozen for up to 12 hours.
Movable ice maker for convenient dispensing & collecting of ice cubes.
Door alarm for warning of accidental door open or half-closed scenarios.
3. Whirlpool
Whirlpool home appliances have been widely acknowledged as the best in a class by many people. It combines innovation, ease of use, design, and utility to create highly acclaimed fridges. Loaded with IntelliSense, and AI microprocessors, Whirlpool refrigerators are marketed as the most original ones in the category.
Perhaps the most innovative feature of Whirlpool fridges is their ability to optimise temperature based on the analysis of food items and outside temperature. Uniform cooling is achieved with Flexi-vents, while anti-bacterial filters ensure cold and fresh air in all sections of the fridge. But what we most love about Whirlpool fridges is how they provide up to 9 hours of cooling retention during power cuts through their insulated capillary & 6th Sense Deepfreeze Technology. That means these refrigerators can keep cold items such as ice-cream as you get from the market & even prevent ice from melting during power cuts. Listed below are other great features you would commonly come across in Whirlpool refrigerators:
Energy efficient compressors.
Extra-large vegetable crisper with honeycomb moisture lock-in technology.
Microblock technology & freshonizer for keeping fruits & vegetables fresh for a long time.
Easy-to-clean removable airtight gasket.
Fresh flow air tower with flexi-vents for uniform cooling & effective anti-odour action.
Stabilizer-free operation & auto-connect with home inverter feature in case of power losses.
10-year-long warranty on compressor (same as LG).
Works at a voltage of as low as 95v.
4. Godrej
Godrej, the quintessential Indian brand is credited with introducing an affordable range of refrigerators in India. The Comapny's refrigerators have a loyal Indian market that refuses to switch to other brands. The brand has kept up its consumer's expectations by introducing attractive features and presenting some innovative techniques. The brand enjoys a reputation for being one of the most affordable refrigerator brands.
Godrej offers best-in-class energy efficiency, minimal cooling loss, thickest insulation, deep bottom chiller tray, door lock, large capacity vegetable tray, toughened glass shelves, and other features in its wide range of fridges. Most of their fridges are powered by variable-speed inverter compressors that provide greater efficiency, durability and silent operation. Many high-end models come with an auto defrost function to prevent ice build-up, while a few advanced models, even provide an automatic defrost cycle based on usage patterns (like the third one in the list). The brand is committed to making environment-friendly products, proven by the fact that Godrej refrigerators have zero ozone depletion potential and the lowest global warming potential.
5. Haier
Haier refrigerators became popular after they launched the revolutionary bottom mount fridge in India (check the second product in the list). Moreover, they are priced reasonably and are more affordable than other brands in the same class. Haier's coolest feature is a one-hour cool technology that is a boon for people who are always in a rush.
Credible and affordable, Haier fridges also come with energy star ratings and twin inverter compressors for lower electricity bills. The drawers glide smoothly, the LED lighting makes it easy to see the food, and adjustable humidity control lets consumers take charge of the settings. Many models are convertible, have twin twist ice trays, anti-fungal gaskets, twist ice markers, bright interior LED light, and a bigger crisper for better storage. Numerous models even come with a back cover for internal vital components protection & a neat look. All in all, Haier fridges bring together comfort and convenience.
6. Lloyd
Owned by Havells India, Lloyd has carved a niche across India with its impeccable quality standards along with unmatched product, service and warranty. The company manufactures a range of technologically advanced and aesthetically designed refrigerators that provide uniform cooling, energy saving, long-lasting performance, and noiseless operation.
Most standard Lloyd fridges work without a stabilizer, auto-connect with home inverters, and operate within a wide voltage range. Other commonly seen features include Bactshield (which prevents up to 99.9% bacterial growth and gives long-lasting freshness to your food), humidity-optimized honeycomb crisper covers, and adjustable glass shelves for efficient space usage. In high-end models, you can expect to see an auto-defrost function, uniform cooling enabling ten-vent technology, twist ice trays for dispensing and collecting ice cubes, and big bottle storage support. What's also lovely is that unlike AmazonBasics refrigerators, Lloyd fridges come with a standard 10-year warranty.
7. Bosch
Bosch offers a premier range of technologically advanced home appliances. This includes washing machines, dishwashers and of course, refrigerators. Because the brand enjoys a lot of reputation across the world, thanks to German engineering behind it, it does enjoy a niche market of its own in India.
Bosch refrigerators offer excellent storage space and easy shelves that can be adjusted to help you efficiently organise food items. However, what makes Bosch fridges stand out is their VitaFresh Plus Advanced German Technology, which helps in efficiently maintaining the original flavour, texture and appearance of fruits and vegetables. A few models provide the same feature in zero-degree zones, which allows customers to keep meat and fish fresh for up to 2 times longer! Other features that you would commonly see in Bosch fridges include a natural lift shelf, bottle grid, multi-airflow-system, big box, active warning system (alerts in case of temperature increase), and fresh sense technology.
8. Panasonic
Another top brand of refrigerators in India is Panasonic, the Japanese multinational electronics corporation. It offers a wide range of refrigerators including bottom freezer, double door, top freezer refrigerator door, frost-free, and multi-door refrigerators at affordable costs.
Panasonic refrigerators come with Econavi Sensors that can detect and analyze conditions of use to maintain ideal cooling and avoid wasting energy. They also have uniform cooling functionality and powerful air filters to keep bacteria, mold and other harmful organisms away. Toughened glass shelves can be adjusted, the feature of humidity control and the veg crisper compares to the best when it comes to storage. Most of their fridge models come with auto-defrost functions to prevent ice build-up, and a movable ice tray for quickly dispensing & collecting ice cubes. Panasonic fridges are powered by an intelligent 6-stage long-lasting inverter compressor which offers world-class energy efficiency and minimal noise operation.
9. Croma
Croma, a subsidiary of the Tata Group, sells many refrigerator models in India under its own brand label, just like AmazonBasics. Their fridges are a perfect buy for those looking for feature-packed and quality refrigerators in an affordable range.
These fridges come with a mechanical temperature control thermostat for temperature regulation, a manual defrost feature for melting the frost that forms on the food items, and a steel wire shelf that can withstand cold temperatures and significant weight without breaking. In its high-capacity models, you would commonly come across features like large vegetable boxes, humidity control settings, toughened glass cabinet shelves, quick chill technology, SAF Clean Technology for long-lasting freshness, and more.
10. AmazonBasics
AmazonBasics, while not a true refrigerator brand (it's Amazon's private-label brand), does deserve to be on the list as it provides some great quality fridges at a great price.  A standout feature of their fridges is the usage of cooling agent R600a or Care 10 isobutane for superior thermodynamic performance & low environmental impact.
AmazonBasics fridges come with Climate Class T ratings, which allows them to work optimally in a range of ambient temperatures up to 43 degree celsius – while producing minimal noise in the range of just 43-49 dB. Connecting Amazonbasics fridges to far off plug points won't be an issue, as most fridge models come with sufficiently long connecting cables. It's also common to see auto-defrost functions, temperature-regulating thermostats, and LED compartment lights in many high-end models. Amazon offers tons of buying options on its refrigerators (including no cost EMI, exchange offer, cashbacks, bank & partner offers), a hassle-free warranty registration right from its platform, and a free installation service on its fridge models.
11. Electrolux

The multinational home appliances brand from Sweden, Electrolux, is as Swedish as it can be. It's a name to reckon with in the refrigerator industry, as its fridges come with elegant designs and feature innovative functionalities such as intense and intelligent cooling. Such is its popularity that the brand's home appliances even find usage in commercial solutions for many kitchen needs such as cooking and refrigeration.
The latest addition to Electrolux's brigade of refrigerators is the triple-door fridge, also known as the French door refrigerator. These boast a unique perfect temp drawer wherein you can select the temperature of the food items and they will stay complete and ready to serve. These fridges also pack in TasteLock™ Crisper Drawers with auto-humidity control that blocks out dry air to prevent spoiling, shrivelling, and mold. We also love these fridges' flexible organization system, and ExtraAccess™ Door – which provides access to 75% of your fresh food by opening just one door.
The attention to detail is delightful in Electrolux fridges, the features are attractive, and the costs are manageable. This is what makes Electrolux a top refrigerator brand in India.
Our Top Picks:
Different Types Of Refrigerators
With so many refrigerator models available in the online market, it is essential to pick the right one for your requirement, home or commercial. To make things easy for you, we have provided different types of refrigerators. Check it out!
Top Freezer
If you are someone who uses a freezer a lot, then the top freezer refrigerator would be the ideal fit for you. This affordable model comes with a food compartment and a separate freezer on top, making it a great choice to use in kitchen spaces. The modern design with fingerprint-resistant stainless steel finishing and LED lighting gives you a compelling look.
Bottom Freezer
This bottom freezer refrigerator model is suitable for families who use the fridge compartment more often. Also, you don't have to bend too much as the fridge section will be at eye level. Unlike other models, it also comes with adjustable drawers to pack food items. It is also essential for you to keep it clutter-free to use the device for a long time.
Single Door Refrigerator
Single-door refrigerators come with a capacity ranging from 50 to 250 litres, making them suitable for small and medium-sized families. It uses direct cooling technology with natural convection to keep the fruits and vegetables hygiene. Also, it uses more power than double-door models as one must open the main door and then the freezer, which eventually consumes more power.
Double Door Refrigerator
In this device, you get two separate doors, one for the freezer and the other for the fridge. They have a capacity ranging from 250 litres to 495 litres or even more, making them an excellent choice for large families. Moreover, it is equipped with has frost-free technology and cooling fans to preserve food for longer periods.
Side By Side Door Refrigerator
This side-by-side door refrigerator allows you to quickly access chilled items and other foods. It occupies little space and meets the requirements of large families. It hosts a variety of features like ice makers, energy efficiency systems, digital display units, and controllers for smooth operation.
French Door Refrigerator
The freezer is mounted at the bottom and has a drawer compartment to store fruits and vegetables. With its modern look and interior space, they do not let the cool air escape from inside.
Mini Refrigerator
Mini fridge is a compact and freestanding model that can fit easily into small spaces. It also has a limited storage space to stow food items and beverages.
How To Choose Refrigerators?
Storage Capacity Vs Family Size
If you have a family of 3-4 members, a 250 litres refrigerator would be sufficient. For bachelors and couples, a single-door refrigerator would be adequate. And a 300 to 400 litres capacity fridge would be the right for a family of 6-8 members. Here is the table that gives you a clear idea about the family size vs storage capacity. Have a look:
| | | |
| --- | --- | --- |
| Family Size | Suitable Capacity | Refrigerator Model |
| 1 or 2 members | < 175 litres | Single Door |
| 3-4 members | 175 – 250 litres | Double Door |
| 6-8 members | 300 – 400 litres | Double Door, French Door |
Energy Efficiency Refrigerators
Yes, always prefer buying 5-star rated fridges online even though they are highly-prices, it will save on power bills annually. All these are calculated based on the energy efficiency standards by the BEE (Bureau of Energy Efficiency).
Digital Display
With a single tap on the digital display unit, you can control the temperature inside the machine. Some models let you convert from freezer to fridge depending upon the usage.
Compressors
The compressor helps to regulate the temperature inside the fridge. A regular compressor is enough for small fridges, whereas inverter compressors are used for large refrigerators. They can easily be adjusted as per the speed and cooling settings.
Affordable Pricing
You can get smart features like Wi-Fi connectivity, automatic temperature controller, ice dispenser, etc.,  in premium quality refrigerators that lets you invest more. Is there any alternative? Yes, you can get them within your budget preferences by using the latest refrigerator coupons from GrabOn while purchasing at different eCommerce stores like Amazon, Flipkart, Croma, Reliance Digital, Snapdeal, and more.
Warranty Details
Without investing money, you can get the fridge repaired free of cost. All you have to do is look for warranty services from the manufacturer. They will offer a warranty on the product and compressor, which usually ranges from 1 to 10 years depending on the brand.

Storage Capacity
Panasonic tops this category as they offer models with different storage capacities to support small, medium, and large-sized families.
Temperature Control
Temperature control option is an essential feature in refrigerators to keep the food fresh and hygienic. Most consumers also have rated this as the key parameter in choosing a fridge. As per our curation process, LG and Panasonic models top the list due to the adjustable temperature control settings.
Energy Efficiency
As the refrigerator is an electrical appliance, it makes use of power to function accordingly. Manufacturers have come up with an energy-saving option that makes use of inverter compressors. Some of the brands do mention the BEE rating (5-star, 4-star) on the label to let the consumer know about the power utilization before purchasing.
Value For Money
Lastly, we have noticed that people are looking for a pricing factor before purchasing this product. Hence, we made this a part of our curation process to sort the branded fridges worth buying online at a decent price.
FAQs
Which is the No.1 refrigerator brand in India?
LG is the No.1 refrigerator brand in India. Their refrigerators are some of the most popular, best-rated, and value for money, and are often praised for their energy efficiency, build quality, storage capacity, and latest features.
Are Samsung fridges worth purchasing?
Yes! Samsung manufactures world-class fridges by leveraging its long-term electronic devices experience, and in-house chipsets.
Which refrigerator brands offer 10-year warranty on compressors?
All the popular brands including LG, Samsung, Whirlpool, Godrej, Haier, Lloyd , Bosch, and Panasonic offer standard 10-year warranties on almost all of their fridges. However, budget brands like AmazonBasics and Croma only offer anywhere from 1 year to a 5-year warranty on their refrigerator's compressors, depending on the model.
Whirlpool or Godrej: Which brand's fridges should I go for?
We are inclining more towards Whirlpool as its fridges not only enjoy better customer ratings online, but also feature many useful features like stabilizer-free operation, auto-connect with a home inverter, Microblock technology & freshonizer for keeping fruits & vegetables, extra-large vegetable crispers, and low-voltage operation support.
Which refrigerator brand is good for bachelors or budget-conscious users?
Private-label brands like Croma and AmazonBasics might be your best bet if you belong to any of those categories. However, other popular brands also offer some great budget mini-fridges for bachelors or budget-conscious users.
Which refrigerator brands should I go for if I want a good-looking fridge with solid build quality?
Go for Samsung as not only do their fridges come in unconventional & enticing-looking colours like Camellia Purple, Camellia Black, and Paradise Blue, but they can also withstand weights of as high as 175 kg weights safely. Other brands like LG, Godrej, and Whirlpool may not offer such holding capacity, but their fridges too, look great, and come in beautiful-looking colours like Scarlet Plumeria, Glass Blue, Aqua Wine, Sapphire Radiance, and others.
Conclusion
The Indian market offers a variety of options when it comes to refrigerators. Some of the best brands include LG, Samsung, Whirlpool, and Godrej. Each brand offers unique features and benefits, so it is important to consider your individual needs and preferences before making a purchase. Ultimately, investing in a high-quality refrigerator from a reputable brand can greatly enhance your daily life and help preserve your food for longer.