It doesn't matter if you are an experienced driver with several years of on-road experience or a newbie trying your hand in driving, you will agree that reversing the vehicle without bumping into anything is a crucial aspect of driving. We have all faced difficulties while reversing our car without any assistance, as it can sometimes lead to denting or scratching.
This is why it is important to equip your vehicles with car reverse cameras fitted with sensors to park or reverse precisely without causing any damage. No wonder, carmakers have begun to roll out their latest car models with rear parking cameras to help the car owners drive safely.
We have listed some of the hot-selling cars reverse cameras to help car owners like you have a stress-free reversing experience. The devices featured in our list of the best car reverse cameras fitted with powerful cameras and sensors can provide you with a crisp picture of the available parking space or any hurdles in the way.
Our Top Picks:
| | |
| --- | --- |
| Best Overall | INCLAKE Rear View Camera |
| Most Affordable | Fabtec FHD Night-Vision Camera For Car |
| Most Accurate | DDPAI |
| Best Resolution | WOLFBOX Mirror Dash Cam |
List of Top 11 Car Reverse Cameras In India 2023
Looking to upgrade your car's parking system? Check out our top list of the best reverse cameras. With every essential detail along with the cons listed for each option, you'll be sure to find the perfect car reverse camera to meet your need.
INCLAKE Rear View Camera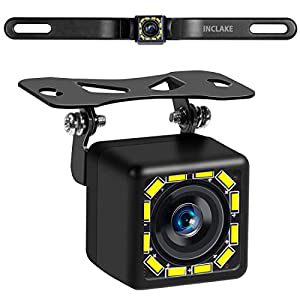 If you are willing to spend a significant sum on your rearview camera set-up, you should definitely consider INCLAKE. Along with high-quality camera lenses, their cameras come with powerful recording performance as well. This rear-view camera from INCLAKE mentioned here is designed to provide you with a safer road trip. It comes with 12 LED super lights that illuminate the images when the daylight is low and amazingly enhance night vision with sharp images.
This backup camera is absolutely best when it comes to eliminating blind spots and avoiding obstacles while reversing. The best thing about this product is that it works well even in extreme weather. This waterproof camera is absolutely suitable for most 12V-24V vehicles like Jeeps, SUVs, RVs, Vans, etc.
If you want to avoid those annoying blurry discoloration screens and pictures, then do purchase this car backup rearview camera from INCLAKE to experience the most ideal road condition.
Pros:
Camera installation is absolutely easy.
Works fine in extreme weather also.
Cons:
DDPAI Mini Car Dash Camera
DDPAI is a brand known for manufacturing innovative technology to enrich the lifestyle of people. There are plenty of products available on its platform, amongst which the mini car dash camera is one of its best-selling ones. This reverse car camera is extremely popular because of its 1080Pp full HD resolution feature that helps record high-quality videos at a lower bit rate.
The built-in super capacitor in this reverse camera provides higher durability and temperature resistance. Its 140° super wide-angle lens will help you to easily view 4-6 lanes of traffic while driving in the city or expressways.
It comes with a 6-axis G-sensor, which is ideal to auto-detect a sudden collision. This reverse car camera is also instilled with an optional 24-hour continuous parking mode that could easily record evidence when your vehicle is left unattended.
Pros:
Captures crystal clear images.
Comes with a wide aperture lens to improve the image processing ability at night.
Cons:
Very slow video downloading on phone through the DDPAI app.
Picture quality during the night is not up to the mark.
Qubo Car Dash Camera Pro Dash Cam from Hero Group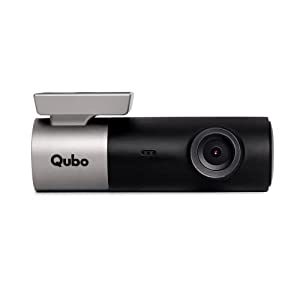 Qubo, a brand of Hero Electronix, was born with the sole purpose of creating smart technology to give you that extra convenience and assistance. Apart from providing the best CCTV cameras, Qubo is also known for its wide selection of other products like video doorbells, smart locks, smart car reverse cameras, and much more. This car dash camera is one such product designed to give you that extra edge. It is a class-leading product that comes with a seamless loop recording system and brilliant night vision.
This dashcam has high-quality built-in Wi-Fi and 4 sets of full-glass lenses that can easily capture sharp videos. Its superior low-light performance feature is perfect to get crystal clear high-definition video even during the night.
Pros:
Could easily withstand extreme temperature changes in India.
Helps to initiate the recording whenever needed.
Cons:
At times, the dashcam is not much reliable.
Sound during the jolts can be irritating at times.
ENEM Full HD 1080P Mirror Dash Camera
This product from ENEM is an innovative and high-tech device that provides a comprehensive and reliable solution for your car safety needs. With its advanced Full HD 1080P camera, this dash cam captures clear and vivid images of everything happening on the road, ensuring that you never miss any important details. Its wide-angle lens provides a 170-degree view, which covers a wider area of the road, reducing blind spots and increasing safety.
It is very well combined with glass lens, to provide you with a clearer view than many other dash cameras in low-light conditions. The most likable thing about this product from ENEM is that it does not require you to install any app to view recorded videos but gives you the convenience to directly watch the recording in the camera itself.
Pros:
Comes with a waterproof back camera to withstand any weather.
Accompanied by a USB car charger that works well with both 12V and 24V vehicles.
Cons:
Rear camera is a bit grainy and blueish even during sunny days.
Its digital compression is an issue for capturing the fine text details of moving objects.
WOLFBOX Mirror Dash Camera
When the talk is about safety accessories for cars, it is necessary that you look for a brand that has a good track record among its users. Thus, we have mentioned here one of the most popular brands, WOLFBOX. Now, if you are willing to purchase the best recording resolution dash backup camera, the following option from WOLFBOX can be the best pick. Quite different from the common rearview mirror cameras, this product uses a better sensor to help you with the best visibility. The large aperture and 6-glass lens in this dash cam is perfect to capture car plates number and road signs even during ultra-low light.
Equipped with a high-quality Full HD 1080P camera, the WOLFBOX Dash Cam captures clear and detailed footage of everything happening on the road, including license plates, road signs, and any potential dangers. It also includes a built-in microphone and speaker, to help you record audio and communicate with others while driving.
Pros:
Comes with high video capture resolution.
Helps to record sharp image day and night.
Cons:
It lies on the expensive side as compared to other products.
70MAI Rear View Dash Cam For Car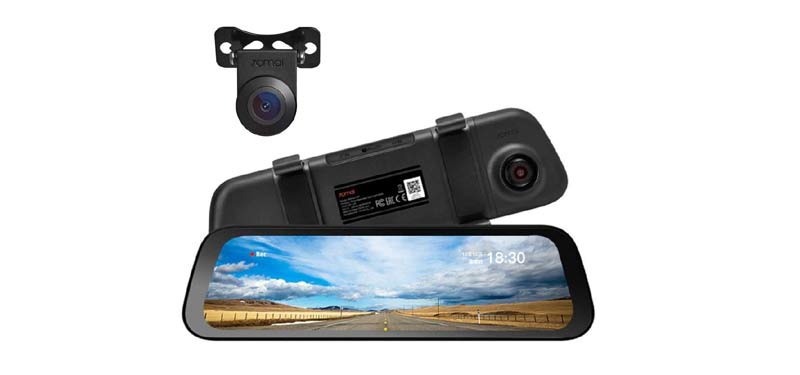 The 70Mai reverse camera for the car comes with a dual-channel recording feature and is equipped with powerful functions like the reverse view in real-time, auto-dimming screen for antiglare coverage, enhanced performance even in low light, etc. Be it a rainy day or nighttime driving, this dash cam can eliminate blind spot issues to offer a clear view on its 9-inch wide IPS screen.
It is powered with the Hi3556 V200 efficient processor to provide impeccable parking assistance in real-time while reversing, thanks to the Advanced Driver Assistance System. It is built with a special IP67 waterproof material coating to use it with ease even during wet climatic conditions.
This product is compatible with both Android and IOS systems that helps you download videos from both rear and front cameras. This car accessory also allows you to lock important footage as an 'event file' to prevent overwriting it.
Pros:
Excellently serves the purpose of rear and front recording with convenience.
Well-built dash cam with sturdy and quality hardware.
Cons:
GPS integration could be better.
ADAS implementation requires improvement.
Voyager Reverse Car Sensor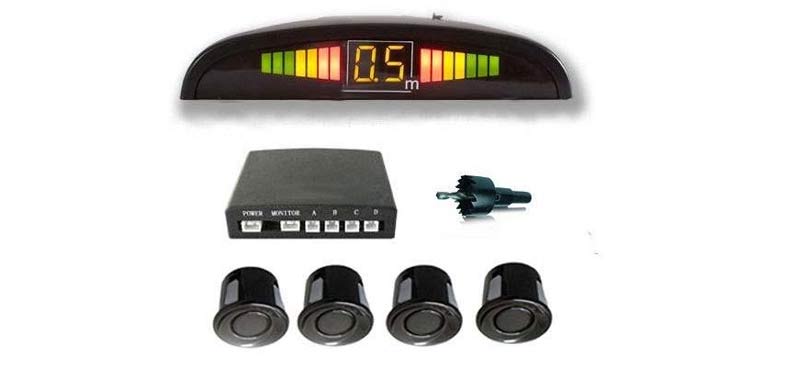 This reverse sensor for cars from the brand Voyager is an excellent choice for car owners who consider safety as their first priority. This affordable car accessory is a great choice for maintaining distance in the parking area, reverse parking, reversing the vehicle, and parallel parking especially in rainy or dark surroundings with low light conditions.
The sensor comes with an LED display along with the right combination of a microcomputer powered by advanced technology for ultrasonic measuring. This parking sensor comprises a buzzer, distance display screen, control box, and 4 ultrasonic sensors or detectors with high precision. This radar parking kit is capable of detecting the obstacles located at the rear side of your vehicle up to a distance of 1.5 m.
Pros:
Great in quality and gives reliable performance.
Easy to install and takes lesser space.
Cons:
This reverse car sensor can be installed only by a professional
Autotrends Car Reversing Camera With Rear View Kit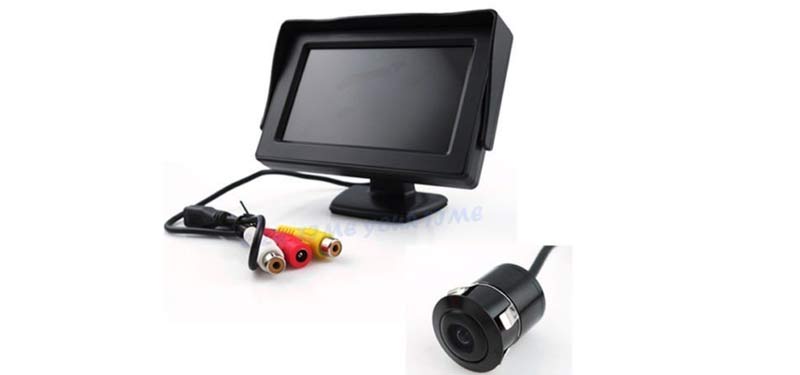 Auto trends specializes in manufacturing automobile cameras and electronics with advanced technologies and modern features to earn the trust of millions of car owners and business owners. This car reversing camera with the rearview kit is equipped with a TFT-LCD color monitor measuring 4.3 inches to deliver vivid images and videos.
The dashcam has user-friendly menu buttons to help you set the contrast, saturation, hue, and brightness based on your viewing preference. It is designed to use less power and has a 2-channel input for video. You can also connect this reverse camera with GPS, DVD, or VCD easily. This product with a swivel function is compatible with trailer vans, buses, trucks, etc.
Pros:
The product is laminated for the prevention of scratches.
Does not consume much power.
Cons:
This wired car accessory cannot be connected to smart devices
For night vision it's not quite good.
Fabtec FHD Night-Vision Camera For Car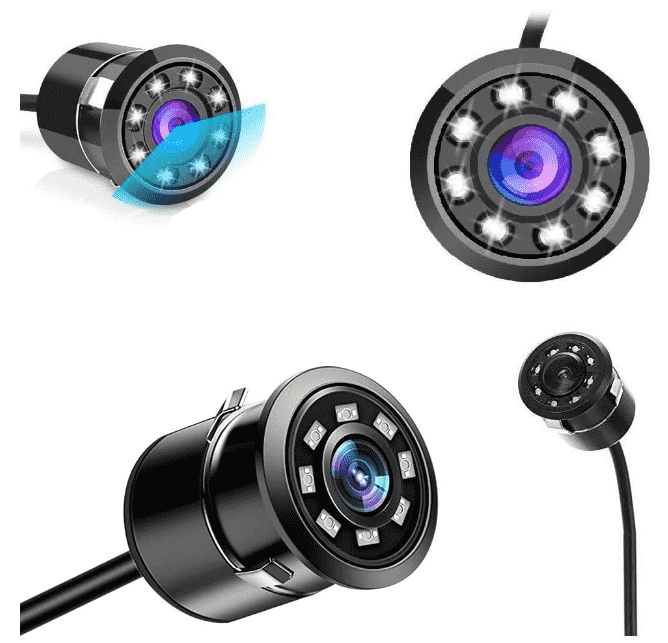 Fabtec offers this camera with a rearview mirror, FHD LCD touch screen featuring mirror link, USB, Bluetooth, and SD card. The HD LCD screen comes with a remote controller, built-in speaker, and touch-sensitive buttons to enable you to watch videos and movies while on the move. It is compatible with all kinds of vehicles and can enhance the car interior greatly.
It supports several OSD languages like Thai, English, Italian, French, Japanese, German, Chinese, Spanish, etc. It is equipped with a color CMOS image sensor and maintains 700 TV lines as a display resolution.
The infrared night vision car reverses camera has eight IR LEDs to offer realistic images even in dull light conditions. This product is designed to deliver a swift response and maintains minimum delay when switching off or on.
Pros:
Could easily be connected to any monitor with RCA video input.
Gives the best picture quality and night vision.
Cons:
Bluetooth connectivity is not up to the mark.
Display quality needs to be improved.
Nippon RPAS – 600 Night-Vision Camera For Car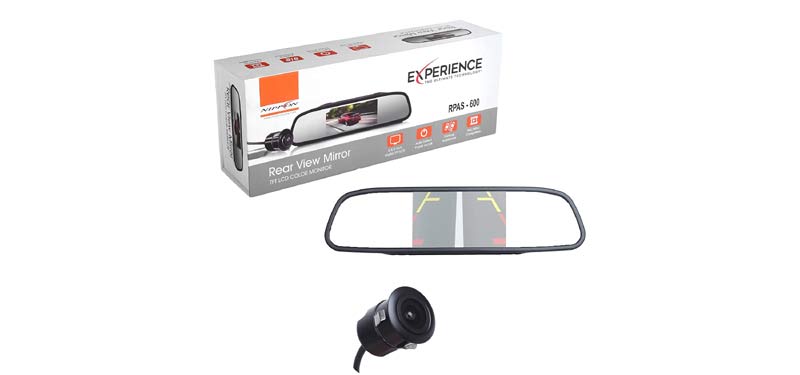 This Nippon reverse car camera can deliver impeccable images with a 120-degree viewing angle to make reversing experience a fuss-free experience. It is equipped with a night vision feature to help you see objects at a specific distance even at night.
This water and dust-resistant camera assure relentless service even during rainy or windy days. The images and videos are displayed clearly on the digital TFT LCD screen of 4.3-inch width to help you reverse your vehicle safely.
The park assists feature of this product displays yellow and red lines to alert and help the driver to park the vehicle even in small parking spaces. The automatic switching feature switches on and off automatically when the reverse gear is on and off.
Pros:
Its night vision is quite commendable.
Its backup camera is compatible with most vehicles.
Cons:
Installation is slightly tricky.
Viewing angle can be improved.
Fabtec Rear View HD Parking Camera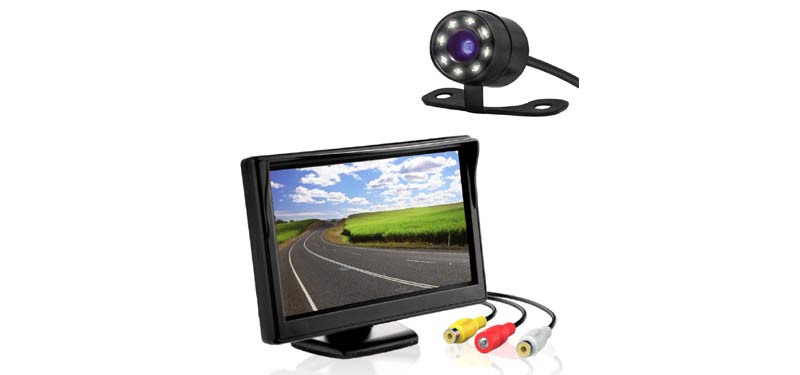 This Fabtec rear view camera for cars is specifically designed to be compatible with any type of vehicle to let the drivers have a comfortable ride each time. It is designed with a 5-inch TFT screen and RC cable for a camera measuring 20 feet to connect the screen with the car camera quickly.
You can stay assured of realistic image quality even when reversing in pitch-black surroundings, as it is equipped with 8 LED lights to deliver optimum visibility. When you choose the reverse mode on your vehicle, the camera and the screen begins to capture the footage automatically with its auto On-Off feature.
This car camera is built with waterproof materials to prevent it from getting damaged under extreme conditions and it supports 180-degree rotation. The TFT screen of this car camera has a wide viewing angle and maintains a 16:9 aspect ratio.
Pros:
Comes with a distance scale line display to help you know the distance while reversing or parking.
Could easily be Installed in any place of your vehicle.
Cons:
The brightness is not enough to see during bright daylight.
Night vision is not satisfactory.
To conclude
As technology advances, driving has become easier and more convenient, and car reverse cameras are a prime example of this progress. With the vast range of options available in the market, there has never been a better time to invest in a quality car reverse camera. Whether you're a seasoned driver or a beginner, investing in a good quality car reverse camera is a wise decision that can save you from the hassle of parking and reversing in tight spaces. So, why wait? Make sure to explore your options and choose the best car reverse camera with the help of this article and enjoy a hassle-free driving experience.
Buyer's Guide
When it comes to purchasing a great quality car reverse camera, there are a few things you need to keep in mind to ensure that you get the most out of your investment. And this is why we have provided some factors below that will help you make a better choice before making a purchase:
Image quality: One of the most important things to consider is the image quality of the camera. Ensure to look for a camera that offers high resolution and clear imaging, so you can easily see what's behind you.
Viewing angle: The viewing angle of the camera is another important factor to consider before making a wise purchase. Usually, a reverse camera with a wider angle gives a better view of the surroundings, so if you purchase a reverse camera that offers a wide viewing angle, it will be of considerable help to you during a drive.
Night vision: If you frequently drive at night, then you should look for a camera that offers night vision capabilities. This will ensure that you have a clear view of your surroundings, even in low-light conditions.
Size and installation: Car reverse cameras come in various sizes and designs, so it's important to choose one that is easy to install and fits your vehicle's design. You should also consider the placement of the camera and choose one that is convenient for you to use.
Brand and warranty: Finally, consider the brand of the camera and the warranty offered. Choose a reputable brand like Nippon, INCLKAE, or FABTEC whichever offers a good warranty, so you can be confident that you're getting a quality product that will last.
Price: Reverse cameras usually vary in price, with some high-end models costing enormously. Now, it all depends on you, how you perfectly manage your budget and look for the exact features you need before making an ideal purchase.
FAQs
1. Which is better, wireless car reverse cameras or wired ones?
Wireless car reverse cameras offer more flexibility in terms of installation and are easier to install compared to wired cameras. On the other hand, wired cameras are more reliable and offer a higher-quality image with fewer chances of interference. So, it ultimately comes down to your personal preference and the specific needs of your vehicle.
2. Is it easy to install car reverse cameras?
Installing a car reverse camera absolutely depends on the type of camera you choose and the model of your car. Some cameras require professional installation, while others can be installed easily by following the instructions in the manual. All-in-all, it's important for you to choose a camera that fits your vehicle and is easy to install.
3. What's the actual time period of a car reverse camera to last?
The lifespan of a car reverse camera basically depends on the quality of the camera and how it is maintained. If yours is a high-quality one from any top brand like INCLAKE, Qubo, or ENEM then it can last for several years with proper maintenance and care. Lastly, you have to make sure to keep the camera clean and free from debris and to follow the manufacturer's recommended maintenance schedule.
4. Do car reverse cameras work in all weather conditions?
There are several car reverse cameras that are designed to work in a variety of weather conditions, including rain, snow, and fog. However, it's important for you to choose a camera that is waterproof and has a high-quality lens to ensure clear imaging even in inclement weather.
5. Can I use the car reverse camera as a front-facing camera?
Even though car reverse cameras are specifically designed to be used for reversing, some models can be used as front-facing cameras as well. However, it's important to choose a camera that is designed for this purpose to ensure that it functions properly and provides clear imaging.