It doesn't matter if you are an experienced driver with several years of on-road experience or a newbie trying your hand in driving, you will agree that reversing the vehicle without bumping into anything is a crucial aspect of driving. We have all faced difficulties while reversing our car without any assistance, as it can sometimes lead to denting or scratching.
This is why it is important to equip your vehicles with car reverse cameras fitted with sensors to park or reverse precisely without causing any damage. No wonder, carmakers have begun to roll out their latest car models with rear parking cameras to help the car owners drive safely.
We have listed some of the hot-selling car reverse cameras to help car owners like you have a stress-free reversing experience. The devices featured in our list of the 10 best car reverse cameras fitted with powerful cameras and sensors can provide you a crisp picture of the available parking space or any hurdles in the way.
List of Top 10 Car Reverse Cameras In India 2021
1. Campark DC02 Car Reversing Camera
The DC02 car reverse camera is the latest addition to their popular range of dash cameras that is equipped with the latest HDR technology and 6G lens to deliver vivid video and images 1080p resolution even in low light conditions.
It has 120-degree rear ultra-wide and 170-degree front dual lens to offer you a complete view of 5 road lanes without any blind spots. This dash camera comes with a unique Wide Dynamic Range technology for achieving the right brightness balance in dim light conditions. It comes with a waterproof camera and 4 LED lights to offer impeccable reversing assistance by switching over to full-screen view automatically to display video of the parking area.
This car camera assures stress-free loop recording by overwriting the earliest footage automatically to prevent manual deletion. The built-in G-sensor locks the video surroundings while detecting shocks and bumps, and it has adjustable sensitivity. This dashboard camera protects your vehicle with 24-hour parking monitoring and has a micro SD slot.
Cons:
This car camera comes with an expensive price tag
2. Autotrends Car Reversing Camera With Rear View Kit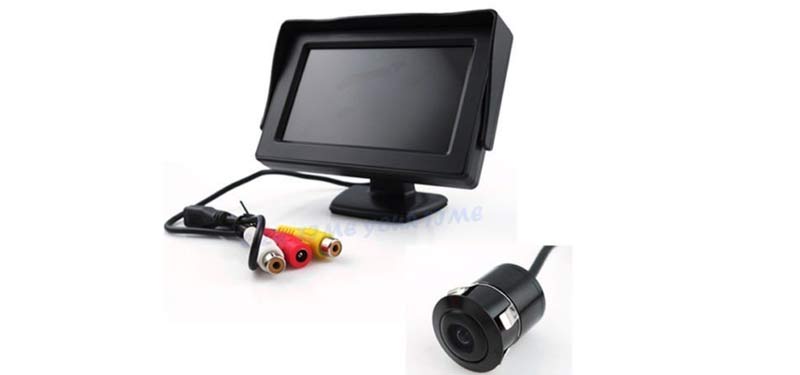 Auto trends specialize in manufacturing automobile cameras and electronics with advanced technologies and modern features to earn the trust of millions of car owners and business owners. This car reversing camera with rearview kit is equipped with a TFT-LCD color monitor measuring 4.3 inches to deliver vivid images and videos.
The dashcam has user-friendly menu buttons to help you set the contrast, saturation, hue, and brightness based on your viewing preference. It is designed to use less power and has a 2-channel input for video. You can also connect this reverse camera with GPS, DVD or VCD easily. This product with swivel function is compatible with trailer van, bus, truck, etc.
Cons:
This wired car accessory cannot be connected to smart devices
3. Fabtec FHD Night-Vision Camera For Car
Fabtec offers this camera with a rearview mirror, FHD LCD touch screen featuring mirror link, USB, Bluetooth, and SD card. The HD LCD screen comes with a remote controller, built-in speaker, and touch-sensitive buttons to enable you to watch videos and movies while on the move. It is compatible with all kinds of vehicles and can enhance the car interior greatly.
It supports several OSD languages like Thai, English, Italian, French, Japanese, German, Chinese, Spanish etc. It is equipped with the color CMOS image sensor and maintains 700 TV lines as display resolution.
The infrared night vision car reverses camera having eight IR LEDs to offer realistic images even in dull light conditions. This product is designed to deliver the swift response and maintains minimum delay when switching off or on.
Cons:
Bluetooth connectivity is not up to the mark
Display quality needs to be improved
4. Carzex Car Reversing Camera with HD LCD Touch screen
Carzex offers this versatile car accessory to assure complete protection, security, and safety of your vehicle round the clock. It comes with an easy to install design to fit it inside the car bumper or license plate.
This reverse camera for car with the rearview mirror and LCD screen with 7-inch FHD display with touchscreen feature supports night and day vision to assure safe reversing with great precision. It comes with a 100% waterproof reverse parking camera with night vision support to help you have a clear view of the parking area even in pitch dark.
The waterproof car camera featuring die-cast metal housing with 8 LED lights has a wider viewing angle to display videos with a total resolution of 976 X 582p even in low light situations of 0.5 lux.
5. Fabtec Night Vision Rear View Parking Camera
This car accessory with a mirror screen can be placed anywhere in your car to enjoy a clear-cut viewing experience when trying to reverse the vehicle or during reverse parking. It is offered with 20 feet RC cable to establish a connection between the screen and car camera.
It is designed with 8 LED lights with immense brightness to assure the best image quality even in low lit conditions. The wide viewing angle ensures you get the complete picture of what is behind your vehicle even at night. This camera and the screen switches on automatically as soon as you choose the reverse mode on your vehicle.
It comes with an easy to install design, detachable sun visor, easy to access menu buttons, multiple OSD languages, and an adjustable stand to use it with ease.
Cons:
Sometimes, the video output looks pixelated and grainy
6. Nippon RPAS – 600 Night-Vision Camera For Car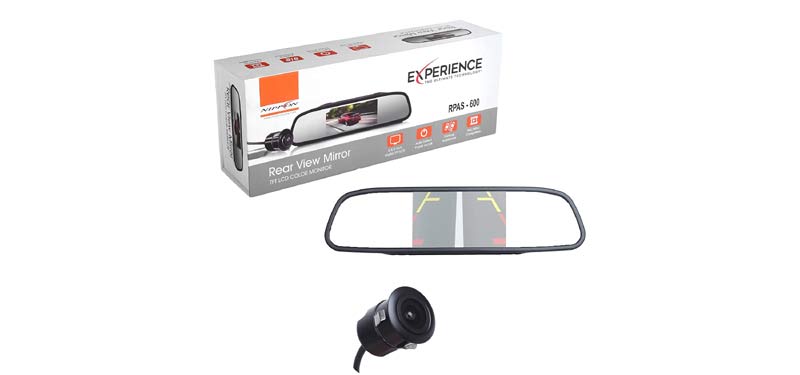 This Nippon reverse car camera can deliver impeccable images with a 120-degree viewing angle to make reversing experience a fuss-free experience. It is equipped with a night vision feature to help you see the objects at a specific distance even at night.
This water and dust resistant camera assure relentless service even during rainy or windy days. The images and videos are displayed clearly in the digital TFT LCD screen of 4.3-inch width to help you reverse your vehicle safely.
The park assists feature of this product displays yellow and red lines to alert and help the driver to park the vehicle even in small parking spaces. The automatic switching feature switches on and off automatically when the reverse gear is on and off.
Cons:
Installation is slightly tricky
Viewing angle can be improved
7. 70MAI Rear View Dash Cam For Car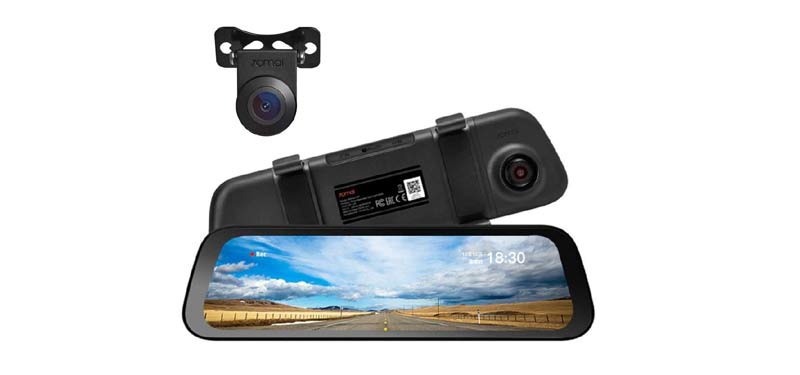 The 70Mai reverse camera for the car comes with a dual-channel recording feature and is equipped with powerful functions like the reverse view in real-time, auto-dimming screen for antiglare coverage, enhanced performance even in low light, etc. Be it a rainy day or night time driving, this dash cam can eliminate blind spot issues to offer a clear view on its 9.3-inch wide IPS screen.
It is powered with the Hi3556 V200 efficient processor to provide impeccable parking assistance in real-time while reversing, thanks to the Advanced Driver Assistance System. It is built with the special IP67 waterproof material coating to use it with ease even during wet climatic conditions.
This product is compatible with both Android and IOS systems that helps you download videos from both rear and front cameras. This car accessory also allows you to lock important footage as an 'event file' to prevent overwriting it.
Cons:
GPS integration could be better
ADAS implementation requires improvement
Using the microSD card slot tests your patience
8. Fabtec Rear View HD Parking Camera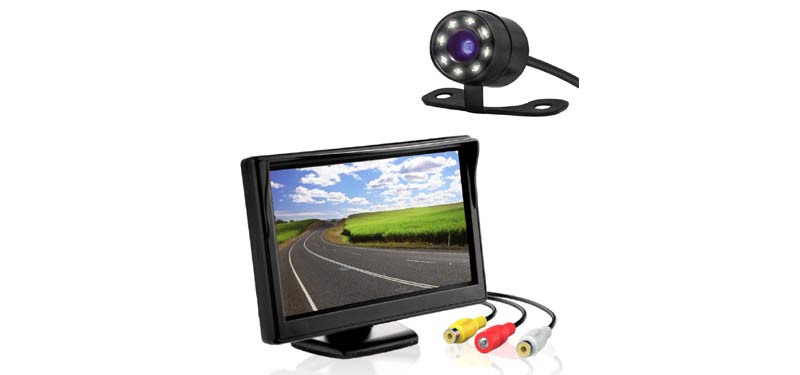 This Fabtec rearview camera for cars is specifically designed to be compatible with any type of vehicle to let the drivers have a comfortable ride each time. It is designed with a 5-inch TFT screen and RC cable for a camera measuring 20 feet to connect the screen with the car camera quickly.
You can stay assured of realistic image quality even when reversing in pitch-black surroundings, as it is equipped with 8 LED lights to deliver optimum visibility. When you choose the reverse mode on your vehicle, the camera and the screen begins to capture the footage automatically with its auto On-Off feature.
This car camera is built with waterproof materials to prevent it from getting damaged under extreme conditions and it supports 180-degree rotation. The TFT screen of this car camera has a wide viewing angle and maintains a 16:9 aspect ratio.
9. Cave Rear View Parking Camera
This rear view reverse camera from the Cave brand comes with a universal fit feature to team up with all types of cars, SUVs, and trucks to prevent the drivers from craning up their necks while trying to reverse their vehicles.
The 7-inch TFT LCD display screen comes with a quick to install design to fit on your dashboard and displays with a screen ratio of 16:9 to deliver images and videos with excellent clarity. The waterproof coating protects the camera from all kinds of water damage in the long run.
The auto switch on feature saves you the trouble of switching on the camera and screen manually every time you reverse the vehicle. The wide viewing angle, night vision feature, and 8 LED lights assure high-resolution images.
10. Voyager Reverse Car Sensor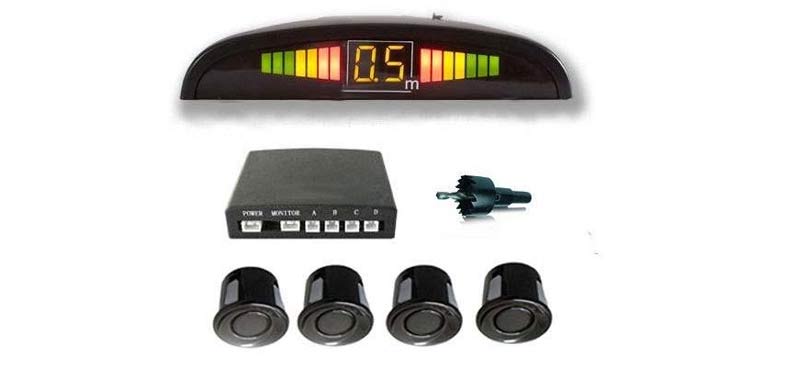 This reverse sensor for cars from the brand Voyager is an excellent choice for car owners who consider safety as their first priority. This affordable car accessory is a great choice for maintaining distance in the parking area, reverse parking, reversing the vehicle, and parallel parking especially in rainy or dark surroundings with low light conditions.
The sensor comes with an LED display along with the right combination of a microcomputer powered by advanced technology for ultrasonic measuring. This parking sensor comprises a buzzer, distance display screen, control box, and 4 ultrasonic sensors or detectors with high precision. This radar parking kit is capable of detecting the obstacles located at the rear side of your vehicle up to a distance of 1.5 m.
Cons:
This reverse car sensor can be installed only by a professional
Reversing cars in cramped spaces can be a smooth experience when your vehicle is fitted with an efficient reverse camera. The car reverse cameras that we have compiled above are handpicked based on crucial factors like viewing angle, video quality, weather resistance, etc. to help you drive without any worries about bumping or hitting anything. Choose the best rearview parking camera to reverse your vehicle in style like a pro.