Ask any mother, what is the one thing that was the most difficult to deal with post-pregnancy and the most common answer you will get is 'getting rid of the belly pouch'. Though the concept of belly wrapping is centuries old in India, it has gained new popularity in recent years when women have become more aware of how they look post-pregnancy. While a 'saree' or a 'dupatta' was an obvious choice for the post-pregnancy belt in India, the whole concept has been given a new dimension by various companies who now manufacture amazing post-pregnancy shapewear to boost your confidence and help you lose all that flab from the tummy area.
Some mothers struggle for years to get in shape post-pregnancy, especially from the abdominal area. And isn't that obvious – a new mother with a 24×7 job of taking care of a newborn can hardly find time to exercise. The extended and flabby midsection with all its loose skin can be such an eyesore for some of us. Well, not anymore – as the idea of an abdominal belt has been given a refreshing look and feel by transitioning the cloth post-pregnancy belt to an aesthetically designed, ergonomically built-in shape belt or the post-pregnancy belt.
List of 10 Best Post Pregnancy Belts In India for 2022
Best Post Pregnancy Belts
OBLIQ Abdomen Support Belt for Post Pregnancy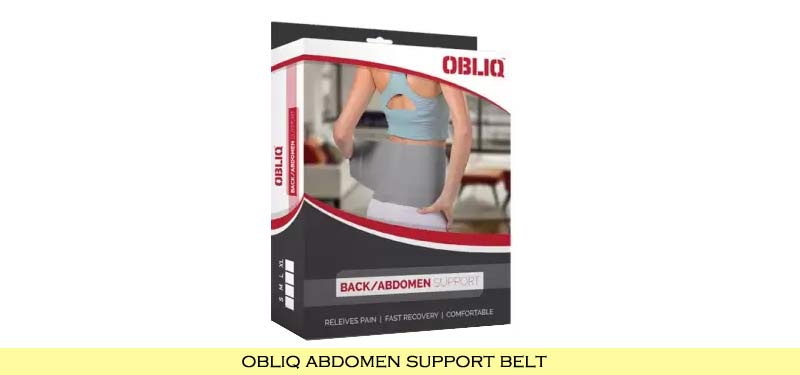 OBLIQ Abdomen support belt is good for women who suffer from chronic lower back pain, have had abdominal surgery, or need to support their back. It works well to hold excess stomach fat and give a slimming effect. It has a relaxing warm effect on the muscles and relieves stiffness and pain.
Features:
The belt allows your skin to breathe, thanks to the cotton knitted elastic fabric that allows air circulation.
OBLIQ maternity belt is made from neoprene materials making it lightweight, comfortable and it does not smell due to sweat.
It is soft and smooth and does not produce any friction when the skin comes in contact. So you don't have rashes or irritation when wearing this post pregnancy belt.
It can be discreetly worn under your clothes as well.
The belt holds its position thanks to the non-slip neoprene inner layer.
Priced at Rs. 599 online.
Tynor Tummy Trimmer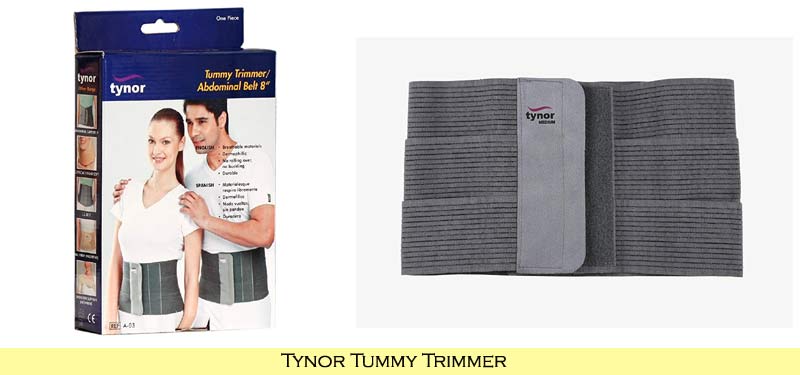 One of the best belly belts online, Tynor Tummy Trimmer should be on your postnatal shopping list to reduce your waistline post-pregnancy or need abdominal support post an abdominal surgery like an umbilical and ventral hernia. This tummy trimmer compresses the tummy muscles making it much easier to get in shape after pregnancy.
Features:
Tynor Tummy Trimmer is lightweight and made of thin material with flexi nylon splints to ensure it stays in position.
It is designed to compress the bulge and tone up abdominal muscles for a slim waistline and neat look
It provides improved ventilation and comfort, thanks to highly porous orthopaedic three-panel elastic webbing
You can control the level of compression by adjusting the hook loop closures that aid in providing the perfect fit
Priced at Rs. 439(originally Rs. 621) online, go for it after discussing with your doctor.
Mee Mee PostNatal Magnetic Maternity Support Corset Belt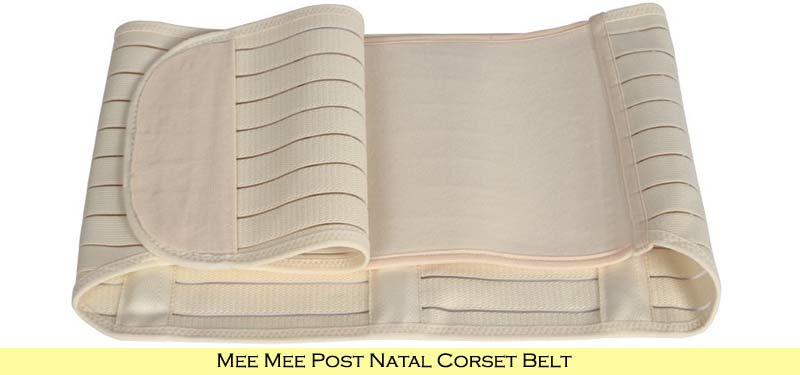 Mee Mee's maternity corset is perfect for women not just as postnatal abdomen support but also during pregnancy period to get relief from nagging pains and aches in sensitive areas. Mee Mee's abdominal support corset provides support to the abdomen, hip, and spine and also aids in maintaining a correct posture when you are breastfeeding.
Features:
It offers superior comfort as it is made of premium quality breathable cotton fabric
Can be easily adjusted to suit your body shape and type without straining yourself
It gradually tones the abdominal flab and gives you a firmer stomach
Can be worn discreetly under your regular clothes for that shapely look
You can get Mee Mee Post Natal Magnetic Maternity Support Corset Belt in two colours, namely beige and pink.
Priced at Rs. 511.
Wonder Care Abdominal Belt after Delivery Binder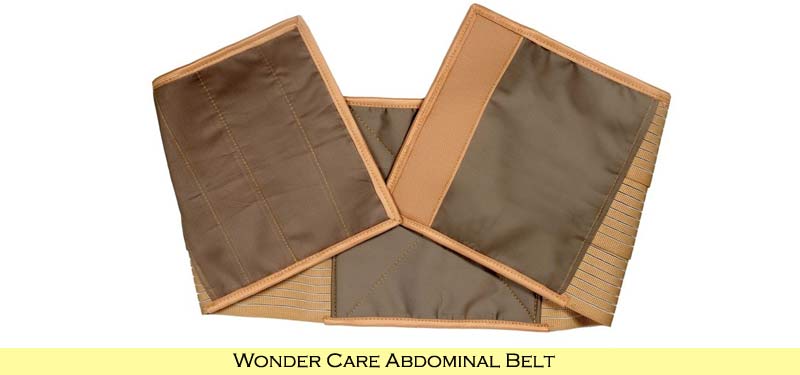 If you are looking to buy a stomach belt after delivery but do not want to spend a lot of money initially, you can opt for Wonder Care Abdominal Belt that provides superior comfort at a budget-friendly price. Also, you can get this post maternity belt in various sizes so you can pick one that is most comfortable for you.
Features:
It is a thinly made, lightweight and can be worn discreetly under clothes- thanks to the pleasant aesthetics
Comes with extra porus webbing so as to improve ventilation and provide comfort to the person wearing it
Offers optimal compression of the abdominal muscles – strengthening and toning them up for a firmer look.
For better grip, it comes with a broad hook and loop tape panel.
You can choose from various sizes – from 28″ to 48″
Priced at just Rs. 399.
Flamingo Abdominal Belt For Postpartum Tummy Trimming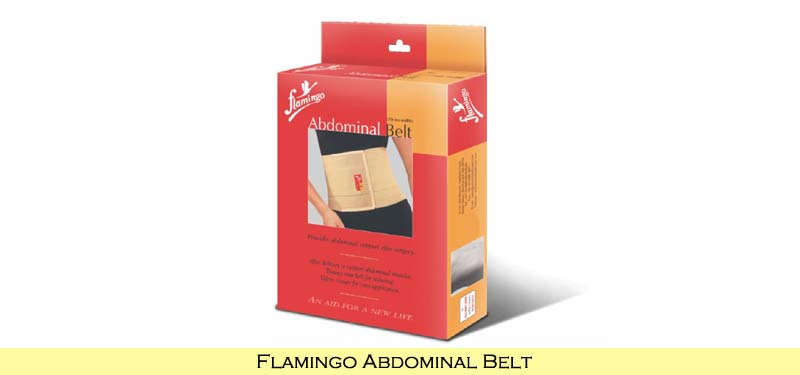 Available in 5 sizes, the flamingo abdominal belt is perfect for people recovering from abdominal surgery or after delivery. It is more of a post-delivery belt and is generally not used for other medical purposes.
Features:
Works wonderfully to reduce pressure on the bladder, less varicosities and swelling in pelvic region
Tones up abdominal muscles after delivery and strengthens the back
Stretchable in nature so you feel comfortable wearing it for long hours
Improves circulation during workout sessions or when you are exercising
Comes at a very affordable price of Rs. 452.
Cling Post Maternity Corset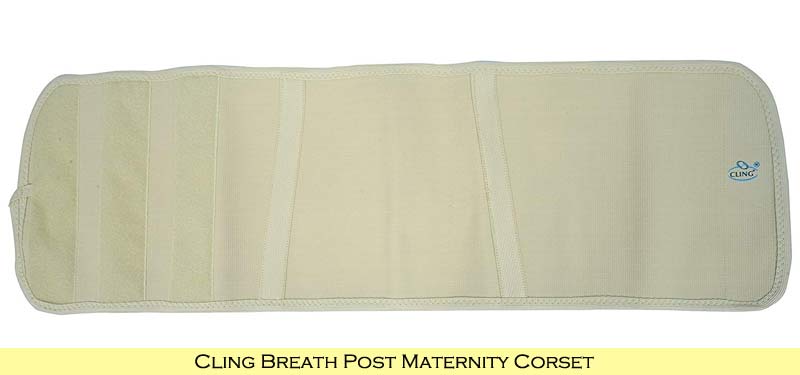 Cling Post Maternity belts offer an extra width of 25 centimeters providing maximum support to the abdominal walls for maximum comfort. It is a corset type maternity belt and suits people who look to support all of their stomachs with a tummy belt.
Features:
Cling Post Maternity corset offers support to weakened muscles by ensuring adequate compression through excellent elasticity of the product.
Made of fully elastic material, it offer a snug and warm fit contouring your body and can be worn for long intervals
Skin friendly materials are used to manufacture Cling Post maternity corsets making them comfortable for the skin
Even after prolonged use, the belt retains its elasticity
Can be worn discreetly under clothes as well
Comes at an attractive price of Rs. 499.
Farlin Breathable Postnatal Reshaping Abdominal Girdle Belt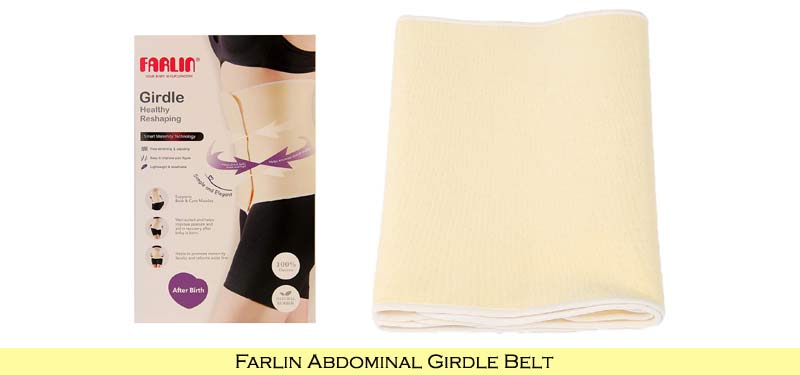 Farlin Girdle is designed to reshape abdominal muscles and improve the figure by shrinking the belly and the hips. Additionally, it also helps minimise stretch marks since it holds all the extra post-pregnancy flab together. Men can also use it for waistline reduction.
Features:
It is made with smart maternity technology that allows for free stretching and offers good adjustment
The material is 100% Dacron and natural rubber making it very lightweight
It supports back and core muscles and tones them
The fit is well-suited and helps in improving the posture when nursing a baby after delivery
You can easily wear under your clothing and it will conceal itself well.
Can be bought for about Rs. 1459 online.
JSB BS55 Premium LS Support Belt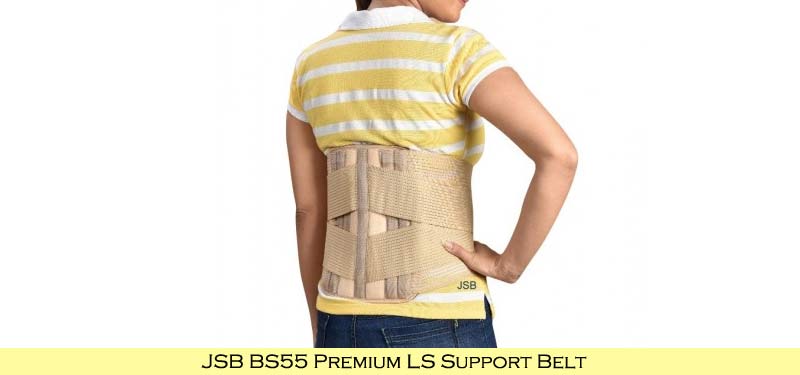 From the house of JSB Healthcare, JBS BS555 Premium LS Support belt is ideal for people looking for comfort from back pain, back spasms, sciatica pain, dislocated disc or post-operative support. It is also a great choice for women looking to tighten their abdomen after delivery. One of the most commonly recommended belt for women after delivery it offers many features as below.
Features:
It offer back support targeting just the right muscles and this is orthopedically proven
It comes with a metal strip to support spine
To make sure it stays in position and does not slip, it comes with a double lock feature that makes its grip stronger.
Can be worn for intervals without compromising on comfort because of its breathable design and soft make
JBS BS555 Premium LS Support belt offers perfect elasticity and ideal compression
Can be bought in various sizes from 28″ to 48″
Priced at Rs. 499
Baby Bucket Women's Post Pregnancy Slimming Belt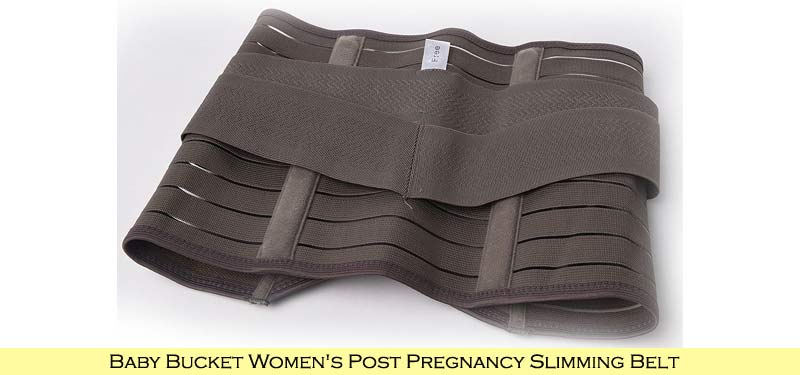 Baby Bucket Women's Post Pregnancy Slimming Belt has been specially designed to be used by women postpartum to relieve muscle tension in the abdomen and support back. It relieved waist fatigue that a new mother has to endure whether it is during regular hours of baby feeding or uncomfortable sitting.
Features:
Unique corset fit that tightens the belly, relieves waist fatigue and shapes your abdomen
Provides a curve on the waist suiting the requirement of postpartum mothers and women who are obese
Comes with a unique trapezium design that offers the much needed support to back muscles and support core abdominal muscles
Can be worn under your regular clothing for long hours
Made with elastic material with breathable properties so as to not irritate the skin
One of the popular post pregnancy belt after c section used by mothers in India
Priced at Rs. 699 online.
Jern Breathable Postpartum Postnatal Recovery Support Girdle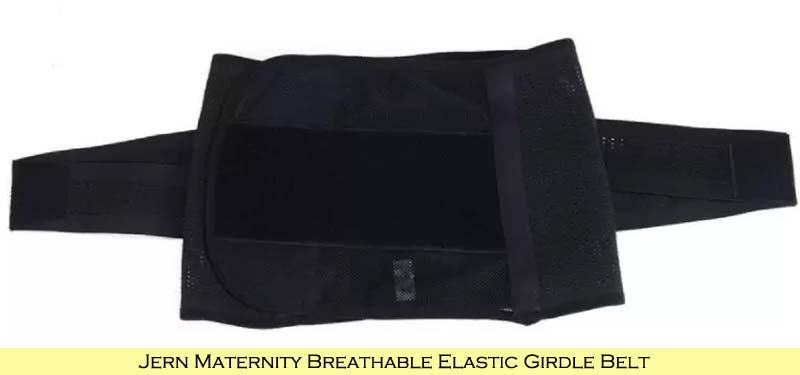 Recommended for mother recovering from birthing and women who are into fitness and heavy lifting, Jern Breathable Postpartum Postnatal Recovery Support Girdle is one of the premium post-natal slimming belts in India.
Features:
Offers excellent elasticity and flexibility due to its high-quality nylon and rubber
It can be worn for long hours continuously thanks to its mesh and breathable design that ensures you are comfortable all through
Can be adjusted as per requirement with Velcro closures
Suitable for women who are recovering from C-section birth as well
The cost of Jern Breathable Postpartum Postnatal Recovery Support Girdle is Rs. 788.
Postpartum belts can significantly help new mothers in getting their pre-pregnancy shapes and also provides them with a lot of support. In-shape belts can make you look slimmer, and you can easily carry yourself in the dresses of your choice. However, it is only on the recommendation of your doctor that you should wear post-pregnancy belts so make sure you seek his or her opinion. And remember, you don't have to, and you shouldn't compromise your comfort while using postpartum belts so do not use them if you sense any discomfort.
Everything you Wanted to Know about Post-Maternity Belts
But before you decide to buy one of the best post-pregnancy belts to tighten your abdominal muscles, you must be wondering if they help. Let's answer these questions.
Do Post Pregnancy Belts Help Reduce The Tummy?
Most women feel that post-pregnancy girdles do help in tightening the tummy to some extent. To get that flat tummy you still need to work out. Wearing a sash helps the enlarged uterus and other muscles settle back in your belly at their respective places by shrinking in size. Sometimes the abdomen shrinks to its original size giving you a decent tummy in no time.
Abdominal belts also help the hips to shrink giving you a much slimmer look. They support your abdominal muscles, assist in your posture and prevents loose skin from spreading and significantly. It aids your back that requires additional support and prevents conditions like back pain, scoliosis, and spinal curvature.
Most importantly, wearing a post-pregnancy abdominal belt also boosts the confidence of a new mother who is struggling with her new roles and her body.
Is it necessary to wear belt after C section?
If you have had a C-section delivery, wearing a slimming belt after pregnancy helps in limiting the movement of sensitive tissues, holds the stitches in place and relieves the swelling of the abdomen as a whole thus making it faster to heal.
So when is the right time to invest in a slimming belt after pregnancy?
Well, some people believe that if you have had a normal delivery, you can wear a maternity belt after just a day.
However, if you have had a C-section, the general advice is to wait for 6-8 weeks or until the incision heals. It reduces the risk of complications due to the tightening of the abdomen.
The best person to help you in this regard would be your doctor – he or she can suggest you when to start wearing a maternity belt considering your health, delivery and any other condition.