Healthy hair can make you look smart and pleasing, whereas a balding head or thinning hair can take away a lot from your looks. In the era of stress and fast-paced life, hair fall is a common problem experienced by almost all people, men and women alike. While there are many ways to combat hair loss, not all prove beneficial with the desired result. However, for Indian hair types, hair woes' most common solution has been oiling the hair- something that our mother and grandmothers and generations before they were doing. Oiling the hair can fight hair fall, reduce hair loss and even help in hair regrowth provided done right.
But then the market is flooded with hundreds of brands selling oils for hair regrowth, fighting baldness, and hair thickening. Which one do you choose to address your hair problem particularly? Well, we have it sorted for you as we bring you a well-researched list of top anti-hair fall oils in India for hair regrowth.
Hair fall oil and related products are available with Amazon at the best discount price. You can get the latest Amazon coupons from our main website. You might also get a lot of new ideas to buy something new that is coming with a good discount.
However, before you choose your favourite oil from the list, let's quickly run over the causes of hair fall.
Top Hair Regrowth Anti Hair Fall Oil Brands in India
Last update was on: August 5, 2022 7:37 pm
Best Anti Hair Fall Oil Brands
If hair fall is bothering you and you wish to fight hair loss and encourage hair growth, oiling your hair is vital in every aspect. While it may seem old-fashioned to massage your scalp and hair with oil, it is by far the most effective way to pamper your hair, boost hair growth, fight dandruff and hair loss and make it thick and manageable. Below is the list of best anti-hair fall oils in India that promote hair regrowth with regular champis.
WOW Onion Black Seed Hair Oil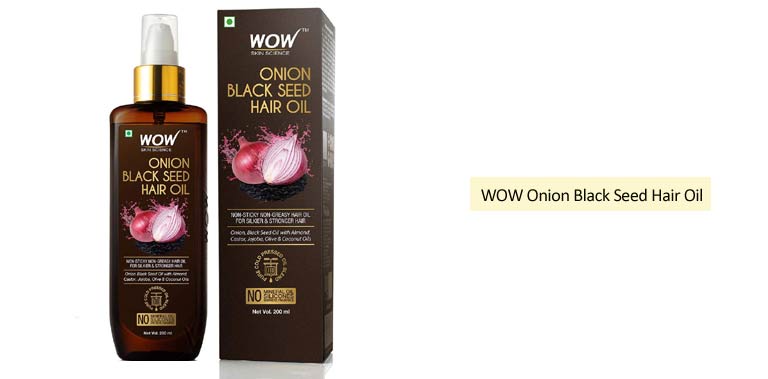 Facing serious hair-fall concerns? WOW, Onion Black Seed Oil is perfect for keeping excessive hair fall under control. The Onion Black Seed oil's goodness is blended carefully with other essential oils to help you fight hair fall and make your hair stronger and shinier. Free from Mineral oils and Silicones, WOW Onion Black Seed OIl promises smooth, tangle-free hair, leaving your tresses more beautiful than ever. This oil is made with Almond Oil, Jojoba Oil, Olive Oil, Coconut Oil, and Castor Oil to provide a natural hair treatment at home to keep the chemicals at bay.
Benefits: WOW Onion Black Seed Oil is 100% Hexane free. The oil is prepared with cold-pressed essential oils to add the lusture to your hair. The best benefit is that it is a nonsticky hair oil that quickly gets absorbed by the scalp. It's suitable for all hair types and can also be beneficial in treating dandruff.
Cons: A little out of budget if you don't leverage online offers.
You might want to check out Wow coupons page for best deal on other products from the brand.
Indulekha Bringha Hair Oil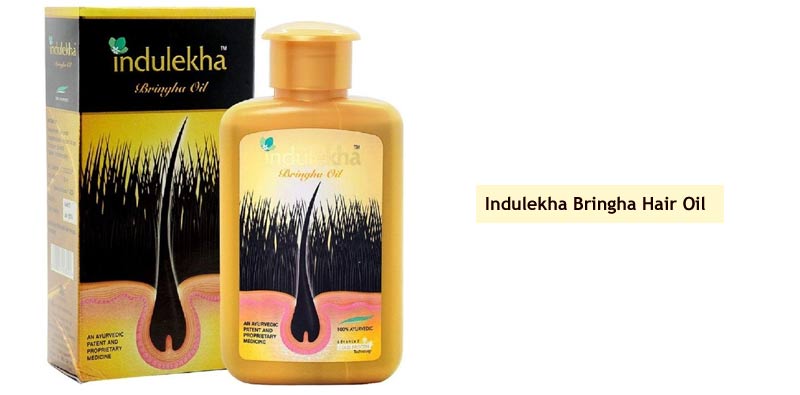 Specifically targeted to fight hair loss and encourage hair regrowth, the Ayurvedic Indulekha Bringha Hair Oil also fights scalp conditions such as dandruff and dryness. Marked as 100% natural, the ingredients of Indulekha Bringha hair oil include Swetha Kutaja leaves, amla, neem, yasthi, Karpura, rudraksha, Bringharaj oil, and pure coconut milk. The oil is derived from cold-pressed technology and comes in an attractive and easy to use selfie bottle applicator.
Benefits – The oil is purely a herbal mix of powerful herbs and also targets common hair problems such as split ends, dryness, and lack of hair volume. You can easily apply it with the selfie bottle design. About 50% of users report positive result after using Indulekha Bringha Hair Oil
Cons – You may not like the strong smell of the oil. Price is also a bit on the higher side.
Satthwa Hair Oil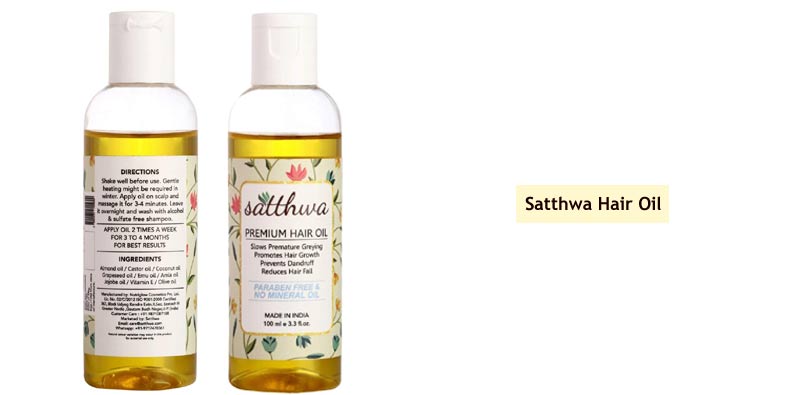 Chemical-free, Satthwa hair oil addresses your hair woes with not just one but by bringing to you the power of 9 different oils in one. Whether it is hair loss, premature graying, dry and brittle hair, split-ends, or dryness – Satthwa hair oil fights its oil. The composition is a powerful blend of castor oil, olive oil, emu oil, almond oil, grapeseed oil, coconut oil, jojoba oil, and amla oil, all of which have excellent properties to prevent hair fall and stimulate hair –regrowth. Vitamin E is also added that gives your hair additional shine and growth. A massage with this oil nourishes your scalp, stimulates hair follicles, and treat microbial infections if any.
Benefits – The benefits of all oils are packed into one, so it can help you tackle various hair problems in one go. It is chemical and paraben free oil.
Cons – You may find the price a deterrent, look for deals to grab it at a cheaper rate. The availability is only online.
Himalaya Anti-hair fall oil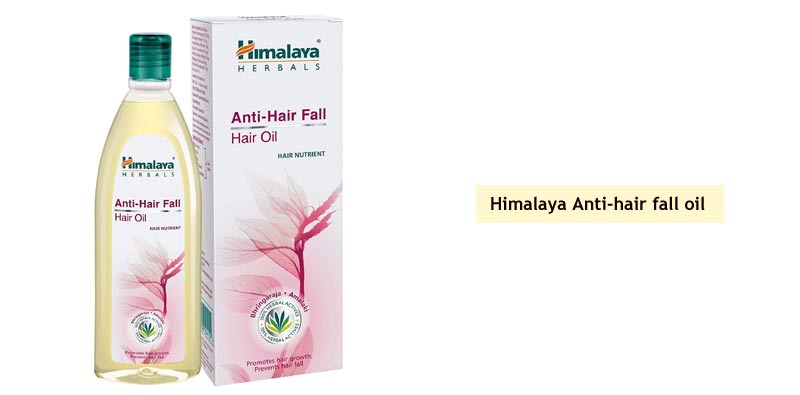 The composition of Himalaya Herbals Anti-hair fall oil is quite impressive. It contains bhringaraj, neem and bael, and amlakai along with fenugreek that works together to make this rather pleasant smelling, nonsticky hair oil that claims to curb hair fall boost hair growth. When massages regularly in your scalp, the oil can strengthen hair follicles, reduce breakage, and improve tensile strength.
Benefits – Chemically free, the vote of trust may go to the brand owing to it being a household name. It claims to reduce breakage and improve hair strength in a short time.
Cons – None.
Parachute Advanced Scalp Therapie Hair Oil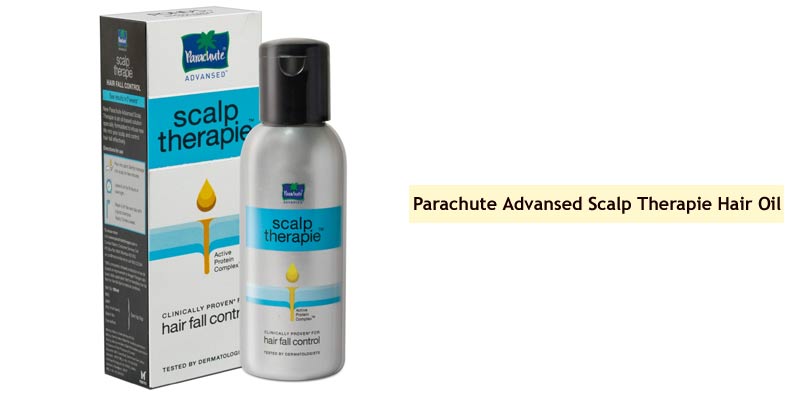 Price: Parachute Advanced Scalp Therapie hair oil is priced at Rs. 150 for a 100 mL bottle
We all grew with the blue bottle of Parachute coconut oils at our homes, didn't we? Well, considering the rampant hair-fall issue in India, Parachute manufactured this oil with ingredients such as coconut oil, vitamin E and B, Brahmi, amla, minerals, and hibiscus that promote hair regrowth, vitality, and improved texture. Regular use of Parachute Advanced Scalp Therapie Hair Oil returns hair to its normal growth cycle, and you get a healthy mane.
Benefits – The brand has been around for a long time, so you may not hesitate to use it. It is travel-friendly, nonsticky, and lightweight that can be worn daily. The mineral blend in the oil supplements mineral deficiency if any.
Cons – It does contain minerals and if you do not like the smell of coconuts, you may despise this one.
Trichup Hair Fall Control Oil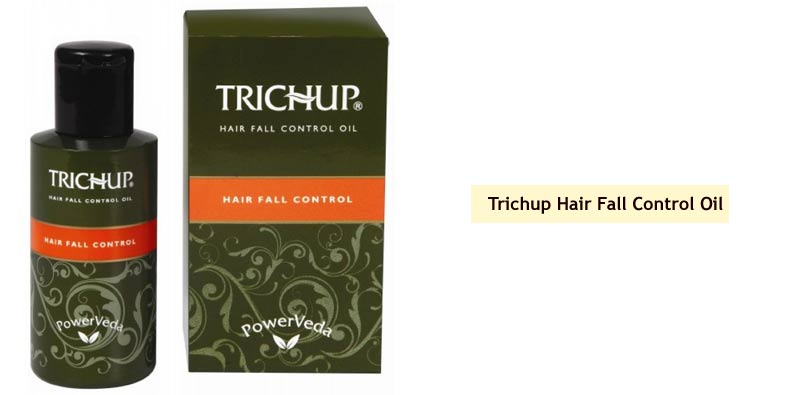 Packed with the goodness of coconut oil, sesame oil, Bringharaj oil, extracts of karanj and amlaki, neem, gunja, the Ayurvedic Trichup Hair Fall control oil fights graying hair, dandruff, dryness, and hair fall. It stimulates hair follicles to encourage hair- regrowth effectively. The oil prevents damage from pollutants such as smoke, dust, and heat.
Benefits – The Ayurvedic mix of oil contains powerful herbal ingredients and is free from chemicals and parabens. The brand claims to arrest hair fall, lend shine and strength and promote hair growth.
Cons- It is quite a heavy and sticky oil with a hard smell that may be deterrent for some people.
Biotique Bio Bhringraj Hair Oil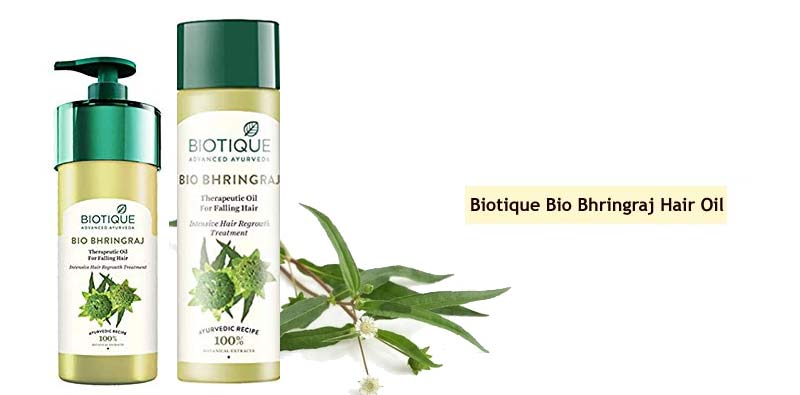 A therapeutic composition of powerful herbs such as bhringraj, amla, Tesu, Brahmi, mulethi in coconut milk and goat milk, the Biotique Bio Bhringraj Hair Oil is quite an intensive formula. Not only do you get a nourished scalp after using this oil, but your hair regains its lost vitality and thickness with each use. The oil also strengthens hair and encourages new hair growth to make your hair problems go away. It also curbs greying of hair
Benefits – The ingredients in the oil work wonderfully well to soften hair and nourish the scalp. It is a light oil and smells pretty nice making it suitable for daily use as well.
Cons – While most people with oily hair find Biotique Bio Bhringraj oil suitable, people with dry hair feel that it does not condition their hair much.
Patanjali Kesh Kanti Oil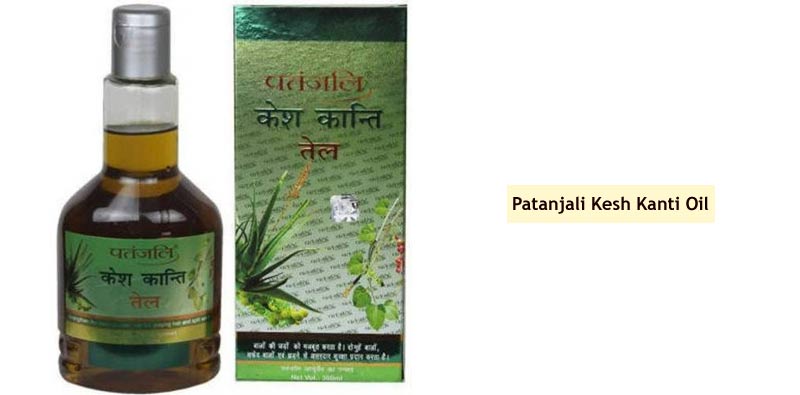 A household name now, Patanjali offers one of the best Ayurvedic hair regrowth oils with the Kesh Kanti range. Enriched with Brahmi, Yasthi Madhu, bhringraj, Mehendi, wheat germ oil, aloe vera extract, Patanjali is a powerful remedy to treat hair fall promote hair regrowth. The herbs work wonderfully to strengthen hair roots, reduce hair loss, and stimulate hair follicles to encourage growth. It also smoothens and softens hair.
Benefits – Regular massage of the oil prevents hair fall while nourishing the scalp and cleansing the toxic buildup. It also fights fungal infections of the scalp making your hair healthier, thicker and shinier.
Cons – The smell is quite strong, and some people feel that the oil does not work effectively to curb frizzy hair.
Khadi Tulsi Hair Oil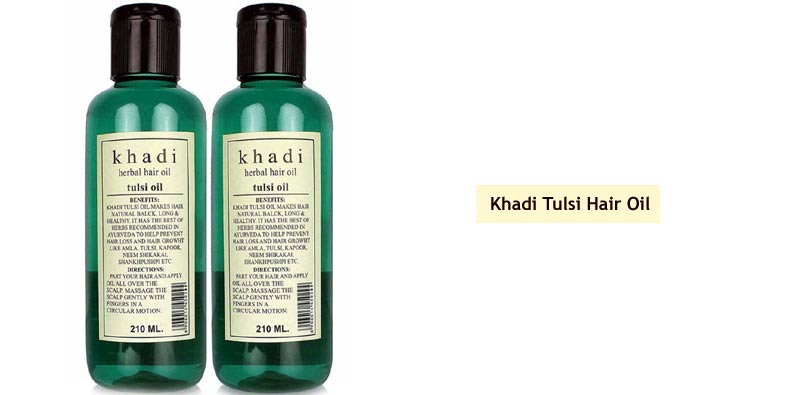 This anti-hair fall oil from Khadi Naturals is a herbal and mineral blend of Ayurvedic plants, essential vitamins, and minerals that stimulate hair growth and nourish the scalp. The composition of Khadi Tulsi oil has an impressive blend of Amalaki, tulsi, neem, shikakai, and shankhpushpi herbs along with minerals such as calcium and vitamins E, A, and D. It is an effective remedy against hair loss, dandruff, itchy scalp, or psoriasis and dry hair.
Benefits – Khadi Tulsi hair oil conditions and strengthens hair while also promoting hair regrowth. Some people believe that head massage with this oil is effective against headaches too. It also detoxifies hair and makes them cleaner and healthier. Another oil in the budget-friendly range.
Cons – It is quite a heavy oil and may take than one wash to go off. You may also not like the stickiness.
Murtela hair oil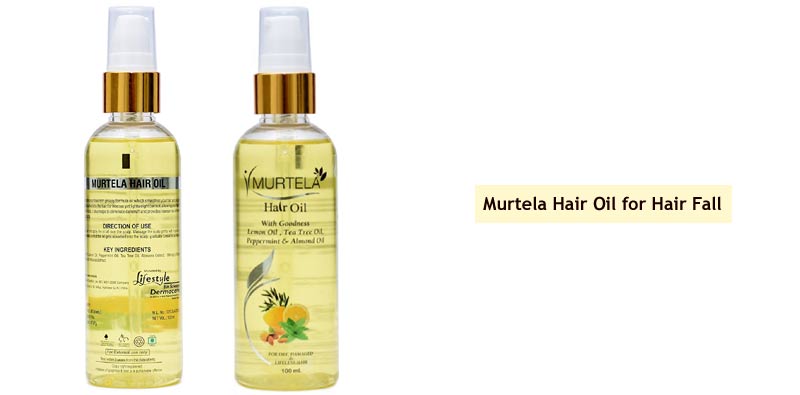 Murtela anti-hair fall oil finds its mention amongst the top anti-hair fall oils in India due to its unique combination of ingredients like almond oil, bhringraj, aloe vera, arnica extract, and essential oils like peppermint oil, lemon oil, tea tree oil and hibiscus. The oil works by preventing hair fall, nourishing the scalp, and stimulating hair growth. It is one of the best remedies if you want to regrow your hair naturally.
Benefits – It keeps hair clean and also prevents the buildup of chemicals. The formula is great for dandruff and is used as a treatment for hair lice. It suits all hair types, so one bottle is good for an entire family!
Cons – No such disadvantage as such.
About Hair Fall Oil
What causes hair fall in men and women?
Hair fall in men and women can be caused due to many factors, sometimes more than one. If you identify your cause of losing hair, you will be able to devise a treatment to fight the problem. Some prominent causes of hair loss include –
1. Male pattern baldness (genetics)
Men indeed lose hair faster and earlier than women. Statistics have it that 50 percent of all men over the age of 50 get affected by male pattern baldness. You will notice serious hair loss soon after hitting the age of 35 and may need medical attention to deal with it.
2. Stress
Hair fall can be triggered by stress, mental, physical, or emotional. The flu, surgery, or illness or any physical injury can disrupt the natural hair growth cycle and cause hair fall. This type of hair loss called telogen effluvium, and it is fairly temporary.
3. Lifestyle choices
Late nights, weight gain, smoking, drinking, lack of sleep, being always on the move, and making life difficult and disrupting the hair growth cycle. As your body and mind do not work cohesively and you are likely to sleep and relax less when stressed, your hair will surely get affected.
4. Chronic diseases
Diseases such as thyroid, asthma, diabetes, epilepsy, etc. can cause major hair loss in both men and women. Treating these diseases through medication and taking extra care of your hair is your best defense against the falling out hair.
5. Pollution
You cannot escape this one! People who are generally out in the sun and dust on the roads experience pollution-induced hair loss.
Excessive use of chemicals: Thanks to fashion, excessive exposure to hair treatments such as straightening, rebounding, coloring, highlighting, etc. can make your hair follicles grow weak, thus causing hair fall.
Post pregnancy hair loss in women: As pregnancy hormones begin to retreat post-delivery, the hair which was at rest mode all during pregnancy begin to fall out. Rest assured, this is a temporary phase, and with due care, you will likely get your hair back.
6. Medicines
Certain medicines used to treat serious diseases directly affect the hair and they begin to fall out. Medicines used to treat depression, clotting and epilepsy can cause hair loss.
At times, more than one factor may be contributing to thinning hair and result in the balding head. Nevertheless, there are quite a few effective oils now available in India that can help you get your pride back and fight hair fall.
What to look for when buying a hair oil?
Hair oil has innumerable advantages and it is indeed an undeniable fact. It is food to your hair and scalp, without which your hair cannot survive. Applying hair oil on a regular basis will keep the shine of your hair intact and prevent hair fall. It also gives the volume and shine to your hair that can turn heads. But with umpteen number of hair-oils available in the market, it becomes difficult to choose the best product. However, you can always look for the following things while buying the best hair oil for your scalp.
If you have dry hair, you can go with oil containing almond, shea butter and coconut oil extract.
If your hair is naturally oily, then you can look for oil which has olive, sesame and jojoba extract.
Important ingredients to look for when buying a hair oil:
Aloe Vera
Argan
Vegetable glycerin
Castor seed oil
Avocado
Honey
Tea tree oil
Top anti-hair fall oil manufacturers in terms of sales
India's hair oil market is growing stronger year on year. The secret behind this could be our age-old remedy of oiling hair every week. It is, in fact, an essential commodity in the country which has many leaders ruling its market. Below are the major anti-hair fall oil manufacturers in the country
Dabur India Limited
Marico Industries Limited (Parachute)
Bajaj Corp Limited
Emami Group
L'Oreal SA
We hope the above list of anti-hair fall oils and oils that promotes hair regrowth will help you make your choice considering your hair type, hair concerns, and budget. Massaging your hair regularly with your selected anti-hair fall oil for hair regrowth will help you regain your lost hair.
Oiling is a vital step to having gorgeous, shiny, healthy, and thick hair. Though there are differences in the ways men's and women's hair respond to oiling, the causes and thinning patterns can also vary. Always use sulfate-free shampoo from a good brand to wash the hair after oiling. Keep in mind that the results can only be seen after using oil for some period for repeated uses. Also, everyone's hair is different, so it responds differently to hair treatment.
Frequently Asked Questions
1. Which oil brand is best for hair fall?
Start using WOW onion black seed hair oil to get rid of dandruff, hair fall completely. It is a perfect blend of almond and coconut oils that supports all types and moisturizes the hair, keeping it silky and stronger.
2. Which oil is good for dandruff and hair fall?
With a plethora of options available in the market, it is best to use organic hair oils like coconut, tea tree oil, mustard, argan, castor, olive, almond, and vitamin E oils for treating dandruff and hair fall effectively. 
3. Why does my hair fall after applying oil?
Tightening the hair could be one of the reasons for hair fall after applying oil to the scalp. Instead, you should gently massage with the fingers, making the oil reach the roots and relieve the stress completely.