Did you know that India is Domino's most significant market after America? The giant has more than 1,325 stores in India. From my perspective, that's close to three times more than Pizza Hut!
So, how did Domino's get here? Some attribute it to its localized menu, while some attribute it to its penetration into small cities. Others say it is because Domino's enabled online ordering in 2011, way before food ordering apps emerged.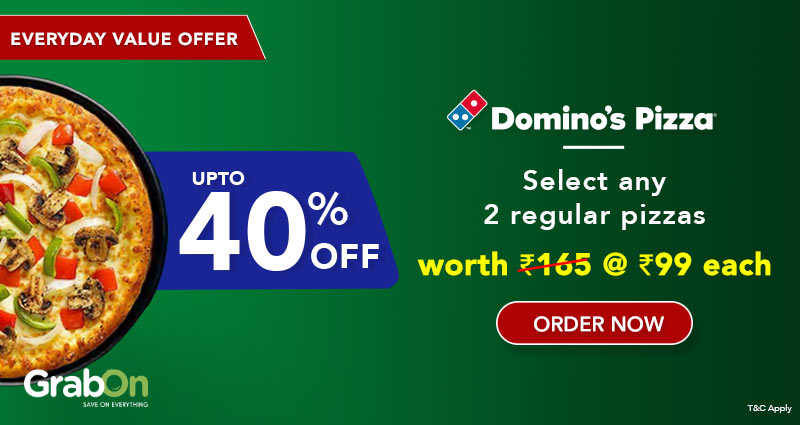 But Ajay Kaul, former CEO, says that pizza has a lot in common with the traditional Indian roti-and-sabzi. He also adds that pizza is one of the few international dishes that you can eat with your hands, and that requires you to share the plate with others. This, as we know, is the keystone of our food culture.
Ordering the Cheapest Pizza Online
When Domino's introduced Pizza Mania, it paved the way for winning India's heart. The one-dollar pizza range was an instant success, especially in smaller towns where the company was previously considered expensive. Today, a one-person meal in Domino's India is more affordable than Domino's elsewhere.
As for the rest of the menu, there's always got a good offer on it. The giant runs Friday Offers, Tuesday Offers, and a few others so that no pizza is out of your budget.
Special offer – Rs. 100 OFF on orders above Rs. 400. The details for it is given below. Most people are using these coupons today.
| Domino's Coupons | Coupon Details |
| --- | --- |
| Howzzat Offers – Flat 50% Off | DELIVERY5* |
| Everyday Value Offer – Up to 40% OFF | 2 regular pizzas at Rs. 99 & 2 medium pizzas at Rs. 199 each. |
| Half Price Offer – Flat 50% Off | DOM5* |
| Free Garlic Bread On All Orders Above Rs 300 | DOMNE** |
| Special IPL Offer – Flat 50% Off | SAFETY50 |
| Monday Offer – Rs. 100 Off | GET100 |
| Thursday Offer – Flat Rs 100 Off | GET100 |
There are much more than the above list available at GrabOn main website. You can grab best deals from the extensive list present at our Pizza coupons for Dominos at GrabOn.
| | |
| --- | --- |
| Total Deals: | Coupons(8), Offers(11) |
| Best Pizza Deal: | Rs. 100 OFF on Orders above Rs. 400 |
| Wednesday Offer: | Flat Rs. 100 OFF on Pizza Offers |
| Bank Offer: | Up to Rs. 100 wallet points for order above Rs. 800 |
| Wallet Offer: | Up to Rs. 100 Cash back with Amazon Pay |
The most used offers from Domino's are –
Two regular pizzas at Rs. 99 each
Two medium pizzas at Rs. 199 each
This is valid for selected pizzas only. This is an everyday value offer, and you can grab this by following the same link mentioned above. No coupon is required to avail of this offer.
About Domino's India
Domino's extremely Indian menu
Pizzas for the Veggie Lovers
There are several global and local options for vegetarians. Domino's offers signature pizzas like Margherita, Double Cheese Margherita, and Farm House. These are loaded with international herbs and toppings like olives, mushrooms, paprika, and jalapenos. On the other hand are Domino's local offerings. These include Peppy Paneer, Deluxe Veggie, Paneer Makhani, and Indi Tandoori. You'll have a hard time finding these in any other country.
Non-veg Pizza Treat
Chicken dominates the non-veg menu. Offering neither beef nor pork in India, Domino's has experimented with chicken as much as is possible. The fare includes Pepper Barbecue Chicken, Chicken Sausage, Chicken Golden Delight, Non-Veg Supreme, Chicken Dominator, Pepper Barbecue & Onion, Chicken Fiesta, Indi Chicken Tikka.
Pizza Mania
This section of pizzas contains offerings that cost more or less a dollar. There is Tomato, Veg Loaded, Cheesy, Capsicum, Onion, and the crowd-favorite Golden Corn that you must try.
Pastas to Die For
The giant fast-food ushers in international flavors with its Pasta Italiano White. Available in both veg and non-veg options, these pastas are a delight to the senses.
Breads & Tacos
Baked with a tang of garlic, Domino's Garlic Bread has everything that we love. With Mozzarella Cheese, Sweet Corn, and Spicy Jalapenos, nothing could go wrong with this dish. There are also garlic breadsticks if you want to savor the taste of garlic by itself. As for tacos, there are Taco Mexicana Veg and Taco Mexicana Non-Veg, inspired by northern India's kebabs and parathas.
Delicious Sides
From the cheese-loaded Zingy Parcel and Potato Shots to the fantastic Fries and Crunchy Strips, the Sides menu is one that we can all get behind. For the lovers of baked goodies, this menu is a dream come true. It also features the universally loved Cheese and Jalapeno dips. There is a heavenly fare of Lava Cake, Butterscotch Mousse Cake, and Brownie Fantasy as for desserts. Finally, the exclusive dish looks like a burger and tastes like a pizza- the Burger Pizza.
History of Domino's India
Before coming to India in 1995, Domino's history can be charted like this:
1960 – James and Tom Monaghan take over a small pizza restaurant named DomiNick's
1965 – Tom (now the sole owner) renames the business as Domino's Pizza, Inc.
1967 – Domino's first franchise store opens
1978 – Domino's has opened 200 stores within America
1983 – Domino's starts expanding overseas, with its first international store opening in Canada
1995 – Domino's enters India
Now you must be wondering why it took so long for Domino's to come to India. The fact is that it couldn't until India's globalization in 1991. Once India opened its doors to foreign investment, the biggest food chains started pouring in. This was when Domino's came, along with its competitors Pizza Hut and McD.
But even among these, McDonald's didn't hit profitability until 20 years of being in business. And Pizza Hut couldn't open half the number of outlets as Domino's. India's market proved to be cutthroat for American food chains. So much so that even Papa John's that entered in 2011 shut all 62 outlets by 2017.
So, how did Domino's make it so big? The answer is Ajay Kaul. The man who joined Jubilant Foodworks (which owns Domino's franchise rights in India, Bangladesh, Nepal, and Sri Lanka) as CEO completely transformed India's pizza industry. Until 2005, Domino's had only opened 93 outlets in India. Enter Ajay Kaul, and the food chain expanded to 1,062 outlets within ten years.
Now India is the largest market for Domino's outside the US. But the journey was not as easy as it sounds. In order to make it appealing to Indians, the company underwent lot many makeovers. For example,
They lowered the prices, and introduced Pizza Mania at Rs.35
Boosted the '30 minutes or free' campaign across all cities
Penetrated into small locations that were not previously serviced
They localized the flavors while careful not to over-localize them
In small cities where people prefer to dine-in with families, they opened larger outlets
They were the first to enable online ordering in India