Binge-watching the show that you like on TV never gets old. No matter the other modes of entertainment, but when we crave for our favorite show, we are always drawn to pick that remote up and seclude from the rest of the world for hours.
Millions of users in India prefer satellite cable for their entertainment needs. TATA Sky itself has over 17 million connections across the country. Formed in 2006, TATA Sky is a joint venture between TATA Group and The Walt Disney company. Since then Tata Sky has been a trusted and innovative service for the customers.
In 2015, TATA Sky became the first DTH service provider in India to offer 4K set up boxes.
Tata Sky has a huge offering of packages and channels. You can find about 600 channels in different languages like Hindi, English, Bengali, Marathi, Telugu, Tamil, Punjabi, Kannada and the list goes on. These packs include all channels that a kid, adult, or a senior would enjoy.
Out of the pool of packs, there are additional ala carte options and add-ons to choose from. You can also select individual channels of your choice and add to any basic pack that you have. Channels are categorized genre-wise on the website, and that makes it very easy for you to look for what you want. Other than that, there are regional packs, and other services that TATA Sky offers.
How to change a pack (package) in TATA Sky online (Step by step process)
If you ever need to change any pack that you are subscribed to, you can do it easily on TATA Sky's official website. In order to change your TATA Sky pack, follow the below steps:
Create a TATA Sky Account (My TATA Sky)

Logon to the registration page
Enter the Subscriber id that you have already received at the time of subscription
Create a unique password which should be alphanumeric between 8 and 32 characters
Enter your most used email address (this is where you associate your email with TATA Sky account)
Provide you Registered Mobile Number (RMN)

Once you create your account, you will need to log in with your credentials to see your account details. Enter your RMN again and log in to your account.
Once you are inside of your account, at the top menu bar, you will see 'Manage Packs'. This is where you can change your TATA Sky packs.
A dialogue box will appear that will ask you to enter your password OR verify using an OTP. After you do that, click submit.
Now you can see your base pack mentioned with its price. Click the button 'Modify Pack' below it.
TATA Sky will give you a list of all the available packs and add-ons, to choose from.
Select your desired pack and its duration and hit submit.
Confirm your changes in the next step. Your new pack will be shown on your TV in a few minutes.
To download information about the packs and channels in each, visit this page on the TATA Sky website.
To make an informed decision about which channels you want to play on your TV, you must understand the packs and layout of how TATA Sky displays its packages.
You might also want to checkout the top Top Tata Sky DTH Packs and Videocon D2H Packages
Understand your TATA packs and How to choose them?
If you are new to the whole DTH website thing, do not panic. Although you see hundreds of packages and even more channels, then bundles of channels with different names, this information can be overwhelming to you.
There are 127 curated packages or 80 broadcast packages. You can choose any of these as your basic pack.
Then there are mini add-ons that contain all channels from one category. For example, an English movie mini pack would contain the channels that you can think of playing English movies.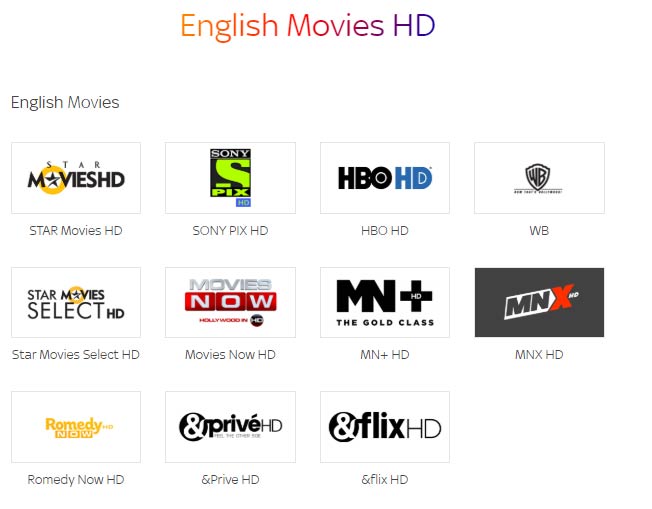 Sometimes you will not be satisfied with the packages you have chosen. Merely choosing packages can be different than the TV experience that you have later. So, if you have decided to change the package, upgrade or downgrade it, the only tool you need is the website.
The guide to changing your TATA Sky packs
In order to make the process simple for you, here is a checklist of how you can choose your packs on TATA Sky.
First make a list of which channels you do not watch from the ones you already have
Then go to your account and look for all the packs that you have
Open the channel pdf and type the names of those packs in the search box
Look at all the channels in that pack and filter out if you or anyone in your family watches any channel that is included in it
Head over to your account and you can simply remove that pack from your subscription
If you watch some of the channels of it, add them as separate channels.
What is TATA Sky Binge and why should you use it?
TATA Sky brings the goodness of OTT platforms and lets you watch all its content on the go. You can also watch LIVE TV that has TV shows for up to the last 7 days. Exciting?
Wait until we tell you that this could also connect to Amazon Prime. You will get an Amazon fire Stick (worth Rs. 3999/-) free of cost. You can turn your normal TV into a smart TV with the firestick and enjoy all the latest moves, originals and more that release on platforms like Prime Video, Hotstar, etc.
Hotstar is one of the most loved platforms in India and is the OTT with the maximum subscriptions.
Moreover, your first 3 months of Amazon would be free with TATA Sky. After that, it's flat Rs. 149 per month.
TATA Sky Binge as a service is available for free trial too. Post one month you must pay Rs. 249 to enjoy the services. The installation is Rs. 6000 on time.
Login to your Tata Sky accounts to use the LIVE feature. Watch cartoons, TV programs, news and more. This is the best place to order movies on demand and make the most of your weekends and quarantine evenings.
For any assistance, connect with the TATA Sky's 24/7 customer care at 1800 208 6633.