We Have Listed Verified Holi Sale Offers, Coupons, Deals for January 2021
| Holi Offers | Holi Special Discount | Holi Sale On |
| --- | --- | --- |
| Holi Offer On Domestic Flights | Rs 1000 OFF | www.makemytrip.com |
| Ajio Holi Sale | Flat 80% OFF | www.ajio.com |
| Goibibo Holi Offers | Up to Rs 1200 OFF | www.goibibo.com |
| Amazon Holi Store | Up to 70% OFF | www.amazon.in |
| Myntra Holi Sale | Up to 70% OFF | www.myntra.com |
Holi Offers for Online Shopping in India in 2021
The festival of colors is here, and we know that you cannot wait to shop. This Holi, pamper yourself and your loved ones with gifts unlimited. Don't worry about the budget because we have the Holi Offers 2021 sorted for you. Here you will find everything that you need from food and flowers, trips and accessories, your festival dress or gadgets. And the best part is that GrabOn has tons of exciting deals to help you save online.
We also bring to you the best Jio Holi Offers to save the maximum on 3G/4G Data recharges and get your favorite smartphones using Holi offers on mobiles. Bring home the best products during the humongous Holi offers on Flipkart, Amazon, Nykaa, Myntra, and so many other channels. It's the perfect time to make your friends and family happy with meaningful gifts. Check out some amazing Holi offers that we have curated just for you and save maximum while you are on a shopping spree this festive season.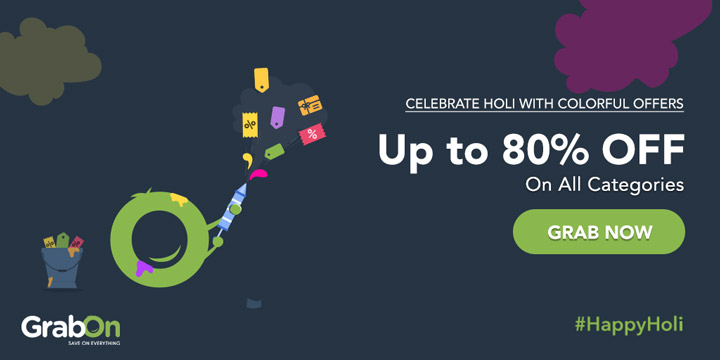 Jio Recharge Offers
Don't let mobile recharges come in between your long-distance Holi wishes. Jio's Holi gift for you is just too good. Get the best Jio Holi offers and enjoy extra data, calls, and much more. A bucket of the latest Holi mobile offers 2020 is waiting for you. Get up to 200% cashback with a recharge of Rs 399, buy Redmi Note 5, and avail cash backs along with double data, and many more. Not just these, you can get assured cashback and extra data on recharges. TheseHoli offers on mobiles will surely add to your festive happiness. Hurry now!
Nykaa Holi Hungama Sale
Self-care is the best way to pamper yourself and it's the perfect time to gift yourself a nice Holi gift. Get for yourself and your loved ones the make-up essentials and self-grooming products from Nykaa. With Nykaa's Holi Offer, you can send unique combos to your loved ones without burning your pockets. The Holi Sale 2021 is just the thing that will bring a smile to your face. Choose your favorite make-up brand on Nykaa and avail discounts Up to 40%.
Flipkart Holi Offers
From groceries to gifts, Flipkart has everything you need for your Holi preparations. To make your Holi special, Flipkart is offering discounts on almost all the categories. Indulge in a hassle-free online shopping experience and save up your time and money. Avail of great discounts during the best ever Holi sale on Flipkart. Flipkart makes it so easy for the users. In case you don't like a product, get it easily exchanged or returned without having to get up from your couch.
Amazon Holi Offers
Amazon has been making life easy for us time and again. This Holi, fill up your cart with everything that you have wished for. Holi offers on Amazon are just getting more exciting and you're going to love it. It's time to stock up your house with all the Holi essentials. Surprise your friends and family with gifts they'll surely love. Check out the discounts that Amazon is showering on you this Holi.
Mivi Holi Offers
Mivi is an exciting place to buy everything you need for your music needs. Plus, select from a range of chargers and phone cables and make the most of the Mivi Holi Sale this festive season. Make your Holi party a hit by playing your favorite songs on Bluetooth speakers. With so many options to choose from, get the best products in the Holi Sale and bring home your music essentials.
Avail Holi Offers on Travel
This year, ditch the local Holi celebration to celebrate the festival of colors on different land, with different people. Create a memorable Holi with your family or a group of friends. Or maybe, just book tickets to the travel destination you have bucket-listed for the year and celebrate the festival the way you want. You can make use of the Holi offers on flights and bus ticket booking available on GrabOn. Make this trip not only fun but also a pocket-friendly vacation.
Holi Gift Ideas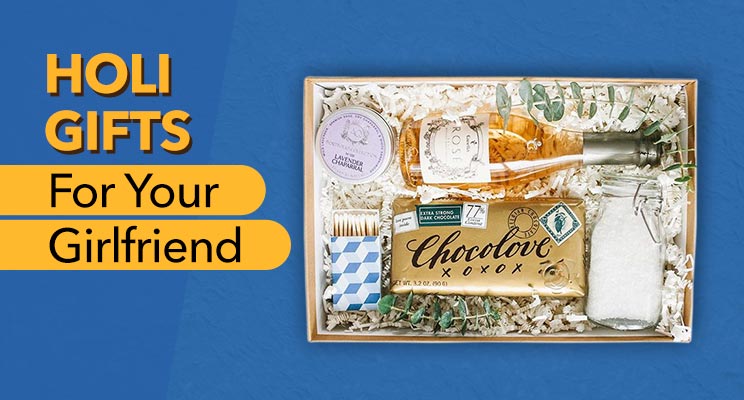 Make the festival of colors memorable for your loved one by gifting her the perfect gifts.
Cool gadgets are a perfect gift if your lady is a gadget freak. A smartwatch, a cool SwitchPod, or a mobile phone that she has her eyes on. Feel free to check out a Holi mobile offer while you get her the phone she likes and make some savings.
Get your girl the beautiful dress she's been thinking to buy for a long time.
Or maybe, you can get her a beautiful piece of jewelry and make the festival forever special.
How about spending some quality time together over great food? Book a buffet lunch and enjoy with her!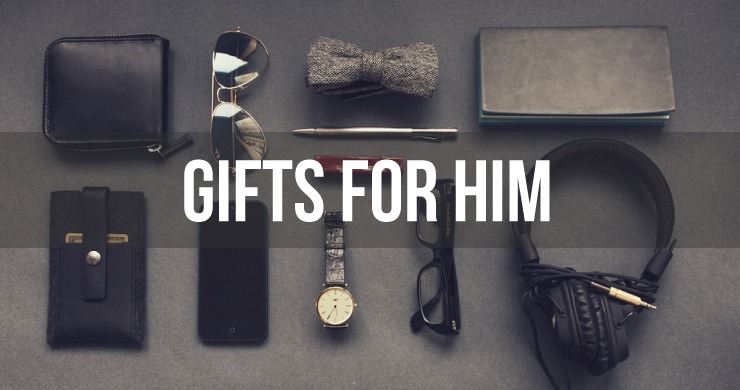 Pick the best choice for your man and bring a smile on his face!
Grooming Essentials for Men makes for a great gift.
Personalized phone covers to up the cool quotient.
You can also surprise him with a camera lens or other gadgets available at affordable prices on Amazon Holi Offers.
If your guy is a travel lover, take him for a short trip to his favorite destination.
For a music lover, get a mood-defining pair of headphones. Choose exciting deals from the Mivi Holi Sale and save on the headphones' purchase.
Gifts and Food Items for Your Loved Ones
Celebrations start with food. This Holi spread happiness by gifting your friends and family gift hampers and food coupons. Grab great Holi deals on Big Basket, Grofers, and many other online portals to make Holi special for your loved ones. In case you want to give your folks the liberty to choose their gift, give them Gift Cards and let them get things that they want.
Best Deals on Mobile Phones This Holi
Thinking about changing your phone? Check out the Holi offers on mobiles and grab the best deals only on GrabOn. Get the latest smartphone with a perfect camera and rock your Social Media feed with your Holi selfies. Choose from a sea of choices on Flipkart and Amazon and buy the best deal with the Holi mobile offers 2020 at GrabOn to save up.
Holi - The Biggest Indian Festival
When is Holi 2021
"Holi kab hai? Kab hai Holi?" Remember this dialog of Sholay? Well, this year Holi will be celebrated on the 10thof March. Holika Dahan is on the 9th of March and Rang Panchami, also known as Holi, will be celebrated on the following day, i.e., the 28th of March. What are you waiting for? Start the preparations and begin the Holi shopping spree before your favorite products go "out of stock". Make the best use of Holi Offers 2021 and Coupons on GrabOn and save on everything.
What's is Holi and The Significance of Holi?
The most colorful and fun festival of India, Holi is one of the biggest and the most loved occasions. It's celebrated in every part of the country, from up North to down South. This festival of colors signifies the victory of good over evil and marks the beginning of spring. Holi celebrates the unity of hearts, forgetting differences and resentment.
Holi is a festival of love and lasts for a day and a half. It is also known as Dhulandi, Phagwah, Dhuleti and Rang wali Holi. In India, Holi is celebrated on a full moon of the month of Phalgun. While people gather to burn a pyre of trees on the evening before Holi, it is called Holika Dahan. The next day, Indians celebrate with colors and water and welcome the Phalgun (Spring) month.
Best Places to Celebrate Holi in India
Though Holi is celebrated in almost every part of India, there are some places that are a must-visit to witness the grandeur of the festival.
1. Mathura and Vrindavan - Lathmar Holi
Going by mythology, Holi finds its origins in the Barsana region of India, which includes Vrindavan, Mathura, Nandgaon, and Barsana. Traditionally, the women of the community-run after the men with lathis in hand, during the ritual. Don't worry it's all in good fun and no one gets hurt.
2. Uttrakhand - Khadi Holi
Celebrated in the Kumaon region of Uttarakhand, the local populace dresses in traditional wear and engage in song and dance sessions. They sing Khari songs in groups and greet passersby.
3. Awadh (now Lucknow) - Rang bhari Holi
Known to eliminate the communal differences, the people of Awadh celebrate Holi by putting colors on each other and greet people with hugs. They savor sweets like Gujhiya, Gulab Jamun and many more.
4. Bihar - Phagwa
Holi in Bihar is celebrated with colors and colored water, the morning after burning the pyre called Holika Dahan. Bhang consumption is an essential part of the celebrations.
5. Goa - Shigmo
The Shigmo festival in Goa is a wonderful mix of the traditional folk culture and the street dance moves, performed by the local farmers. This is one of the most fun events ever and it's not at all advisable to miss this one.
6. Manipur - Yaosang
Yaosang is a six-day event in Manipur which combines the Hindu traditions with those of the indigenous tribes. Yaosang celebrations begin on the full moon day and the specialty of the festival is a Manipuri folk dance, called Thabal Chongba, that is performed during the Holi festival.
7. West Bengal - Basant Utsav
Celebrated as Basant Utsav, the students at Shantiniketan dress up in saffron and perform the beautiful traditional song and dance sequences. During Dol Jatra, the idols of Radha-Krishna are taken out in a procession and people join in the fun by applying colors on each other.
Read More About Holi
Holi means fun, frolic, playing with colors and gorging on amazing food like gujiya, malpua, bhang ki kachori, dal pakoda, and much more. Become the star of the day with these easy to make recipes perfect for Holi afternoon snacking and dinner. Master Chef's calling!
Best Dishes To Prepare For Holi!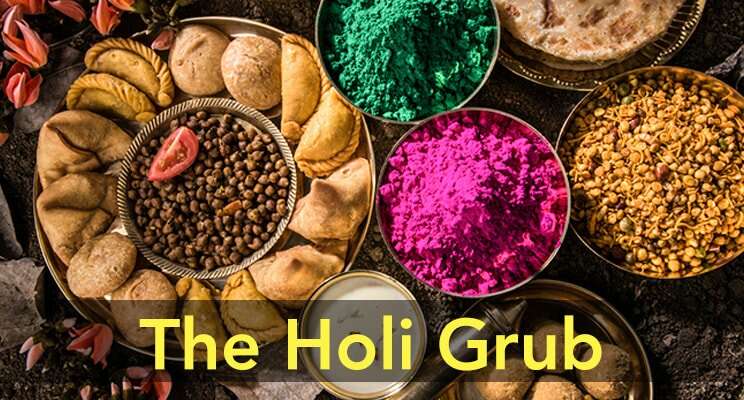 Ditch the regular holi celebrations and check out some unique ways to celebrate Holi
How To Celebrate A Safe & Happy Holi