Latest Cityfurnish Coupons, Offers, & Promo Code For Furniture | Mar 2021 - GrabOn
| Cityfurnish Coupon Code Category | CityFurnish Coupons & Promo Codes |
| --- | --- |
| First 2 Months Rent | Up To Rs 2000 Off |
| Rent For 6 Months | Get 2 Months Free |
| First 3 Months Rent | Flat 50% Off |
| New User Offer | Flat 15% Off On First Order |
| Cityfurnish Referral Code | Get 500 CF Coins |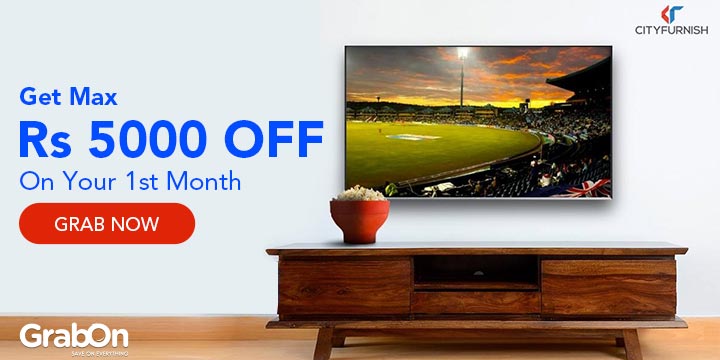 Best Deals, Handpicked For You!
You deserve the best deals and that's what GrabOn is all about. Find the best coupons for Cityfurnish Mumbai, cityfurnish Gurgaon, cityfurnish Bangalore, and Pune. Find offers which make you drool and pep your room up! So what are you waiting for! Rent on with GrabOn!
About CityFurnish - Renting Furniture Made Simple
Shifting cities come with a mixed bag of emotions. On the one hand, you can't wait to explore new places, find original purpose, meet new people and be independent and on the other hand, you leave good friends behind. But one big problem with shifting is setting up the new place. How do you make a house cozy? You find furniture! You know, those super expensive things which you cannot carry from one city to another! It is where Cityfurnish comes in. Cityfurnish believes in a simple motto: Live on rent, just like your furniture! So, now you don't need to worry about buying expensive furniture or finding the right among multiple options. Do it all in one place: comparing prices and all. Cityfurnish is currently available in Delhi NCR, Mumbai, Pune and Bangalore.
Big Cities And Bigger Opportunities
Moving to big cities is all about the fantastic opportunities it brings along. You might be busy but that shouldn't stop you from finding the best furniture online on rent. Cityfurnish helps you the best furnitures on rent. Be it apartment flats or independent houses; furniture is your first ticket to seal an impression with those new city friends. Find furniture on rent in Mumbai at affordable rates and never complain about the lack of space again!
Choose According To Your Needs
Cityfurnish has a dedicated blog which is updated periodically by interior design experts. Find the best furniture to rent in Delhi or the best product Cityfurnish Pune has to offer. The blog also provides insight into the kinds of furniture to make you feel like a connoisseur! Get just what you need.
How Do I Change My House Decor?
CityFurnish has you covered! It is what you can do to get Cityfurnish to deliver to your doorstep.
Place your order:
Explore their packages and products.
Choose the rental tenure.
Add the product to your shopping cart and proceed to the checkout.
Check your payable rental & security deposit and apply discount coupon (Only if you have one)
Proceed to payment page. Cityfurnish support all payment methods - CC, DC & Netbanking
Complete the KYC process:
As part of KYC, you are required to mail them following documents on hello@cityfurnish.com before the delivery. Alternatively you can also whatsapp these documents to them on 9899837999!
ID Proof,Company ID Card/Student ID Card (whichever applicable)
Permanent Address Proof
Delivery Address Proof
Cheques/NACH for monthly rent,Post dated cheques for monthly rental payment or NACH
Doorstep delivery and installation:
Delivery and installation is free for all their products and packages. You are requested to do following at the time of delivery,
Check all products carefully and report any damage/scratch in the delivery challan. Though Cityfurnish does thorough quality check before shipping the product, there might be minor damage during the delivery.
Sign rental agreement brought by the delivery team and keep one copy of the same with you and hand over a second copy to them.
Hand over post-dated cheques to our team for remaining rental tenure or fill up the NACH form brought by the delivery team.
Completing the purchase:
Make your payments as per company policy and be a proud owner of new furniture! You can also go to their website for more detail.