Cashify Coupons, Promo Codes & Coupon Codes For March 2021 - GrabOn
| Cashify Coupon Code Category | Cashify Coupons & Promo Codes | Validity |
| --- | --- | --- |
| Cashify New User Coupon Code | Get Rs 200 Extra On Selling Your Device | First Time User |
| Cashify Promo Code | Get Rs 150 Extra Value | All Users |
| Coupon Code For Cashify | Get Extra Rs 100 Off On Mobiles | All Users |
| Cashify Apple Mobiles Offer | Get Rs 150 Extra | All Users |
| Cashify App Offer | Get Extra Rs 100 On Your Old Mobile | All Users |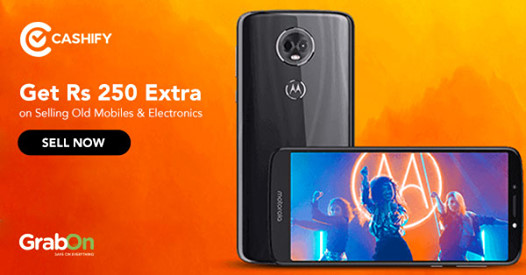 Get The Best Cashify Coupon Codes Only With GrabOn
An extra helping of cash on the quoted amount is always appreciated. Sell your product at the best price using Coupons and Offers from GrabOn. Get that and much more on this regularly updated page from GrabOn. Find Cashify promo code and other exciting offers. The gadgets eligible for sale on Cashify, range from laptops, desktop, Macs, TVs, gaming consoles and mobile phones. Cashify has a simple logic they follow for selling your gadget and getting you the cash. If you are a new user, you can use Cashify first time user Coupons and get additional benefits.
What Is Cashify? - A Brief Review
Cashify is an online platform that allows you to sell your used or old gadgets without any hassle and at the best price available in the market. With a motto of 'one man's waste could be another's resource', Cashify brings the best deals available online straight to your doorsteps. Cashify offers the best deals for your old phone. So, with minimum effort, you get maximum money for the transaction. Offering fast services on the selling of gadgets, Cashify continues to gain mass popularity owing to its excellent customer satisfaction rate and the best customer experience.
Why Go For Cashify?
Okay, so the internet is full of places where you can sell your old gadgets. You can do it offline as well. Why the need for another addition to this overly populated space? Here is why you should choose Cashify:
For starters, you get the price quote instantly after you put the used gadget up for sale and someone shows interest in purchasing the said item.
If you are worried about whether your used gadget will get sold or not, don't be. Cashify assures the sale of the item. A guarantee nonetheless!
Urgh! Go somewhere and drop your old phone? You end up wasting so much on transportation. Well, not if you use Cashify. They have a pickup facility. So, your old buddy gets a lift and gets dropped. Hassle-free and no dime wasted.
Cashify gives you a 100% guarantee on the privacy of information. You do not need to worry about any transaction detail getting leaked in the process.
After the purchase of the gadget from the other end, the cash will be delivered to your doorstep instantly. Cashify deals with the entire process- from engaging with the customer to settling the final payment.
You can also use GrabOn Exclusive Coupon Codes on transactions to get additional offers.
Phew! You sold that old (but usable) phone and now have a lot of cash to reinvest. Cashify helped you sell the phone but can Cashify do any more? Of course, it can! They maintain a dedicated blog, which talks about the latest gadgets and electronics. Be it the best camera phone, gaming phone or just the usual multipurpose- find all the information you need. They also have comparisons, which gives you a better idea if you are confused between iPhone X vs. Pixel 2. Find many such comparisons, detailed reviews and more, Well, this sounds helpful, doesn't it? Not just phones though! They write reviews and comparisons about most electronics.
Sell Old Phones In 60 Seconds Without Any Hassle!
Selling used mobile phones can be a pain in the neck. Figuring out the resale value, finding the right customers and then narrowing it down to one candidate is a lot of trouble to go through. Let's not talk about the wait time involved. Now, Cashify has made it easy for you to sell your old smartphone and that too within 60 seconds.
Make use of the Cashify offer and get the best price on your used mobile phone.
Cashify is the smartest way of getting rid of your old gadgets! Just like Cashify, Instacash too lets you sell your old & used smartphones and get instant cash. The company picks up the parcel from your doorstep, and credits cash instantly to your account! What a smooth way to declutter, isn't it? But if you don't want to sell your gadgets, and just want them repaired, then you can go to OnsiteGo, which sends expert technicians to your home to repair the product. You can also extend your gadgets' warranty here.
Latest News
Cashify launches e-store for refurbished gadgets in India
Mandeep Manocha, CEO, Cashify recently announced that the company is launching an e-store for refurbished gadgets in India. The brand will focus on selling refurbished gadgets from brands like OnePLus, Apple, Vivo, Xiaomi, Dell, HP, etc. With the primary focus on mobile phones and laptops, Cashify will include other gadgets and accessories like mobile cables, chargers, etc in the future.