Latest Brand Factory Coupons, Offers & Promo Codes For January 2021
| Brand Factory Offers | Brand Factory Coupons & Promo Code | Validity |
| --- | --- | --- |
| Brand Factory Discount Code | Flat 50% Off + Rs 200 Off | Clothing |
| Brand Factory Coupon Code | Starting at Rs 300 | Ethnic Wear |
| Brand Factory Promo Code | Up to 50% Off | Night Wear |
| Brand Factory Sale Offers | Up to 50% Off | Casuals |
| Brand Factory Offers Today | Up to 80% Off | Buy Top Brands |
Save More With GrabOn
To help you get the best deals on Brand Factory, we have curated a list of best Brand Factory coupons and gifts. Get the best deals on GrabOn to "Save On Everything". To help you save time and effort, we have verified the coupons for you in advance. All you need to do is check the deals on GrabOn's Brand Factory page and get the deal for free. Happy Shopping!
Brand Factory - One-Stop Shop For All Your Fashion Needs
Whether it is your favorite ethnic wear for the festival season or the party outfit, Brand Factory is the right place to visit for shopping. With a wide range of products for people of all age groups, Brand Factory will never disappoint you with their collection. As the name suggests, it's a one-stop-shop having all your favorite brands under one roof. Not just this, Brand Factory also offers impressive discounts around the year to help you save big on your shopping. Exciting, right? Read on to get GrabOn exclusive Brand Factory coupons and offers.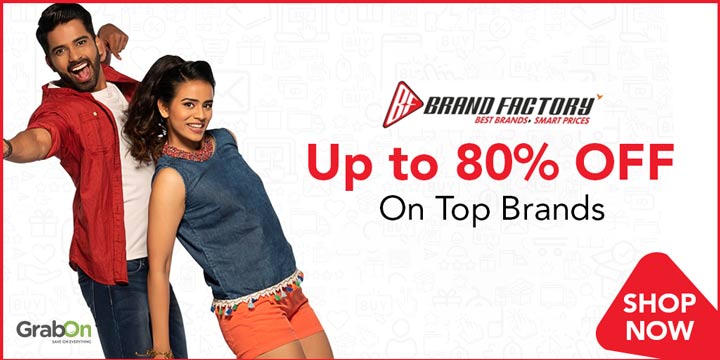 Shop Till You Drop With Brand Factory
With Brand Factory, you can shop till you drop without burning a hole in your pocket. Get the best deals and discounts on brands like Addidas, Biba, Arrow, Nike, etc. throughout the year. With deals that you cannot say no to, Brand Factory has been the No.1 choice for Indians around the country. A part of the Future Group, Brand Factory aims at opening 100 stores in India, to help an average shopper get the best deals and offers in-store and online. The company already has 60 stores running successfully in most parts of the country. So spot a Brand Factory showroom in your city and get your favorite things right away.
Once you have done shopping at Future Group's fashion discount chain, you might want to check out our other recommendations. Why not check out the other 2 destinations where you can buy some of the best products in the similar category. Checkout Flipkart and Amazon for some of the best deals in men & women wear, kids wear, footwear, luggage, accessories, etc.
What Can I Get At Brand Factory
As the name suggests, Brand Factory is an excellent place for people who love buying branded clothes at factory prices. Here's what you can get at a Brand Factory store in India.
1. Casual Wear For Women and Men
Get your favorite pair of office casuals or party casuals at Brand Factory without burning your pocket.the place has a wide variety of collections for people to choose from and pick the best from the lot. You can buy all your favorite items at prices that can make you believe in God, honestly. You can get a Lee Cooper jeans for as low as Rs 400/-.
2. Formal Wear
Struggling to find the most suitable office wear that matches your personality without compromising on the comfort level? Visit the Brand Factory! They do not just have all the best brands under one roof but also flaunt a vast collection of comfortable formal wear that you can sport daily. Trousers, belts, shirts, tops, or anything else, Brand Factory has all of them ready for you.
3. Ethnic Wear
Festivals demand a doze of shimmers and sparkles. Get your hands on the most affordable ethnic wear. Lehangas, suits, kurtas, and everything that comes under the umbrella of ethnic, Brand Factory has them all for you.
4. Kids Wear
A complete family shopping destination, Brand Factory is a one-stop-shop for your shopping needs. Buy the best clothes and accessories for your little one without shelling out a fortune. You can get clothes for kids of all age groups including toddlers and teenagers.