Barbeque Nation Offers, Coupon Codes & Promo Codes Verified On 20 January 2021
| Barbeque Nation Non-Veg Buffet | Prices |
| --- | --- |
| Lunch (Non-Veg) 12 Noon to 3 PM | Mon-Sat | Rs. 699 +TAX |
| Lunch (Non-Veg) 12 Noon to 3 PM | Sun | Rs. 829 +TAX |
| Dinner (Non-Veg) 6:30 PM to 10:30 PM | Mon-Tue | Rs. 759 +TAX |
| Dinner (Non-Veg) 6:30 PM to 10:30 PM | Wed-Sun | Rs. 999 +TAX |
| Lunch 12 Noon to 3 PM | Mon-Sun | Kid's Lunch (6- 9 years) | Rs. 399 +TAX |
| Dinner 6:30P PM to 11 PM | Mon-Sun | Kid's Lunch (6- 9 years) | Rs. 399 +TAX |
GrabOn and Barbeque Nation
Get the latest updated Barbeque Nation coupons, offers, promo codes, and discount news here at this dedicated GrabOn page for Barbeque Nation. Also, don't miss out on BBQ nation coupons and deals for their outlets in Pune, CP, Kolkata, Chennai, Noida with special kids and family/ group dining offers.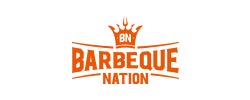 About Barbeque Nation
Long before social media's tryst with food and restaurant mania caught up with India's dining scene, Sanjay Dhanani gave life to DIY barbeque by launching his very first outlet - Barbeque Nation, Mumbai in 2006. After the raving success, the buffet style casual dining new entry to the restaurant scene opened its second branch - Barbeque Nation, Bangalore. Since then, this company owned and operated dining restaurant chain has opened over 95+ outlets in India and the UAE with plans of upcoming outlets in Maldives, Sri Lanka, Indonesia, and pan Asia.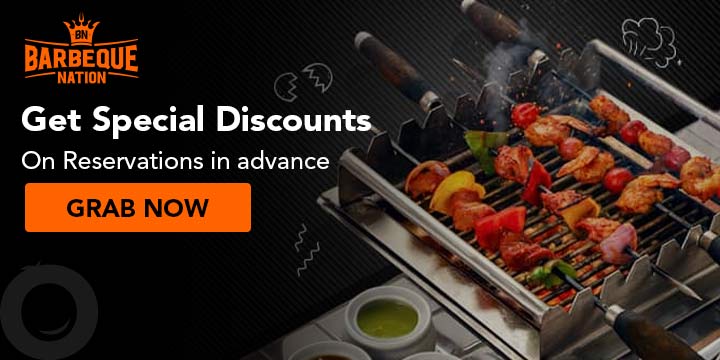 BBQ Nation Casual Dining
DIY Barbecue BBQ Nation introduced India to the barbecue frenzy and what's now its USP, the inbuilt tabletop DIY (Do It Yourself) live grill so customers can have an unforgettably unique and interactive dining experience. From the rustic wood and red brick wall interiors to the sizzle of meat on charcoal to the heavenly fresh aroma of spices and meat to the contemporary snazzy music - the novelty of this restaurant chain will set your tongues wagging and hearts aflame. Putting their customer first has been their motto and the initial buzz was loud regarding the novelty of the DIY barbeque concept but the dining chain has kept attracting customers with its evolving steakhouse type menu where the buffet prices are absolutely easy on the pocket and heavy on your tummy!
Culinary Delights @ Barbeque Nation
BBQ Nation has made sure its outlets are a one-stop destination for customers with varying taste buds and choices. Customers are serviced with colorful and lip smacking culinary delights from across the globe be it Asian/Oriental fusion, Mediterranean, Americano and last but not the least traditional Indian cuisine with both options for vegetarian and no vegetarians. From sumptuous steaks, to chicken wings to succulent prawns and other exotic meats and veggie options available to grill, the BBQ Nation menu is dynamic with 5 veg/nonveg starter options (unlimited helpings) + a buffet style main course w/ comforting and appetizing soup servings + salad and sides options + dessert (chiefly with over 800 kulfi dips and sauces to choose from at their Kulfi Nation counter). Another new feature that's attracting customers like moths to light is BBQ Nation's Live Counter where incredible culinary feats are exhibited to eager dewy-eyed customers such as the famed flambe, rolls on the ice grill etc.
We love barbeque. One of the best things we like is to lower the flag after we are done (although it takes forever to get there). The outlets are full all the time, and unless you make a reservation, you might have to wait in the lobby. So, instead you can just order Barbeque Nation food anytime from home with home delivery apps like Zomato. You could also try Swiggy as there are some cool offers which can help you save on delivery.
Food Festivals Bonanza
Barbeque Nation food festivals and carnivals are no news to its loyal customer base. Every now and then the restaurant chain delights its customers with cuisines from all across the globe including Oriental, Mediterranean, Indian etc. Reason: Why should a customer travel to try out local cuisine in different countries when BBQ Nation is bringing it right to your city. Famous food festivals include Barbeque Nation Euro Trip Festival, BBQN Sea Food Jewels of the Sea Grill Loot, MA Road ki Masti, the Ramadan Food Festival, namely among many others.