Verified Restaurants Coupons, Offers and Promo Codes | Jan 2021
| Category | Restaurants Offers & Coupons | Website/App |
| --- | --- | --- |
| Hyderabadi Biryani House | Get 5% Off | Food Darbaar |
| Faridabad Restaurants | Get 20% Off | Just Eat |
| Chaitanya Food Court | Extra 15% Off | GetMeFood |
| Jubilee Hills Urban Asia | Extra 15% Off | GetMeFood |
| Mightiest Subs | Starting at Rs 99 | Subway |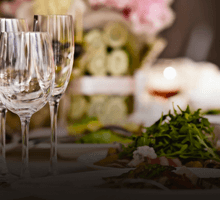 Restaurants - The Gateway To Heaven
The word restaurant comes from the French word restaurer-which means 'provide food for'. Restaurants don't provide you with food anymore. They provide you with experience. They provide you with an opportunity to get lost in a whole different world (of taste). Going to a restaurant with your friends or family isn't only about the food. It is about making everlasting memories and something to look back. Thousands of restaurants have cropped up in the country in the last few years. With so much variation in cuisines, themes, tastes, and ambiance, it gets harder to choose a good restaurant with every passing day. The plus side is, you have more options to explore!
You truly have a buffet full of choices to choose from these days, and that can be tempting. Restaurants don't serve food these days. They go overboard with their ambiance, themes, customer service, and other things which you probably haven't even heard of! The objective is to give you the best service so that your heart (and, more importantly, your tongue) wants more!
In the present times with Coronavirus, when people fear to go out, it is always better to get food with Swiggy or Zomato in India. That way, you can get food from your favorite restaurants without leaving your home. Do check some of the top coupons from Zomato or best deals from Swiggy to save while you enjoy food.
How Do I Get The Best Restaurants Near Me?
Wondering if the best restaurants in Bangalore serve Italian food? Well, the world is small, and thankfully you don't have to travel to Italy for good Italian food. The best restaurants in Delhi probably serve excellent sushi, if that is what it takes to get your clock running. If you like Lebanese food, the best restaurants in Hyderabad are known precisely for that. The point is, you don't need to travel all over the world to get your favorite food. You can get all of that in your favorite restaurants. Go ahead a book your food today. The list includes Pizza Hut, Domino's, McDonald's, Rajdhani, Baskin Robbins, KFC, Faasos, etc.
You can choose from a wide range of cuisines these days starting from Italian, American, English, Mediterranean, Greek, French, Chinese, Japanese, Turkish, Moroccan, Thai, Mexican, and much more. All these cuisines have distinct tastes, different spices, and different methods of preparation. For example, Italian food is heavy with traditional Italian spices like basil, oregano, rosemary, and thyme. On the other hand, French food is glazed with different kinds of sauces like veloute, hollandaise, etc. Restaurants can either serve just one kind of cuisine or serve multiple cuisines. You can find out the restaurants nearby and choose the kind of cuisine you want.
If you are looking for Indian food, you are in for a treat. Barring the obvious Northern and Southern food, multiple subgenres and different restaurants serve different food. You get different cuisines like- Rajasthani, Bengali, Punjabi, Tamil, Andhra, Bihari, Gujarati, and other kinds of food. When your own country has so many cuisines, why will you ever settle for one type of cuisine?
Restaurants have also decided to turn it up a notch with theme-based restaurants. The themes can range from cultural settings to pop cultures and fandoms. Themes based on Science fiction, Superheroes, Transports, Sports, etc., are gaining traction with the mainstream crowd. The themes can include Star Wars, Aeroplanes, Robots, Pirates, Aliens, Indian folk culture, etc. You can also go to restaurants with scenic beauty. Rooftop restaurants are wonderful for a romantic candlelight dinner. You can also go for different kinds of dining- fine dining or casual dining, depending on the occasion. You can also take your office out for team meetings at some fancy restaurant to discuss your plans over great food. Corporate dinings are a wonderful way to bond with your team and discuss important objectives. Be it family dinner or an outing with your friends- a group that eats together, stays together.
Grab Your Ticket To Good Food At Affordable Prices
You can always order in but going to a restaurant has its charm. The whole experience of going to a new place, eating great food, and not doing the dishes sounds nearly enchanting! The added advantage of being pampered is also a big plus! The problem is restaurants can be costly, and the prices can weigh your spirits down—the solution: coupons and discounts. Get discounts and offers on every purchase at your favorite restaurants, only with GrabOn. Be it the best restaurants in Chennai, Hyderabad, or any other city- get an offer for restaurants across the country. Offers like Flat 50% off, Happy Hours, Cashback offers, and much more, only on GrabOn. Get all the restaurant coupons for free and enjoy your experience. Check this page regularly for all the best offers and deals, and never miss out on any promo codes.