About Adani Electricity
Adani Power is India's largest private power company. It is the most significant power distributor in Mumbai. Adani Electricity serves more than 2.9 million consumers. Adani Electricity serves around 2.1 million consumers in the residential category.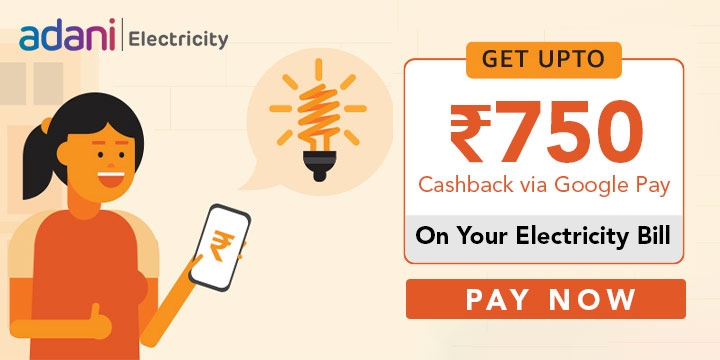 How To Get New Connection?
Procedure - 1: Submit Application Online
The first step is the online submission of the application. For this, go to adanielectricity.com.
Press the link "Not Registered Yet?" and register with a User ID and password.
Now, the applicant can Log In with this ID and password
To create a new application, opt the service applicant needed from the list provided. Now the applicant will be able to view your application form.
Now, the applicant should fill up the online form and submit.
The applicant should also upload the Mandatory documents needed during the time of registration.
Once the applicant applies, a reference number will be generated.
The applicant can use this reference number for all future references.
An acknowledgment will be sent to the registered e-mail id of the applicant.
An applicant can also track the application through the "My Applications" link.
Procedure - 2: Site Visit
The site visit is done within 4 Calendar days. The site visit intends to check the readiness of Internal Wiring and Meter board installation, Technical Feasibility / Load sanction, making out the route and other details for RoW permits and laying of Network.
No charges to be paid during procedure one and two.
Procedure - 3: Meter Installation
The external field-work is initiated within ten calendar days. Installation of meters and wiring within the meter board will be completed. Estimated charges are required to be paid only after meter installation and receipt of First Bill.
What Are The Mandatory Documents Needed For New Connection?
Id Proof
Ownership/ Occupation Document
Supporting documents
Adani Electricity Billing system
Adani Electricity bills are based on meter readings. Meter readings will be taken every month. These readings are entered into out-billing system. The out billing system calculates the bill amount. Bills are then printed and send out to your billing address. Bills are prepared and dispatched each month on a specific date.
If a change in tariff takes place, the consumer will be notified through a formal e-mail/ letter.
Adani Electricity Online Payment
If the customer pays the bill within seven days of bill generation, a prompt payment discount of 1% will be received on the monthly bill
The payment can be made within three days past the due date after adding delayed payment charges. For Industrial High Tension customers, the payment can be made 9 days past the due date with all the delayed payment charges.
Payment Methods
You can pay your electricity bill at -
Adani Electricity Bill Payment Centers work from 8.00 a.m. to 7.00 p.m. on weekdays (Monday to Saturday)
You can pay via Credit and debit cards, net banking, online Payments VDS (voluntary deposit schemes), payments through SMS
Collection Centers that are open up to 7.30 p.m.
Authorized Collecting Banks
You can pay the bill via 3rd party apps supporting UPI, like Google Pay, PhonePe, and Paytm.
Adani Electricity bills can also be paid via the BHIM app
Cash payments up to Rs. 20,000/- can be made.
Cheques are accepted at all our bill collection centers.
To save on electricity and other bill payments, you can take the help of Freecharge. It helps users to save huge on almost all sorts of bill payments and recharges. Moreover, if you are a Reliance Jio user, you can grab the best offers of Reliance Jio recharge and connect with your loved ones at an affordable price.