Popular The Souled Store Coupons, Offers & Discount Promo Codes in January 2021
| The Souled Store Coupons | The Souled Store Offers | Validity |
| --- | --- | --- |
| Buy 10 T-Shirts | Get Rs.1000 OFF | January 2021 |
| Buy 5 Notebooks | Get Rs.200 OFF | January 2021 |
| Buy 2 Boxers | Get Rs.100 OFF | January 2021 |
| Buy 2 Socks | Get Rs 100 OFF | January 2021 |
| Buy 3 Tote Bags | Get Rs 100 OFF | January 2021 |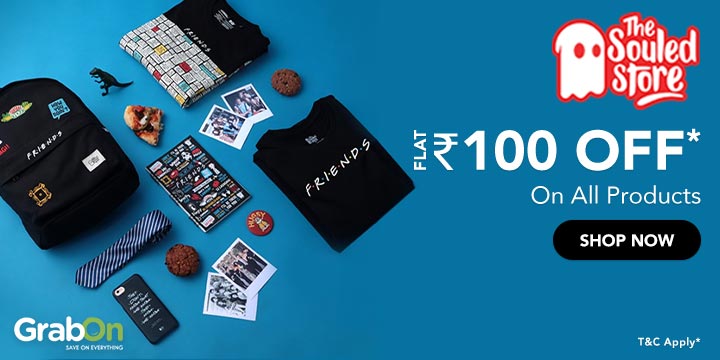 About The Souled Store
Finding its humble origins as a marketplace that offered artists and creators a platform for showcasing their creativity and monetize their efforts by selling their artwork.
Today, it is the face of trendy, quirky, and creative merchandise for the Indian youth. This initiative started with four friends to spread happiness, and cheer has indeed come a long way. Run by Vedang Patel, Rohin Samtaney, and Aditya Sharma as the Co-Founders and Directors; Harsh Lal is handling Business Development; and Kyati Shah as the Head of Design, the souled store is known for its glowing reviews.
A wide range of products starting from T-shirts, boxers, and pajamas to posters, mobile cases, and covers for different brands, models/makes, and coasters are all available on this platform.
You can buy quirky graphic printed t-shirts for men and women, both from The Souled Store. You are most likely to get some discounts. However, if you would like to enjoy more discounts, head over to Amazon and Flipkart and look for similar clothing, they have a network of thousands of sellers and thus can provide something for everyone. Moreover, you can use GrabOn coupons and save big time on every purchase.
You will never run out of choices with Souled Store.
Well, there's something special for everyone.
Whether you hoard badges or like to wear your pride or carry it around with phone covers, love to sip that morning cuppa in a Gandalf motif coffee mug, The Souled Store has everything and anything you could ever ask for.
A little bit of customization never hurt anyone. Whether you want to get a unique farewell T-shirt for your entire batch or get a friend circle catchphrase immortalized on a piece of fabric, customizing and making/designing your T-shirt is always an option.
The SoulStore is more than happy to collaborate with your school or college and provide official merchandise for the same. Have an excellent idea for a T-shirt or any other design in general but not enough customers to buy it?
Have a quirky idea for some fun mobile back cover Souled Store has got your back as they'll help you crowdfund your T-shirt design and realize your vision. Full-fledged Official Merch From stand-up comedians to your favorite fantasy novel, comic book giants like Marvel and DC, all your fandom stuff and official merchandise is now available under one roof.
The Souled Store is the one-stop-shop for all your clothing, accessorizing, lifestyle, and home decor needs! Just place your order for Game of Throne T-shirts or Sherlock phone cases online, and kick back in peace as you can use the track order feature to know precisely when your merchandise will reach you. Monetize On Your Creativity Are you an artist looking to showcase your artworks?
The Souled Store got you covered.
Offering a platform for creators, designers, and artists to come together and bring out their talents for the world to see, The Souled Store helps your love for art reach like-minded people. If they see what they like, they will buy, and your work will make someone else happy while getting you the much-deserved credit and not to mention monetary compensation.
Savings On A Shopping Spree Needless to say that with the plethora of options available and plenty of products, endless categories to choose from, you might end up going on a shopping spree.
Worried about burning through a pile of cash?
Well, if you use The Souled Store offers from GrabOn, you can save a considerable chunk of expense. Get exclusive coupons on clothing and accessories, the best price on products like mobile covers and hottest & best deals, and the souled store referral code on badges, coasters, and notebooks.
Latest News
The Souled Store raises $3 million in a fresh round of funding
The Souled Store has secured $3 million funding from RP-SG Ventures, a venture capital fund from the RP-Sanjiv Goenka Group. Leading the pop-culture segment in India, The Souled Store has expansion plans for the years to come. According to co-founder Vedang Patel, the company will use these funds towards expanding its manufacturing and backend capabilities. They also plan to launch new product lines in collaboration with youth icons, indie artists, and stand-up comedians.
The Souled Store joins Times Network's 'Act Now' initiative
The Souled Store joined hands with Times Network for its mental health initiative, Act Now. The initiative will be aiming at spreading awareness and normalizing conversations about mental health. As the cause partner of the initiative, The Souled Store will be launching a set of 3 limited-edition t-shirts which will carry the #ActNow tags.
The Souled Store Social Media Links
The Souled Store Twitter Link: Follow the brand on Twitter along with 8,656 followers
Facebook Link: The Facebook page has 1,167,205 followers
Instagram Link: The official Instagram account has 685k followers and 5,521 posts