About Storytel
Storytel is a digital subscription platform that streams audiobooks for your mobile phone. It is an excellent choice for all audiobook lovers. Enjoy unlimited listening and reading of audiobooks and e-books in English and other languages. You can listen and read to as many books as you wish as long as you have an active subscription. You can avail this amazing experience either by logging in the site or by downloading app.
Storytel Using Tips
Log in to the site and press "try Storytel."
Click on "Create An Account" and accept the terms & conditions and privacy policy.
Click on the "preferred titles".
Choose and click on "Playbook" or "Read book".
Once the user tried to read or listen to the book, an option to start a subscription pops up.
Follow the instructions and choose the type of subscription and proceed to payment options.
By pressing "book recommendations" on the homepage, you can find trending and popular stories to choose from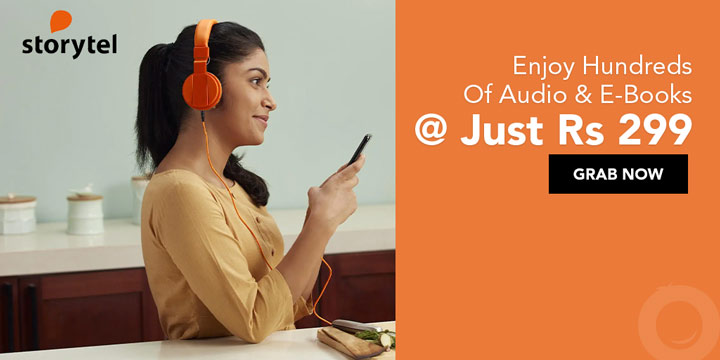 Storytel App Using Tips
You download an app for your mobile App store/ Google play and create a subscription. Then,
Click on Create an account
Tick on accepts the terms & conditions and privacy policy.
Click on the preferred title and select Playbook or Read a book.
Once the subscription option pops up, follow the instruction and choose the type of subscription and proceed to payment options.
Storytel Subscription Policy
A new customer will receive a free trial of 14 days. After that period, the subscription either will be renewed automatically, or subscription will be cancelled automatically as per the customers call.
Recurring Subscription: If you choose a recurring subscription, the subscription will be renewed automatically towards the end of every thirty days, until the subscription is terminated. Regardless of when you terminate the subscription, you can continue to listen until your current period that you have paid for has ended.
Non-Recurring Subscription: If you start a non-recurring subscription, there will be no free trial. If you choose 1 month subscription (Costs 299 INR), your subscription will be cancelled automatically after 30 days. If you choose a three-month subscription plan( Costs INR 897), your subscription will be cancelled automatically after 90 days from the date that you started the subscription.
Listen to audiobooks on like Business, Personality Development, Economics and other backgrounds at Storytel. If you like reading more than listening, like many of us, simply visit Magzter and enjoy magazines on your iPhones, iPads, or other devices. Even if online reading isn't your thing, there's nothing to worry about as your reading needs will be met by Pustakkosh where you can buy tons of second hand-books at affordable prices.
Storytel Payment Options
After choosing the subscription method, the payment can be made by credit/debit card or by any third party payment method s like PayTM, PayPal, etc. Storytel.com Terminating Policy
You should terminate the subscription minimum a day before a new monthly period begins.
Even though you terminate the subscription earlier, you can continue to use our service until your current paid period over.
In future, if you want to restart subscription, you can do it on the same account
Terminating Subscription Through Website
Logging in to the website and go to "My pages" and then to "My account".
Now, click on Cancel subscription. Again click on Confirm cancellation.
You will receive an email on the registered email id which confirms the cancellation. It is suggested to save this confirmation for future reference.
Terminate Using your Phone/Tab App
Apple
Go to Settings >> iTunes & App Store
Click Apple ID at the top of the screen
Tap View Apple ID.
Sign in with your Apple ID.
Scroll down to Subscriptions.
Click on the subscription you want to cancel.
Select Cancel Subscription to terminate your subscription.
Google
Open the Google Play Store.
Tap Menu and then click Subscriptions.
Select and tap the subscription you want to cancel
Press Cancel subscription.
Follow the onscreen instructions.