Popular Snackible Coupon Codes, Offers, & Promo Codes for January 2021
| Category | Snackible Coupons & Offers | Validity |
| --- | --- | --- |
| Orders Above Rs 1000 | 4 Snacks Free | January 2021 |
| Jalapeno Peanuts | Rs 65 Only | January 2021 |
| Order Above Rs 499 | Free Snacks & Free Shipping | January 2021 |
| Chocolate Coated Cranberries | Rs 100 Only | January 2021 |
| The Vegan Box | 10 Small Snacks @ Rs 600 | January 2021 |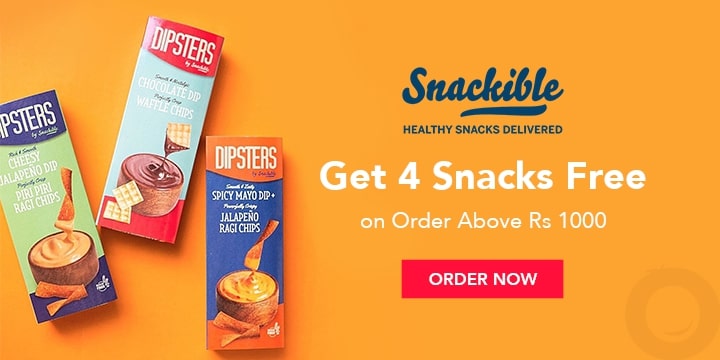 About Snackible
Ever felt the feeling of hunger during the final hours of work, or as soon as you have reached home from college? That time is crucial and rather than munching on unhealthy crunches, you can opt for a healthy snack. Eat good, your body will thank you later. Snackible was created to provide healthy snacks for everyone. At Snackible you get the perfect combination of health and taste. Snacks are never fried, they're baked or roasted. Peanuts, beetroot, Ragi, and whole-grain form major ingredients for the snacks among others. Most of the snacks are vegan and gluten-free. Additionally, you can view the energy content for every sack on the website. The energy bars are super nutritious and healthy.
Payment at Snackible
You can pay for the snacks you want to buy from Snackible through any of your credit or debit cards and even net banking. Or if you like to use wallets for payments where you can instantly pay without much hassle? Snackible supports various apps like Airtel Money, Payzapp, Amazon Pe, Freecharge and Phonepe, and UPI payment options too.
Shipping, Return, and Cancellations
You can get healthy snacks from Snackible anywhere in India. Check if Snackible delivers in your area by entering your pin code in the box provided on the products page. Once you place the order your normal delivery time is 5 to 7 working days. The Shipping is free of cost if you order above Rs. 499. For orders below that, a shipping charge of Rs. 40 is applicable. The actual cost that you will have to pay during checkout will be the cost of the product + shipping charges + taxes.
It's easy to get your refunds and cancellations with Snackible. Firstly, do not accept the item that you have received if it's in a damaged condition. You can claim a refund for the same from Snackible. For this, you need to have a call with them and discuss the issue. Even if you do accept the order, but want to return the item you do so within 24 hours from the delivery. The refund will happen within 10 working days. In case you want to cancel the order that you have placed, you have an hour window to do it. Visit your order on the website, and cancel it.
How to save more with Snackible?
Got a coupon? Apply it at the checkout. This will help you save on your final cost. You can choose from the coupon codes available on his page. Ordering in bulk will also help you save on the delivery charge.
Get yummy snacks from Snackible. These are fresh and healthy foods that you can munch on at any time of the day. For fuller meals, order from Swiggy. You can select a range of restaurants present in your city and then choose from many sumptuous food varieties. And if you feel like having a relaxing meal at a restaurant itself, use the Zomato app and make a reservation. You can also save in your restaurant bill by using Zomato Gold offers.