Latest Bounce Coupons, Offers, & Promo Codes For March 2021
| Bounce Coupons & Offers | Offer Details |
| --- | --- |
| Bounce Bike Rentals | Rent A Bike @ Rs 11/Hr |
| Bounce Fuel Offer | ReFuel For Rs 100 & Get Rs 130 Back |
| Bounce Scooters | Up To Rs 1500 OFF |
| Bounce New User Offer | Free Ride + Rs 50 Reward Points |
| Bounce Bicycle Rentals | Rent A Bicycle @ Rs 3/10min |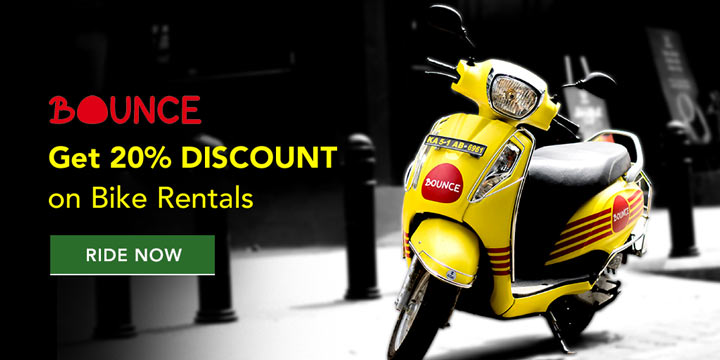 About Bounce
It's a bike rental service provider in India. The firm initially started the bike rental in Bangalore and spread across the country. They take continuous efforts in making the daily commute convenient. To do so, they provide a reliable one-way bike rental service. The rider can pick up the bike from one point and drop it off at any metro destination. The company aims at decongesting the roads by offering bike rental services from any metro points. It caters to the needs of the users' include bike services within the city and outside. If you are looking for an escape or getaway this weekend, this is the best destination for booking your bike. Or if you want to test drive that dream bike of yours, then this is the right place.
You can get a wide range of popular bikes to hire for your destinations and gateways. Also, stay tuned for some of the best offers you can get here. So, when you can rent signature series bikes, why look elsewhere? Also, it lets you pick from a diverse fleet of bikes. You couldn't possibly ask for more. The Bounce family operates from many cities, including Bangalore, Delhi, Hampi, Ahmedabad, and a few more. Go ahead, book a great bike, and enjoy your ride. And, don't forget to grab the offers here. Save and maybe get to ride that dream bike again.
While Bounce is for self-driven bikes, there are options for you if don't feel like riding or don't know how to. You can book a Rapido, where you'll be assigned with a verified captain who will drop you at your destination. The service is available in Hyderabad, Bengaluru, Chennai, Delhi, Mumbai, to name a few. Grab the best Rapido discounts at our website before you book a bike taxi.
For days when you can't step out at all, you can always get the work done by Dunzo. Want to pick up something from a store? Want to deliver something at your office or friend's place? Just Dunzo.
Upping The Game In Bike Rental Space
It is being looked at as the next big thing in the bike rental space. The firm makes the dreams of men riding some of the coolest bikes come true. Why not experience the joy of riding one of the best bikes in the world? They let you ride fancy expensive bikes, the ones not all can own. Purchasing costly bicycles can be a bit heavy on the pocket but renting one isn't. Given that they operate from different cities in India renting a bike becomes easier. They are one of the leading bike rental services provides, and yes, that means you get reliable service. And it doesn't end there. They offer round the clock customer support. Their customer care ensures your needs are met.
Impressive Fleet
With a fleet of bikes to match your lifestyle, the rental fleet boasts of some of the best luxury bikes. Booking from them is also super convenient. This makes it a perfect choice for anyone, whether you are looking to book a bike for a weekday or weekend. Bounce offers a whole new dimension of bikes at your convenience that will make you want to be their regular customer. And when it comes to reviews, it's all positive feedbacks and happy customers.
Get To Ride Your Dream Machine
Now, getting to ride your dream machine is made easier with GrabOn coupons. Be it to rent a bike in Bangalore or any other city, and you can do so with Bounce offers today. Getting to ride that super cool bike at a discounted price is something we could all look forward to. Some of the motorcycle offers are worth grabbing, and you could probably end up riding a Harley-Davidson, BMW, or any other dream series bike. Visit their website or app and select the bike you want to ride. You can install the Bounce app and book a ride on the go, from anywhere, anytime.