Mobikwik Coupons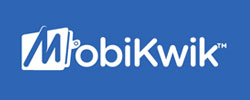 Mobikwik Coupons
31 Coupons & Offers
1 Verified
494 Uses Today
Mobikwik Coupons
all (31)

coupons (23)

offers (8)
Mobikwik Promo Code & Offers
Prepaid Recharges & Bill Payments (All Users) - Save ₹100 Supercash

show details
Comments (0)
Valid till 20th Feb, 19

| Mobikwik Recharge Cashback Code | Benefits |
| --- | --- |
| Valid for | All Users |
| Type of Recharge | Prepaid Recharges & Bill Payments |
| Applicable for | Desktops users,mobile users,App users |
| Minimum Recharge amount | Rs 200 for Transaction |
| Get Maximum SuperCash | Rs 100 |

Mobikwik is Offering Rs 100 Supercash on Mobile Prepaid Recharges & Bill Payments by using the given code.
Get Maximum Supercash of Rs 100 per Transaction.
Minimum recharge amount should be of Rs 200.
Code can be Redeemed once per users per month.
Applicable for all mobiKwik users on All operators including AIRTEL.

Mobikwik Offers - Save up to Rs 200 SuperCash on Credit card Bill Payments (All Users)

show details
Comments (0)
Valid till 28th Feb, 19

| Mobikwik Offer Code | Details |
| --- | --- |
| Applicable On | Credit card Bill Payments |
| Minimum transaction value | Rs 1000 |
| Maximum SuperCash | Rs 100 |
| Valid For | All Users |
| Applicable | Twice/user/month |

Latest Mobikwik Recharge Code is Here
Save up to Rs 200 on Credit card Bill Payments done on MobiKwik App or website
Get flat Rs 100 SuperCash on Credit card Bill Payment
Get Maximum Super Cash of Rs 200
This is Valid On Minimum amount of Rs 1000
Valid for all Mobikwik Users
This code can be redeemed twice per user per month.
Valid for MobiKwik users (version 502 or above) on VISA Credit Cards.

Save 10% on DTH Recharge - All Operators/All Users

show details
Comments (0)
Valid till 28th Feb, 19

Mobikwik is Offering 10% Upto Rs 100 SuperCash on DTH recharge done on Mobikwik App Or Website by using the given code.
Minimum amount Spend to redeem this offer is Rs 150.
Get Maximum SuperCash Of Rs 100.
This DTH code can be Redeemed once per user.
This mobikwik promo code is valid for all MobiKwik users on all operators.

| Mobikwik DTH Offer Code | Benefits |
| --- | --- |
| Valid for | All Users/One Time |
| Applicable on | DTH Recharge |
| Min Recharge Value | Rs 150 |
| Maximum SuperCash | Rs 100 |
| Valid On | Web & App |

Get ₹200 SuperCash On First Electricity Bill Payment

show details
Comments (0)
Valid till 27th Feb, 19

Take away flat Rs 200 SuperCash on first electricity bill payments done on Mobikwik App or website
Minimum amount spend to avail the offer is Rs 500 only
Maximum SuperCash is fixed at Rs 200
This code can be redeemed once per user
Coupon redemption & Payment should be done on MobiKwik's Android, Windows, iOS App or website
Applicable on all electricity operators

Prepaid Recharges & Bill Payments (All Users) - Save 25% Supercash

show details
Comments (0)
Valid till 28th Feb, 19

| Mobikwik Recharge Cashback Code | Benefits |
| --- | --- |
| Valid for | All Users |
| Type of Recharge | Prepaid Recharges & Bill Payments |
| Applicable for | Desktops users,mobile users,App users |
| Minimum Recharge amount | Rs 10 for Transaction |
| Get maximum SuperCash | Rs 100 |

Mobikwik is Offering 25% Supercash on Mobile Prepaid Recharges & Bill Payments by using the given code.
Get Maximum Supercash of Rs 100 per Transaction.
Minimum recharge amount should be Rs 10.
This code can be Redeemed once per user per month.
Applicable for All MobiKwik users on All operators

Rs 1200 Cashback on Transfers

show details
Comments (0)
Valid till 28th Feb, 19

Take away Rs 12 on 10th UPI Transfer to any UPI handle.
One can earn cashback 100 times
Maximum cashback one can earn is Rs 1200.
The minimum amount of each transfer should be Rs 2000
Receivers should not necessarily be unique
Users who have linked their payments bank as the primary bank, won't be eligible

Mobikwik All users Offer : Save 10% on Electricity Bill Payments

show details
Comments (0)
Valid till 28th Feb, 19

Mobikwik is offering 10% Up to Rs 50 cashback on electricity bill payments by using the code
Minimum amount spend to redeem the SuperCash is Rs 300.
Maximum SuperCash is fixed at Rs 50.
Mobikwik discount code can be Redeemed once per user per month.
This is Valid for all MobiKwik users on all Electricity operators.

Prepaid Mobile Recharges - 25% SuperCash | New Users

show details
Comments (0)
Valid till 27th Feb, 19

Take away flat 25% SuperCash on mobile prepaid recharges done on App or website
Minimum amount spend to avail the offer is Rs 10
Maximum SuperCash is fixed at Rs 100
This code can be redeemed 1 time per new user
This is applicable on all mobile prepaid operators like Airtel, Idea, Vodafone and many more

Get 50% SuperCash on your First DTH recharge

show details
Comments (0)
Valid till 28th Feb, 19

| Mobikwik Offer Code | Benefits |
| --- | --- |
| Applicable on | DTH Recharges |
| Valid for | New Users |
| Maximum SuperCash | Rs 200 |
| Minimum Transaction Value | Rs 99 |

Verified on 19 Feb 2019. Mobikwik is Offering 50% SuperCash on DTH Recharge by Using the code.
This is valid on Mobikwik App or website.
Minimum Order Value Of Rs 99 is Required.
Get maximum Super cash of Rs 200 Per Transaction.
This code can be Redeemed only once.
DTH Code redemption & Payment should be done on Mobikwik's Windows(version 10 or above), Android App, iOS App or website.
This is applicable for all Mobikwik users on all DTH operators

Save 50% SuperCash on DTH Recharge - All Operators/New Users

show details
Comments (0)
Valid till 01st Mar, 19

Mobikwik is Offering 50% Upto Rs 300 SuperCash on DTH recharge done on Mobikwik App Or Website by using the given code.
Minimum amount Spend to redeem this offer is Rs 99.
Get Maximum SuperCash Of Rs 300.
This DTH code can be Redeemed once per new user.
This mobikwik promo code is valid for all MobiKwik users on all operators.

| Mobikwik DTH Offer Code | Benefits |
| --- | --- |
| Valid for | New Users/One Time |
| Applicable on | DTH Recharge |
| Min Recharge Value | Rs 99 |
| Maximum SuperCash | Rs 300 |
| Valid On | Web & App |

Get 30% SuperCash on all Domino's Orders

show details
Comments (0)
Valid till 27th Feb, 19

Mobikwik is Offering 30% SuperCash on all Domino's Orders.
Minimum transaction amount is not required.
Get Maximum MobiKwik SuperCash of Rs 100.
valid thrice per user
SuperCash will be directly credited to your MobiKwik wallet within 24 hours
This is Valid for all Days.

Win 200% SuperCash on Bill Payments

show details
Comments (0)

Win 200% SuperCash on payments done through MobiKwik App or website.
First 100 lucky users will get 200% SuperCash everyday.
Minimum amount spend to redeem the SuperCash is Rs 50
Maximum SuperCash is Fixed at Rs 200
This code can be redeemed any number of times.
SuperCash will be processed within 10 days.
The offer is applicable on all electricity operators available on MobiKwik app & website.

Mobile Recharge - Up to ₹100 SuperCash

show details
Comments (0)
Valid till 28th Feb, 19

| Mobikwik Recharge Code | Benefits |
| --- | --- |
| Valid For | All Users |
| Minimum Amount | Rs 10 |
| Maximum Cashback | Rs 100 |
| Valid On | MobiKwik's Android, Windows(version 10 or above), iOS |
| Applicable On | Mobile Recharge |

Verified on 19 Feb 2019. Mobikwik is Offering flat 5% SuperCash on Recharge of Rs 10 or more done on MobiKwik App or website.
Minimum amount spend to redeem is Rs 10
This code can be Redeemed 3 times per user per month
Code redemption & Payment should be done on MobiKwik's website
This is valid for ALL MobiKwik users.
Applicable on all operators.

Flat ₹100 SuperCash on BSNL Wallet

show details
Comments (0)
Valid till 19th Feb, 19

Get Flat Rs 100 SuperCash on Recharges of Rs 100 done on BSNL wallet
Minimum transaction value to avail the offer is Rs 200
Maximum SuperCash is fixed at Rs.100
This Offer is valid once per user per month
Applicable for all users on BSNL operator
Just apply the given coupons to get the discount

Flat Rs 25 in your dish account on Dish Tv Recharge - All Users

show details
Comments (0)

Get Flat Rs 25 in your dish account on Dish Tv Recharge on MobiKwik App or website by using the given code
Minimum amount spend to redeem the SuperCash is Rs.200
Maximum SuperCash is fixed at Rs 25 per transaction
This code can be used only twice per user and twice per number & valid only for DishTV users
Valid for All MobiKwik users on Dish DTH operators

Hot Deal

Get Upto ₹1200 Cashback On Transfers

show details
Comments (0)

Get Rs 12 on 10th UPI Transfer to any UPI handle
One can earn cashback 100 times.
Maximum cashback can earn is Rs 1200.
The minimum amount of each transfer should be Rs 2000
Link your bank account & create your UPI pin on MobiKwik app.
Limited period offer.

Videocon D2H TV Recharge - Flat ₹25

show details
Comments (0)
Valid till 26th Feb, 19

Get Flat Rs 25 on Videocon d2h TV Recharge on MobiKwik App or website
Minimum amount spend to avail the offer is Rs 200.
FLAT extra balance that can be earned is Rs 25 per transaction in their d2h TV account
Extra balance will be credited into d2h TV account within 48 working hours
The code can be Redeemed once per user per month.
Valid for all Users
Limited Period Offer.

Flat ₹50 Cashback on Credit card Bill Payments

show details
Comments (0)

Get Flat Rs 50 Cashback on Credit card Bill Payment done on MobiKwik App or website.
Minimum amount of Rs 1000 is required.
Maximum Cashback amount is fixed at Rs 50
This code can be Redeemed once per user per month.
Valid for MobiKwik App Users

Get Flat Rs 300 SuperCash on Insurance Renewals

show details
Comments (0)

Get flat Rs.300 SuperCash on insurance renewals on MobiKwik App or website.
Minimum order value of Rs 5000 is required.
Maximum SuperCash is fixed at Rs.300
The code can be redeemed once per user per month
Offer is valid for All MobiKwik users on all insurance providers
Coupon redemption & Payment should be done on MobiKwik's Android, Windows, iOS App or website

show details
Comments (0)

Save upto Rs 500 of your transaction value by using your SuperCash balance on transaction of Rs 50 or more
Maximum SuperCash - Rs 500/Month
Maximum SuperCash - Rs 100/transaction
Minimum transaction - Rs 50
scan the QR code at the fuel station and enter the amount to pay

MobiKwik IRCTC Offer - Flat 60% SuperCash on IRCTC!

show details
Comments (0)
Valid till 28th Feb, 19

Verified on 19 Feb 2019. Mobikwik is Offering SuperCash on IRCTC on Paying With Mobikwik Wallet.
Grab 60% SuperCash on your transaction made with MobiKwik on IRCTC Website.
Get Maximum SuperCash Of Rs 100. Mobikwik coupon Code is not Required.
Mobikwik SuperCash will be directly credited to the user's Mobikwik wallet within 24 hours.

Get ₹10 Cashback On First UPI Transfer

show details
Comments (0)
Valid till 21st Feb, 19

Get flat Rs 10 on first UPI Transfer to any UPI handle
Minimum amount of transfer - Rs 100
Users need to do KYC in order to receive cashback
Users who have linked their payments bank as the primary bank, won't be eligible.
Limited period offer.

Get ₹50 SuperCash on BSNL Wallet

show details
Comments (0)
Valid till 27th Feb, 19

Get Flat Rs 50 SuperCash on Recharges of Rs.100 done on BSNL wallet
Minimum transaction value to avail the offer is Rs 90
Maximum SuperCash is fixed at Rs 50 only
Offer is valid once per user per month
Valid on all operators & users

Get Rs 50 Supercash on Purchase of Google Play recharge code

show details
Comments (0)

Use code PLAY50 & get Rs 50 SuperCash on Google Play Recharge code bought on MobiKwik App or website.
Maximum SuperCash amount is Rs 200
The code can be redeemed only once per user per month.
Limited perioddeal.
The offer is applicable on Google Play only.
The offer is applicable for All MobiKwik users.

Hot Deal

Get Best Deal on all Electricity, Insurance and Gas Bill Payments- All Users

show details
Comments (0)

Verified on 19 Feb 2019. Mobikwik is Offering Best Deal on all Electricity, Insurance and Gas Bill payments. User can redeem the code given by the Mobikwik only once. No Minimum Transaction amount is Required. Get Maximum Cashback depending on the given code. Sign up platform any, coupon redemption and payment platform on latest Android & iOS app version only. Cashback will be auto-credited to your wallet within 24 hours. Do Recharge before it ends.

Get Rs 10 Free Wallet Balance- New Users

show details
Comments (0)

Verified on 19 Feb 2019. Mobikwik is Offering Free Wallet Balance amount of Rs 10. Sign up on the the Android App, and get Rs 10 auto credited into your MobiKwik wallet. Mobikwik New User Offer can redeem this Deal only once on first time registration on MobiKwik Android App only. No code is required. Amount will be auto-credited to user's wallet within 24 hours. Download Now.

Best Price

Pay with Mobikwik and Travel in Train with SuperCash

show details
Comments (0)

Verified on 19 Feb 2019. The Wait is Over, Now You can Book Train Tickets From IRCTC Android app by Using Mobikwik wallet. Plan Your Travel anytime, anywhere and Do Instant Booking by Choosing Wallet during the payment. Book Now. Mobikwik Promo Code is not Required.Book Now
expired coupons
New Offer - Flat Rs 300 OFF on Jio Rs 398 Plan
03 February 2019
show details
Get flat Rs 300 SuperCash on Jio recharges on Rs 398 plan
Also get flat Rs 100 on Jio plans of Rs.149 and more by using code JIO100.
Minimum amount spend to redeem "JIOPLAN" coupon is Rs 398
Maximum SuperCash on JIOPLAN is fixed at Rs 300
Offer is valid for all MobiKwik users on Jio prepaid operator only.
This is valid for all MobiKwik users on booking of JioPhone only.
The code can be redeemed only once per user.
This is valid for limited period.
Flat ₹25 Cashback on Electricity Bill Payment of ₹500 or more
15 January 2019
show details
Mobikwik is Offering 5% Cashback on Electricity bill payment done on MobiKwik App or website.
Get Maximum Cashback of Rs 25.
Minimum amount spend to redeem the Cashback is Rs 500.
Electricity Bill Payment Code redemption & Recharge Payment should be done on Mobikwik's Android, Windows, iOS App or website.
This code can be redeemed one time per user per month
Coupon redemption & Payment should be done only on latest MobiKwik's Android, iOS, Windows App or Website.
This Offer is valid for all MobiKwik users on All Electricity operators.
Get Flat Rs 398 SuperCash on Idea Recharges
08 January 2019
show details
Get flat Rs 398 SuperCash on Idea recharges
Minimum recharge of Rs 398 is required
Offer is valid once per user
SuperCash will be auto-credited to your MobiKwik wallet within 24 hours
Get 100% Cashback to 1000 Lucky Users
03 January 2019
show details
Mobikwik is offering 1000 Lucky users get 100% Cashback.
Use Code on your next MobiKwik Recharge, Bill pay, DTH or Utility Transaction and stand a chance to be among the lucky 1000 users to win a 100% cashback.
The user will receive *Code Applied Successfully* message which only means that the user is successfully registered for the campaign.
Get maximum Supercash of Rs 100.
A user can use the code any number of times during the offer period. 1000 lucky users will get 100% cashback for their recharges/bill payments done each day using the code.
This Mobikwik code is applicable for ALL USERS on recharge, bill or utility payment for ALL operators.The cashbacks to the 1000 users will be processed within 14 working days.
| Mobikwik All Users Offer Code | Benefits |
| --- | --- |
| Valid for | All Users |
| Code is Valid On | Android, iOS or Windows App |
| Maximum Cashback | Rs 100 |
| 1000 Lucky Users | 100% Cashback |
100% SuperCash Everyday for 100 Lucky Winners
01 January 2019
show details
Lucky 100 users to win a 100% SuperCash LUCKYBILL is an Apply only Code.
The Maximum SuperCash amount is Rs. 100
A user can use the code any number of times during the offer period.
100 lucky users will get 100% SuperCash for their bill payments done each day using the code LUCKYBILL.
This code is applicable for ALL USERS on ALL Electricity operators.
This is valid for limited period.
Mobikwik Promo Codes, Offers & Voucher Codes On Recharges (100% SuperCash) | Feb 2019
| Recharge Category | Mobikwik Offer Codes | Validity |
| --- | --- | --- |
| Mobikwik Exclusive Coupon | Up to 100% SuperCash | New Users |
| Mobikwik DTH Offer | Up to Rs 100 SuperCash | All Users |
| Mobikwik voucher code Add Money | FLAT Rs 100 SuperCash | New Users |
| Mobikwik coupon code for Recharges | FLAT Rs 15 SuperCash | All Users |
| Electricity Bill Payments | Up to Rs 200 SuperCash | All Users |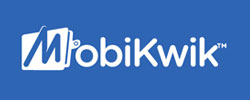 About Mobikwik - Promo Codes, and Vouchers
Mobikwik is one of the most used mobile recharge portals in India. They have brought in a revolutionary change in the online marketplace with their addition of several new features to mobile recharge services and upgradation of their mobile application. Their new amazingly designed interface and exquisitely collected offers give an unconventional shopping experience to customers. You can avail exclusive coupons and unique promo codes to enjoy instant cash back offers from this store on your recharge or phone bill payments through GrabOn. Explore Mobikwik recharge coupons here.
Mobile recharges and Phone Bill Payments
Their simple and neat user interface helps you pay bills and make mobile recharge experience faster than ever before. You can browse through their wide range of network service providers, including Airtel, Tata Indicom, BSNL, Reliance, Vodafone, Videocon, Uninor, Aircel and many more. They are conveniently arranged in an apple-pie-order. Select the best deal or your most favorite tariff related plan on your network provider, pay through their wallet or using online banking and your mobile recharge or bill payment is done in nothing more than five minutes.
Whatever may be the bank you choose; Axis, Kotak, HDFC, HSBC, ICICI, SBI, Citibank, Dhanalaxmi bank or Yes bank to recharge your mobile online at this recharge portal, you can be assured to save big with the offers available on GrabOn.
Mobikwik Wallet
What we all care about is an easy shopping experience and fast service delivery. Mobikwik boasts of offering prompt and user-friendly service to a large number of online users. They leave no stone unturned in offering the best to their customers, whether it is mobile phone recharges, insurance bill payments, gas bill payments, DTH recharges or postpaid bill payments. This is the reason the company has rolled out a wallet to extend their services to mobiles and smartphone gadgets as well. Through Mobikwik wallets, users now can make a quicker and simpler recharge exchange online. One just needs to add money totheir online wallets and then they can use this wallet anywhere and at any time to recharge phones online or make bill payments without having to run through the hassle of conventional online payment transactions.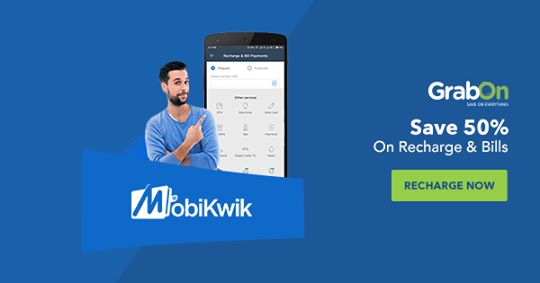 Amazing Offers, Bigger Savings With Reliance Jio
Reliance Jio plans and Jio prime memberships, when done through Mobikwik app or website, can get you cashback rewards or gift vouchers, worth quite a handsome price. With Mobikwik Jio recharge offers and coupons you can get the best of deals on Jio prepaid, Jio postpaid and other Reliance Jio plans. Jio 4G offer and reliance new SIM offer provide the best plans at the best possible prices. Other mouthwatering deals include Reliance LYF offer, which Reliance is making available at the entry and mid-range prices. Be it Jio prime subscription or Reliance Jio 4G offers, get the best of the best here at GrabOn!
Instant Cashback
The company also offers quantity discounts and instant cashback offers to their customers to help them save on mobile recharges and bill payments. Earn cash backs on biggest brands that you love and shop from every day like PVR Cinemas, Foodpanda, Zomato, Meru Cabs, Mega Cabs, Ola cabs, Abhibus, redbus, Travelyaari, Box8, Godaddy, Faasos, Firstcry, HealthKart, Medlife, JusTickets, Nykaa, Shopclues, Via.com. Yatra, Ticketnew.
With these delightful offers, customers can get instant cash backs on everything from ordering pizzas online to booking train tickets. Mobikwik promises 'Kwik' cash backs on several merchants such as IRCTC, Big Bazaar, Dominos, MakeMyTrip, BookmyShow, Swiggy, Burger King and many more. Get cash picked up in less than 30 minutes or order your favorite burgers and pizzas online. You can even convert those points to MobiKwik Cash. So much to do and so many offers!
read more
How to Use Coupon codes for Mobikwik?
From GrabOn.in, type Mobikwik in the search bar, which shows Mobikwik in the results
Click on Mobikwik, which displays a list of all the Recharge coupons
Check the list, choose a coupon and click on 'Activate Offer' for the same
Copy the code and use it during your Prepaid Recharge/Postpaid/DTH/Data card/Utility Bill Payments
read more
You can call on this helpline number for customer assistance: +91 9466446644
The operational hours are between 8AM to 11PM, so call during those hours.
You can look into the following page for further queries: www.mobikwik.com/help
read more
Filters
Show coupons/offers for existing/repeat users
More About Mobikwik
India's fastest growing recharge online portal, Mobikwik is steadily making its roots even stronger than before in the Indian market with its unique offers and great discounts on various purchases. Thanks to this portal which not only offers deep discounts on online recharge but on other shopping websites, entertainment portals and more.Renowned as the mobile wallet company, Mobikwik is simply a world of convenience. Simple, fast and secure online payments -- all you need to do is just add enough amount to your Mobikwik wallet and recharge multiple times even on the go. There's is no need to enter card details to make online transactions, use wallet to recharge phone, data card, pay bills and making bus reservations online.The Mobikwik is available on a range of service such as -- mobile, television, data card, bills and shopping. They aim to boost shopping experience of their customers, especially on Smarthphones and various online merchants. Their consistent deliver services with fast and secure payment along with flexible checkout experience is making this store stand second to none. Incredible shopping is just one click away. Avail awesome discounts across various categories like entertainment, electronics, food, travel, shopping, automotive and much more. Now Mobikwik wallet is available handy with their launch of a mobile application, where customers can opt wireless recharge, make bill payments using their Smartphones. GrabOn helps you grab exclusive offers of Mobikwik wallet here.
show more
CLEAR & RESET
APPLY FILTER