The New and Trendy Player- MiVi
It is really difficult to find that perfect headphone these days. Spoilt with so many choices but not always the right one, disgruntled searches lead to a huge waste of time. So, if you are looking for headphones and other electronic accessories, there is a new game-changer in town.
MiVi, an Indian company, was started in 2015 by Viswanadh Kandula and Midhula Devabhaktuni. Originally from Vijayawada, they met at Florida State University while pursuing their higher education. After working for a few years, they came up with the idea to introduce high-quality mobile and electronic accessories in the Indian market. They noticed that India lacks quality products at affordable prices and foreign companies sell expensive products. With an intent to change the market dynamics, they entered into the foray. They now sell the most affordable range of mobile and electronics accessories. Steadily growing in their sales, they are currently preferred by most youngsters, who want quality accessories for cheap. They currently sell the following products- headphones, cables, phone cases, power banks, and chargers. An online exclusive, you can buy their products directly from their website or from Amazon, Flipkart, or Paytm.
Latest Mivi Coupon Codes, Offers & Promo Codes For Jan 2021 - GrabOn
| Mivi Coupon Codes | Mivi Discount Codes & Offers |
| --- | --- |
| Mivi Coupons For Cables | Starting from Rs 799 |
| Mivi Promo Codes For Chargers | Starting from Rs 549 |
| Mivi Discount Code For Phone Cases | Starting from Rs 699 |
| Mivi Collar Headphones Coupon Code | Starting From Rs 2,999 |
| Mivi Collar Bluetooth Coupon Code | Starting From Rs 2,999 |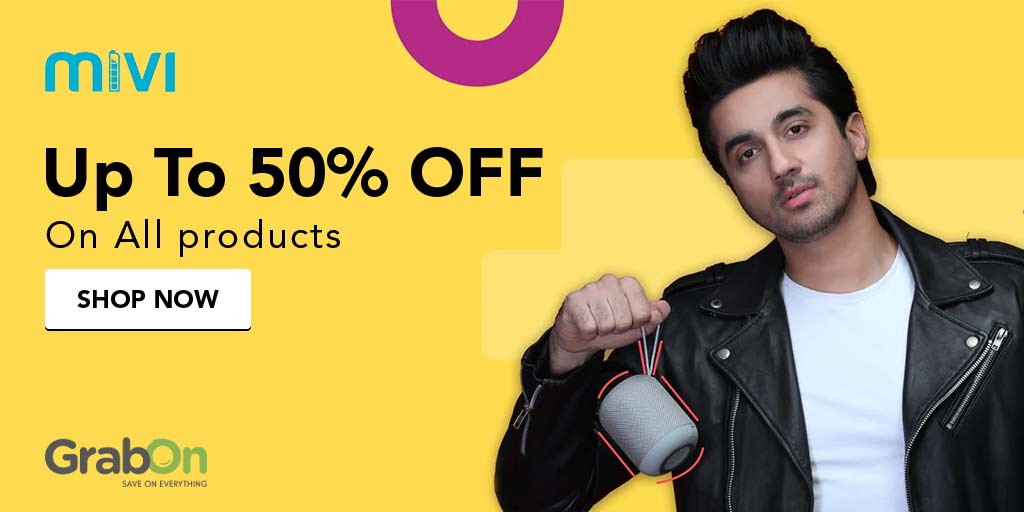 What You Get Is What You Need
MiVi currently sells three different kinds of headphones: Thunder Beats, Saxo, and Collar BlueTooth.
Thunder beats are Bluetooth headphones, which can last up to 8 hours. With fast charging, 30 mins of charging can last up to 3 hours. It has an amazing connectivity reach of 30 feet and uses the latest Bluetooth 4.1 technology. You can also go handsfree with its 3 buttons inline remote- controlling volume, receiving calls, and skip songs. It has excellent bass and treble and comes with a one year warranty.
The Saxo Bluetooth earphones is another popular variant MiVi offers. It runs for an amazing 17 hours at a stretch, and you don't need to worry about its battery life. It can also pair with two devices simultaneously. With an extremely comforting earpad and luxurious looking design, you don't need to compromise on style or comfort. It lets you make your own statement. It comes with a foldable design so that you don't ever compromise your music for clothes! Although it has no wires so that you don't trip, it also comes with an aux port. So, if you lose the juice, just connect it with an aux. With amazing sound quality and easy connectivity, it is one of the best bass boosters in the business. The music always lives on.
Love your music crisp and powerful? Then also check out the other high-quality audio products on Amazon. Go hands-free with Bluetooth Headphones, or go cord-free with Bluetooth Earphones; choose your colors, your bass preference, your build preference, and filter them all out. With Amazon's inexhaustive range, you can never filter "too much". You can also check out the latest speakers, from MiVi and numerous other brands on Flipkart. Speakers with super-fast chargers to last you a complete campfire evening, and immersive HD sound to make the party happen; you've got it all here.
Ensure you never lose out on style with MiVi's Collar Bluetooth Earphones. It provides a clear sound and a powerful mic. It also has a V4.1 BlueTooth technology with aptx codec. Seamless connectivity coupled with minimal wires, it is always on but barely noticeable. You can pair it with two devices at the same time, and it offers a one year warranty.
MiVi also sells 10000mAh power bank, which is one of the best. It can charge up to two devices at the same time and offers genuine lithium polymer battery. Its high storage ensures your device never runs out of juice, and you are always connected.
They also sell mobile cases. Catering to multiple brands and models, they have peppy and quirky designs that stand out. Their phone cases have various designs like suburban Indian pop culture, fandoms, floral patterns, etc. They also sell tempered glass, which is tougher than the toughest. Made from Japanese original Asahi glass, it is dirt and oil resistant. With four layers of protection and military-grade scratch resistance, your search for the best-tempered glass ends here.
MiVi also sells cables and chargers. They have all kinds of cables like lightning cables for fast charging, micro USB cables, Type C cables, HDMI cables, Audio cables (AUX), and OTG cables. All of their cables are 1 meter or 1.8 meters long. With tough and flexible nylon braiding, you don't have to worry about safety or charging capacity. The tangle-free coils promise to make your life easier. They also have a wide range of chargers- car chargers, wall chargers, or desktop chargers. All their products come with a 1-year warranty. You can browse through their website for more details.
Get The Best With GrabOn
Avail amazing discounts and offers on GrabOn. Get the best promo codes, mivi coupon, and discounts. Go ahead and grab them right now and get the coolest electronics and mobile accessories. Never miss a good deal thanks to GrabOn. Keep browsing this page for more options and keep checking regularly to ensure you never miss out on the best offers.