Popular MFine Promo Code, Offers, & Discount Codes for January 2021
| MFine Offers | Discount/Price Range |
| --- | --- |
| New User Offer | Up To 50% OFF On First Consultation |
| COVID19 IgG Antibody Test | Flat 30% OFF Code |
| Health Check Packages | Up To 45% OFF |
| Lab Tests From Home | Up To 50% OFF |
| Full Body Check-Up | Flat 50% + Extra 10% OFF |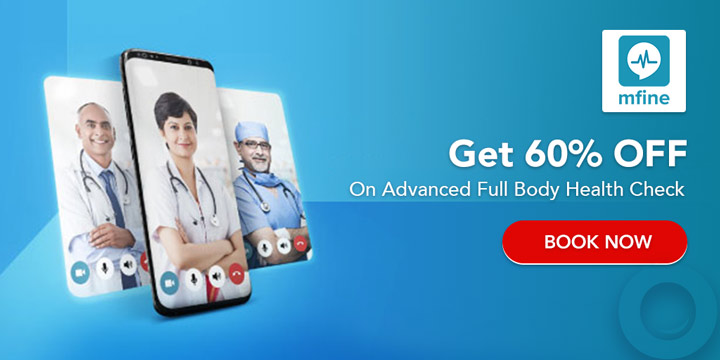 Know More About Mfine
Getting medical help is not just limited to clinics or expensive hospitals anymore. With mfine, you can book an appointment with a doctor via an app and have a personalized medical consultation from your home. You can choose from a number of specialties. The list of treatments is available online. Browse either by doctors or specializations and book your appointment in a few simple steps. With Mfine you can also get lab tests done without having to visit a diagnostic center. The sample will be picked up from your home and the reports will be available online. The time for the reports to be seen online may depend on the type of test you take. Lipid profile, Thyroid, full body checkup, diabetes screening, pregnancy test are some of the tests that you can take.
How to view your reports online?
Login to your mfine account.
In your account section, you can find the tests that you have taken.
Download the reports and keep them for future reference.
The doctors you book are experienced and from well-known hospitals across the country. You will beget a list of the hospitals and doctors based on the area of treatment that you choose. After you book an appointment, you can follow up online for up to 7 days free of cost through the app. You can also get in touch with the hospital to acquire more information about the appointment.
Like Mfine, DocPrime too gives you instant access to doctors from the best hospitals. You can book online consultations, lab tests, and free health check-ups, and also read about the uses and side effects of the medicines your doctor prescribed you. With features like Symptom-checker and Free doctor appointments, DocOnline is also a great option for you. Here you can get medical advice within minutes, as well as order medicines. If you're a corporate, DocOnline also helps you provide healthcare benefits to your employees.
Payment
You can pay for the service you take from mfine via mobile wallets or bank transactions. Debit and credit cards can be used too. Once you book a service, a representative from mfine will contact you to activate the services that need activation. Other services will be confirmed at the time of providing the service. If you find out that the time and slot booked by you is not available, you will be informed about that.
Cancellations and Refunds
If you do not wish to take a service due to any other personal reason or in case of your unavailability at the time when you booked the service, you can cancel or reschedule it before the time of the appointment. In case of cancellations, the payment that you made will be refunded back to your account.
How to save more with mfine
With wallet payments, you can often see cashback schemes at mfine where you can get wallet cash back after you make a booking.
Many health packages have discounts applied to it which you can see while booking a package.
You can save further on these services by using coupon codes that you can get from this page. You can avail huge discounts by applying the deals that suit your needs.
What is mfine corporate health?
Corporates can get doctor consultations for the employees for a cost a Re. 1 each day for each employee. Online consultation services can be availed. You can find out more information about it here.