Latest KidZania Coupons, Offers & Promo Codes | January 2021 - GrabOn
| KidZania Coupons | KidZania Offers & Promo Codes |
| --- | --- |
| KidZania Promo Code | Family Combo Up to 15% Off |
| KidZania Deals | Free Entry For Babies |
| KidZania Coupon | Buy 1 & Get 1 Ticket Free |
| KidZania Group Offer | Flat 30% Off On Kids Tickets |
| KidZania Coupon Code | Gift Cards @ Best Price |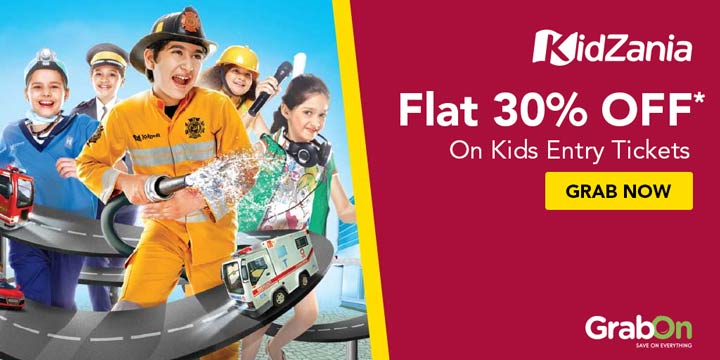 About KidZania
Founded in Mexico in 1999, KidZania is an indoor entertainment center for the family. As the name says, it is for kids between the ages of 1-14 years. It is one of the fastest-growing global entertainment brands with over 68 million visitors till now. It has more than 40 branches in over twenty-five countries, including India. KidZania is a one-of-it' s-kind roleplay fun and learning concept community for family entertainment where kids can roleplay any career they want to pursue. So hurry up and find the best KidZania coupons before you plan your family outing this weekend.
Why KidZania?
KidZania is not your regular theme park. It combines fun and learning for your children. Every KidZania is a city-like structure where your kids can interact with fellow children and get an idea of what it looks like to be in the career that they want to take up. KidZania offers a wide range of ultra-realistic roleplaying scenarios for your kids, which is fuelled by children's natural desire to collaborate, create, and explore new things. When they visit KidZania, they see a hospital, a fire station, a university, etc. – everything that one sees in an actual city. Kids can play the roles of various characters like a fireman, a doctor, a bank employee, etc., all while learning the basic concepts behind all the departments.
KidZania Ticket Booking Options
Usually, KidZania is open between 10.00 am to 09.00 pm, but sometimes it varies on weekends and public holidays. You should book your tickets well in advance to avoid long lines at the Counter. Go for quick online tickets using some of the best KidZania offers to save more on your booking amount.
KidZania Payment Options
KidZania offers various payment options for your convenience with secured and encrypted payment gateways. You can use your credit card, debit card, net banking, BHIM UPI, and even Paytm mobile wallet to make the online payment while booking KidZania tickets. With so many payment options, it's quite easy to book tickets for this fun-filled entertainment and learning space for your children.
KidZania Booking & Refund Policy
One must have a valid printout or SMS of the ticket at the time of entry in case of prior online booking. No refunds are issued once a ticket is booked unless canceled by KidZania. If possible, you should visit during the last three hours of the day as the ticket prices are considerably lower at that time.
5 Things You Didn't Know About KidZania
There are many things about a well-known brand that people are generally not aware of. So, we bring you five such things about KidZania -
KidZania has its currency called KidZos, which the participants can use while performing various roles in the city. Children can also deposit and withdraw it from the bank inside.
The entry to the city is always through an airport with a departure area welcoming kids to an exciting experience.
KidZania is partnered with many real-life brands that add more to the realistic roleplaying experience for the kids. They can work for the real-life brand inside the city.
To ensure that parents know the whereabouts of the kids all the time, a bracelet with an RFID chip is given.
It is linked between the parent and the child. It also prevents the child from exiting the city without the parent.
To ensure the safety of the children no adult is permitted to enter KidZania without accompanied by children.
Avail The Best KidZania Offers On GrabOn
GrabOn has the following offers and deals available for KidZania through the dedicated links in our website and app.
Buy one Kid ticket and get one adult ticket free on Fridays.
Flat 30% off on Kids entry ticket.
Flat 15% off through YES Bank cards
Up to 15% off on Family Combo offer
Up to 60% off on KidZania Annual Pass.