Verified KFC Offers, Coupons & Promo Codes For Jan 2021 - GrabOn
| KFC Offers | KFC Coupon Codes & Promo Codes | Validity |
| --- | --- | --- |
| KFC Offer Today | Up to 40% Off | All Users |
| KFC Wednesday Offer | Flat Rs 350 | All Users |
| KFC New User Promo Code | Flat Rs 50 Off | First 3 Orders (APP Only) |
| KFC Special Offer | Buy 4 Pc Hot & Crispy & Get 4 Strips Free | All Users |
| KFC Yes Bank Offer | Enjoy 25% Discount | Yes Bank Credit/Debit Card |
| KFC Friendship Bucket Offer | Flat Rs 499 | All Users |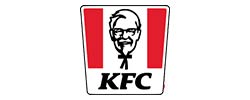 Save More With GrabOn
Because nothing should ever come in between you and food when you are hungry and even when you are not. We at GrabOn provide you with the best offers at KFC. You can get your hands on KFC special offers along with KFC daily offers and discounts on your favorite food, be it burgers or fries. Whether you are craving for the KFC bucket, Zinger burgers or a Krusher to beat the heat. Now you don't have to be content with a little because we make sure you get more for less every time you visit our website. Hurry up! Go gorge on your favorite food item!
Know More About Your Food
Kentucky Fried Chicken or KFC as we know it is the world's second-largest fast-food chain with regards to the sales. It had its genesis on the roads of Korby, Kentucky. Harland Sanders was the first to recognize the scope of this fast food franchising concept, the first one being in Utah. Since that happened, KFC has satisfied the taste buds of millions of people worldwide with amazing offers like KFC Friday offer. With more than 350 outlets in India KFC has its wings spread in almost all parts of the second most populous nation - India. Giving way to KFC coupons India so that you can enjoy the deliciousness of KFC today and every other day with coupons like KFC Tuesday offer.
How To Get Discounts Using KFC Promo Codes?
Go to GrabOn.in type in KFC in the search bar and press enter.
A list of KFC online offers will be displayed like KFC Thursday offer
Click on 'Show Coupon Code' or 'Activate Offer' next to the best deal you see.
Copy the Code and visit KFC website/app.
Select your choice of hot wings, chicken strips, burgers, rice bowls, snacks; apply the discount code at checkout page while placing the order.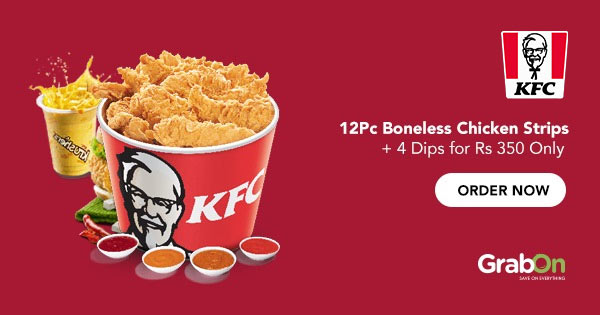 Your Wednesdays Are Sorted With KFC Wednesday Offers
If you feel a little lost on Wednesdays, then you are not alone. It's not the weekend yet and the workweek has been on for two days and when the mid-week crisis hits, it hits you hard. With tons of work piling up on your desk and even more getting done on deadline, you will be spending more time at work. What better than some late-night munchies or a scrumptious lunch? KFC Wednesday offer bucket is definitely something you should be looking out for. The Wednesday offer in KFC is something that should never be missed. It is guaranteed to liven up your day and throw in some much-needed delight amid the busy schedule. Check out the KFC Wednesday offer menu and indulge yourself a little, because you deserve it. As Tom Haverford and Donna Meagle from Pawnee Parks & Recreation department would say, 'Treat Yo Self'! With KFC Wednesday offer to get a bucket with delicious mouthwatering smoky grilled chicken or crispy chicken wings and more.
Your Favorite Fried Chicken Any Day Of The Week
KFC boasts of being the best-fried chicken serving outlet you will ever come across. The KFC bucket that they serve is simply out of this world. Also, their trademark Zingers and Krushers are an all-time favorite with all the foodies. More additions are being made from time to time. And thanks to the KFC offer of the day you can get all the yummy food at a great price. This place makes sure one gets nothing but the best every-time one walks in. The best part of KFC is its affordable pricing and the rest of the weekday offers like the KFC Friday offer. That being said, anybody can satisfy their hunger with the most tantalizing menu that KFC offers.
Serving Delicious Food All Across The Country
From Chennai to Hyderabad and Bangalore all the way to Kolkata, KFC Wednesday offer with a bucket is something that everyone loves. Check out the KFC Wednesday offer, Chennai, for the latest and best KFC coupons in the state. KFC Wednesday offer Bangalore provides the best deals on chicken burgers, crushers and cold drinks from the said store. The city of Nizams is famous not only for its biryani and pearls, now the netizens can enjoy the finger-licking goodness with KFC Wednesday offer Hyderabad. People swear by the Hyderabadi biryani and the haleem but now they can enjoy KFC offers at Hyderabad. If you're from the city of Joy just, things just got a little bit happier with the KFC Wednesday offer Kolkata wherein you can sample amazing tastes at jaw-dropping prices.
Each and every product available at KFC is no doubt finger-licking good. It's chicken bucket and chicken nuggets are definitely to die for. But, if you don't have time to visit the store and enjoy your meal, you can use some incredible coupons of Swiggy and order your fav lip-smacking chicken dish from KFC. As any meal is incomplete without a luscious piece of pizza, you can make use of impressive offers and discounts of Dominos.
Hygiene and Taste At Amazing Price
KFC is known for its delicious chicken wings that everyone loves and not to mention the mouthwatering offers at KFC. They make sure that what they serve is completely hygienic not just appetizing. True to their tagline their food is "Soo...Good". And KFC makes sure nothing ever comes in between you and your palate. They stand second to none when it comes to delight your taste buds with a variety of chicken as well as vegetarian dishes.
Latest News
1 Million meals to the needy - The company has announced that it will serve 1 million meals to the needy. The initiative is supported by Yum! Foundation and the company are all set to donate food to daily wagers and migrant workers who find it difficult to eat, let alone good food for them and their families due to the pandemic.
Food for the hospital staff - KFC is sending meals to doctors, nurses, and other staff of government hospitals to their workplace in Pune, Hyderabad, and Bangalore. The step is a part of their coronavirus relief initiatives in India. The distribution is set to expand to other cities soon. Other food companies that are carrying out the same operation are Pizza Hut and McDonalds.