IRCTC Coupons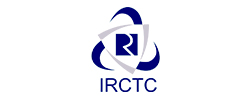 IRCTC Coupons
8 Coupons & Offers
8 Verified
491 Uses Today
IRCTC Coupons & Offers
all (8)

coupons (2)

offers (6)
Cashback

IRCTC Paytm Offer - 50% Cashback

show details
Comments (0)

Coupon/Offer Details:

| IRCTC Paytm Offers | Offer Details |
| --- | --- |
| Paytm Offer | 50% Cashback |
| Applicable on | Booking train tickets through Paytm |
| Promo code is | Required |
| Offer valid for | All users |
| Offer can be used | Once |

Paytm offers 50% cashback up to Rs 100 on IRCTC train ticket bookings.
Use the given coupon code to avail the offer.
This can be used only once per user on a minimum booking of 2 tickets.
Limited period offer.

Rs.75

off

GrabOn Suggested

Flat Rs 75 Instant Discount On Train Tickets | Latest Offer

Cashback

IRCTC SBI Card Offer - 10% Valueback

show details
Comments (0)

Coupon/Offer Details:

Get 10% valueback and various other benefits using this SBI Card Offer when booking IRCTC tickets.Other benefits include:

Save 1.8% on payment gateway charges.
Gain reward points.
Book free train tickets using reward points.

Cashback

Mobikwik Offer - 50% Cashback + 10% Discount

show details
Comments (0)

Coupon/Offer Details:

Get Flat 50% SuperCash of up to Rs 100 when paying through Mobikwik + use SuperCash to get 10% discount.
Offer valid for Mobikwik users only.
SuperCash will be directly credited to the user's Mobikwik wallet within 24 hours.
Limited period offer.
Coupon code not required.

Cashback

Mobikwik New User Offer - Flat 75% Cashback on Rail E-Tickets

show details
Comments (0)

Coupon/Offer Details:

Get Flat 75% SuperCash when booking train tickets on IRCTC & paying through Mobikwik.
Max SuperCash Rs 100.
Offer valid only for new MobiKwik users.
Limited period offer only. Grab it now!

IRCTC Offers & Promo Codes

IRCTC Air Ticket App Offer - Flat Rs 200 Off on First Booking

show details
Comments (0)
Valid till 31st Dec, 18

Coupon/Offer Details:

Get Flat Rs 200 Discount on your first air ticket booking through the IRCTC Air Mobile App.
This is a limited period offer, on first-come-first-serve basis.
It is eligible for all the bookings through the Mobile App only (Android & iOS).
Validity: 31st December, 2018.

Cashback

VISA Offer - Flat Rs 50 Cashback

show details
Comments (0)
Valid till 28th Feb, 19

Coupon/Offer Details:

Get flat Rs 50 cashback on IRCTC ticket bookings. Just follow these steps:

Click "Get Deal" and head to the IRCTC website.
Select Bharat QR (Scan and pay) option on the payment page and select "Make payment"
A QR code will be displayed on screen.
Select the VISA card and complete the transaction.
Post successful transaction PNR will be generated & receive Rs 50 cashback within 30 days.
Offer valid till February 28th, 2019.

Cashback

FreeCharge Offer - 20% Cashback

show details
Comments (0)
Valid till 31st Oct, 18

Coupon/Offer Details:

Get 20% cashback when you book train tickets on IRCTC Website with Freecharge.
Maximum cashback of Rs 50.
Offer valid twice per user during the offer period.
Offer applicable only on the IRCTC Website.
Validity: 31st October, 2018.
Cashback will be credited to Freecharge wallet within 24 hours.

Hot Deal

Paytm Offer - Zero Payment Gateway Charges

show details
Comments (0)

Coupon/Offer Details:

Enjoy Zero Payment Gateway Charges on booking train tickets through Paytm.
Offer valid only if booking value is less than Rs 2000.
Hurry up! Limited period offer.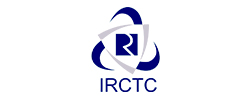 When The Travel Bells Ring
Travelling in trains has always been very exciting. It has a feeling of fond nostalgia attached to it. Going on summer vacations with family or school trips. They all have train journeys somewhere in it. Basically every memory related to travel has most certainly trains in it than anything else. We all want to keep going back to it but one thing we absolutely hate is standing in those rade inducing, patience testing, infuriating lines that never seem to end. No matter how early you go to stand in line expecting to be first, there will be a line. There will always be a line. People *almost* started to make peace with it but then one day in 1999 this website came into the picture. Slowly and steadily things started changing. Even then people weren't that aware of it and continued to stand in those never-ending lines and crib away to glory. But slowly as IRCTC started gaining recognition, more and more people started switching to booking tickets online. Now, who wouldn't choose booking tickets on the web over standing in the sun and waiting for your turn? Over time as people started moving to the digital sphere and even the e-commerce in India started booming, booking tickets started becoming more and easier. And coming to Indian Railways, IRCTC is one name that definitely pops up in everyone's head.
Don't We All Have Preferences?
Once you download the app IRCTC, log in using your existing credentials if you have created an id previously but if you are a new user, fill up your IRCTC registration details. One of the best things about their app is the easy user interface. If you are booking train tickets, all you have to do is fill details such as where you are traveling from (departure city), where you are traveling to(destination city), and the date you want to travel on. They even ask your seat preference and you can choose whether you want the window seat or the aisle one if you are traveling in one of those chair car trains. And for regular ones they ask if you want top, lower, middle or side berths. After booking with IRCTC, you can check for PNR status if your tickets are on the waiting list. It so happens that a lot of times we take a long shot by booking tickets on the waiting list. What follows are anxiety attacks until the time the chart is prepared and that is about 4 hours before the travel. Keep that aside, we have to agree on the fact that with IRCTC, ticket booking has become easy. Not just that you can even check for seat availability too. Choosing the seats of your preference. So if you have issues with your back, hurt your leg, or don't like climbing, you can choose a lower berth at the time of booking.
Another exciting thing about booking the tickets online, whether for vacation or regular travel, there are multiple deals that you can encash, when you have to travel on a regular basis, you are bound to be perpetually tired or at least to the most part and there is always a 0.0001 chance that you might even miss the train. So it will be really helpful if you have IRCTC online coupons to help you save up on your traveling expenses. When you are saving on tickets, you can use the same on so many other as vacations and even travels, in general, have a lot of hidden costs. There are chances of the expenses going way off budget.
Travel With Ease
Waiting at the station or have to pick a relative up from the station. But have a lot of things lined up and don't know how to plan it all? IRCTC's train running status takes care of that. It tells you where the train is exactly in real time, even if there is a lag, it is of a couple of minutes at max.
It is a headache to find train tickets last minute. For well-planned trips, we usually book a couple of weeks in advance. Even then we end up being on the waiting list or probably RAC (Reservation Against Cancellation). What about last minute travels? The ones where you have to book the tickets less than 24 hours before the travel? That's when IRCTC tatkal booking timings come into the picture. Check for all the available trains and book accordingly. They have recently introduced a new segment on their website www.irctc.com. If you have visited their homepage in the recent times, there is a new tab for air travel, IRCTC flights take care of your air travel. And in any situation where you are not able to travel or might have to give the travel a miss or if your tickets didn't get off the waiting list or are stuck in RAC list, there is a neat IRCTC cancellation policy that lets you cancel the tickets for a refund provided that the charts are not prepared. That is up to 4 hours before the IRCTC train schedule that you will regularly be updated with on your registered or given the mobile number and email address. Whatever your reason for travel and whenever it is, don't forget to use GrabOn coupons to save on your tickets.
read more
How To Apply A Coupon for IRCTC?
All you need to do is visit GrabOn.in.
Type IRCTC in the search bar, and select it from the search results.
Choose one from the displayed list of coupons & offers.
Click on "Show Coupon Code" (or "Get Deal" in case its a deal).
Paste the code during your checkout on the IRCTC payments portal.
read more
For Customer Service Helpline, call on 0755-6610661
You can also email them on care@irctc.co.in
For further queries visit www.irctc.co.in/eticketing/contact.jsf
read more
Filters
Show coupons/offers for existing/repeat users
More About IRCTC
IRCTC is a subsidiary of the Indian Railways, an Indian Railway Catering and Tourism Corporation that is currently offering e-ticket booking besides the offline booking options. They have easily adapted tot he advancements in technology and in such a way that it has made life simpler for those who frequently travel via train. You can now book rail tickets not only from your computer but also your mobile. Other than this, you can cancel the tickets, check the PNR status of trains and do more via their website. Recently, they have also added flight and hotel booking options on their website. Life have never been this easy, but for IRCTC when it comes to travelling. If you haven't yet used their portal to book tickets, do it today. And did you know about their Shubh Yatra scheme that are meant for those who travel on a frequent basis? This scheme makes it easier on the pocket of the frequent travellers as you can avail of various discounts and other facilities by joining this scheme. Get the best of IRCTC deals with us only on GrabOn. We have listed down all the offers and discounts on this page.
show more
CLEAR & RESET
APPLY FILTER