Travelling is the most exciting and refreshing thing one can do in life. The thrill of travelling together, especially with life partners helps to explore adventurous places in the world and accept the new set of challenges with grit.
You may even feel like riding a roller coaster where you are completely new to the country, language, culture, food, and more. Trust me; it is fun! You will have countless memories when you are back home. If you are recently married and have filled your bucket list full of tourist places, we are here to help you out!
Here in this article, we have provided a list of popular couple travel bloggers. What are you waiting for? Follow them on social channels and start your travel journey with your beloved ones soon.
List Of Top Couple Travel Bloggers You Must Follow
1. Savi and Vid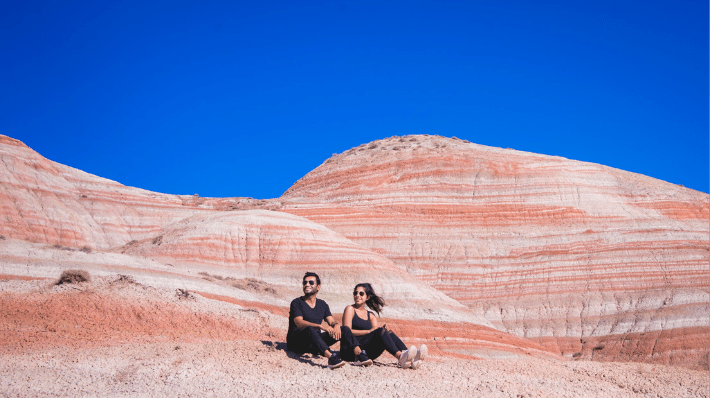 Savi and Vid's love story began in high school and has transformed into an inspiring journey of exploration and self-discovery. Their shared love of travel fueled their passion for storytelling and photography. Over the past decade, this couple has established themselves as trailblazers of professional travel blogging with a follower count of a staggering 1.2M. Their extensive travels have taken them to 107 countries.
Their renowned travel blog, "Bruised Passports," has been praised by prestigious publications such as Outlook Travel and Travel & Leisure. They made appearances on Discovery Channel and National Geographic, and their work has been featured in the news, including CNN, The Times of India, Hindustan Times, and BBC.
Savi and Vid are not only gifted storytellers and photographers, but they are also inspiring speakers. They have delivered TEDx Talks on crafting a life of dreams driven by unwavering passion and relentless determination.
Blog Name: Bruised Passports
Categories: Domestic & International Travel
2. Rishabh and Nirali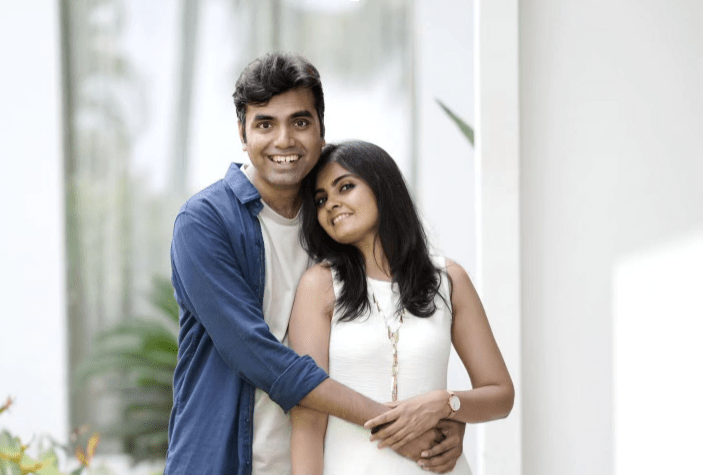 Rishabh and Nirali's love story found its roots in their shared passion for exploration, birthing the enchanting journey of the Gypsy Couple. Together, they embarked on adventures, leaving footprints across Europe, Southeast Asia, South Africa, and China. Yet, their love for their homeland shines bright as they crisscross every corner of India, infusing each place with their relatable romance.
Through their captivating storytelling and soul-stirring photography, Rishabh and Nirali have garnered a dedicated following of 53K, soaring to popularity as travel influencers.
Amidst all the accolades and recognition, the Gypsy Couple collaborates with renowned brands such as Radisson Blu, Nissan, Amazon, Flipkart, Myntra, and more. As their travel tales unfold, readers and viewers are left with an indelible mark that ignites the desire to set forth a life-affirming quest of exploration.
Blog Name: Gypsy Couple
Categories: Romance and Luxury Travel
3. Sandy and Vyjay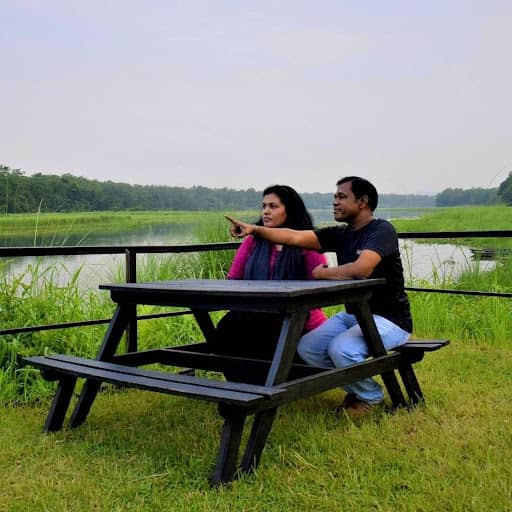 Sandy and Vyjay have traveled across India and 15 countries, including Asia, Europe, Africa, and America. So far, they have been traveling together for more than a decade. Before the start of their travel journey, they worked as Management professionals in Marketing. The endless meetings, PPTs, and corporate grind made them quit the job. Above all, they are passionate about food, photography, movies, and philosophy.
Voyager travel blogger platform helped Sandy and Vyjay to share their stories with the world. They started slowly and soon became a popular platform to share reviews, business promotions, and collaborations with national and international tourism boards.
Blog Name: Voyager
Categories: Travel, Food, and Stay
4. Brinda and Poorna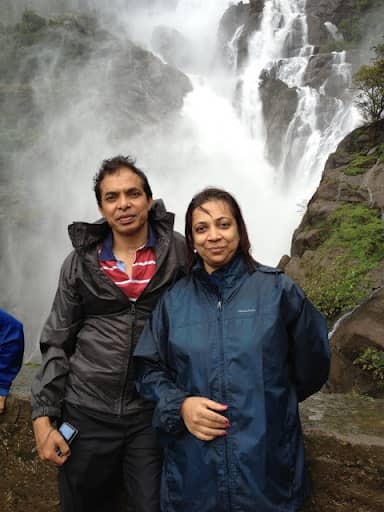 Brinda and Poorna are yet another popular travel couple bloggers in India, residing in Bengaluru, Karnataka. Brinda now works in the Finance and Accounting department at Hewlett-Packard. Besides travel, she loves poetry, movies, and capturing beautiful places. Poorna is currently working at Cisco. He also loves cricket, soccer, gardening, and more. They started this travel journey together 20 years back during their special honeymoon days. This wonderful couple made countless memories by travelling all parts of India and foreign countries.
In the Travel Twosome blog, they have provided detailed information about the heritage, adventure, waterfalls, beaches, and mountains that a couple must surely travel in their lifetime. You will also get to know about the itineraries and road-trip guides for a hassle-free travel experience.
Blog Name: Travel Twosome
Categories: Destinations, Road Trip Guides, and Itineraries List
5. Sandeepa and Chetan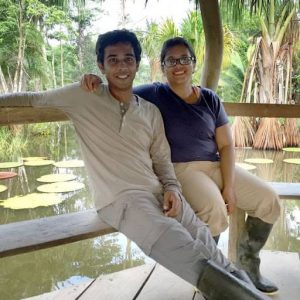 Sandeepa and Chetan, a young and happy couple, live up to their dreams, from traveling in a truck to seeing beautiful places. Sandeepa is an Electronics Engineer who designed circuits earlier and handles the content part. Chetan worked in digital media for 12 years and now became a photographer for this blog. In January 2013, they quit their jobs, sold their house, and decided to travel worldwide.
Initially, they planned for a year-long RTW trip and couldn't make it happen. Soon they fell in love with the road and developed a lifestyle to match their preferences. They believe that with this travel blog platform, they inspire millions of people to make their dream a reality.
Blog Name: SandeepaChetan
Categories:Photos, Destinations, and Talks
6. Harry Naik and Nikita Das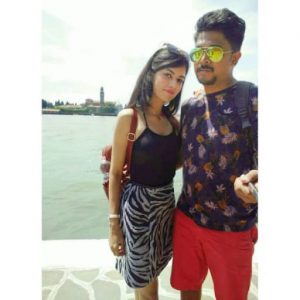 If you're a couple who wants to travel together and share the beauty of foreign lands, then you should follow Harry and Nikita's blog, Vagabond Stories. In Vagabond, you will find more about love and relationships, travel tips, food, restaurants, product reviews, blogging tips, and more.
To talk about their personal life, Harry Naik is a marketing professional with MBA from IIM, Calcutta. He is basically from Orissa but also lived in Gurgaon, India. He has a passion for photography, guitar, drums, and Vagabond stories. Nikita is an ex-advertising professional with a degree in Journalism and English Literature from Lady Shri Ram College for Women. She loves singing, playing guitar, photography, and chocolate.
Blog Name: Vagabond Stories
Categories: Couples Travel, Food, Blogging Tips
7. Charvi and Jaymine Shah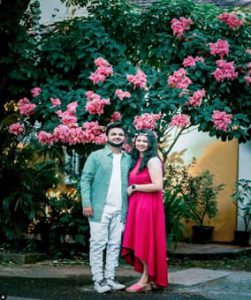 Charvi and Jaymine are a happily married couple who loves to travel. They started the blog "Love with Travel to share experiences about their trips and inspire the readers. In the blog, they also provide detailed information about the restaurants, flights, hotels, maps, and more for those who plan for honeymoon, bachelor/bachelorette parties, and other special occasions.
We all know that travelling is expensive. Do you want to save money? Follow the Charvi and Jaymine blog or social media platforms to know about the saving tips. You can even use the exclusive coupons for travelling whether you pay a visit to foreign countries or within the country.
Blog Name: Love with Travel
Categories: Travel Tips, Reviews, Guides, Travel Accessories
8. Nisha and Vasu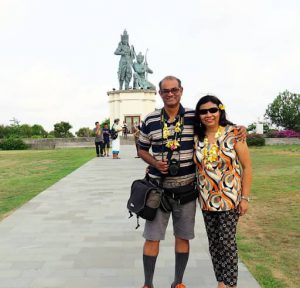 Do you want to start your career in travel blogging? Or have goals to travel worldwide with your partner? You must follow Lemonicks travel blog. This amazing blog was founded by Nisha and Vasu, based in Mumbai, India.
So far, they have visited more than 45 countries including Palestine, Pakistan, Siberia, Philippines, and more. They started this journey to create countless memories and bring you the best experiences all over the world. You will also find extensive offers from MakeMyTrip, Flipkart, Myntra, TataCliq, Amazon, and more. On the whole, if you want to know about the destinations, hotel reviews, food, and flight services, Lemonicks travel blog is the best option.
Blog Name: Lemonicks
Categories: Destinations, Reviews, Food, and Web Stories
9. Kitty Iyer and Naveen Hariharan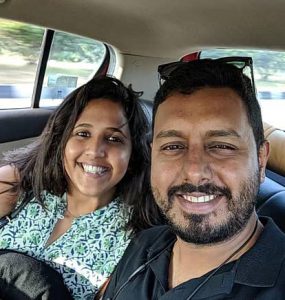 Kitty and Navin's love for road trips and charming woodland cottages is unwavering. They relish exploring a variety of culinary delights, from humble small shop meals to exquisite food courts along the highway. Their adventurous journeys encompass the wildebeest migration, elusive northern lights, snorkelling with turtles, 18,000 ft. skydiving in California, 216m bungee jump in South Africa, trekking the western ghats, self-drive safari in African jungles, and numerous other exhilarating escapades.
In their travel blog, "The Next Checkin," Kitty and Navin generously share their enriching experiences and offer comprehensive insights into foreign countries like South Africa, Malaysia, Finland, Kenya, Philippines, and Italy. Should you seek advice for travelling abroad, feel free to explore their blogs or drop them an email for the best guidance.
Blog Name: The Next Check In
Categories: Countries, Stay, Itineraries, Food & Drinks
10. Krupa and Vishal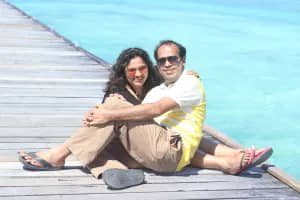 Map Camera Travel, created by Krupa and Vishal, is the inspiring travel blog of an adventurous Indian couple. Armed with a map and camera, they have embarked on countless journeys worldwide. Their aim is to motivate others to explore the world, leading to the inception of the Map Camera Travel blog.
This blog offers a diverse range of content, including travel tips, road trip guides, photography advice, hotel reviews, and features on both Indian and international destinations. Additionally, readers can subscribe via email to stay updated with the latest travel adventures.
Blog Name: Map Camera Travel
Categories: Destinations, Travel Tips, Hotel Reviews
11. Siddharth & Shruti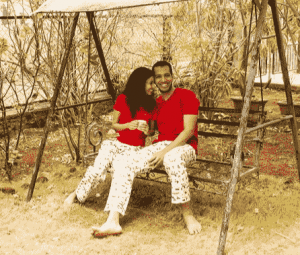 Let us introduce Siddharth & Shruti, the greatest hodophile geeks of all time, to all the travellers out there. Based in Mumbai, Siddharth & Shruti are a geeky, adorable couple who love to travel and cross off everything on their bucket lists. They are also passionate travel bloggers.
To give you an idea of who they are, Siddarth works in the supply chain and Shruti is a designer and illustrator. They also enjoy spending their leisure time at home watching television, eating, playing video games, and relaxing in their pyjamas. "Siddharth & Shruti," their adored and nourishing blog, showcases their love and passion for travel.
This blog is for you if you like visiting foreign countries. Siddharth & Shruti have visited nearly all of the world's popular destinations, including Australia, Iceland, the UK, Portugal, Italy, Spain, several Asian nations, and many other well-known cities. Their blog is the ultimate travel resource; there, you can find all the advice you need on how to travel, as well as information on accommodations and hotel reviews.
Blog Name: Siddharth & Shruti
Categories: National and International Destinations, Accommodations
12. Gargi and Manish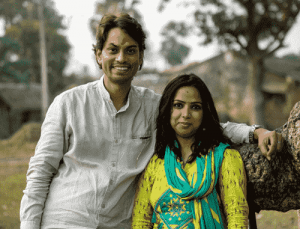 Meet Gargi and Manish, a charming couple from Bihar with an unwavering love for travel. United as one, they are the driving force behind 2Ghumakkar, an avenue where they share their fervour for exploring the world. Nomadic adventurers at heart, they embark on journeys in search of tranquility and wisdom, focusing their blog on unravelling the wonders of India's rich heritage – from majestic palaces to ancient temples, serene lakes, mysterious caves, and more.
2Ghumakkar, born out of their profound admiration for Indian history and culture, has taken them to every corner of the country. Their blog posts offer captivating insights and extensive knowledge of Indian history, uncovering hidden gems you never knew existed. If you are a curious soul eager to delve into the tapestry of Indian history, then do follow 2Ghumakkar.
Blog Name: 2Ghumakkar
Categories: Historical places, Ancient temples, Heritage sites.
13. Rohit and Shivani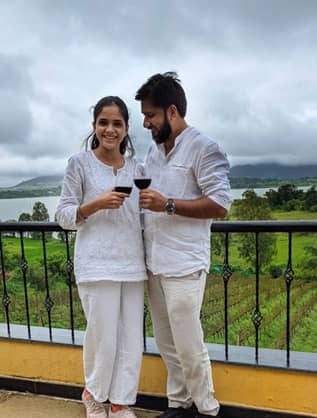 Travel is the ultimate adventure. The best part about it is, it's easy to do as a couple.
You can take care of each other while traveling and save a lot of money. And traveling with your partner can be even more exciting than alone. Rohit and Shivani are no exception.
They love travelling and wish to see the sunrise from different parts of the world. They work with Fortune 10 companies as full-time employees. Shivani is an excellent baker and Rohit does awesome photography work. In "The Traveller Lens blog, they have shared the popular travel destinations in India, Turkey, and Vietnam. If you are a first-time traveler, you can even check out the travel accessories and the wonderful tips to save your money.
Blog Name: The Traveller Lens
Categories: Destinations, Travel Hacks, and Money Saving Tips
14. Joh and Ebychan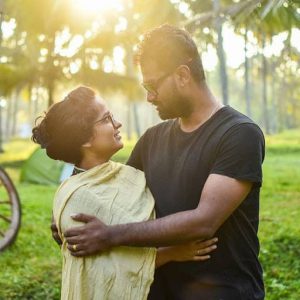 Before becoming life partners, Joh worked at Amazon, and hardcore travel junkie spiced up with a love for food. Ebychan is a professor with a passion for exploring new places and capturing beautiful moments through his photography. After having kids and settling in life, both found their burning desire to travel worldwide. Their initial thought for traveling made them create the Trip Jodi.
Joh and Ebychan say that each trip helped them to make their bond stronger. Further adds being ourselves and living in the way we always wished for, and the lifestyle we choose for ourselves. In the Trip Jodi blog, you will find more about wow stays, travel destinations, and more. Plan a trip with your better half and make every moment enjoyable.
Blog Name: Trip Jodi
Categories: Wow Stays, Tourist Places
15. Donald and Diana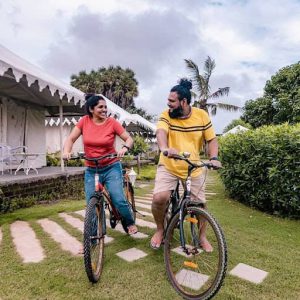 Naughty and Curly, the renowned couple travel blog managed by dynamic working duo Donald and Diana, captivates a substantial Instagram audience. Through their platform, they share their insatiable passion for travel, delectable food experiences, and nature-filled weekends. Their vibrant storytelling and breathtaking photography immerse followers in captivating journeys around the world.
The blog serves as an inspiring haven for wanderlust seekers, igniting the desire to explore new horizons and create unforgettable memories. With a perfect blend of charm and wanderlust, Naughty and Curly continue to leave a lasting impact on the travel community and beyond.
Blog Name: Naughty and Curly
Categories: Travel, Hotel Reviews, and Destinations
16. Aswathi and Unnikrishnan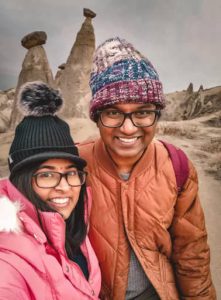 If you love adventure or plan crazy trips with your partner, you should look at the Couple Travel Tales blog. The Couple Travel Tales blog is held by Aswathi and Unnikrishnan, settled in Singapore. They have travelled the world and brought back some awesome pictures, stories while coming back home.
Travel and books are their favourite pastimes; hence they focused on these two aspects in the blog. If you subscribe via email, you will receive updates regarding travel experience as a couple and plan travel within the budget. As both are completely history and cultural buffs, make every trip a perfect blend of adventures.
Blog Name: Couple Travel Tales
Categories: Travel Tips, Musings On Life, Books
17. Ram and Reshma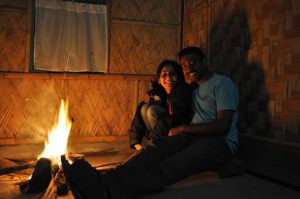 It may not be possible for everyone to fulfill the couple's travel goals in a busy life schedule. Spending some time with your partner during vacation builds a strong bond and makes everlasting memories. Ram and Reshma are among the best couple travelers in India.
Ram and Reshma quit their corporate jobs and started exploring Road Less Travelled to make more memories. They believe that road trips give them the flexibility to traverse places. They started the Screaming Piston blog long back and share the beautiful monuments, beaches, historic places, heritage, adventure places, and more. You can look at the amazing pictures and visit once a year with your life partner.
Blog Name: Screaming Piston (Road Less Travelled)
Categories: Indian Wildlife, Travel Journal
Bottom Line
Wrapping up, travelling is the true form of love, and the travel blogger couples know it well. They embrace the countless journeys together and celebrate their wanderlust through nail-biting stories and visuals.
Do you want to travel solo or have a bucket list to enjoy with your partner? To keep you inspired, we have provided a list of popular couple travel bloggers so that you can travel to the most exotic places globally. Are you planning an adventurous trip with your life partner? What is your favourite destination? Also, please do share your experiences with us in the comment section given below. We are happy to hear from you.