Threads App Statistics: Meta's Threads, a social media platform and social networking service with a similar interface to Twitter, took the world by storm upon its launch on July 5th. Within a few hours, Threads became the fastest-downloaded app in history, surpassing even the record set by ChatGPT. It garnered millions of users within just 60 minutes of its successful launch. To shed light on this massive rise, we have gathered key statistics about the Threads App, along with bonus content.
Meta Threads Latest User and App Statistics
150 Million Downloads – July 2023: Meta's Threads achieves a remarkable milestone, surpassing 150 million downloads globally and attracting an astounding 100 million active users within its initial three days of launch.
Sensor Tower's data reveals a significant decline in traffic to Threads, with a staggering 75 percent drop observed since its initial launch on July 6.
Currently, India has the largest share of users, estimated to be around 32%.
Brazil ranks second with 22% of sign-ups.
The US holds 16% of the app's user base.
Mexico and Japan account for 8% and 5% of the app's users, respectively.
What is Threads App by Meta?
Threads is a new app developed by the Instagram team, allowing users to share text updates and participate in public conversations.
Users can log in using their Instagram accounts and create posts with up to 500 characters, including links, photos, and videos up to 5 minutes long.
The app's interface resembles Twitter, featuring text-based posts, real-time conversations, and the option to share photos and videos.
With the advantage of Meta's scale and infrastructure, Threads aims to simplify onboarding and enhance user retention.
The app offers engagement features like liking, commenting, and re-threading, while also supporting both followed and unfollowed threads.
Verified accounts, indicated by blue checkmarks, are likely available through Meta's paid verification program, further establishing credibility.
Threads Overview
| | |
| --- | --- |
| Launch Date | July 2023 |
| HQ | Menlo Park, California |
| Parent Company | Meta Platforms |
| Key Team | Adam Mosseri (CEO), Mark Zuckerberg (Meta CEO) |
| Owner | Meta Platforms |
| Industry | Social Media |
| Area Served | Worldwide (not yet available in the EU) |
Quick History
The development of Threads commenced in January 2023, shortly after Elon Musk acquired Twitter. While the Meta team initially discussed integrating Instagram Notes, a text-based feature, into Instagram, they had a grander vision in mind. They were already contemplating the creation of a distinct, independent app centered around text-based interactions, which eventually led to the birth of Threads.
Launched on July 5th, 2023, Threads aims to provide a more personal and intimate way for users to connect with friends and family. The app primarily focuses on text-based posts but also allows for the sharing of images and videos. Notably, the app offers compelling features like the ability to see recent profile visitors and send disappearing messages, enhancing the user experience.
Mixed Reactions
Since its launch, Threads has garnered mixed reactions worldwide. Some users have praised its simplicity and feature-rich nature, while others consider it just another social media platform lacking novelty. Nevertheless, Threads achieved instant success, surpassing 100 million downloads in a mere five days, setting a new record for the most successful social media launch in history.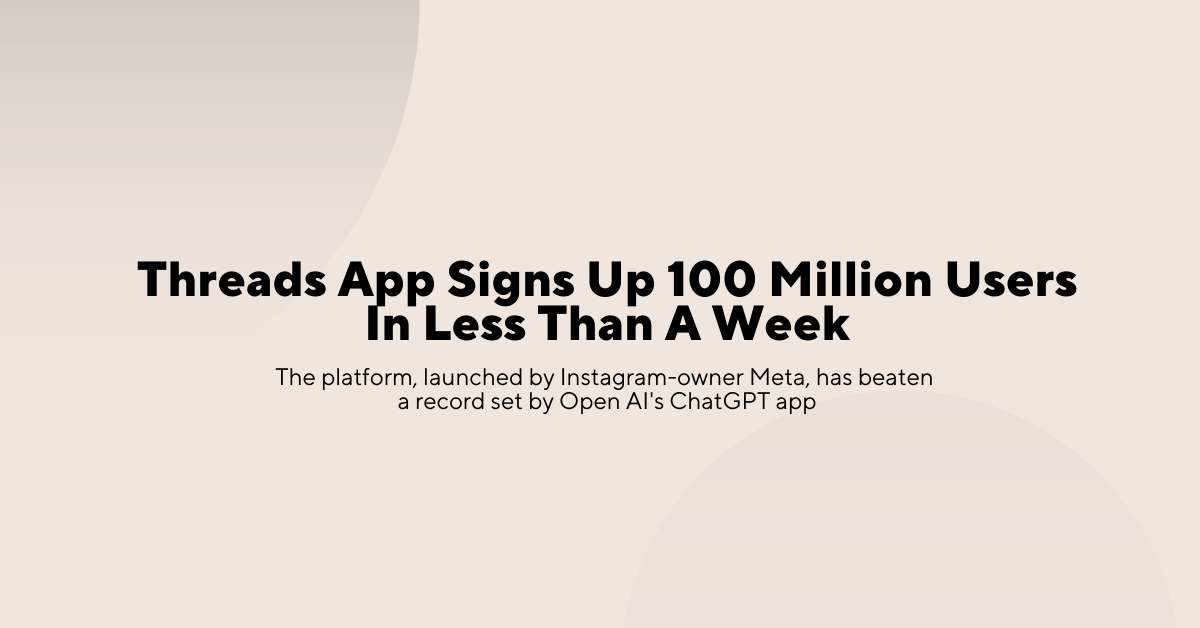 Here's a timeline of key events in the Meta Threads journey:
January 2023: Development of Threads begins.
March 2023: Information on Threads is released.
June 2023: The Verge publishes details of an internal company-wide meeting about Threads.
July 3, 2023: Threads appears on the Apple App Store, with a planned release date of July 6.
July 5, 2023: Threads app released 24 hours ahead of schedule
Threads app launched in more than 100 countries
Threads app gains a live user base of over 10 million people worldwide
Early celebrity adopters include Shakira, Coldplay, and Gordon Ramsay
Meta's share price increases, closing at $294.37
Meta's trading volume is more than three times higher than on July 3rd
July 6, 2023: Threads becomes the fastest-downloaded app in history
Top Meta Threads Statistics (Editor's Pick)
Threads achieved a user base of 2 million within just two hours after its launch, surpassing ChatGPT's record.
According to reports, Threads reached 1 million users in less than an hour, setting a new record.
More than 100 million Threads were shared within a 24-hour period.
Threads App accumulated 100 million users within a span of five days.
The largest user demographic on Threads comprises individuals from Generation Z.
The majority of sign-ups on the Threads App were from users utilizing iOS devices.
On the day of its release, Threads App was downloaded in several countries, with the following distribution: India (22%), the United Kingdom (20%), Brazil (16%), and the United States of America (14%).
Male users constitute the majority on Threads App, accounting for 68%, while female users comprise only 32%.
Among male users, 28% belong to the age group of 23 to 25 years, while 11% of males and 5% of females fall within the 18 to 25 years age range.
At its current rate of user sign-ups, Threads is on track to surpass Twitter's monthly active user count by September.
Analysts predict that Threads will generate $8 billion in revenue by 2025.
Threads is accessible to users in more than 100 countries, encompassing the United States and the United Kingdom, yet it is not currently available in the European Union.
Threads quickly rose to become the top-ranked app on Apple's App Store and became a popular trending topic on Twitter.
The onboarding process for Threads can be completed in less than 10 seconds.

Threads User Statistics By Demographics
Based on the latest data, the Gen Z age group represents the largest segment of Threads users, comprising 42% of the user base, specifically between the ages of 18 and 25.
Among Threads App users, males constitute the majority at 68%, while females account for 32%.
In terms of age groups, 28% of males fall within the 25 to 33 years range, and 5% of females are aged between 18 to 25 years.
Only a small percentage of males (3%) and females (2%) are above the age of 45.
The United States, Canada, and the United Kingdom are the most popular countries among Threads users.
In July, as per data provided by Sensor Tower, the traffic to Threads has experienced a significant decline of 75 percent ever since its launch on July 6th.
Threads App User Engagement Statistics
The iPhone is the preferred device for Threads users, with 75% of users using an iPhone.
According to reports, the evening hours are the most popular time of day for using the Threads App, with a record 50% of users engaging with the app between 6 pm and 10 pm.
Users on Threads are highly engaged, spending an average of 30 minutes or more on the app each day.
However, according to the latest reports from SimilarWeb, the average time spent on the app has decreased to 10 minutes.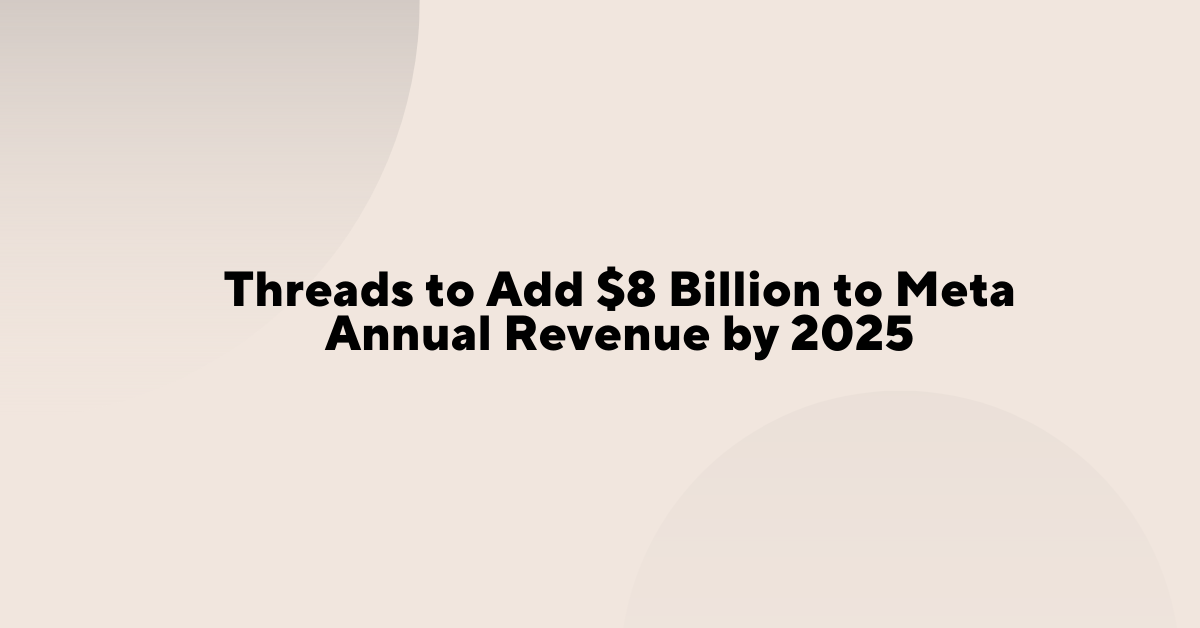 Threads users are active in sharing content, with the average user sharing more than 10 posts daily.
The most popular features among users include the built-in chat app, disappearing messages, and the ability to share updates with select groups of friends.
Threads App Statistics for Most-Followed Users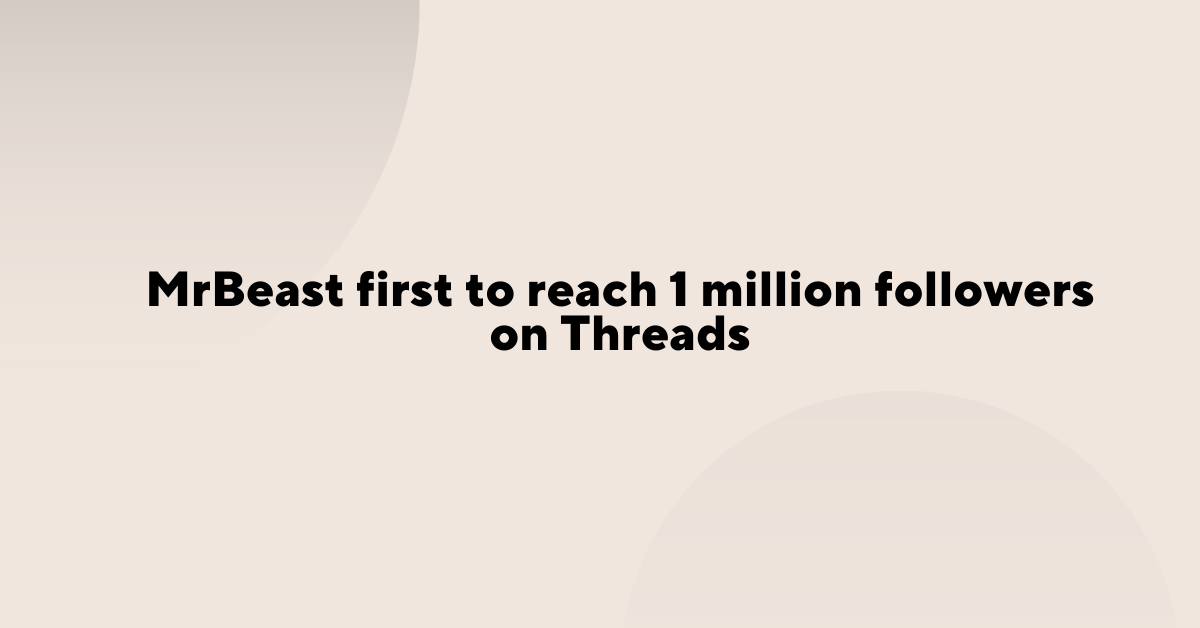 Mr. Beast (Jimmy Donaldson) accomplished an extraordinary feat on Threads, becoming the fastest individual to amass 1 million followers. He established his account on July 6, 2023, and achieved this milestone, earning a place in the prestigious Guinness Book of World Records.
In addition to Mr. Beast, several other notable figures have garnered a substantial following on the Threads App. Some of these prominent accounts include Kim Kardashian, Selena Gomez, Shakira, Jennifer Lopez, Mark Zuckerberg, Khloe Kardashian, Kourtney Kardashian Barker, Ellen DeGeneres, Olivia Rodrigo, and many more.
Threads App Market Share And User Growth
According to a report by Evercore, Threads is projected to contribute a staggering $8 billion to Meta's annual revenue by 2025.
The report further highlights that Threads has already garnered 1 million sign-ups and is on track to reach an impressive milestone of 1 billion users in the near future.

Getting Started with Threads App
Log in to Threads using your existing Instagram account.
Your Instagram username and verification will carry over to Threads.
Customize your profile specifically for Threads if desired.
Users under 16 (or under 18 in certain countries) will have a private profile by default.
Follow the same accounts you do on Instagram and discover new users who share your interests.
Threads App Vs Other Platforms
Threads Lightening Speed Record

Time Taken For Individual Platforms To Reach 1 Million Users

Platform
Launched
Record 1 Million
Threads
2023
1 Hour
ChatGPT
2022
5 Days
Instagram
2010
2.5 Months
Spotify
2008
5 Months
Dropbox
2008
7 Months
Facebook
2004
10 Months
FOURSQUARE
2009
13 Months
Twitter
2006
2 Years
Airbnb
2008
2.5 Years
Kickstarter
2009
2.5 Years
Netflix
1999
3.5 Years
Threads has quickly become one of the most rapidly downloaded apps or adopted online services.
It surpassed the AI tool ChatGPT, which gained one million users within five days of its November launch last year.
Instagram achieved one million users in just 2.5 months, while Spotify and Dropbox accomplished this in five and seven months, respectively.
Services like ChatGPT, Spotify, and Dropbox offer immediate practical use, contributing to their rapid adoption.
Social media services other than Instagram typically took longer to reach one million users, but these services were also founded over 15 years ago.
The data indicates that as the internet became more pervasive, online services were able to attract users at a faster rate.
Netflix, when launched as a subscription service in 1999, took another 3.5 years to reach the one million user mark as a streaming and movie mail-order service.
Threads App Features
Share updates with a select group of friends: Threads is designed to be a more personal and intimate social media experience than Instagram or Facebook. It allows users to share updates with a select group of friends, which is called a "thread".
Take a break: Threads enables users to take a breather if they find themselves spending excessive time on the app. To access this feature, simply navigate to your profile, tap the two lines located in the top right corner, select "Account," and then choose "Take a Break." With the current version of the Threads App, users have the flexibility to specify the number of consecutive minutes they wish to scroll before receiving a pop-up reminder. This reminder serves as a gentle nudge, encouraging users to acknowledge their scrolling time and take a break to engage in other activities for a while.
Heart Like: You can express your appreciation for a post by tapping the heart icon, just like on Instagram.
Reply: The quote bubble icon allows you to reply directly to the thread, initiating a conversation. On Instagram, tapping this icon takes you to the comment section.
Disappearing messages: Threads includes a built-in chat app that allows users to send disappearing messages. These messages will automatically delete themselves after a certain amount of time, which can be helpful for keeping conversations private.
Posts: Posts can consist of up to 500 characters of text or 5 minutes of video content.
Repost: By tapping the repost button, you have the option to repost the thread directly to your Threads profile or quote the thread while adding your own thoughts.
Share: The paper airplane icon enables you to share the post on other platforms. You can add the thread to your Instagram Story or feed, post it on Twitter, copy the link, or share it through other means.
Stories: Threads allows users to share their Threads post to their Instagram Stories, which are short, ephemeral posts that disappear after 24 hours. These Threads' posts can also be shared to any other platform using a link.
Notifications: Allows users to adjust the push notifications coming from Threads if they ever get distracted. You can find it by visiting your profile, then tapping on the two lines in the top right corner > Notifications.
Link: Allows users to add a clickable link to their Threads bio. To add a link, visit your profile, choose Edit profile, and then add the URL to the Link section, and tap Done.
Reactions: Users can react to posts with emojis, just like on Instagram and Facebook.
Live location: Users can share their live location with their thread, which can be helpful for planning meetups or keeping track of each other's whereabouts.
Sticker packs: Threads has a variety of sticker packs that users can use to decorate their posts and messages.
Dark mode: Threads supports dark mode, which can be helpful for reducing eye strain in low-light conditions.
Privacy settings: Users can control who can see their posts and messages, and they can also choose to have their posts and messages disappear after a certain amount of time.
Security features: Threads includes a number of security features, such as two-factor authentication and the ability to report abuse.
Cross-platform compatibility: Threads is available on both iOS and Android devices, so users can easily connect with their friends no matter what platform they use.
Free to use: Threads is a free app, so users can download and use it without having to pay anything.
Easy to use: Threads is designed to be easy to use, so users can quickly get started sharing updates with their friends.
Fun and engaging: Threads is a fun and engaging app that can help users stay connected with their friends and family.
Upcoming Threads App Features
Upcoming updates will introduce a new home feed for posts.
Users will have the ability to edit posts.
Translation into multiple languages will be available.
Improved user interface for switching between different Threads accounts. Popularly called the multi-account functionality.
Currently, Threads does not allow using Hashtags, but in the near future, the company has announced to roll out Hashtags, which has been a cornerstone of all content discovery on various social media platforms.
Treads App will also have an 'Only Followed' tab that allows users to personalize and focus their feed.
Threads will introduce quality setting options for multimedia uploads, as previously announced. However, sources indicate that the implementation of this feature might experience some delays.
Direct Messaging (DM) functionality is going to be another major rollout.
Double tap to like.
Will Threads App Have Ads?
As per reports, Threads currently does not have an option that allows marketers to purchase ads on the app. However, it is said that the app is expected to become a significant player in generating revenue for the company in the near term.
What Are The Benefits for Marketers?
As said, although ads are not supported on Threads as of now, brands can still benefit from creating a profile to grow their organic traffic and reach new audiences until paid options become available on Threads. Here are a few ways brands/marketers can benefit:
Simplify the transition process by leveraging the direct link between Threads and Instagram. This integration enables you to effortlessly move your brand communications across platforms, making the process much smoother.
Expand your reach to a wider audience. With Threads' integration with Instagram, your posts will be visible to your existing Instagram followers. You can also invite them to follow you on Threads and discover new users who align with your interests.
Cultivate stronger relationships with your audience. Threads provides a more personal platform than Instagram, allowing you to connect with your audience on a deeper level. Share behind-the-scenes content, address questions, and develop a genuine connection with your followers.
Drive leads and sales. Utilize Threads as a powerful tool for generating leads and boosting sales. Announce new products, offer discounts, and share promotional content. Additionally, leverage Threads to run contests and giveaways, attracting potential customers.
Gain valuable feedback from your audience. Threads serves as an effective means to gather feedback from your audience. Pose questions, conduct polls, and seek their input on your products, services, and marketing campaigns. This feedback will enable you to enhance your offerings and refine your marketing strategies.
Threads Vs Twitter
| | | |
| --- | --- | --- |
| Feature | Meta Threads | Twitter |
| Launch date | July 5, 2023 | March 21, 2006 |
| Platforms | iOS, Android | iOS, Android, Web |
| Focus | Personal and intimate | Public and global |
| Features | Disappearing messages, built-in chat app, Stories, reactions, live location, chat heads, sticker packs, dark mode, privacy settings, security features | Tweets, replies, retweets, likes, quote tweets, polls, Spaces, Fleets, Moments, Lists, Bookmarks, Communities |
| User base | 100 million+ | 330 million+ |
| Market share | N/A | 10% |
| Growth | Rapid growth in the first week after launch, but growth has slowed since the | Slow and steady growth |
| Pros | Focus on privacy, built-in chat app, integration with Instagram | Global reach, large user base, variety of features |
| Cons | Still a relatively new app, so it lacks some of the features of other social media platforms | Can be overwhelming for some users, and has been criticized for its moderation policies |
Frequently Asked Questions
1). Who owns Meta Threads?
Meta Threads is owned by Meta Platforms, Inc., formerly known as Facebook, Inc. Meta Platforms is a multinational technology conglomerate based in Menlo Park, California. It is the parent company of Facebook, Instagram, WhatsApp, and other social media platforms.
2). Can I uninstall/delete Threads app?
At present, it is not possible to delete a Threads account without deleting your Instagram account. However, as per the latest reports, Adam Mosseri, the head of Instagram, has stated that the Threads team is actively working on finding a solution that would enable users to delete their Threads account independently without affecting their Instagram profile.
Conclusion
In conclusion, the user statistics of Meta's Threads App paint a vivid picture of its widespread popularity and engagement. With an impressive user base of millions, it has become a go-to platform for connecting and sharing thoughts. The app's seamless interface and innovative features have captivated users, leading to an average daily usage time that speaks volumes about its addictive nature. As Meta continues to evolve and enhance the Threads app, we can expect even greater numbers and deeper integration into our digital lives.