As this indispensable kitchen appliance continues to grow in popularity, we've done our research to bring you detailed insights and unbiased reviews of the top contenders available in the electric kettle segment in India. Packed with state-of-the-art features, customized to suit the Indian household, these electric kettles are designed for efficiency, durability, and convenience.
Join us as we boil down the key differences between these brands, and help you make an informed choice for your perfect cup of tea or instant meal solution. Discover the leading industry players, their unique selling points, and the innovative technology that sets them apart in this comprehensive guide on electric kettle brands in India.
Our Top Picks:
| | |
| --- | --- |
| Best Overall | Pigeon |
| Most Cost-Efficient | Prestige |
| Maximum Capacity | Tesora |
| Highest Warranty | Cello |
Top 10 Electric Kettles to Buy Online
Electric kettles have become an indispensable appliance in the modern Indian household, with the growing preference for hassle-free boiling and brewing needs. Currently, the market is flooded with numerous brands, each vying to be the go-to choice of consumers seeking innovative features, energy efficiency, and affordability. In this article, we delve into the top electric kettle brands dominating the Indian market, evaluating their offerings, and guiding you towards making an informed purchasing decision.
Last update was on: March 27, 2023 2:32 pm
Top 10 Electric Kettle Brands
Pigeon Electric Kettle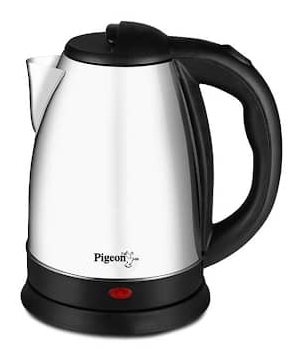 If you are looking for energy-efficient models of electric kettles, give Pigeon's Electric Kettle a shot.  It is made of a durable plastic and its stainless steel body keeps the water hot for a long time
Additionally, it has a 360-degree swivel base with a 1-meter cord length attached for a tangle-free connection. Due to its lightweight design, you can easily carry it during holiday trips and other vacations. The lid is made of BPA-free plastic to ensure safety while pouring water into the jar.
| | |
| --- | --- |
| Type | Electric |
| Wattage | 1500 watts |
| Capacity | 1.5 litres |
| Warranty | 1 year |
| Weight | 656 g |
| Dimensions | 20*18*17.5 cm |
Pros
Budget friendly
Durable plastic and stainless-steel materials
5-7 minutes of boiling time
Seamless locking mechanism 
Cons

Butterfly EKN Electric Kettle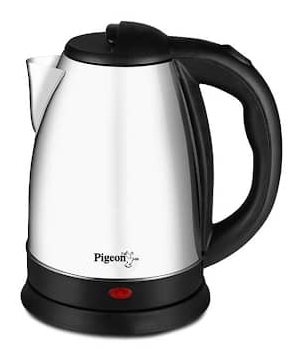 Butterfly EKN Electric Kettle is a sleek and efficient kitchen appliance designed to cater to your hot beverage needs. Equipped with automatic cut-off and ergonomically designed handles, this lightweight kettle boasts a unique design with a stunning finish.
Its concealed heating element ensures easy cleaning and durability, while the stainless steel construction ensures long-lasting quality. The swivel power base allows for versatile plug-in orientation and convenient handle positioning.
| | |
| --- | --- |
| Type | Electric |
| Wattage | 1500 W |
| Capacity | 1.5 litre |
| Warranty | 1 year |
| Weight | 940 g |
| Dimensions | 19.5 x 15.2 x 21 cm |
Pros
Quick heating and heat retention for lasting warmth
Concealed element for easy cleaning and corrosion resistance
Swivel power base for adaptable jug handle positioning and increased flexibility
Cons

Limited capacity may require multiple refills for serving larger gatherings
The exterior may become hot to touch during use
Havells Aqua Plus Electric  Kettle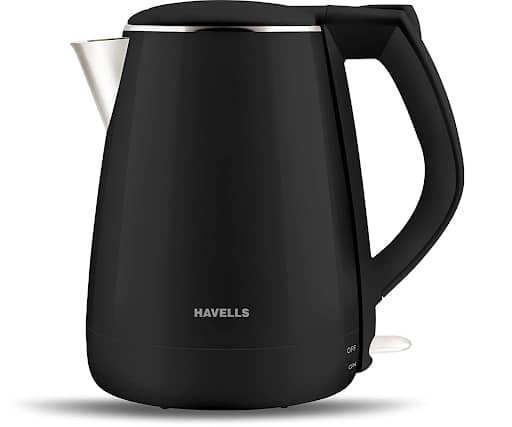 Havells is a leading manufacturing company in India that strives to provide home and kitchen appliances with world-class quality. What's so unique about the brand is that 90% of its products are energy-efficient.
Equipped with an auto shut-off function and 360° cordless design, it ensures users' safety and a hassle-free experience. Its stainless steel interior ensures durability while the wide mouth design ensures effortless filling, pouring, and cleaning.
| | |
| --- | --- |
| Type | Electric |
| Wattage | 1500 watts |
| Capacity | 1.2 litres |
| Warranty | 2 years |
| Weight | 1 kg 70 g |
| Dimensions | 22.6*21.4*19.5 cm |
Pros
Auto shut-off feature
Cool touch outer body
Lightweight and easy to carry
Made of 304-grade stainless steel interior
Wide mouth for easy filling of water
Cons

Prestige Electric Kettle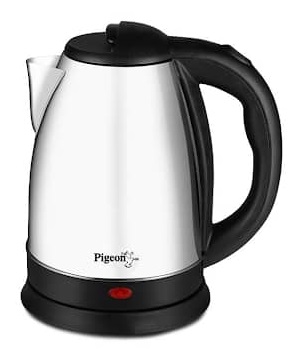 Prestige is a well-known brand of electrical appliances that offers a wide range of products such as cookers, kitchen appliances, home appliances, and personal care products. The brand has a reputation for providing quality products at affordable prices, making them a popular choice among consumers. With a focus on innovation and customer satisfaction, Prestige has become a trusted brand for households and commercial settings alike.
This Electric Kettle from Prestige features a 360-degree swivel base for effortless manoeuvrability, and a one-touch lid lock for added safety. Its mesmerizing glow during the heating process adds a touch of elegance, while the automatic cut-off ensures energy efficiency and prevents overheating. Crafted with an easy-to-clean interior, this kettle is ideal for your everyday brewing needs.
| | |
| --- | --- |
| Type | Electric |
| Wattage | 1500 watts |
| Capacity | 1.5 litre |
| Warranty | 1 year |
| Weight | 1 kg 60 g |
| Dimensions | 21*26*21 cm |
Pros
Budget-friendly nature
Elegant stainless steel design
Single-touch lid locking mechanism
Exceptional customer support services
Wide opening for easy cleaning
Cons
Efficiency decreases after a few months
Smells of burning of plastic
KENT Electric Glass Kettle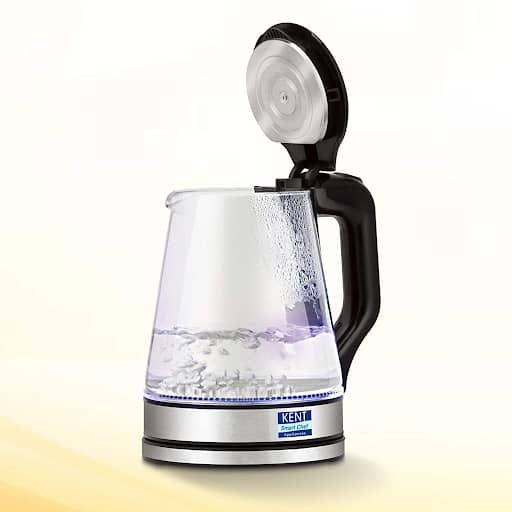 If you are looking for a versatile and elegant appliance designed to make your hot beverage preparation effortless and efficient, the Kent Electric Kettle is what you need. This durable kettle features an impressive 360-degree rotating body, complete with a detachable power base, offering a seamless and convenient operation.
Their innovative boil drying and overheating protection system ensures maximum safety, while the borosilicate glass body houses a concealed stainless steel heating element with absolutely no plastic elements, making it perfectly safe for everyday use. Experience the perfect blend of style and performance, thanks to the kettle's corded operating mode, user-friendly water level indicator, and ergonomic handle, along with the addition of an illuminated switch-on indicator.
| | |
| --- | --- |
| Type | Electric |
| Wattage | 1500 watts |
| Capacity | 1.7 liter |
| Warranty | 1 year |
| Weight | 800 g |
| Dimensions | 22*16*24 cm |
Pros
Stylish and ergonomic handle
Detachable power base
Borosilicate glass body
Concealed heating element
Extra storage capacity to boil and store water
Cons

Smells weird after usage
Support services can be improved
Inalsa Electric Kettle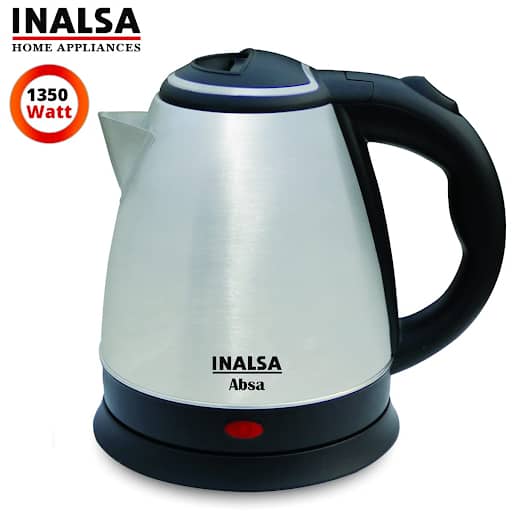 Inalsa Electric Kettle is a rapid water-boiling marvel with an impressive 1.5 L capacity to cater to your entire family's hot beverage needs. Experience the convenience and efficiency of boiling water in just 2-3 minutes, thanks to the concealed heating element that ensures uniform heating and a clutter-free kitchen.
Designed with your safety in mind, this kettle is equipped with multiple protection features, including automatic shut-off, dry boiling, and over-heat protection, giving you peace of mind as you prepare your favourite hot drinks. The sleek cordless design allows for easy mobility and serving, along with effortless cleaning after use.
| | |
| --- | --- |
| Type | Electric |
| Wattage | 1350 watts |
| Capacity | 1.5 litre |
| Warranty | 1 year |
| Weight | 680 g |
| Dimensions | 23.3*17.6*21.5 cm |
Pros
2-3 minutes of boiling time
Large capacity to store water
Cord winder for easy placement
Suitable for home and offices
Stainless steel material ensures long lifespan
Cons
Bit smelly at times
Need to hold the button for a long time to run on
Cello Quick Boil Electric Kettle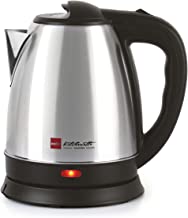 Known for its high-quality products and competitive pricing, Cello prides itself on its commitment to providing affordable, high-performance electronics that are designed with the needs of its customers in mind. With a focus on innovation, quality, and value, Cello has become a popular choice for consumers looking for reliable and feature-rich electronic products.
Considered a premium kitchen appliance, Cello's Quick Boil Electric Kettle is designed with a sleek stainless steel body that is not only durable but also adds a touch of elegance to your kitchen. With a generous capacity of 0.5 liters, this electric kettle is perfect for small families or for use while traveling, and it comes with two utility travel cups for added convenience.
| | |
| --- | --- |
| Type | Electric |
| Wattage | 1000 W |
| Capacity | 0.5 litres |
| Warranty | 2 Years |
| Weight | 540 g |
| Dimensions | 16.7 x 18 x 11.6 cm |
Pros
Stainless steel body provides durability and a stylish appearance
Auto shut-off function ensures safety and energy conservation
Portable design with two accompanying travel cups makes it travel-friendly
Cons
Half-liter capacity may not be sufficient when preparing food in batches
Orpat Cordless Kettle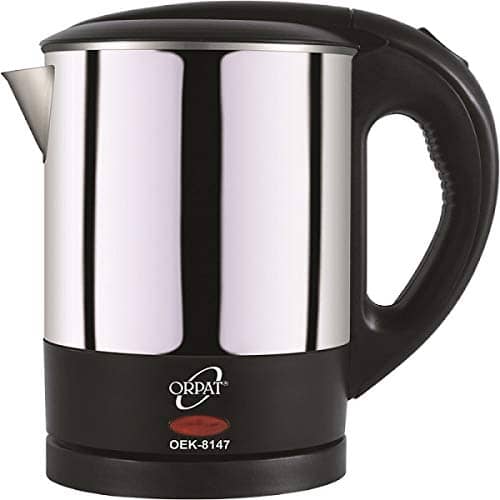 With a generous 1-litre capacity and a brushed stainless steel body, the Orpat Electric Kettle is both functional and visually appealing. The 360-degree swivel base provides ease of use, while the concealed heating element ensures quick and efficient boiling.
The handle of the kettle is ergonomic in style to ensure smooth gripping. The single-touch lid locking mechanism prevents leakage of water from the top. With the help of the auto shut-off feature, the device automatically gets switched off when it reaches the maximum set temperature, thereby minimizing the risks of damage.
| | |
| --- | --- |
| Type | Cordless |
| Capacity | 1 litre |
| Warranty | 1 year |
| Weight | 699 g |
| Dimensions | 10*10*10 cm |
Pros
Auto cut-off feature
Simple and easy to use
10-day replacement guarantee
Overheat and boil dry protection
Single-touch lid locking mechanism
Cons
Leakage issues
Customer support services can be better
Tesora Premium Electric Kettle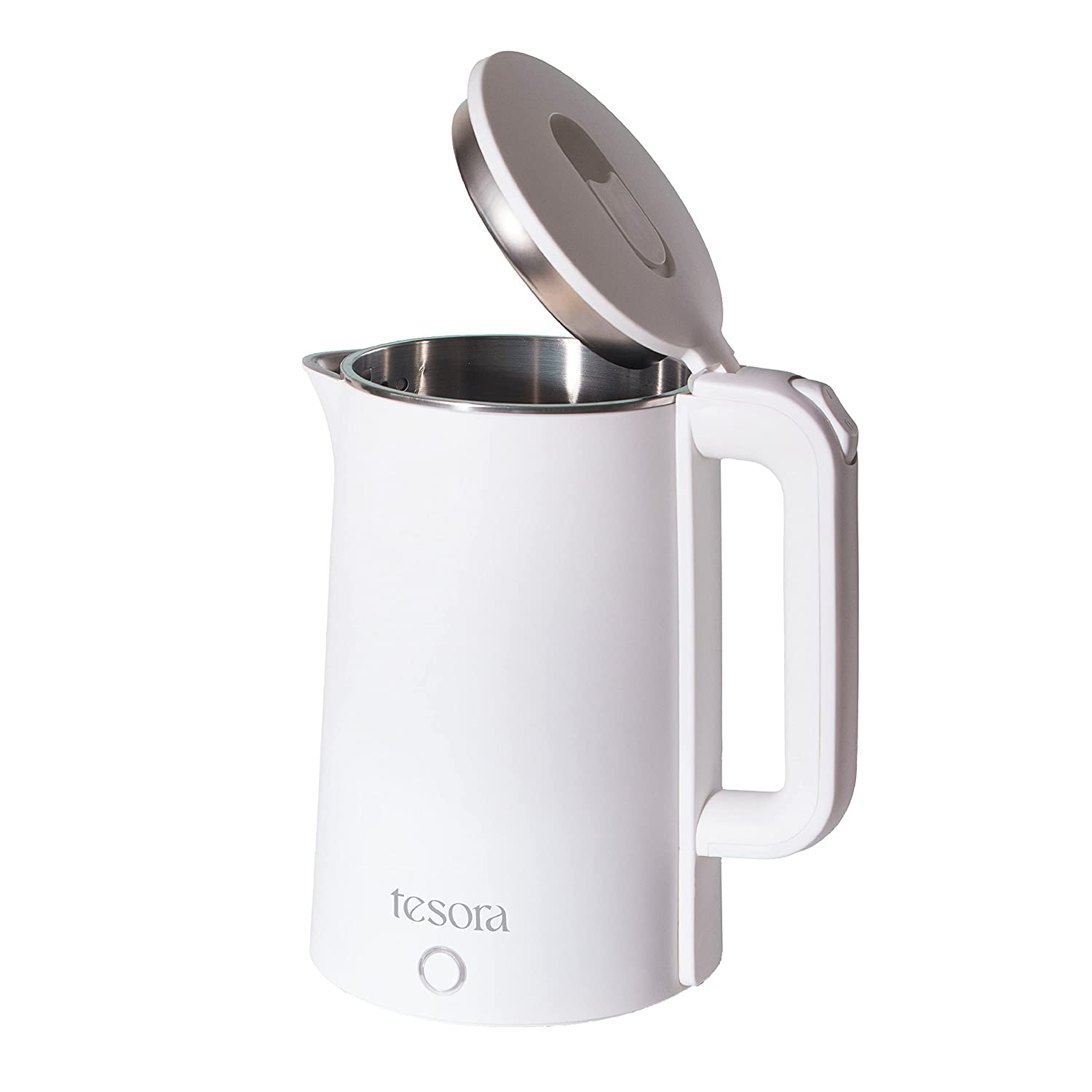 Boasting a pristine stainless steel interior, Tesora Premium Electric Kettle has a superior cool touch outer body, and an exquisite textured finish, this kettle combines a sleek design with practicality. With a generous 1.8-litre capacity, our cordless kettle ensures efficient and rapid boiling thanks to its advanced heating technology.
The wide mouth feature allows for easy filling, pouring, and cleaning while reducing spillage. Its concealed heating element and automatic shut-off when the water reaches a rolling boil or if there's no water left in the kettle ensure enhanced safety and durability.
| | |
| --- | --- |
| Type | Electric |
| Wattage | 1500 W |
| Capacity | 1.8 litre |
| Warranty | 1 year |
| Weight | 900 g |
| Dimensions | 25 x 22 x 13 cm |
Pros
Fast boiling time made possible by advanced heating technology
Enhanced safety with the concealed heating element and automatic shut-off feature
Easy to use and maintain due to its spacious wide-mouth design
Cons
The on/off switch heats up
AmazonBasics Electric Kettle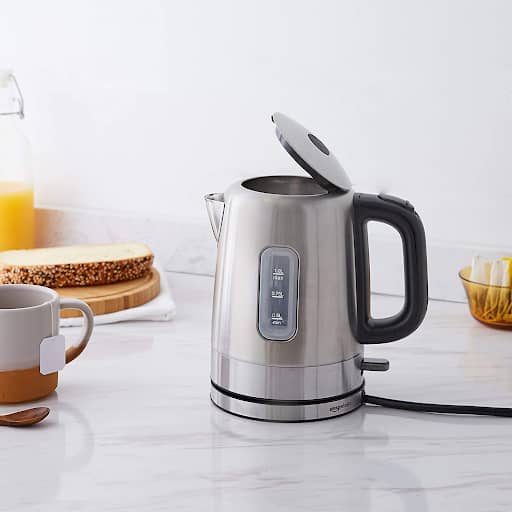 The AmazonBasics Electric Kettle is a premium, high-performance kitchen appliance made from rust-resistant stainless steel. This kettle features a high-wattage, concealed heating element that ensures rapid boiling, while the external water level indicator conveniently displays the exact water volume.
Designed for utmost portability and functionality, our lightweight kettle is equipped with a steam sensor and auto-shutdown technology to prevent overheating and dry boiling. The wide mouth allows for easy cleaning, and the cord winder at the base provides organized storage. With a one-touch lid and an on/off indicator, experience effortless filling and pouring with each use.
| | |
| --- | --- |
| Type | Electric |
| Wattage | 2200 watts |
| Capacity | 1 litre |
| Warranty | 1 year |
| Weight | 1 kg 290 g |
| Dimensions | 20.2*13.6*19.8 cm |
Pros
High wattage for faster operation
Exceptional steam sensor functionality
Made of rust-free materials
Lightweight and portable nature
Easy to clean and maintain
Cons
How To Pick Best Electric Kettles for Home & Commercial Places
Electric kettles are indispensable purchases regardless of whether you are a student, an office-goer or a homemaker. However, there are several parameters one needs to consider, like capacity, materials, electric corded type, heating element, temperature settings, in-built sensors, wattage, that need to be considered before purchasing one to assure its safety and durability. We've compiled a list of a few of the most important factors to look for in a good kettle.
Cord Vs Cordless Kettles: The cordless design model allows you to move the kettle around without having to unplug it every time you want to use it, which is great if you have limited counter space or if you frequently move your kitchen appliances around. Whereas, corded kettles are more versatile as they can be used at home or in the officeAlso, with cordless kettles, you don't have to worry about wires getting tangled and they generally tend to have a longer battery life
Kettle Capacity: You'll want to choose an electric kettle that's the right size for your needs. They come in different sizes, from small travel kettles that fit on a small table to large family-sized kettles that can hold up to 12 cups of water. Check out the table below to decide what type of kettle will suit your needs.
| | |
| --- | --- |
| Type of Kettle | Capacity |
| Bachelors/Individuals | 0.5 Liter |
| Couples | 1 Liter |
| Large Family | 1.5 Liters |
Heating Element: Heating elements in electric kettles are used to boil water by converting electrical energy into thermal energy, which then causes the water to reach a desired temperature. The kettle models use copper insulated with silver coating to provide optimum performance. If there is any damage to the heating element, you can replace it with a new one.
Durable Materials: Material quality is another important factor that one must consider while buying electric kettles The most widely used materials are stainless steel, ABS plastic, or borosilicate. Consider kettles made using any of these materials as they are both quite sturdy and ensure a long lifespan.
Wattage: Wattage is another important feature. The higher the wattage, the faster the boiling time. Kettle wattages generally range between 500 W to 2000 W. Depending on your need for an electric kettle, you can pick one with a higher or lower wattage. Additionally, it is also possible to experience overheating issues, so keep in mind to pick up a kettle with advanced heat protection features to ensure the safety of the device.
Frequency of Usage: How frequently do you intend to use your electric kettle? If you want to use it once in a while, a smaller model is better for you. On the other hand, a bigger kettle may be best suited for you if you plan to use it regularly.
Ergonomic Design of the Outer Body: Next important factor you need to look into is the ergonomic design of the outer body. These days we have witnessed different brands offering electric kettles with a glass outer body The advantage of a glass body over metal or plastic is that you can view the amount of water filled in the tank and turn it on/off accordingly. Moreover, it can withstand high temperatures too.
Online Reviews and Ratings: It is important to consider online reviews and ratings when buying electric kettles. Not only will this help you make an informed decision, but it will also give you peace of mind knowing that you are getting a quality product. Reading online reviews and ratings lets you find out what people think of the different models. This way, you can be sure you are getting the best product.
FAQs
1. Which electric kettle brands are the best to buy in India?
Havells, Prestige, and Pigeon brands are the go-to options when buying electric kettles in India. They offer decent performance throughout their usage due to the presence of sturdy materials, heating elements, and overheat protection features to ensure hassle-free operation.
2. How long should I boil water in an electric kettle?
Ideally speaking, 2-3 minutes is required to boil water in a kettle. It makes use of heating elements made of copper and silver coating to speed up the process.
3. What factors should I consider while buying an electric kettle online?
Here is the list of factors that one must consider while purchasing an electric kettle online:
Cord or Cordless Type
Capacity
Heating Elements
Sensor Technology
Power
Materials
Usage Frequency
Price
Warranty
Online Reviews & Ratings
4. What sensors are used in electric kettles?
Thermistor, a temperature sensor, is used in the kettles to assess the boiling of water in the tank.
5. How to clean an electric kettle?
To clean an electric kettle, mix equal parts of water and vinegar and boil it in the kettle. Let it sit for 10-15 minutes, discard the mixture, and rinse the kettle with water. You can also use lemon juice or baking soda to clean it.
In conclusion
The perfect electric kettle is not merely a kitchen appliance, but an essential tool that adds convenience and sophistication to our daily life. With countless options available today, identifying the best electric kettle brand can seem overwhelming. However, our top picks — Pigeon, Prestige, Tesora, and Cello, have consistently proven to be not only reliable and efficient but also perfectly tailored to varying customer needs.
Each of these brands has its unique proposition, catering to diverse preferences. As technology continues to advance, so too do the innovations in electric kettles. Many models now include advanced features such as temperature presets, rapid heating, and energy-saving options, presenting a highly competitive market landscape where consumers genuinely benefit from the variety available.
From iconic retro designs Smeg to the quirky, artistic kettles, aesthetics are also an integral factor to consider when choosing the ideal kettle for your countertop. Ultimately, the best electric kettle brand for you will blend functionality, innovation, and design harmoniously, adding not only utility but also flair to your kitchen.
So, take the time to consider the unique aspects of each brand and their offerings, assessing their features and designs in relation to your personal requirements and preferences. In doing so, you'll be well on your way to making an informed choice, elevating your kitchen experience and enjoying the benefits offered by the best electric kettle brands available today.