Does your day start with a coffee or tea? Drinking hot-served beverages in the early morning boosts your mood and lets you focus on goals. It even flushes away the toxins and keeps the digestive tract healthy.
When you prefer traditional methods like gas stoves or microwave ovens, consistency and taste may alter. A one-stop solution is to have Electric Kettles with you. Electric Kettles come in handy to make your task of boiling water instantly. You can even prepare your favorite beverages conveniently without heading to the kitchen.
What is an electric kettle?
An electric kettle is a smart kitchen appliance used to boil the water using the heating element when plugged into the power source. The working principle is quite simple as it uses the metal coil and copper, stainless steel materials for even heat distribution. Initially, when you switch on the power supply, the metal coil gets heated up and generates heat. Now, the thermostat monitors and regulates the temperature. It even shut-off the device automatically when overheated.
How to use an electric kettle?
As we know, the kettle uses a simple technique to heat the water inside the machine. The speed of water boiling depends on the power usage and storage capacity. Now, let us know how to use the corded model to boil the water and use it for multiple purposes. Have a look:
Firstly, plug in the cord of a kettle to the power source.
Pour water in desired quantities (say 1 litre).
Switch on the power cord and see whether a power indicator light is blinking or not to ensure the kettle is turned on.
Wait for a couple of minutes to boil the water.
Once it reaches the maximum point, it will automatically shut off.
Now switch off the device and use it to prepare lemon-aid, coffee, or tea.
Above all, it is recommended to buy a Bureau of Indian Standards (BIS) certified Electric Kettle that comes with auto shut-off, one-touch operation, locking features, offers premium performance to the end-users, and lasts longer.
List of Best 10 Electric Kettles to Buy Online
Last update was on: June 24, 2022 3:39 pm
Top 10 Electric Kettle Brands
If you are hunting for portable yet premium quality kettles in India, this article is for you. Here we have listed the top 10 electric kettle brands in 2022 to make things easy for you and buy online without having a second thought. Have a look:
1. Havells Aqua Plus Electric Kettle
2. Prestige Electric Kettle PKOSS
3. Pigeon Electric Kettle
4. Orpat Cordless Kettle
5. AmazonBasics Electric Kettle
6. KENT Electric Glass Kettle
7. Bajaj GLIMMER Electric Kettle
8. Aroma Housewares Electric Kettle
9. Prestige Kettle
10. Inalsa Electric Kettle
Let's get started!
Havells Aqua Plus Electric  Kettle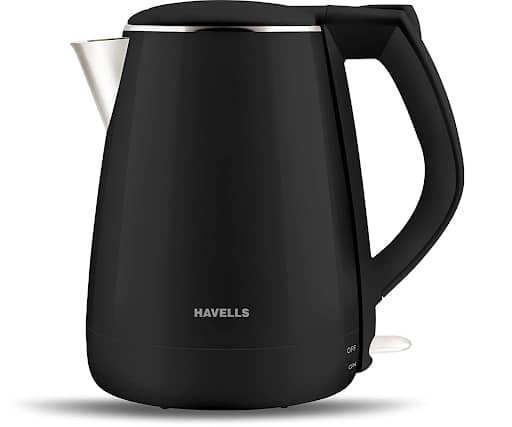 Havells is a leading manufacturing company in India that strives to provide home and kitchen appliances with world-class quality. What's so unique about the brand is 90% of the products are energy-efficient. One such amazing curation is the qua Plus 1.2 litre Double Wall Kettle.
If you are looking to have one for small families, this model is for you. Moreover, the prices are a bit affordable too. The premium black color in stylish design looks appealing when placed at home indoors. Overall, it is worth buying online.
| | |
| --- | --- |
| Type | Electric |
| Wattage | 1500 watts |
| Capacity | 1.2 litres |
| Warranty | 2 years |
| Weight | 1 kg 70 g |
| Dimensions | 22.6*21.4*19.5 cm |
Pros
Auto shut-off feature
Cool touch outer body
Lightweight and easy to carry
Made of 304-grade stainless steel interior
Wide mouth for easy filling of water
Cons

Small power cord length
Available only in black color
Prestige Electric Kettle PKOSS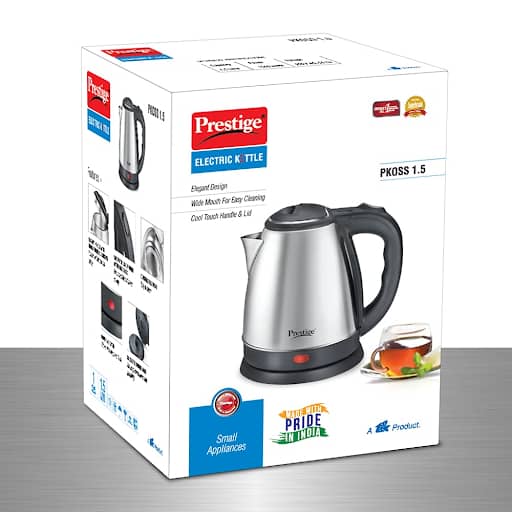 If you are a tea-lover and looking for equipment to boost your mood,  you need to buy a Prestige electric kettle. It is one of the affordable solutions to use at both home and offices. If you are not aware of using a kettle, you can look into the instruction manual available in multiple languages for buyer's comfort.
The only downside of this product is that the manufacturer does not offer warranty information. So, you need to spend extra money on repairs like leakage, power issues, etc. Overall, it is best to buy online for the remarkable storage capacity to warm the water.
| | |
| --- | --- |
| Type | Electric |
| Wattage | 1500 watts |
| Capacity | 1.5 litres |
| Warranty | – |
| Weight | 870 g |
| Dimensions | 19*19*24 cm |
Pros
Water level indicator
Economical to buy
Single-touch lid locking mechanism
User-friendly instruction manual
Made of durable stainless steel material
Concealed elements with 360° swivel base
 Cons
Poor manufacturing services
May stops working after months
Pigeon Electric Kettle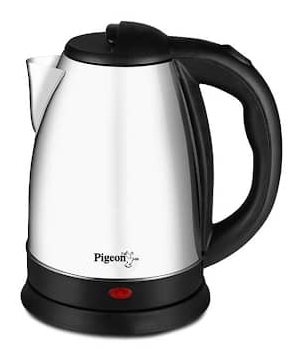 If you are looking for energy-efficient models, then you must try the Pigeon brand. It is made of a durable plastic and stainless steel body to keep the water hot for a long time. Hence, we have listed among the top-brands.
Additionally, it has a 360-degree swivel base with 1-meter cord length attached for tangle-free connection. Due to its lightweight design nature, you can easily carry it during holiday trips and other vacations. The lid at the top of the machine is made of BPA-free plastic to ensure safety while pouring water into the jar.
| | |
| --- | --- |
| Type | Electric |
| Wattage | 1500 watts |
| Capacity | 1.5 litres |
| Warranty | 1 year |
| Weight | 656 g |
| Dimensions | 20*18*17.5 cm |
Pros
Budget friendly nature
Durable plastic and stainless steel materials
5-7 minutes of boiling time
Available as unique and aesthetic design
Seamless locking mechanism 
Cons

No water level indicator
Poor build quality kettle
Orpat Cordless Kettle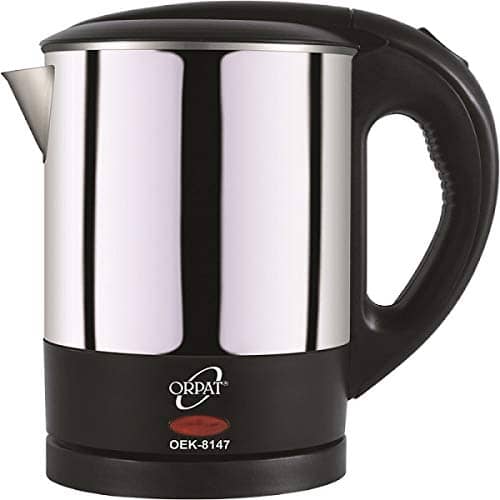 This Orpat model is specially designed for people who are looking for a cordless type. This product is made with a strong outer body along with a stainless steel concealed heating element for long-lasting and reliability. The capacity of 1-liter is suitable for bachelors, couples, and small families.
The handle of the kettle is ergonomic in style to ensure smooth gripping. The single-touch lid locking mechanism prevents leakage of water from the top. With the help of the auto shut-off feature, the device automatically gets switched off when it reaches the maximum set temperature, thereby minimizing the risks of damage. To recapitulate, it is good to buy online due to the easy cleaning and maintenance.
| | |
| --- | --- |
| Type | Cordless |
| Capacity | 1 litre |
| Warranty | 1 year |
| Weight | 699 g |
| Dimensions | 10*10*10 cm |
Pros
Auto cut-off feature
Simple and easy to use
10-days of replacement guarantee
Overheat and boil dry protection
Stylish and elegant handle for easy carrying
Cons
Leakage issues
Customer support services can be better
AmazonBasics Electric Kettle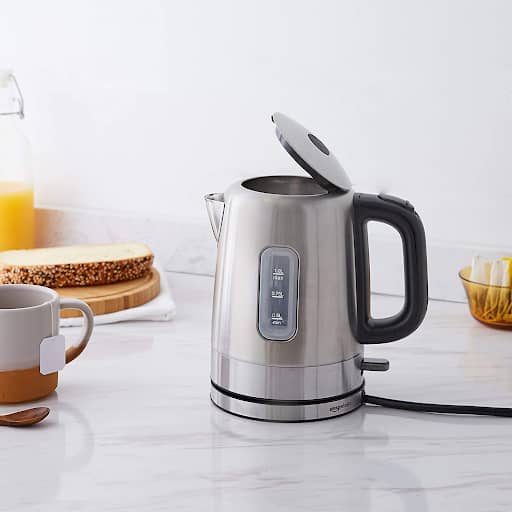 The next product on the list is from the AmazonBasics brand. This wonderful kettle helps you prepare a coffee or tea served hot instantly due to the robust stainless steel outer and inner body to heat the water quickly.
Compared to other brands, this model is certified by the BIS (Bureau of Indian Standards) for the quality standards it maintains. If product quality is your biggest concern, you should buy this AmazonBasics model right away without any further ado.
To perform the specific heating operation, it consumes 2200 watts to ensure the water boils in a couple of minutes. Like other popular brands, it has impressive features like automatic shut-off, heat-resistant handle, and extra-wide mouth opening for easy cleaning. It is also possible to detach the base for cleaning the device conveniently.
| | |
| --- | --- |
| Type | Electric |
| Wattage | 2200 watts |
| Capacity | 1 litre |
| Warranty | 1 year |
| Weight | 1 kg 290 g |
| Dimensions | 20.2*13.6*19.8 cm |
Pros
High wattage for faster operation
Exceptional steam sensor functionality
Made of rust-free materials
Lightweight and portable nature
Easy to clean and maintain
Cons
KENT Electric Glass Kettle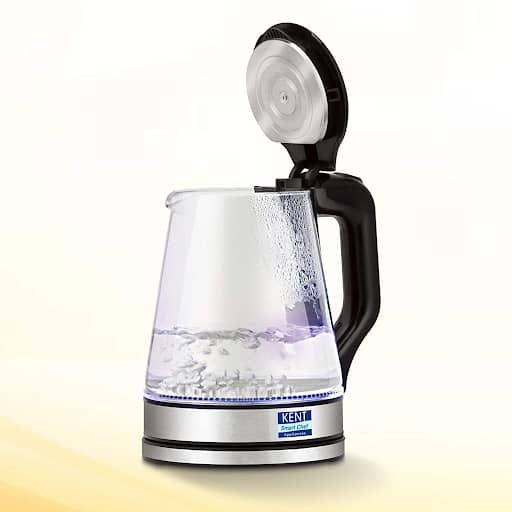 Kent is a reputed brand in India for bringing the Reverse Osmosis (RO) technology to purify the water. With millions of users, Kent is offering innovative solutions to protect people from harmful diseases.
If you are browsing for a device on the internet to warm the water, you should look into the Kent electric glass kettle model. In contrast with other brands on the list, Kent offers 1.7 litres of tank capacity suitable for large families. It can fulfill the needs of hot beverages for the entire family without getting delayed.
The other important feature to discuss is the attractive design that gives a transparent look. It is made using borosilicate glass with a concealed heating element. Moreover, the devices come with overheating and drying boil protection as an added safety for the consumers.
| | |
| --- | --- |
| Type | Electric |
| Wattage | 1500 watts |
| Capacity | 1.7 liter |
| Warranty | 1 year |
| Weight | 800 g |
| Dimensions | 22*16*24 cm |
Pros
Stylish and ergonomic handle
Detachable power base
Borosilicate glass body
Concealed heating element
Extra storage capacity to boil and store water
Cons

Smells weird after usage
Support services can be improved

Bajaj GLIMMER Electric Kettle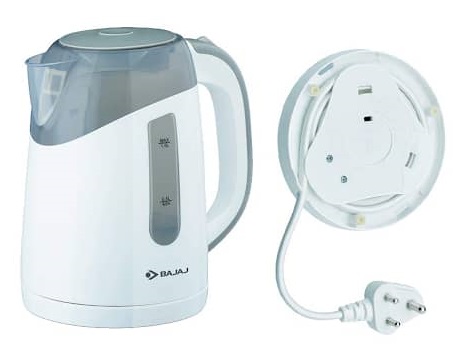 Who doesn't love to have an electric kettle that can offer effective performance throughout usage? Well, Bajaj Majesty has got your eyes. It comes with unique features to look appealing to the customers.
Bajaj Glimmer Kettle has an LED light that blinks when the device is turned on, and water starts boiling. The water level indicator gives an idea about the amount of water added to the device to prevent wastage. All in all, it is designed with a heat-proof and shockproof ABS body to ensure safety.
What we didn't like about the product is the bit expensive nature compared to the other brands in the given list. Also, if you use the device regularly during the winter months, you need to be cautious about the power on/off button as it is susceptible.
| | |
| --- | --- |
| Type | Electric |
| Wattage | 1100 watts |
| Capacity | 1 litre |
| Warranty | 2 years |
| Weight | 780 g |
| Dimensions | 19.5*16*20 cm |
Pros
Made of ABS plastic material
Heat-proof and shockproof body
Blue color light indicator for on/off
High-end thermostat mechanism
Cons

Bit expensive compared to other models
Outer body damages quickly
Aroma Housewares Electric Kettle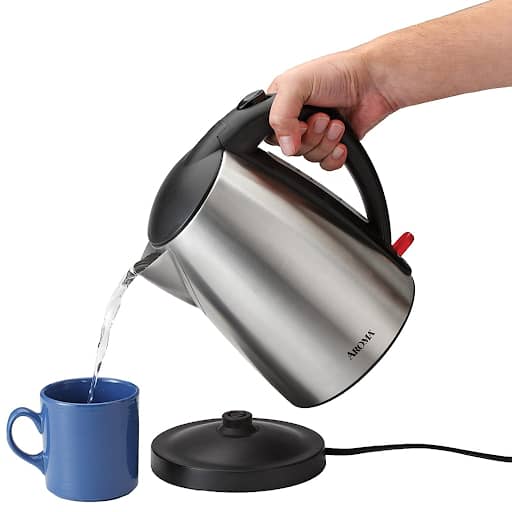 Aroma Housewares Electric Kettle is becoming popular in recent times due to its myriad uses. You can use this amazing product for coffee, herbal tea, and other nutrient-rich drinks depending on your choice.
The automatic cut-off feature prevents accidental damages when you forgot to switch off manually. It even uses a steam sensor, dry boiling, and overheating protection for quick processing. A wide mouth opening at the top makes it easy to pour water and clean the device without difficulty. Moreover, the concealed heating element protects from scale formation.
The major disadvantage of using this product is it can damage after a few months due to the poor build quality. Overall, it is the right choice if you are looking for commercial usage like offices, tea stalls, hospitals, etc.
| | |
| --- | --- |
| Type | Electric |
| Wattage | – |
| Capacity | 1.7 litre |
| Warranty | 2 year |
| Weight | 953 g |
| Dimensions | 21.8*15.8*24.6 cm |
Pros
Trigger-release lid
7-cups of water storage capacity
Easy to read water level indicator
Instruction manual for buyers
Suitable for preparing instant coffee and herbal tea
Cons

Design can be much better
Damages in 3-4 months
Prestige Electric Kettle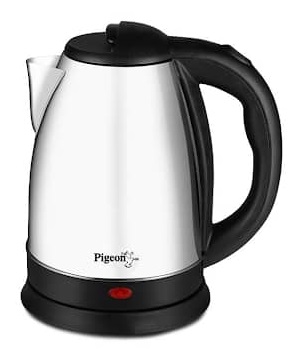 What are you waiting for? When you got the latest model electric kettle from Prestige brand. It is a leading company that designs high-quality home and kitchen items and became a trendsetter by following the manufacturing guidelines.
Although it comes within the budget range, it best suits to place indoors – kitchen, dining, living, and bedrooms without occupying too much space. For this reason, we've listed among the best kettle brands available in 2022.
| | |
| --- | --- |
| Type | Electric |
| Wattage | 1500 watts |
| Capacity | 1.5 litre |
| Warranty | 1 year |
| Weight | 1 kg 60 g |
| Dimensions | 21*26*21 cm |
Pros
Budget-friendly nature
Elegant stainless steel design
Single-touch lid locking mechanism
Exceptional customer support services
Wide mouth opening for easy cleaning
Cons
Stops heating after few months
Experience burning of plastic smell
Inalsa Electric Kettle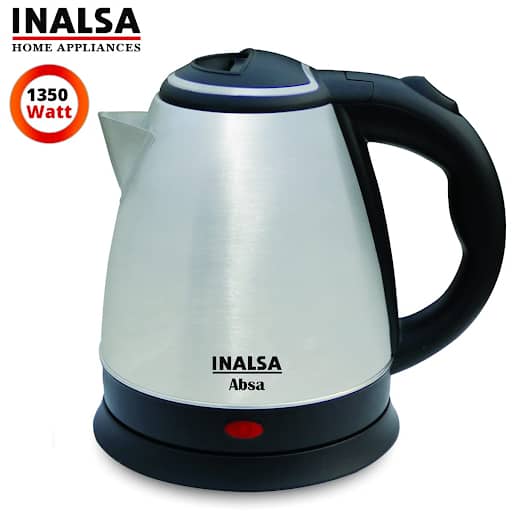 Finally, we will end the list with the Inalsa brand. Inalsa brand offers small home and kitchen appliances by complying with International Organization for Standardization (ISO) guidelines. Coming to the product features, the cord is wrapped in a winder around the base to use efficiently and place in the kitchen space. The 360 swivel cord makes it easy to rotate the base.
| | |
| --- | --- |
| Type | Electric |
| Wattage | 1350 watts |
| Capacity | 1.5 litre |
| Warranty | 1 year |
| Weight | 680 g |
| Dimensions | 23.3*17.6*21.5 cm |
Pros
2-3 minutes of boiling time
Large capacity to store water
Cord winder for easy placement
Suitable for home and offices
Stainless steel material ensures long lifespan
Cons
Bit smelly at times
Poor manufacturing quality
Need to hold button for a long
How To Pick Best Electric Kettles for Home & Commercial Places
An electric kettle is one of those purchases that helps you with your everyday tasks. However, several parameters like capacity, materials, electric corded type, heating element, temperature settings, in-built sensors, wattage, and so on have to be considered before purchasing to assure safety and durability. We've compiled a list of the most critical traits to look for in a good kettle. Check them out!
Cord Vs Cordless Kettles
The cordless design models allow you to move the kettle around without having to unplug it every time you want to use it, which is great if you have limited counter space or if you frequently move your kitchen around. Whereas corded kettles are more versatile as they can be used at home or in the office, making it easier to move around. Also, you don't have to bother about wire-tangling and have a longer battery life, so you can use it for longer periods.
Kettle Capacity
You'll want to choose an electric kettle that's the right size for your needs. They come in different sizes, from small travel kettles that fit on a countertop to large family-sized kettles that can hold up to 12 cups of water. Check out the table below to decide on what would suit your needs.
| | |
| --- | --- |
| Family Size | Capacity |
| Bachelors/Individuals | 0.5 Liter |
| Couples | 1 Liter |
| Large Family | 1.5 Liters |
Heating Element
Heating elements in electric kettles are used to boil water by converting electrical energy into thermal energy, which then causes the water to reach a desired temperature. The kettle models use copper insulated with silver coating to provide optimum performance. If there is any damage to the heating element, you can replace it with new ones.
Durable Materials
The material quality is yet another important factor that one must consider while buying online. The most widely used materials are stainless steel, ABS plastic, or borosilicate. You may use any of these materials because they are both quite sturdy and ensure long lifespan.
Wattage
Wattage is important because higher wattages mean faster boiling times. The kettle mostly uses power from 500 to 2000 watts. If you use a kettle for boiling water, then you may require lower wattage models. Adding up, if you want to make tea or coffee, then you will need to choose a higher wattage device. Sometimes, you may experience overheating issues. So, it is advised to look for electric kettle models that come with advanced overheat protection features to ensure safety of the device.
Frequency of Usage
How frequently do you intend to use an electric kettle? If you just want to use it once in a while, a smaller model could be better for you. A bigger kettle, on the other hand, may be best suited for you if you plan to use it regularly.
Ergonomic Design Outer Body
Next important factor you need to look into is the ergonomic design of the outer body. These days we have witnessed different brands offering electric kettle that have a glass outer body – borosilicate or soda lime. The advantage of a glass body over metal or plastic is that you can view the amount of water filled in the tank and turn on/off accordingly. Moreover, it can withstand high temperatures too.The only drawback is that the kettle smells weird and you need to manually clean it when used for preparing tea, coffee or so.
Online Reviews and Ratings

Yeah! It is important to consider online reviews and ratings when buying electric kettles. Not only will this help you make an informed decision, but it will also give you peace of mind knowing that you are getting a quality product. Reading the online reviews and ratings lets you find out what people think about the different models. This way, you can be sure that you are getting the best product.
Price and Warranty Details
Finally, we end up with price and warranty information. Electric kettle brand models come in different prices and styles, so it is important to find one that fits your needs and budget. The high-end brand does provide warranty services upto 2 years. So, you don't have to spend extra money on repairing the device.
Electric Kettles – Frequently Asked Questions
1. Which electric kettle brands are best to buy in India 2022?
Havells, Prestige, and Pigeon brands are the go-to options while buying electric kettles in India. They offer decent performance throughout the usage due to the presence of sturdy materials, heating elements, overheat protection features to ensure hassle-free operation.
2. How long should I boil water in an electric kettle?
Ideally speaking, 2-3 minutes is required to boil water in a kettle. It makes use of heating elements made of copper and silver coating to speed up the process.
3. What factors should I consider while buying an electric kettle online?
Here are the list  of factors that one must consider while purchasing electric kettle online:
Cord or Cordless Type
Capacity
Heating Elements
Sensor Technology
Power
Materials
Usage Frequency
Price
Warranty
Online Reviews & Ratings
4. What sensors are used in electric kettles?
Thermistor, a temperature sensor, is used in the kettles to assess the boiling of water in the tank.
Final Verdict
Wrapping up, of all the brands, we have listed Havells Electric Kettle as our top choice due to the impressive performance it offers. The cool outer body is made of a black finish, and the 304-grade stainless steel interior ensures long-lasting. Moreover, the lightweight and portable nature make it easy to use at home and commercial places like offices, hotels, hospitals, etc.
Which kettle model do you like the most? Are you using any of the brands mentioned above? If you have any queries, please share them with us in the comment section given below. Our team of experts will be right away to clarify them.