These days, every home should be equipped with a printer to take care of varied printing demands. Home printers are versatile appliances that can take care of all your printing needs ranging from school projects, coupons, documents to movie tickets.
Top 10 Printers for Home Use in India for 2020
If you are on the lookout for a perfect printer within a small budget printing for your kid's homework or files related to your home-based business, then our experts can help you to make the best choice. Our list here comprises of the top 10 printers for home below Rs.10,000 that can deliver high-quality print outputs.
Further Reading: Best Ink Tank Printers In India
Best Printer for Home below 5000
HP DeskJet 2131 All-in-One Inkjet Colour Printer

This compact looking inkjet printer from the house of HP is capable of copying, scanning, and printing at the push of a button. Weighing 3.42 kg, this printer has 7.5 ppm as its maximum print speed for black and white prints and 5.5 ppm for colour prints. Bring home this HP device to fulfill your printing demands and to get crystal clear prints with high resolution.
Special features:
Utilizes HP Thermal Inkjet Technology
4800 X 1200 dpi print resolution
Flatbed Type of scanner
USB connectivity
Supports DL envelope, A6, A4 and B5 page sizes
Simple installation
Price: Rs. 2990
HP DeskJet 1112 Single Function Inkjet Colour Printer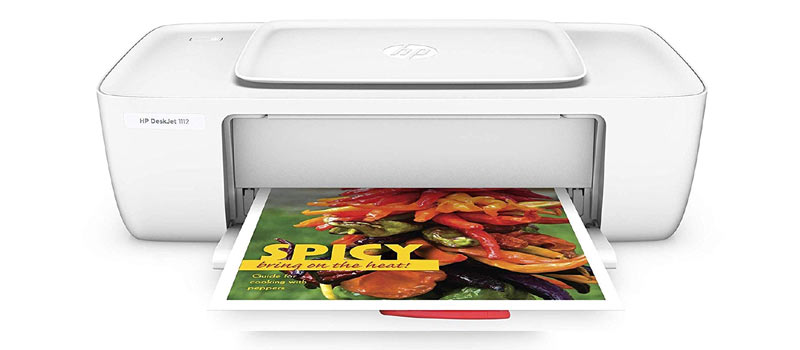 This single-function printing appliance from the renowned brand, HP is specifically designed to provide printouts in a jiffy. This energy star certified device based on HP Thermal Inkjet Technology comes with space-saving design to fit in urban apartments.
Special features:
Black and white prints at 7.5 ppm
Colour prints at 5.5 ppm
Print resolution of 4800 X 1200 dpi
Color print speed at 66 seconds
1000 pages every month as its Duty Cycle
Compatible page sizes: DL envelope, A6, A4 and B5
USB 2.0 connectivity
Output tray with 25 sheet capacity
Price: Rs. 1799
Canon Pixma MG2577s All-in-One Inkjet Colour Printer

This lightweight all-in-one printer from the home of Canon will help you save on printing costs, as it assures the best quality prints even when using low-cost ink cartridges. This compact multifunctional printing appliance can scan, copy and print effortlessly. The Auto Power On feature enables it to detect your print command to begin printing and switch off automatically once it gets completed.
Special features:
Based on Flatbed scanner
Ability to print 8 black and white pages per minute
Offers 4 colour pages per minute
Equipped with USB connectivity
Maintains 4800 X 600 dpi print resolution
Compatible with Windows XP / Vista / Windows 8 / Windows 7 and Mac Operating System
Price: Rs. 2699
Canon Pixma E477 All-in-One Wireless Ink Efficient Colour Printer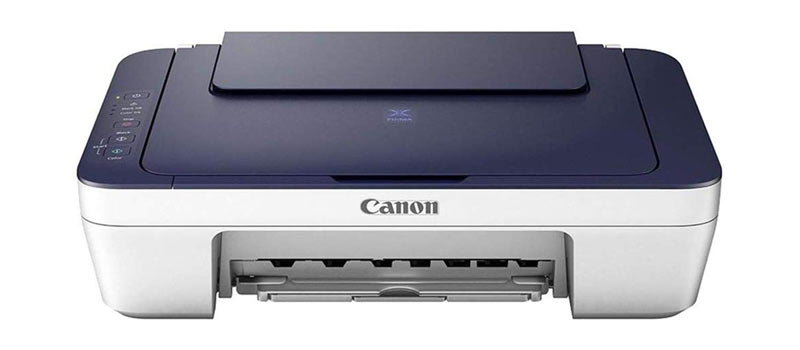 Canon, the well-known brand has introduced affordable multifunctional printers under the range, Pixma to deliver cost-effective printing experience. It is designed to offer prints with excellent connectivity features and is compatible with almost all Windows Operating Systems. It can handle a monthly printing volume of 100 to 300 prints.
Special features:
Ability to print with 4800 X 600 dpi resolution
Connectivity features: Google Cloud Print, Pixma printing solutions, Wi-Fi and USB
Can print on letterheads, legal documents and on A4 papers
Delivers black prints at 8 ppm and colour prints at 4 ppm
Price: Rs. 4299
HP DeskJet 2138 All-in-One Ink Advantage Colour Printer

Be it printing photos, web pages, emails or documents, the HP Ink Advantage can consistently handle it all. This affordable printing appliance is the right choice for your home to tackle everyday printing tasks with ease. The space-saving compact dimensions of this device make it fit well into the tight spaces of your work table.
Special features:
Produces colour prints at the rate of 5.5 ppm
Maintains a 1000 page duty cycle
Print resolution is 4800 x 1200 dpi
The print speed is 66 seconds
Scans to PDF format
Price: Rs. 3,999
Canon MG2570S Multi-Function Inkjet Colour Printer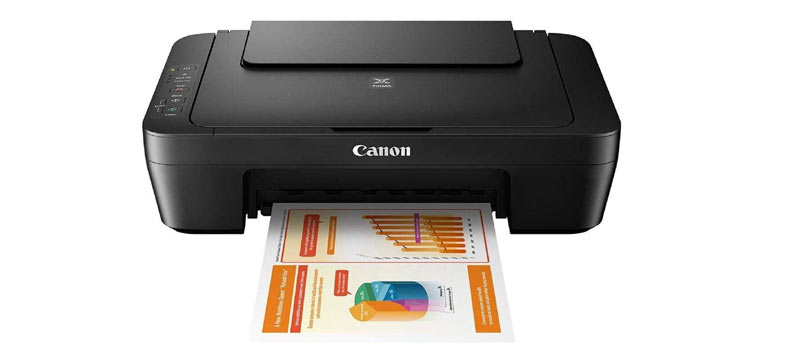 The Canon multifunction printer is a compact device designed to cater to the demands of domestic printing. This affordable printer can perform tasks like scanning, copying, and printing while cutting down cartridge ink costs. Sporting a lightweight body, this appliance is equipped with Auto Power On feature to allow the users to take complete advantage of its connectivity options.
Special features:
Can produce scans of 216 X 297 mm with an optical resolution of 600 X 1200 dpi
Maintains a 14-second scan speed
Prints in black with 4800 X 600 dpi resolution at 8 ppm
Compatible with Windows and Mac Operating Systems
Price: Rs. 2499
Best Printer for Home from 5000 to 10000
HP DeskJet 3835 All-in-One Ink Advantage Wireless Colour Printer

If you are looking for an efficient printer that supports mobile printing, then this HP wireless colour printer with superb connectivity features is the right choice. You can fax, scan, copy and print with this space-saving printing device in black.
Special features:
Comes with HP all-in-one printer remote mobile app
2.2-inch touch mono display featuring magic frame
Black and white print – 8.5 ppm, Colour print – 6 ppm
1200 X 1200 print resolution
Automatic document feeder (35 pages)
Input tray with 60-sheet capacity
Duty Cycle – 1000 pages each month
USB and Wi-Fi connectivity
Prints on DL envelope, A6, A4 and B5 page sizes
Price: Rs. 6799
Canon E4270 All-in-One Ink Efficient WiFi Printer with FAX/ADF/Duplex Printing

This Canon multifunction printing device can be a compact addition to your home-based business, as it utilizes affordable ink cartridges to print without compromising on its quality. This appliance is equipped with an auto duplex printing feature that lets it print on either side of the paper automatically to cut down wastage of resources.
Special features:
Can fax, print, copy and scan
High-end connectivity features like USB, WI-Fi, Mopria, Canon Selphy App and AirPrint
Auto document feeder with 20 sheet capacity
Print volume up to 200 pages
Black prints with 8.8 ppm and colour prints with 4.4 ppm
Price: Rs. 6999
Epson L130 Single-Function Ink Tank Colour Printer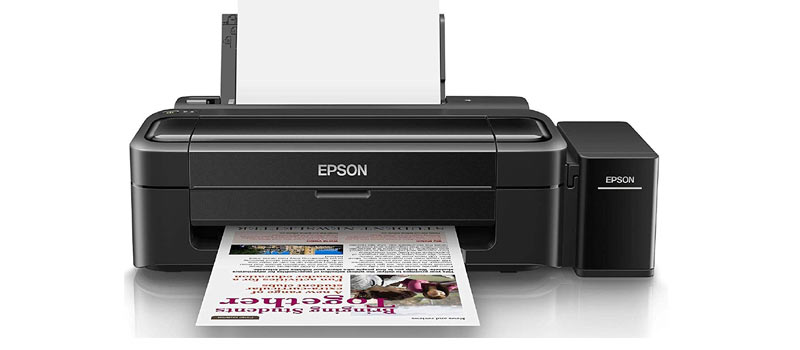 If you want to print your child's school assignment in high quality, then investing in this Epson Ink Tank printer will be a wise decision. Designed to perform printing tasks with top speed, this printing device is an expert in handling large volumes. Offering prints with 5760 dpi resolution featuring sharp and clear images is its specialty.
Special features:
Black and White prints at 27 ppm and colour prints at 15 ppm
Printing speed at 8.5 ppm (Black) and 4.5 ppm (colour)
Supports printing on DL, C6, B5, A6, A4 and A5 page sizes
Print resolution: 5760 X 1440 dpi
Price: Rs. 7499
HP DeskJet 4729 All-in-One Ultra Ink Advantage Wireless Colour Printer with Voice-Activated Printing

It is now easy to print photos from your mobile devices when you bring home this HP Deskjet ultra ink advantage multifunctional printer. Loaded with impressive connectivity features such as the Wi-Fi direct, this device lets the users establish a wireless connection using an access point or a wireless router. Plus, it comes with a Voice-activated printing feature that lets you enjoy hands-free printing.
Special features:
Can copy, print and scan
Comes with a 7-segment LCD display
Prints with the optimized resolution of 4800 X 1200 dpi
Produces colour prints with 5.5 ppm and black prints with 7.5 ppm
Has USB, Wi-Fi connectivity
Price: Rs. 8749
With a plethora of printers available in the market, choosing the right one to take care of your home printing needs can be tricky. Our experts have made this task easier by recommending the above-mentioned products based on crucial factors like print resolution, pages per minute, compatibility with operating systems and connectivity with mobile devices. Choose the right printer with advanced features to get razor-sharp photos, projects or documents in high resolution.
Happy printing!