Did you know, menstruating women use roughly 12,000 pads or tampons over the course of their lifetimes? And these take hundreds of years to degrade in landfills. Don't we need a more sustainable alternative that doesn't compromise on comfort on our stressful period days?
Menstrual cups are a growing trend among women. They promise ease of use, hygienic protection, and convenience. Some cup brands have changed the way we use menstrual products. While menstrual cups provide an eco-friendly option to protect our health, they also offer other benefits that make them better than the ordinary sanitary pads and tampons.
They're handy, leak-proof, and are chemical-, perfume-, and toxin-free. Unlike napkins and tampons that tire you for constant change, cups can keep you comfortable for more than 12 hours. Its durability is a brownie point as it lasts for almost 10 years. And that's why you should switch to menstrual cups soon.
How to insert the cup properly?
To start with, first sterilize your cup.
The cup must be folded in certain ways for a comfortable insertion. Once inserted, the cup will spring open within, ensuring a leak-free experience.
Once you've mastered one of these folds, hold it in place while inserting the cup into your vaginal canal, aiming it towards your back.
C Fold – Make the letter C by pushing the cup from both ends.
7-Fold – Make the number 7 by pushing the cup from both ends and curving the right side diagonally to the left side.
 Punch Down Fold – To punch it down, push the front side of the cup towards the bottom of the cup.
When should you wash your cup?
You may simply wash the menstrual cup with water and unscented soap during your cycle. However, you must sanitise the cup before inserting it for the first time at the start of your next cycle. You can sterilise the cup by placing it in a kettle of hot water for 3 to 5 minutes. Make sure the pot has sufficient amount of water. Alternatively, you can boil it in the microwave.
How do you remove your menstrual cup?
Removing the cup is significantly less difficult. All you have to do is squat or sit on the toilet and pull the toilet paper with your index finger or any other finger with the thumb. Remember to turn the menstrual cup sideways to remove one half of the cup first, then the other half, to prevent blood from spilling out.
List Of Best Menstrual Cups in India
Last update was on: August 7, 2022 6:03 am
Soch Cup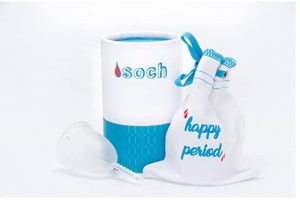 Soch Cup is a reusable menstrual cup made of bi-compatible silicon, that can be used for up to 10 years. Soch Cups are reusable and can be washed after every use. Soch Cup is made of medical grade silicone, which makes it a safe and reusable option. A new cycle with a Soch Cup lasts 3 to 8 hours and even longer if you have your period light. Because the cup sits inside the vaginal canal, it provides effective protection against leaks and odors.
Soch Cup is available in small and large sizes to suit women with varying cycles and bodies. The medium softness of the cup makes it suitable for both beginners and advanced users. If you are making a switch then Soch cup is the best to start with. You can now buy Soch Cup from Amazon and get it delivered at your doorstep.
---
What We Like?
It is soft & easy to insert.
It is suitable for beginners and advanced users.
It is suitable for all kind of flows.
It lasts for longer hours (depending on the cycle) and doesn't leak.
It doesn't cause rashes.
---
Pee Safe Cup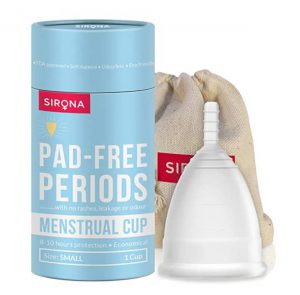 Pee Safe menstrual cups are a revolutionary product that can help you save money on your monthly period expenses by offering affordable and comfortable menstrual cycles without the hassle of pads or tampons. It features a patented 3-layer construction with a high-quality medical-grade silicone, which is latex-free, making it the only reusable menstrual cup that has received FDA approval. You can use the cup up to 30 times. What makes this menstrual cup stands out from other products on the market is that it is specially designed to suit women with a low cervix. Pee Safe's compact design makes it easy to travel with and allows women to enjoy their period without the hassle of leakage. Pee Safe Cup is available online in Amazon to order.
---
What We Like?
Suits women with lower cervix.
Size Xs is available.
It is very pocket friendly.
What We Don't Like?
The material is little hard.
---
Sanfe Cup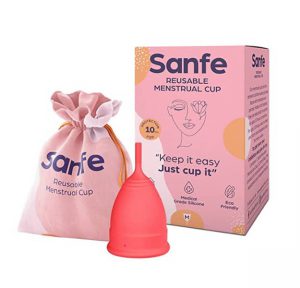 Sanfe menstrual cup is a revolutionary feminine hygiene product designed for women who have a heavy flow during menstruation. Sanfe cups are available in small, medium and large sizes. It is made of high-quality silicone that is non-porous, odourless, hypoallergenic, and free from any kind of chemical additives. The silicone absorbs the menstrual flow from the inside making it easier for you to insert your vagina with ease. It is an essential part of the Sanfe collection that helps in making the entire experience a lot more comfortable, hassle-free and trouble-free. It has no chance of Toxic Shock Syndrome, and it's 100% safe to use even after childbirth. Buy Sanfe cups now from Amazon and make a healthy switch this cycle!
---
What We Like?
It is very comfortable and easy to use.
It is pocket friendly.
It is easy to insert.
What We Don't Like?
The instruction manual does not provide accurate instructions.
---
Avni Cup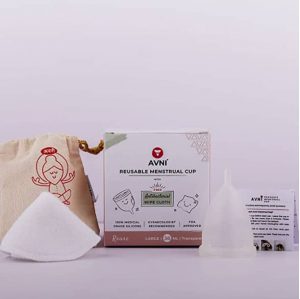 Do you find inserting a menstrual cup tough? Avni is specially designed for first time users – Soft enough to insert quickly and firm enough to open up inside. Made of 100% medical grade silicone in India, Avni menstrual cup is tested safe for vaginal irritation, cytotoxicity and skin sensitivity. Available in small, medium and large sizes. Each cup comes with a free first-of-its-kind Antibacterial wipe cloth for mess free wiping and a detailed instruction manual. Pair it with a Avni Plant based menstrual cup wash for a stain free cup after every use.
---
What We Like?
It comes with an anitbacterial wipe cloth.
It is easy to insert and comfortable for beginners.
What We Don't Like?
We did not find anything.
---
Sirona Cup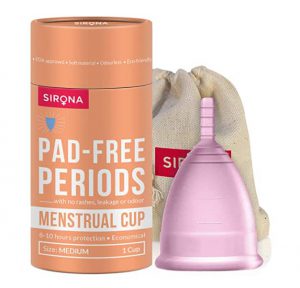 Sirona Menstrual Cup is a reusable, eco-friendly, hygienic, non-toxic and reliable menstrual cup. It provides you with 12 hours of leak-free protection to use for up to 10 years. It's also the most economical choice of all reusable period cups available in India. Cups are composed of medical-grade silicone, which is toxin free, odourless and hypoallergenic. The flexible rim of the menstrual cup creates a vacuum seal, preventing leaks and spills. It is a perfect menstrual aid for swimming, all other sports, travel, and everyday activities because of its design. Sirona's Menstrual Cup ensures that you are always prepared to face your periods! Shop Sirona Menstrual cup from Amazon now!
---
What We Like?
The stem can be cut.
It does not leak.
It is very cheap.
What We Don't Like?
Many users complain it's difficult to insert.
---
Lady Go Menstrual Cup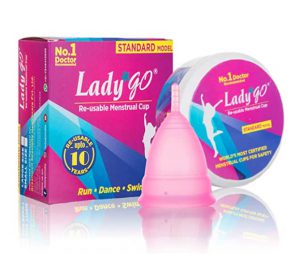 LadyGo Menstrual Cup is hypoallergenic, latex free, phthalate-free, BPA free and dioxin free. LadyGo will not only liberate you from those special days of your life but also give you the most convenient and comfortable period experience. With its easy insertion, no cleaning or emptying required, and it can be used for up to 12 hours before needing to be emptied. You can now order Lady Go menstrual cup from Amazon.
---
What We Like?
It is chemical free.
It is pocket friendly.
It doesn't leak.
What We Don't Like?
Not suitable for heavy flow.
---
SheCup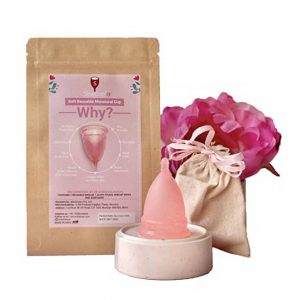 Shecup is Asia's first menstrual cup brand. It is the best menstrual cup in India as it is made with the safest material inert health-grade silicone, because it does not absorb any chemicals and toxins from menstrual blood, so it can be easily cleaned and disinfected. It has emerged as a leading player in the menstrual cup market in India by being the only company to offer a wide range of different sizes of cups ranging from small to large capacities. The variety of sizes ensures that women get their period each month without leaks or discomfort. SheCup is now available in Amazon to shop!
---
What We Like?
It is safe and comfortable.
It is leak-free.
It is suitable for low to heavy flow.
What We Don't Like?
Not suitable for low cervixes.
---
V Cup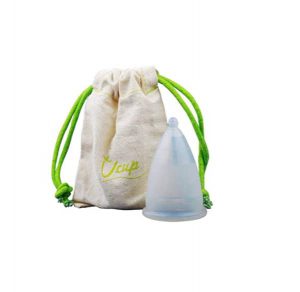 V Cup is a reusable menstrual cup that can be worn for up to 12 hours. It is the most innovative and natural alternative to tampons and pads. It's made from medical grade, hypoallergenic silicone, is free of harmful chemicals, absorbency gels, additives or toxins, and it can be used for both vaginal and non-vaginal periods.
---
What We Like?
It doesn't contain perfumes or bleaches.
It's worth the cost.
---
DivaCup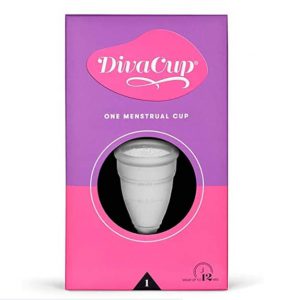 Are you looking for a way to stop leaky periods? If so, we have some good news for you. The DivaCup is the best menstrual cup, period! The DivaCup is a reusable, disposable menstrual cup that can be used for up to 12 hours. This means you can skip tampons, liners, and pads. With its innovative design and reliable material, DivaCup offers complete protection, comfort, and convenience. Order your DivaCup now from Amazon.
---
What We Like?
It does not leak for hours.
It is comfortable.
What We Don't Like?
It is not suitable for low cervixes.
---
Lena Cup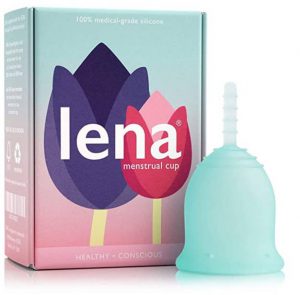 Lena Cup is one of the best menstrual cups, we recommend. The Lena cup is a little wider and smoother than many of the other cups on the market. The Lena is comfortable to wear; the silicone is very smooth and easy to insert and remove. Its broader design also helps those with a wide vaginal opening avoid leaks, and the solid stem doesn't collect blood or other tissue, making it easier to clean than cups with hollow stems. Find Lena Cup in Amazon now!
---
What We Like?
It is suitable for women with wider vaginas.
It feels good on the skin.
It is easy to insert and remove.
---
Nari Yari Menstrual Cup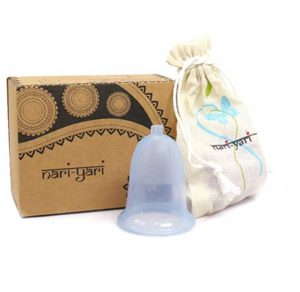 Nari Yari Menstrual cup (HARD) is an innovative new menstrual cup that has been designed to cope with all those who are active and have a heavy flow. It has been designed to be extremely flexible and soft, giving the user a smooth comfortable insertion. The durable body of Nari Yari Menstrual cup has been made from medical grade silicone, and the non-absorbent core is a reliable and hygienic solution for longer usage periods. Find Nari Yari Cup in Amazon now!
---
What We Like?
It is extremely soft and comfortable.
What We Don't Like?
It is not suitable for heavy flow as mentioned.
---
Conclusion
Menstrual cups are the most eco-friendly option, but it's also one of the most expensive. It's an investment that you need to make, but it will pay off in the long run. To make people switch to menstrual cups, here are some things you can do: – Reduce your waste – Educate yourself about menstrual cups – Start a conversation with your friends and family – Share this article with them so they can see why you're buying a cup instead of pads or tampons.