Adding the best induction cooktop in your kitchen would not only add a dimension of style but also wisdom. An induction cooktop is an alternative to LPG gas, which is quite expensive and gradually depleting. Induction cooktops work on electricity and are the future replacement to LPG gas stoves in our kitchens. Equipped with modern features and with unmatched safety features, induction cooktops present themselves as the famous and comfortable option for cooking.
Shopping for the best induction cooktop requires some homework. Many brands have launched induction cooktops, but they come with different features and specifications. Since it's your hard-earned money, buying the right induction cooktop requires a little assessment of your cooking needs. In this post, we will let you know the top induction cooktops in India and some other pointers that you must consider before purchasing one.
Let's have a Look at 10 Best Induction Cooktops In India
1. Prestige PIC 20 1200 Watt Induction Cooktop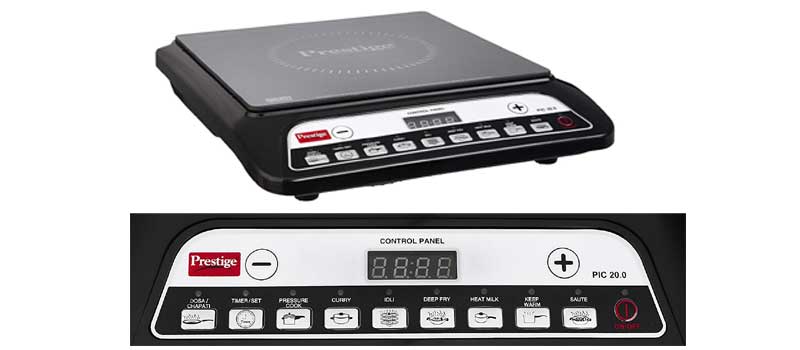 The one brand present in most Indian kitchens has to be Prestige. Known for quality and affordable kitchen products, Prestige PIC 20 1200 Watt Induction Cooktop aims to make cooking a hassle-free experience.
It has a power of 1200 watts, which ensures faster cooking. It is also energy efficient.
An anti-magnetic wall periphery that effectively blocks any surplus energy reducing magnetic radiation's influence on the food and the surroundings
It comes with an intelligent procedure control through which you can adjust the power and temperature for the food being cooked
Pre-set menu options include dosa, chapatti, idli, curry, and the other options include sauté, deep fry, curry and heat milk
Easy to clean and maintain, soft buttons and a decent LCD screen makes cooking such a comfortable experience that you won't shy from it
Priced at Rs. 1662 online.
2. Philips Viva Collection HD4928/01 2100-Watt Induction Cooktop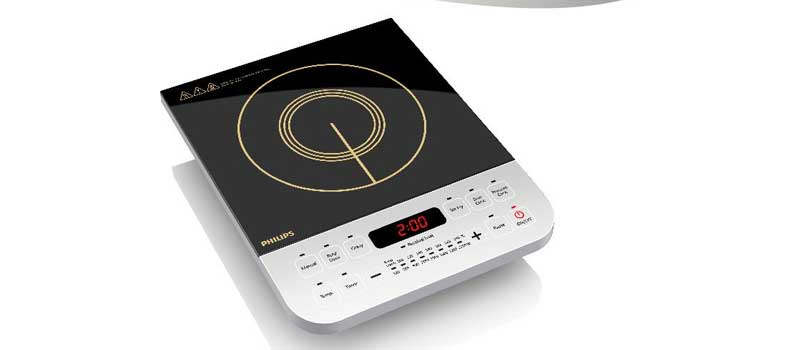 Philips rightly brings innovation and simplicity together making our life comfortable and better. This induction cooktop from Philips not only has a high quality glass panel but is easy to use and works well for highly efficient cooking.
Comes loaded with a high wattage of 2100 for fast cooking
Electromagnetic induction technology ensures high and uniform heating efficiency and locks nutrients. Plus, the food gets cooked food faster than gas stove.
Programmed for Indian cooking with 10 cooking pre-sets menus for Indian recipes
The buttons are soft to touch and the LCD panel is clear. Has the option of touch start for ease of use.
You can set timer for 0 to 3 hours
Compact size and a 1.2 meters long cord ensures convenient cooking everyday.
Priced at Rs. 2299 on Amazon.com
3. Pigeon by Stovekraft Cruise 1800-Watt Induction Cooktop

A must-have for smart and modular kitchens of today. Pigeon's Stovekraft Cruise is power loaded 1800 watt induction cooktop that makes cooking all your favourite dishes a comfortable and quick affair.
It has a wattage of 1800 watts which makes cooking a quick process
Sleek and compact, Cruise is made of microcrystal plate operates on electromagnetic induction principle that makes cooking safer and convenient plus prevents the loss of vitamins
Enables hassle-free cooking with seven segments of LED display for easy selection of pre-set cooking menus
Feather touch soft buttons making the whole experience comfortable and beautiful
The 1.2-meter cord enables you to move the cooktop easily
Pigeon promises reliability and a long life with high-grade electrical parts ensure protection against short circuits
Affordably priced at Rs. 1399 on Amazon.com
4. Prestige PIC 15.0+ 1900-Watt Induction Cooktop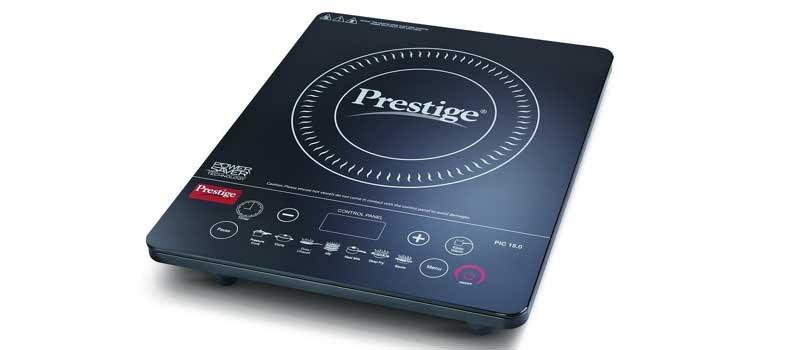 Another bestselling induction cooktop by Prestige, this one is sleek, stylish, power, and energy-efficient and comes at affordable prices. A host of features makes it an essential addition in all kitchens.
With a 1900 watt power, cooking is fast, easy and efficient
It can adjust the power level of the vessel basis its diameter, saving you lots on the electricity bills
Comes with an automatic voltage regulator for superior performance and better durability
Comes with 6 Indian cook menus pre-programmed and a keep-warm function that keeps the food warm for up to 4 hours
Concealed feather touch buttons and microcrystal glass panel makes it easy to use and maintain
Priced at Rs. 2840, it is quite a steal at this price
5. Pigeon by Stovekraft Rapido Slim 2100-Watt Induction Cooktop

One of the most kitchen appliances preferred brand in the country, Pigeon's Rapido Slim Cooktop is a lightweight, slim, and sleek product. The aesthetics are appealing, the flexibility unmatched and looks new even after years of use.
It has a high wattage of 2100 watts which enables faster cooking to save you time and money both
It works on the principle of making the utensil the primary generator of heat – thereby retaining the nutrient value of the food and saving you on electricity bills
A wide surface and feather touch buttons make the cooktop easy to use, and the LED display makes cooking a hassle-free task.
You can also select the time and temperature according to how and what you are cooking
It comes with 8 Indian pre-set menus at the touch of a button
All stainless steel cookware can be used on Pigeon's Rapido Slim Induction cooktop – saves you a lot of money on buying compatible induction vessels.
Priced at Rs. 2169 online
6. Prestige PIC 3.1 V3 2000-Watt Induction Cooktop with Touch Panel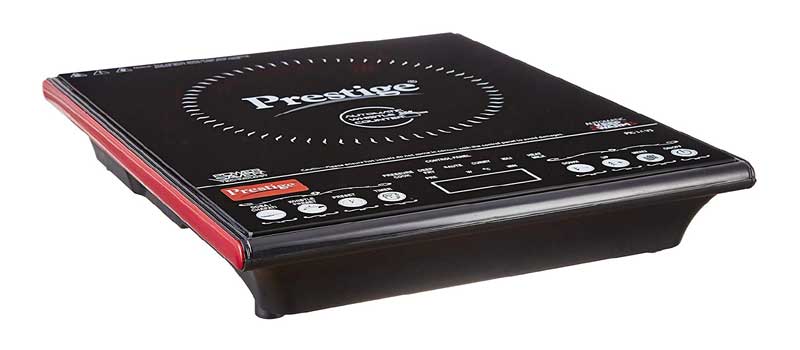 I have this in my kitchen and have been using it for more than two years. I was earlier skeptical about investing in an induction cooktop. Now, I do most of the cooking on it. It is far more easy, convenient and makes food tasty and nutritious.
This one is loaded with power- a 2000 watt makes cooking so fast
It majorly works only with induction base cookware and some steel cookwares too
It offers pre-set Indian menus with a keep-warm function that is quite a utility
The feature that I like the most is the automatic whistle counter- leave the pressure cooker and set the number of whistles till when you want to cook
Integrated with dual heat sensors, the induction stove is designed to sense the temperature automatically, preventing overheating and saving on energy
It is easy to clean and maintain, portable and elegantly designed
Loaded with a full procedure computer control, a great LED and soft-touch buttons, it is an ideal addition to homes that do a lot of Indian cooking
Priced at Rs. 2950 online.
7. Preethi Trendy Plus 116 1600-Watt Induction Cooktop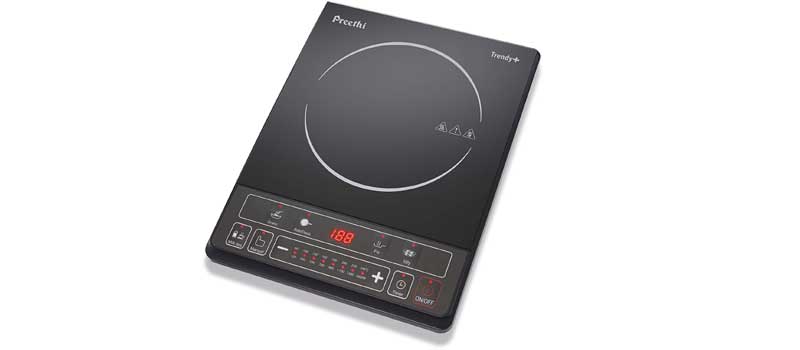 Widely popular in the Southern part of India and some small towns and cities, Preethi is one brand that promises durability and reliability. This induction cooktop from Preethi comes with many attractive features, but the one-touch menu is the highlight.
A wattage of 1600 ensures cooking is done in lesser time
The cooking plate is made of ceramic that can easily withstand high temperatures
This highly efficient induction cooktop offers a large heating base to accommodate vessels with a larger base
84% heat gets transferred to the cooking vessel, thereby saving you on electricity and time
Offers six pre-set menus for Indian cooking –in fact, Preethi holds the distinction of introducing the pre-programmed cooking menus
Priced at Rs. 1996, this is one the best induction cooktop under the range of Rs. 2000
8. Havells Insta Cook PT 1600-Watt Induction Cooktop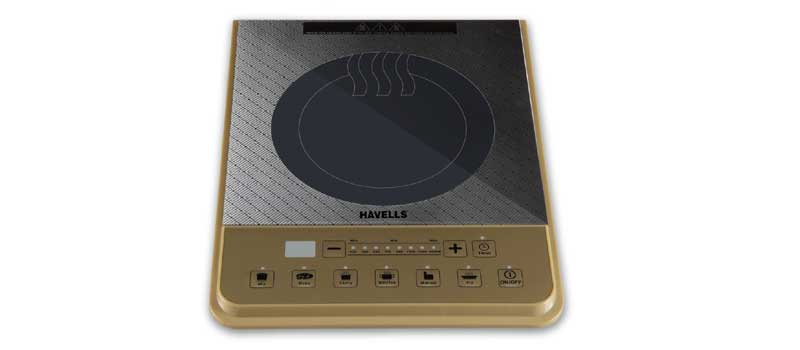 Havells has been a household name when it comes to electrical appliances. Quality, durability, and reliability are some features of Havells products, and you get all of them in this induction cooktop as well.
A 1600 watt power makes it ideal for Indian cooking requirements
Cooking becomes a convenient task with the Havells Insta Cook 6 pre-set cook menus
Ditch the conventional way of cooking and switch to cooking on induction cooktops with the easy to use, one-touch operation slim, sleek and portable Havells Insta Cook.
It offers one-touch operation, timer function, LED display and variable power control settings
The timer can be set for up to 3 hours
Also has auto-pan detection, power off and switch off features for the times when you forget to power off the appliance
Get it on Amazon for Rs. 2239
9. Philips HD4929 2100-Watt Induction Cooker (Black)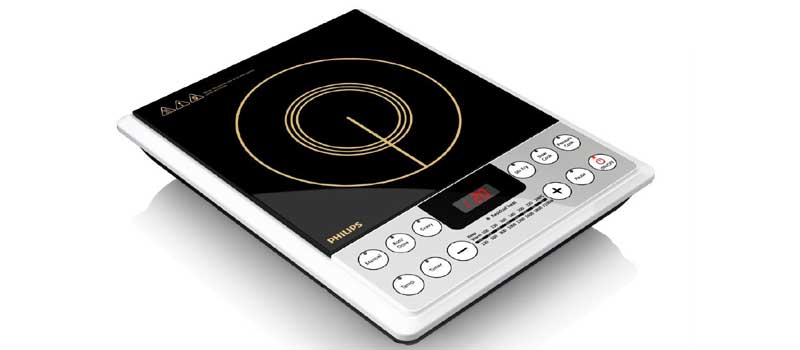 One of the best-selling induction cooktops in India, Philips HD4929 is aesthetically designed and loaded with innovative features. Credible as a brand, Philips products go a long way once they make their way into your home or kitchens.
Cooking is faster with the wattage of 2100 – saves you both time and energy
A glass top and plastic body with a microcrystal plate makes sure that safety is not compromised
Customised pre-set menus for cooking your favourite Indian dishes
Time can be set till 3 hours making you the best judge of how fast or slow you want your food to be cooked
Easy to use and easy to clean, sleek with a good LED display makes it an ideal choice for your kitchen
You can buy it online for Rs.2514.
10. Usha Cook Joy (3616) 1600-Watt Induction Cooktop (Black)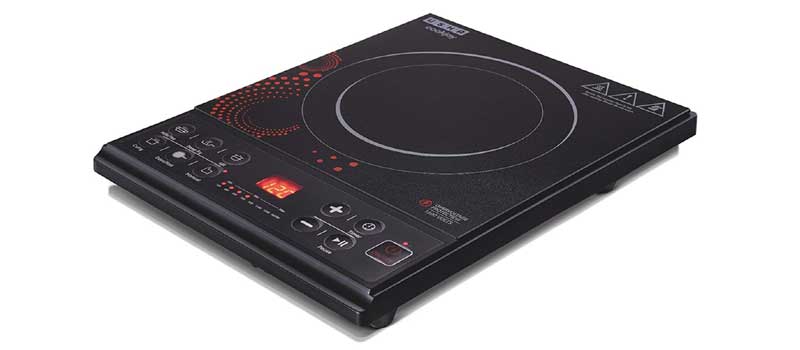 If you are looking for induction cooktops under Rs. 2000, then you may like this easy and simple to use Usha Cook Joy (3616). Usha has been a household name since decades now, and it still easily qualifies as a top home appliance brand that consumers trust and believe in.
A 1600 watt power makes it suitable for most Indian cooking requirements
The metal oxide varistor protects against voltage fluctuations up to 1500 watts
You get five pre-set cooking menus and manual control for other needs
It comes with a pan sensor technology
It automatically operates on power saving mode to prevent overheating
Affordably priced at Rs. 1899 online
For carefully cooking meals, and locking in the nutrition value in the food along with saving time and energy, you should certainly invest in one of these top-selling induction cooktops in India. Induction cooktops are no more a bachelor need –they are increasingly used by most households and are one of the most gifted items during weddings as well. Pick one from the above list of top induction cooktops and unfold a new way of cooking.
More about Induction Cooktops
Considerations For Buying The Best Induction Cooktop
Personally, as a woman, I prefer induction cooktops because of the freedom, comfort, safety, and controls they offer. They are indeed a blessing for homes like ours! So essentially, let's first have a brief look at a few considerations before buying the best induction cooktop.
Number of burners – In India the one zone induction cooktops are very common. You can also opt for multiple burners and bigger induction cooktops too.
Size – Induction cooktops generally don't claim a lot of space (single cooking zone). However, some may seem heavier and bulkier, making them not so portable. Choose according to your need
Wattage – The higher the wattage or power, the faster the cooking.
Controls and display – Touchscreen controls are widely popular nowdays. These buttons do not let water enter the control panel, making the touchscreen a safer option. The display also should be clear and crisp
Cooking modes – Some cooktops come with as many as ten pre-set cooking modes- you need to press the button and done. For these menus, you need not select the power or timer manually. For other needs, you can adjust the requirements manually
Some of the best induction cooktops also come with sensors such as pan sensor, safety sensor, auto power cut sensor, and so on. These are additional features to look for in an induction cooktop.