Do you feel excited while eating frozen ice creams? If you are a seasoned lover, you love to have it during the hot summer months. But what if you would like to give your kids or guests a delicious treat?
You may probably need to purchase from the nearby bakery. Even though they taste well, additives like calcium sulfate, magnesium hydroxide, potassium sorbate, diglycerides, and artificial colors damage your overall health.
Is there any alternative? You can prepare desserts at home instantly without hassle. Sounds crazy, right! A one-stop solution is to have ice cream machines. Moreover, they are becoming popular in today's generation because of their easy accessibility and are perfectly suitable for homemakers to prepare during birthday parties, anniversaries, and other events.
When it comes to buying the ice cream machine, many options are available in the market. It is essential to select items based on brand reputation, types, capacity, material quality, functionality, price, and warranty details. However, if you are not sure, check our detailed information on the Ice Cream Maker Buying Guide to make an informed decision.
We have also done an extensive survey and brought you the list of the top 10 ice cream makers in India 2022 by considering the online reviews, ratings, and more to make the task of buying easy.
Let us dive deep into the products now!
List of Top 10 Ice Cream Makers In 2022
Note: 1 Quart = 0.95 Liter
Best Ice Cream Machines To Buy Online
Last update was on: May 24, 2022 7:04 pm
Best Ice Cream Maker Machines
Cuisinart ICE-21PK Ice Cream Maker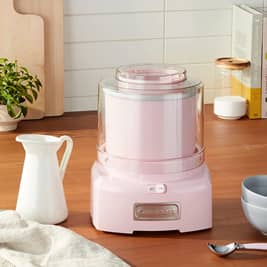 There are dozens of Indian brands producing ice cream machines. If you want to try something new for kids, buy a Cuisinart ice cream maker. Compared to other brands, it offers decent performance throughout the usage.
The insulated bowl has a capacity of about 1.5 quarts which is enough for the whole family. The durable plastic base of the machine holds the bowl firmly. The mixing paddle made up of BPA-free plastic material helps churn from the corners of the bowl and prevents air from entering into the mixture. Moreover, the outer base of the machine comes with 4 rubber grips, which firmly fixes the device on the surface and doesn't cause any disturbance during vibration.
---
Pros
Made of BPA free plastic material
Double-insulated freezer bowl
Prepares sorbets in 20 minutes
Easy locking lid mechanism
Cons
Motor makes loud noise
Poor quality Internal paddle
---
KitchenAid Ice Cream Maker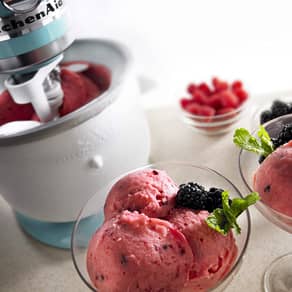 The next one on the list is from KitchenAid. In India, it is a famous brand for offering various home and kitchen appliances like blenders, toasters, etc. One such amazing item is the Ice Cream Maker. Nothing can match the taste of this model as it resembles homemade desserts. You can use this product in the hot summer months to prepare a tasty yet healthy sundae.
The best part is you can prepare flavors of your choice and have control over what goes in. It comes with a few attachments like a rotating dasher, bowl for smooth mixing of natural ingredients. On the whole, the KitchenAid gelato machine offers top-notch performance for the end-users.
---
Pros
Produces soft-consistent desserts
Rotatable dasher for fine blending of ingredients
Comes with a user-friendly guide
Simple and elegant design outer body
Cons
Stirrer attachment damages quickly
Customer support services can be improved
---
Hamilton Beach 68330R Automatic Ice-Cream Maker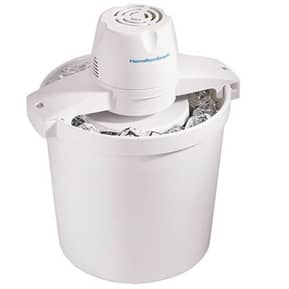 Making sundae is no rocket science with Hamilton Beach ice cream maker. In contrast with the above-mentioned brands, Hamilton takes less time to get frozen completely.
The insulated bowl has a capacity of 4 quarts that provides 6-8 scoops of ice creams. The blades are strong enough to churn the ingredients properly and make thick ice cream. Furthermore, it is helpful in preparing sorbet and frozen yogurt. The device is easy to clean because the lid is wide open, and the bowl is detached.
---
Pros
Comes at reasonable prices
Automatic ice-cream maker machine
Lightweight and easy to carry
Suitable for birthdays, anniversaries
Cons
Generates loud noise
Cheap quality motor and paddle
---
iBELL ICM150A Ice Cream Maker Machine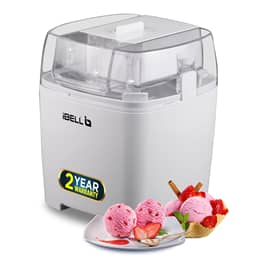 Do you want to buy a budget-friendly ice cream maker for your home? Grab one from the iBell brand that is best in build quality and performance. This electric ice cream maker offers impressive results in making sherbet, gelato, and frozen yogurt. It is easy to operate with its simple plug-in operation.
This compact appliance comes with a total capacity of 1.5 liters to make a delightful dessert for a large family. The heavy-duty mixing blades stir ingredients smoothly and protect from spillage with a transparent lid with a spout opening. This ensures you add toppings like dry fruits, fruit slices, etc., without interruption.
---
Pros
Budget-friendly sundae machine
Modern style with compact design
5 liters of inner bowl capacity
Integrated cooling mechanism
Durable paddle and motor attachments
Cons
Poor delivery services
Produces loud sound during churning process
---
CUISINART Ice Cream Maker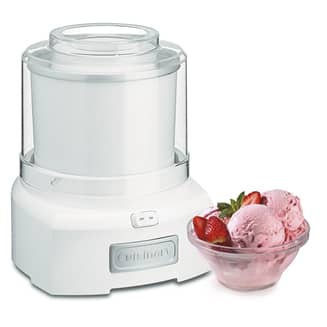 Create your favorite frozen delights with the Cuisinart ice cream machine. You do not have to put manual effort into churning the ingredients into a thick paste. All you need to do is switch on the device and wait for 10-15minutes. They are perfectly suitable for those who want small and sleek home appliances. The best part is it has a double insulated bowl, which prepares desserts quickly.
To talk about the features, the machine comes with a locking system to safeguard children. The top-opening is large and makes it easy to add ingredients and scoop the ice cream when it is ready. It has a transparent lid that attaches firmly to the base to keep the mixture safe.
---
Pros
Easy to clean and maintain
3-years of manufacturing warranty
Perfectly suitable for home use
Power on/off button for convenient operation
Cons
Available only white color
Prone to rust and stains frequently
---
Nostalgia Electrics Ice Cream Maker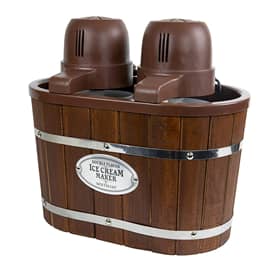 The next one on the list is Nostalgia Electrics Ice Cream Maker. Nostalgia is a newly established brand offering products like coffee mugs, led lights, etc., at reasonable prices. This unique item comes with two canisters, each at a capacity of two quarts so that you can make two flavors simultaneously.
The motor locking mechanism keeps the device secured during the churning process. The plastic-lined interiors allow you to clean the device without leaving any traces of stains. Above all, you will get a manual that contains detailed information about the working, usage, recipes, and more.
---
Pros
Plastic-lined interior
Electric motor helps to churn fast
10-days of replacement guarantee
Recipe book to prepare delicious sundaes
Cons
Does not function properly
Disappointed with the product build quality
---
iBELL ICM15LN Ice Cream Maker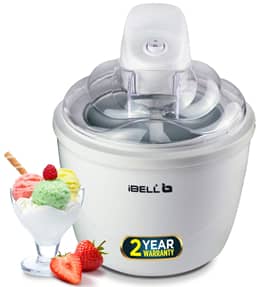 Make your favorite sundae with fresh ingredients using iBell Ice Cream Makers. iBell has hands-on experience in curating high-end products like power tools, garden equipment, machinery, sprayers, and more.
Unlike other brands, iBell products are cheap, so you can buy them without any hassle if you stick to the limited budget. The powerful motor and paddle design make it more convenient to operate. The double-insulated freezer bowl with integrated cooling technology keeps it fresh before serving. In a nutshell, buy this product if you are looking for a multi-purpose option.
---
Pros
Anti-slip rubber feet design
Prepare sorbet, slush, and frozen yoghurt
Unique paddle for quick operation
Transparent lid for easy maneuvering
Cooling bowl, on/off switch, and motor
Cons
Available in small size
Not suitable for large families
---
Kitchenif Digital Ice Cream Maker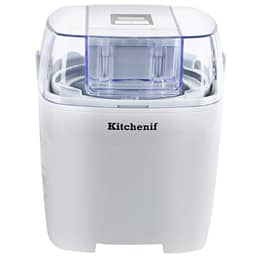 Do you love to eat desserts during mood swings? Well, the Kitchenif digital ice cream maker is just what you need. With this maker, you can produce healthy and fresh desserts at home with ease. It comes with a built-in digital timer to turn the device on and off automatically.
The machine also comes with settings for gelato, or sorbet by controlling the paddle's speed. For better results, it is recommended to freeze in a double door fridge as the single door model is not ideal for freezing the bowl at required temperatures. Overall, it is worth purchasing online.
---
Pros
Affordable price range
Built-in digital timer function
Easy to make healthy and frozen desserts
Prepare freshly in 25-30 minutes
Cons
No return policy
Stops working sometimes
---
Hamilton Beach 68881Z Ice Cream Maker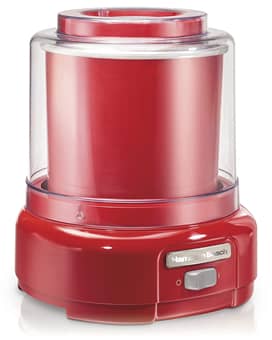 If you are looking for smooth, lush ice cream and can spend huge amounts, Hamilton Beach ice cream maker is your go-to product. It is one of the best options for home use as it comes with a housing attachment, bowl, and paddle for convenient operation.
With this durable item, you can make your favorite treats like yogurt, gelato, sherbet at your home. What's so unique is it is equipped with a powerful compressor that helps you blend natural ingredients faster and efficiently by saving lots of energy.
---
Pros
Made using non-stick materials
Blend favorite ingredients to make desserts
Stylish and attractive design body
Power on/off button
Transparent protective outer lid
Cons
Produces loud noise
Difficult to clean the interiors
---
Orbit Gelato Ice-Cream Maker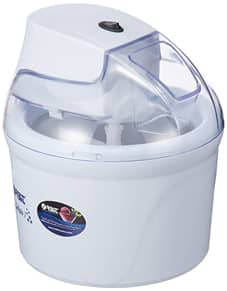 Finally, we ended up on the list with Orbit Gelato Maker. This is the best choice one can ever make due to its convenient usage and long-lasting performance. Switch on/off the device to let you enjoy the homemade sorbet, frozen yogurt, and gelato with family and friends.
What makes the machine more quick and easy is the energy-efficient motors that operate at 220-240 V and 12 Watts power. It features a transparent lid to let you watch the whole process of churning. Due to its lightweight nature, it is easy to carry to different places effortlessly. Also, the 1.5 liters capacity is enough to feed small families.
---
Pros
Detachable freezing bowl
220-240V of operating voltage
Excellent packing and support services
Durable attachments and strong motor
Cons
Made of cheap quality plastic
Looks too basic and damages quickly
---
Buying Guide To Ice Cream Maker Machines
Although, ice cream maker is a kitchen appliance, choosing the right one for your requirement is a troublesome process. Hence, we have given the detailed information below by considering the types, working, capacity, and more for you to make the right choice. Read on to know more!
Do a Bit Research
Before you purchase, we highly recommend you do a short survey on the products by yourself. It will help you to decide the features you want in your device. When you have certain specifications in mind, you can quickly go shopping. Sometimes, you can also take the expert's advice or friend's suggestions who are already using it or a seller who has a keen knowledge of it.
Capacity
Capacity has become a major factor to consider if you are staying in a small or joint family. Machines with large bowl capacity are suitable for joint families and vice versa. However, if you purchase a compressor type, you do not need to consider capacity. It is because they are designed to prepare the sundae instantly. But if we are purchasing canister and bucket types, you should consider the capacity because it takes more time for preparation.
Ice Cream Texture
We all love to have smooth and soft desserts. While checking with all the brands, you might have come across different textures. Though bucket and canister types offer raw and fresh, compressors are best at preparing smooth textured sorbets.
Easy to Clean
All the kitchen appliances must be easy to clean. So, it is preferred to purchase the compressor or canister devices as they have a detachable bowl that can be washed easily. However, if cleaning is not one of the crucial factors for you, you can go with a bucket-type, where the bowl is attached to the machine.
Noise Level
We have checked hundreds of online reviews from the customers where the major complaint is about operating sound. If the machine is making noise continuously while it's working, then it might be intolerable. So, it is vital to look for noiseless models before purchasing from your favorite store.
Types of Ice Cream Makers
We all know that ice cream is a frozen dessert made with milk, cream, sugar, organic flavors, fruits, dairy products and some other ingredients. So, it is vital to know about the types and then decide on buying. However, we have categorized it into 3-types based on the working methods and time consumption. Have a look:
Bucket Ice Cream Machines
Bucket-type are traditional models available at budget-friendly prices. They have a motor attached to the paddle of the machine. It is effortless to use as you need to put ingredients into the bucket machine and start churning. Moreover, it uses salt and ice to prepare gelato, so make sure to add them at the beginning of the process.
However, bucket models are available in two types such as automatic and manual. An automatic bucket-type works on electricity, and for manual models, you should churn the ice cream manually.
---
Pros
Affordable cost
Prepare ice-creams instantly
Large storage capacity
Easy to control the device
Cons
Takes time to blend the ingredients
---
Canister Ice Cream Machines
Canister-type (or frozen bowl) ice cream makers are suitable for everyone because of their moderate budget and are best for persons who plan in advance. They have a bowl containing a freezing element in it. All you need to do is store the bowl in the freezer for 1 or 2 days and then place it in the machine. Now, add the ingredients into the frozen bowl and start the machine. Your sundae will be ready after 10-15 minutes.
---
Pros
Easy to use and maintain
Quick churning process
Stylish and compact design nature
Cons
Low capacity
Not ideal for preparing instantly
---
Compressor Ice Cream Machines
Compressor-type ice cream makers are perfectly digitalized and suitable for all working people. These are more expensive when compared with the above two devices.
Just add the ingredients into the bowl and turn on the machine. The compressor in the machine helps to prepare smooth textured sundae instantly. They also have extra features like temperature setting, speed control, and stores the sorbets for a long time.
---
Pros
Flexible and convenient to use
Suitable for large-families
Comes with smart options like digital display, auto shut-off
Cons
Bulky design
Expensive to buy
---
In contrast, people often get confused about the types while buying ice cream machines online. We suggest you go based on the usage i.e., for home or commercial purposes. According to a survey, canister-type machines are best-selling because they require less manual effort and are budget-friendly too.
Ice Cream Maker Smart Features and Attachments
Spinning Bowl
When you want to prepare desserts for entire family members, a spinning bowl does the work by blending all the natural ingredients. It helps to prepare the sorbet in a frozen state. Some of the brands even offer an extra bowl along with the machine to keep the blended cream in the refrigerator and serve when required.
Automatic Turn-off Feature
In today's world, we want all the products to be automatic. If the ice cream maker has an automatic turn-off feature, it allows you to simultaneously carry on with other work. It saves electricity and does not need your attention too. Adding up, it comes with alarms because once the gelato is ready, it indicates through the beep sound, allowing you to turn off the machine.
Transparent Lid
Usually, transparent lids are placed at the top of the machine to protect from dust particles entering into the machine. Not just that, it also protects the ingredients from spillage. It is made using transparent materials to make it visible while processing and removing it after fine blending.
Final Thoughts
Wrapping up, ice cream makers help in minimizing the work and produce the best flavors at home. Instead of purchasing online or from the nearby stores, it is better to do research and then invest in the right model as it helps make healthy and hygienic creams easily.
After extensive research, we have selected Cuisinart Ice Cream Machine as our first choice because of its unique features like a double-insulated freezer bowl, locking lid, BPA-free plastic material, and durable attachments. All of them help to prepare the desserts in just 20-minutes.
Further, if you have any queries, you can write to us in the comment section. Our team of experts will clarify them as soon as possible.
Happy Shopping!