Anyone who likes to indulge in art and crafts activities would know about the importance of using the glue gun. Although glue guns have been the recent introduction in India, it is safe to say they have found a place in the most home because of the sheer convenience and stable adherence that they provide, along with a professional look and feel. The market has numerous options, but buying the best requires some homework. And we have done that for you to help you choose the product that is best suited for you.
Our Top Picks:
| | |
| --- | --- |
| Best Overall | Stanley |
| Best Budget | THEMISTO |
| Most Adhesive | HOTGLUEGUN |
| Best Power Saving | HOTGLUEGUN |
10 Best Glue Gun In India for 2023
You can discover the top glue guns, perfect for all your crafting and DIY needs in the article below. Our list includes high-quality, durable options with varying features and price ranges to help you find the perfect glue gun for your projects.
Stanley 69GR20B Hot Melt Glue Gun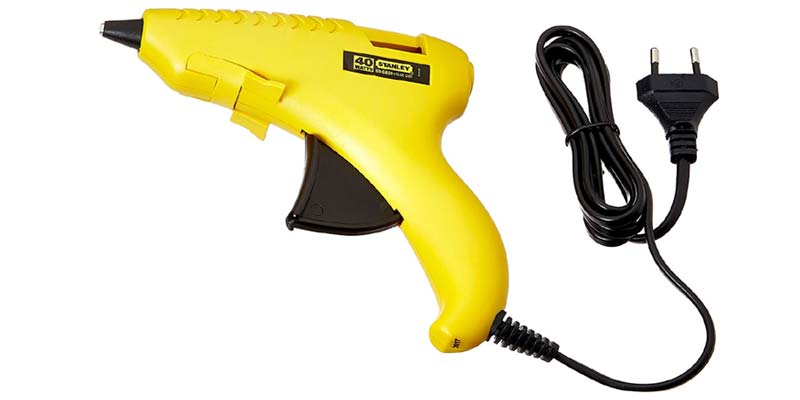 If you are keen on buying a budget glue gun that takes care of your household art and craft and adhesive needs then you can opt for Stanley 69GR20B Plastic Gluepro Hotmelt Gun. Loaded with features, you can use it to stick any two surfaces together.
Key Features:
This is a corded gun that which takes about 3-5 minutes to melt the glue stick. The heating mechanism is quick and glues bonds within 60 seconds.
The flow of glue is controlled by the trigger mechanism
Comes with a fold-out stand that enables you to use it safely
It is ergonomically designed, so you won't feel tired even after using it for longer durations
Gluepro supports only 11mm glue sticks.
If you intend to use the cordless feature, you should charge it for 10-12 minutes and use it for about 10 minutes, and then charge it again
Pros:
Comes with a 1-year warranty.
Does not consume much power.
Gets heated up quite fast. fast hot time (1-2 min)
Ergonomically designed and gives a good grip
Cons:
Does not come with an on-off switch.
There's no power-on indicator.
Does not include glue stick.
Generic 40-Watt Hot Melt Glue Gun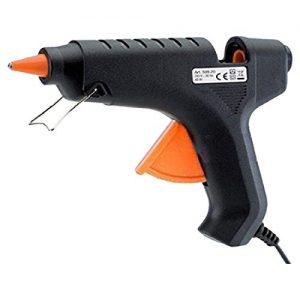 This glue gun from Generic is the ultimate tool for DIY projects and crafts. Using it, you can very conveniently secure materials in place because of its high-quality adhesive. It's powered by a 40-watt heating element that quickly melts the included 7mm glue sticks, so you can start your project right away. Also, the compact size of this hot glue gun makes it easy to store when not in use.
Key Features:
This 40-Watt Hot Melt Glue Gun is designed to be smaller in size than regular glue guns, making it easier to use and store.
With its superior heating element, this glue gun heats up quickly and evenly to ensure optimum bonding of most materials.
It features an ergonomic grip for added comfort when using it for extended periods of time.
A safety fuse is included with this product so that you can be assured that you are protected from any electric shocks or surges while using the device.
Pros:
Absolutely versatile to be used for a variety of projects.
Could easily withstand prolonged periods of use without a decrease in performance.
Cons:
This glue gun comes does not have high Wattage.
Unsuitable for high-heat applications.
HOTGLUEGUN Hot Melt Glue Gun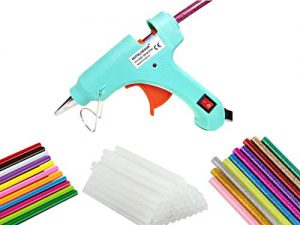 The 20W Power Hot Melt Glue Gun by HOTGLUEGUN is a versatile and reliable tool for any craft or DIY project. It has a comfortable grip, making it easy to use for extended periods of time, as well as two adjustable temperature settings so you can get just the right amount of heat for your project. The included glue sticks are perfect for creating strong bonds between materials like wood, metal, ceramic, fabric, and more. The stand ensures that the gun stays securely in place while not in use. With its high-power output and lightweight design, this glue gun is an ideal choice for all your crafting needs.
Key Features:
It has a comfortable grip, making it easy to use for extended periods of time.
It features an intuitive on/off switch and indicator light to let you know when the glue gun is ready to use.
Pros:
The glue sticks have such strong adhesive that it can easily glue 2 different parts together.
With a power rating of 20W, this glue gun heats up quickly, allowing you to start using it in no time.
Cons:
Not be suitable for use with certain types of materials.
Sometimes, the glue flow may be inconsistent, which can affect the quality of your work.
FADMAN Black 40 Watt Hot Melt Glue Gun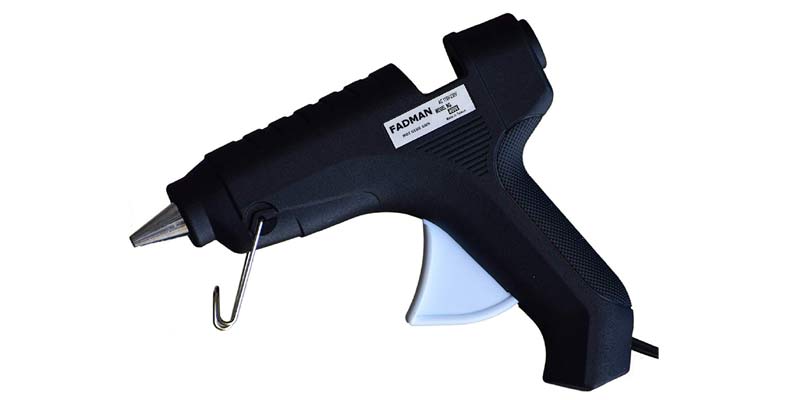 This glue gun is an ideal choice for crafting and DIY projects. The ergonomic design ensures comfortable use over long periods, while the included stand helps keep your workspace neat and tidy. Thanks to its lightweight design and extra-long power cord, you can take this glue gun with you wherever you go. Whether you're working on paper, fabric, plastic or wood, this glue gun from FADMAN will get the job done quickly and efficiently.
Key Features:
This is a lightweight glue gun that heats fast within 1-3 minutes.
Pull the trigger to release glue through the narrow nozzle controlling the release.
It works with 11 mm hot melt glue sticks.
Includes a stainless-steel bracket to place the gun safe when not in use.
Professional, sleek design and comfortable to use.
Pros:
Dries quickly, reducing the time you have to wait for the glue to set.
The nozzle of this glue gun is designed to provide precise and controlled glue application.
The compact size of this glue gun makes it easy to store and transport.
Cons:
The cord of this glue gun is relatively short, which may limit your mobility when using it.
This glue gun has a small glue capacity.
THEMISTO 20 Watt Mini Hot Melt Glue Gun
This 20-Watt mini hot glue gun from THEMISTO is ideal for a variety of craft, hobby, and repair projects. With its small size, light weight, and convenient storage bag, this glue gun is perfect for any crafter or DIYer who needs portability without sacrificing quality. As a bonus, this mini glue gun also includes a stand to keep it upright when not in use perfect for when you need both hands free.
Key Features:
Heats up quickly and produces a steady flow of hot melt glue from the convenient trigger handle.
It comes with two replaceable nozzles for precise application of glue on various surfaces.
Its temperature is adjustable up to 230°C (446°F) with the turn of a knob which makes it suitable for various adhesives.
The nozzle of this glue gun has been designed with a special anti-drip system which prevents any mess from forming as you work on delicate surfaces.
Pros:
Small and lightweight, making it easy to maneuver and use in tight spaces.
Heats up quickly, allowing you to start using it in just a few minutes.
Compared to other hot melt glue guns on the market, this one is relatively affordable.
Less power consuming.
Cons:
The cord on this glue gun is relatively short.
Due to its small size, this glue gun may not be suitable for heavy-duty projects or tasks.
APTECH DEALS Crown 80W Hot Melt Corded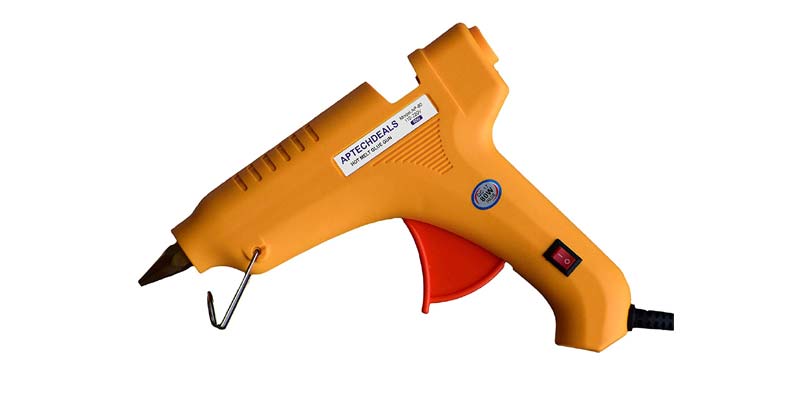 Whether it's your home, office, or school, having a glue gun at your disposal makes it so easy. It helps to assemble, repair and fasten various materials like metal, glass, fabric, and plastics. That is why we recommend this hot melt corded glue gun to find a permanent place at your home.
Key Features:
Made with PTC electric resistance technology and high-quality plastic that is engineered to sustain high temperatures
Designed ergonomically and comfortably for easy use without causing any discomfort
Comes with 5 free glue sticks
The trigger feed mechanism ensures you can control the flow of glue from the gun and prevents spillage
Saves energy and has a long life.
Pros:
Strong build design makes it a durable product.
Lightweight to be carried any and everywhere.
Cons:
Low-quality product as compared to other brands.
Somewhat has a slow heating process
Themisto – 150W Multi-Temperature Glue Gun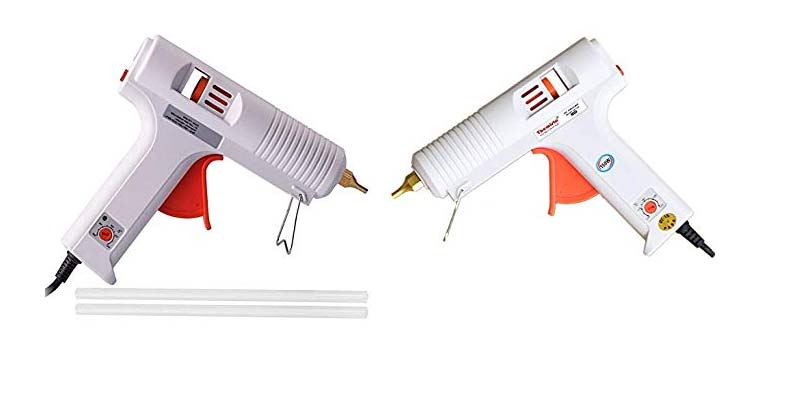 A glue gun that delivers high performance and enables you to control the temperature at an affordable price may seem like a dream, but it is actually a reality. Thanks to Themisto – Built With Passion 150W Multi-Temperature High Power Hot Melt Glue Gun.
Key Features:
A dial-based knob at the hostler base so that you can adjust the temperature From 100 degrees centigrade to 200 degrees centigrade depending on your use and desire.
A power light indicator lets you know when it's powered on
The trigger feed mechanism makes up for the controlled release of glue, though there is a small issue of leakage
A brass anti-drip nozzle tip and stainless steel stand that enables easy usage
A PTC Heating system makes it get heated up quickly and gets its high power. Overheating is prevented by the safety electric fuse inside the gun
Pros:
Variable temperature setting,
fast heating(90 sec)
Cons:
Does not come with a switch button
Penggong Glue Gun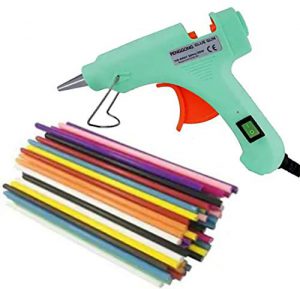 The Penggong 20-Watt Glue Gun is the perfect tool for small projects and crafts. With an ON/Off switch and LED indicator, this glue gun is easy to use and provides a reliable seal for various materials. Its multi-colored fluorescent 7mm sticks are great for adding a bright, eye-catching flair to your project. Be it your school projects or home improvements, the Penggong glue gun has you covered with its adjustable temperature setting, allowing you to use it with a variety of material types.
Key Features:
It ensures precise application and superior adhesion for all types of materials, from paper to fabric to plastic.
This fast-heating glue gun also features a detachable stand for stability when not in use.
Comes with an LED light indicator to show when the device is on and ready to be used.
This easy-to-use device features a powerful 20W heating element, allowing it to reach temperatures of up to 380°F in just few minutes.
Pros:
The glue gun's high-power output of 20 watts makes it suitable for a wide range of tasks.
Compatible with a wide range of glue sticks, making it easy to find replacements.
Its adjustable nozzle makes it easy to control the flow of glue.
Cons:
This glue gun may not be powerful enough for heavy-duty tasks.
Takes longer to dry than other glue guns in the market.
WADRO Plastic Built Glue Gun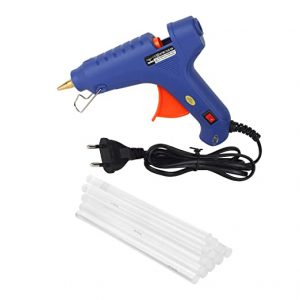 Check Price on Amazon
This gun is perfect for all your glue gun needs, from repairing furniture to assembling models. With high 100W power and a wide range of temperature options, this gun is sure to get the job done right. Plus, it comes with sticks that make it easy to control and apply the glue accurately. So, hurry and pick up your gun today.
Key Features:
It can quickly and easily attach materials like paper, plastic, metal, and more.
The gun is lightweight and easy to handle, making it ideal for anyone.
It is completely safe to use as it comes with a copper nozzle.
It comes with a smooth, and easy-to-use trigger to control the flow of glue as and when required. No need to switch on and switch off repeatedly.
Pros:
Comes with free hot melt glue sticks.
Has got a clog-free design that makes it easy to use.
Cons:
Made from poor plastic material
Crown Brand – Hot Melt Glue Gun
Crown Brand's Hot Melt Glue Gun is the perfect tool for all your craft and home improvement projects. This glue gun is designed to provide a secure and long-lasting bond with its high-quality 100-watt heating element. It is accompanied by an ergonomic trigger handle to allow you an easy and comfortable grip, so your projects are always smooth and precise. And the included glue sticks come in several colors to complete any craft look. You can easily use this glue gun for woodworking, fabric crafts, scrapbooking, artificial flowers, decorations, and more.
Key Features:
It is energy efficient, providing superior performance without compromising on safety.
This glue gun works with a high wattage of up to 100 watts and features an ergonomic design that is easy to handle and use.
The trigger mechanism of this gun is specially designed to help you regulate the flow of hot glue just right.
The non-slip base of the glue gun provides stable operation on any surface.
Its advanced temperature control feature is there to ensure that the glue will not overheat during application.
Pros:
Offers a fast-drying time.
Designed to be used with minimal effort.
Could be easily stored away after each use due to its lightweight design.
Cons:
Cleaning up any excess adhesive residue left behind can be challenging.
The hot temperatures emitted by this glue gun can cause some materials to warp.
Things To Consider When Buying A Glue Gun
Safety: This is the most important point you need to look into. Make sure that the glue gun is equipped with a temperature control and safety shut-off feature to prevent accidental burns.
Power source: Glue guns are typically powered by either electricity or butane gas. Choose one based on your needs and ensure it has adequate power for the job you need to do.
Accessories: Many glue guns come with additional accessories such as nozzle tips and protective caps for storage and transport. Consider what kind of projects you'll be doing to get the correct type of accessories.
Price: There is a wide selection of glue guns that come in a range of prices depending on features and accessories packaged with them. Ensure to pay attention to reviews from other customers when making your decision to purchase a glue gun.
Consider the capacity: If you need a glue gun for crafts, you can go for the glue guns with small tanks whereas, if you are doing some big projects, you can go with the industrial models that have tanks that hold more adhesive.
Features: Make sure to look into the features offered by different manufacturers. The features you should definitely look into are adjustable temperatures, standby modes, ergonomic designs, and an automatic shut-off option to prevent overheating.
Heating time: Check how long it takes for the glue gun to heat up. Some models heat up in a matter of seconds, while others take several minutes.
It's A Wrap:
Because it is a new trend in India, most people get confused when choosing the best glue guns for themselves. It is where the above list of bestselling will help. Choose a popular glue gun, that suits your requirement, and do all your DIY jobs easily by just pulling the trigger. No need to depend on others for small repairs, art and craft needs, and other DIY tasks.
FAQs
1. What types of glue can I use in my glue gun?
You can use everything from standard and high-temperature glue sticks to low-temperature glue sticks and colored glue sticks. Make sure that you always use the appropriate glue stick for your glue gun.
2. How long does it take for the glue gun to heat up?
The heating time for a glue gun can vary depending on the model, but generally, it takes about 2-5 minutes for the glue gun to heat up and be ready to use.
3. How can I clean my glue gun?
To clean your glue gun, wait until it has cooled down completely, and then gently wipe it with a damp cloth. For more
stubborn residue, you can use rubbing alcohol or a specialized glue gun cleaner.
4. Is it okay if I use a glue gun for heavy-duty projects?
Yes, glue guns can be used for a variety of projects, including heavy-duty ones. Just make sure to use the appropriate type of glue stick and temperature setting for the task at hand.