Anyone who likes to indulge in art and crafts activities would know about the importance of using the glue gun. Although glue guns have been a recent introduction in India, it is safe to say they have found a place in the most home because of sheer convenience and stable adherence that they provide along with a professional look and feel. The market is crowded with numerous options, but buying the best requires some homework. And we have done that for you to help you choose the product that is best suited for you.
10 Best Hot Glue Gun In India for 2020 Reviewed
1. Stanley 69GR20B Plastic Gluepro Trigger Feed Hot Melt Glue Gun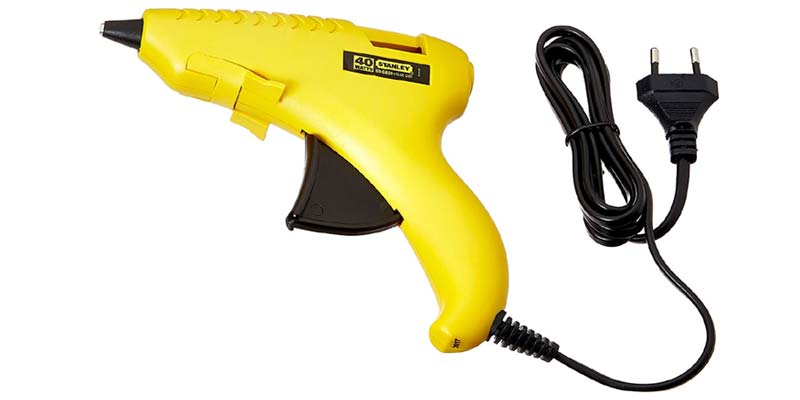 If you are keen on buying a budget glue gun that takes care of your household art and craft and adhesive needs then you can opt for Stanley 69GR20B Plastic Gluepro Hotmelt Gun. Loaded with features, you can use it to stick any two surfaces together.
This is a corded gun which takes about 3-5 minutes to melt the glue stick. The heating mechanism is quick and glues bonds within 60 seconds.
The flow of glue is controlled by the trigger mechanism
Comes with a fold-out stand that enables you to use it safely
It is ergonomically designed, so you won't feel tired even after using it for longer durations
Gluepro supports only 11mm glue sticks.
If you intend to use the cordless feature, you should charge it for 10-12 minutes and use it for about 10 minutes and then charge it again
This amazing product is priced at just Rs. 499 on Amazon.in
Ratings
Amazon: 4.3
Flipkart: 3.7
Pros: 1 year warranty, low power consumption, fast hot time(1-2 min), good grip
Cons: Long Nozzle, no on-off switch, no power on indicator, does not include glue stick
2. Themisto – Built With Passion 150W Multi-Temperature High Power Hot Melt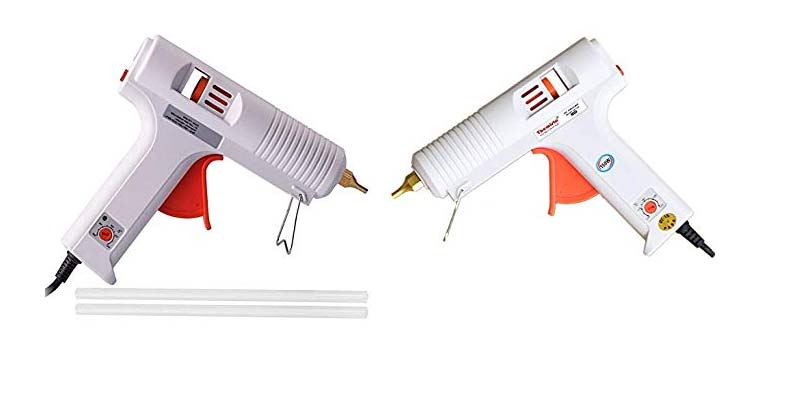 A glue gun that delivers high performance and enables you to control the temperature at an affordable price may seem like a dream, but it is actually a reality. Thanks to Themisto – Built With Passion 150W Multi-Temperature High Power Hot Melt Glue Gun
A dial-based knob at the hostler base so that you can adjust the temperature From 100 degrees centigrade to 200 degrees centigrade depending on your use and desire.
A power light indicator lets you know when it's powered on
The trigger feed mechanism makes up for the controlled release of glue, though there is a small issue of leakage
A brass anti-drip nozzle tip and stainless steel stand that enables easy usage
A PTC Heating system makes it get heated up quickly and gets its high power. Overheating is prevented by the safety electric fuse inside the gun
All these features for Rs. 792
Ratings
Amazon: 4.4
Flipkart: –
Pros: Variable temperature setting, temperature control, fast heating(90 sec), aluminium nozzle
Cons: Free stick quality, no switch button
3. APTECH DEALS Crown 80W Hot Melt Corded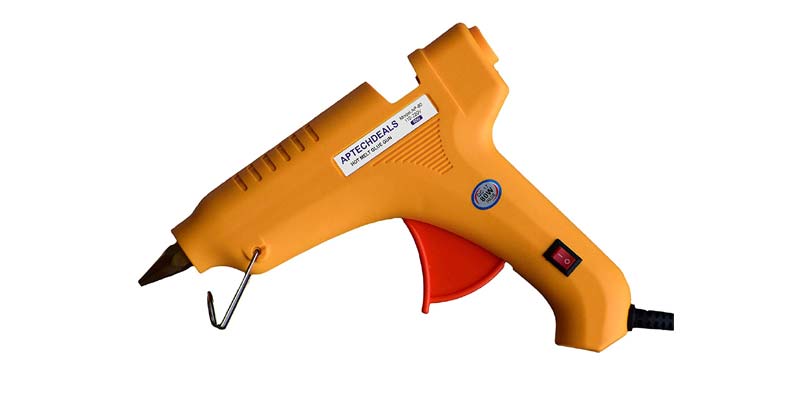 Whether it's your home, office, school, having a glue gun at your disposal makes it so easy. It helps to assemble, repair and fasten various materials like metal, glass, fabric, and plastics. That is why we recommend APTECH DEALS Crown 80W Hot Melt Corded Glue Gun to find a permanent place in your home.
Heats up instantly, peak at 3 minutes and can be used at 2 minutes
Made with PTC electric resistance technology and high-quality plastic that is engineered to sustain high temperatures
Designed ergonomically and comfortably for easy use without causing any discomfort
Comes with 5 free glue sticks
The trigger feed mechanism ensures you can control the flow of glue from the gun and prevents spillage
Saves energy and has a long life.
Priced at Rs. 308
Ratings
Amazon: 4.2
Flipkart: 4.1
Pros: Strong build, light weight, long wire(1.45 m)
Cons: Free glue stick quality, slow heating
4. Winner Itek Leak Proof Corded Glue Gun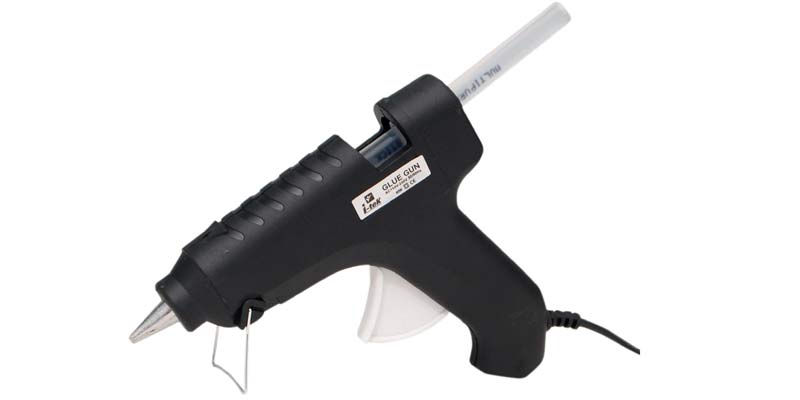 A corded glue gun with exceptional performance and suitable for all DIY jobs, Winner's Itek is a must in your home for minor repairs, small fixes, and DIY needs. An affordable high-quality glue gun, you can always buy it and store it away for use when need be.
Functions on a trigger propulsion device that enables you to control how much glue is to be released
As the name suggests, it is leak proof so you don't have to think about messing your projects or wasting the glue
Comes with a power indicator, a manual power switch and twisting support for the cord
Also has a safety stand holder made of steel to rest the gun safely
It is lightweight to use and designed for comfortable use. Supports 11mm glue sticks
Looks professional, despite its economical price of Rs. 394
Ratings
Amazon: 4.0
Flipkart: 4.0
5. ApTechDeals 4203553442396 PVC 40 W Hot Melt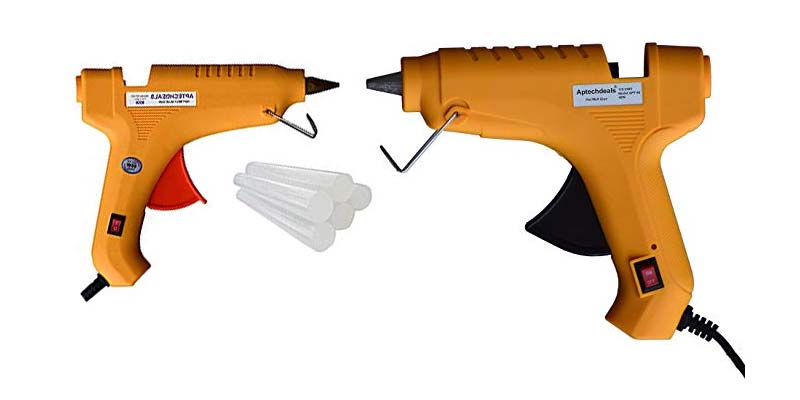 If you have your heart set on buying a powerful glue gun that instantly bonds broken toys, wood, textile and clothing, plastic items, metal, ceramic, card, small electronic pieces, and artificial flowers, then you may like this popular product.
Professional quality item with heavy duty glue output with high tech PTC technology
Pre-heats in just 3-5 minutes and then maintains constant temperature for convenient use
Works on trigger feed mechanism and prevents overflow and wastage, works with gluesticks that are 11mm in diameter and 210mm in length
Soft grip handle for safe and comfortable usage
The nozzle comes with a cover that absorbs the heat and prevents burning
Priced at Rs. 349
Ratings
Amazon: 3.5
Flipkart: 3.8
6. billionBAG 40 Watt Hot Melt Electronic Glue Gun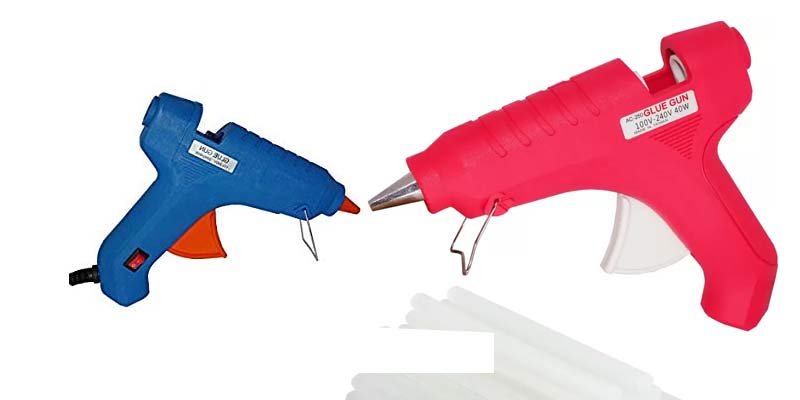 Not just for art and craft projects, DIY projects billionBAG 40 Watt Hot Melt Electronic Glue Gun is also ideal for quick repairs of things that we use daily. One of the best brands, it offers many models to choose from, but we especially recommend this one as it is suited for both home and professional use.
Heats up in 3-5 minutes and maintains constant temperature
With the trigger propulsion features, it helps to control the flow of glue and thus saves on gluesticks as well as prevents spillage
Comfortable design and safe to use, you can use this for varied purposes without worrying
The safety resting stand is convenient as it prevents unnecessary sticking of glue when placed on surface
Priced at Rs. 249, it is a very affordable in India and you also get 10 glue sticks for free.
Ratings
Amazon: 3.1
Flipkart: 3.7
7. Bosch Dremel F0130940JA Silicon

Easy to use, fast, powerful and effective to stick two surfaces together, Dremel F0130940JA is a high-quality professional glue gun suitable for all types of DIY jobs.
It functions at a high temperature of 195 degrees Celsius that effectively reseals broken bits, pieces, and jagged parts together
Works with 11 mm glue sticks
It has an ergonomic, well-balanced design with a T-handle that makes operating it easy and comfortable
A solid, extendable plastic stand allows you to position the glue gun safely
It has a few extra features such as a power indicator light, a manual switch to power on and off the gun and a removable cord for some cordless minutes.
Coming from the house of Bosch, this is one of the most sustainable product in India, having a long life and fewer maintenance issues.
Priced at Rs. 2800 online, it is suitable for both experts and beginners.
Amazon: 3.9
Flipkart: –
8. Unigear Dual Watt (60/100 W)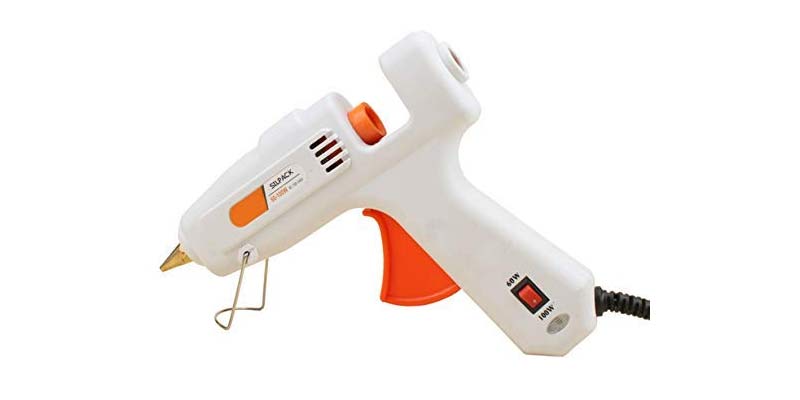 Another high-performance dual voltage bestselling glue gun in India has to be Unigear's Dual Watt that works with professional efficacy with a heavy duty glue output. Use it to bind together anything from ornaments, handicraft, titbits of electronic appliances, wooden products, clothes, toys, glass, etc.
Pre-heats in 3-5 minutes and maintains constant temperature thereafter
Comes with a wattage switch on the handle so that you can choose the desired power for your project
A steel bracket stand to safely rest the gun when not in use
Works on the trigger feed to release glue output in a controlled way
Made with high tech PTC technology and thermal insulated soft grip handle that is soft, easy to hold and the design is ergonomic
The package contains 8 pieces of melt glue sticks so that you can start using it right away
Get it for Rs. 554 online on Amazon.in
Ratings
Amazon: 4.4
Flipkart: –
9. Manbhari 60W Hot Melt Glue Gun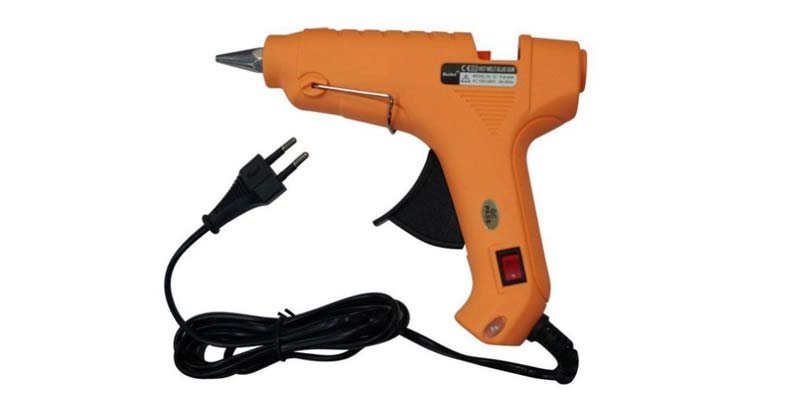 An exclusive glue gun for all your home needs and DIY projects that is of high quality yet not expensive is the one from Manbhari.
It is a trigger mechanism glue gun and you can control the flow of the glue
It takes about 2 -3 minutes to heat up the glue and then maintains the temperature
The design is comfortable to use and it does not stress the arm or the fingers
Comes with a steel stand that enables you to safely rest the gun on it when in the middle of your project.
The package contains 40 pieces of glue sticks so that you can start immediately
Priced at Rs. 650 online
Ratings
Amazon: 3.7
Flipkart: 4
10. FADMAN Black 40 Watt Hot Melt Glue Gun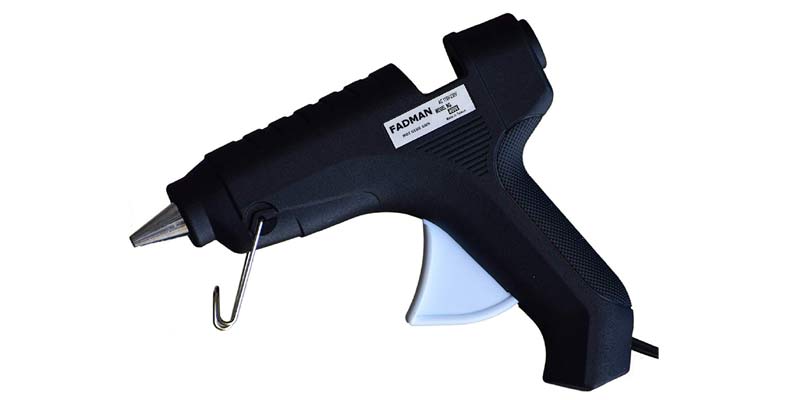 If you are looking for an inexpensive hot met glue gun of good quality, then you can try FADMAN's 40-watt hot melt.
This is a lightweight glue gun that heats fast within 1-3 minutes
Pull the trigger to release glue through the narrow nozzle controlling the release
It works with 11 mm hot melt glue sticks
Includes a stainless steel bracket to place the gun safe when not in use
Professional, sleek design and comfortable to use
Priced at just Rs. 138 on Amazon.in
Ratings
Amazon: 3.1
Flipkart: 3.8
Because it is a new trend in India, most people get confused when choosing the best glue guns for themselves. This is where the above list of bestselling will help. Choose a popular glue gun, suiting your requirement and do all your DIY jobs easily by just pulling the trigger. No need to depend on others for small repairs, art, and craft needs and other DIY tasks.