Purchase of any electronic equipment is a long-term investment, especially the ones that fall under the home appliances category. One such device that is widely used across households is Gas Geysers. However, owing to the market being cluttered with so many products, choosing the right one could become an arduous task. Here in this list, we will make your selection process easier by presenting all the best Gas Geysers in India to pick from.
Our Top Picks:
Last update was on: January 26, 2023 7:24 am
Top Gas Geysers in India
So, without any further delays, let's quickly get into this exhaustive and well-researched list about the best Gas Geysers that'll make your morning warm!
Bajaj Majesty Duetto Gas 6 Ltr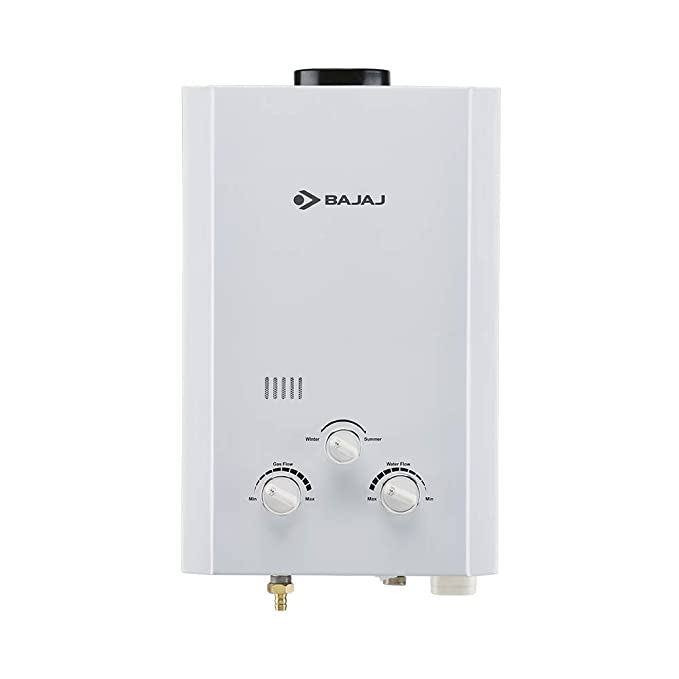 Bajaj is one of the leading and most trustworthy electronic brands in India, which has provided customers with high-quality appliances for close to a century now. As such, it comes as no surprise that their Majesty Duetto 6 Ltr Gas Geyser has topped our list. The product comes with a series of spectacular features, which has helped in making it the top-rated Gas Geyser on the e-commerce platform Amazon. On top of that, the possibility of availing big discounts by using Bajaj coupons also makes the appliance the go-to choice of users.
What we like about the Majesty Duetto Gas Geyser:
Upon using the product, we noticed it's made of high-quality, anti-corrosive steel, ensuring it has long-lasting durability.
It comes with loads of safety features like child lock, anti-free and flame-failure devices, and more.
The gas geyser comes with a 2-year warranty period and is installed free of cost by the company personnel.
V-Guard Safeflo Prime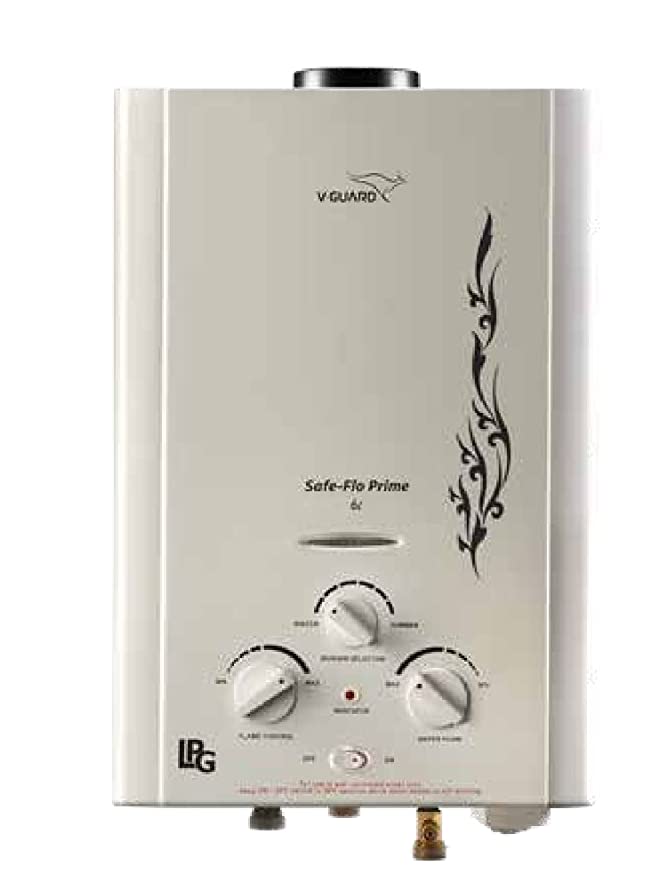 The Kerala-based manufacturing brand was established back in 1977 and, since then, has become a dominant force to be reckoned with in the home appliance industry. The company has a host of great consumer-friendly electronic products, one of them being the Safeflo Prime Gas Geyser which comes with a 6 Ltr capacity and several enticing features. The geyser's myriad of impressive features and positive reviews on public forums have made it hard to ignore for us, which is why it has found the second spot on this list.
What we like about V-Guard Safeflo Prime:
This geyser has a slim and compact design, making it perfect for you to attach it anywhere you want; be it your kitchen or bathroom.
Weighing around at just roughly 6 kg, it is one of the most lightweight geysers out there in the market.
Alongside the product, consumers get a host of other accessories like Mounting Screws, Gas inlet faucets (with rubber washers), and more.
Orient Electric Techno-DX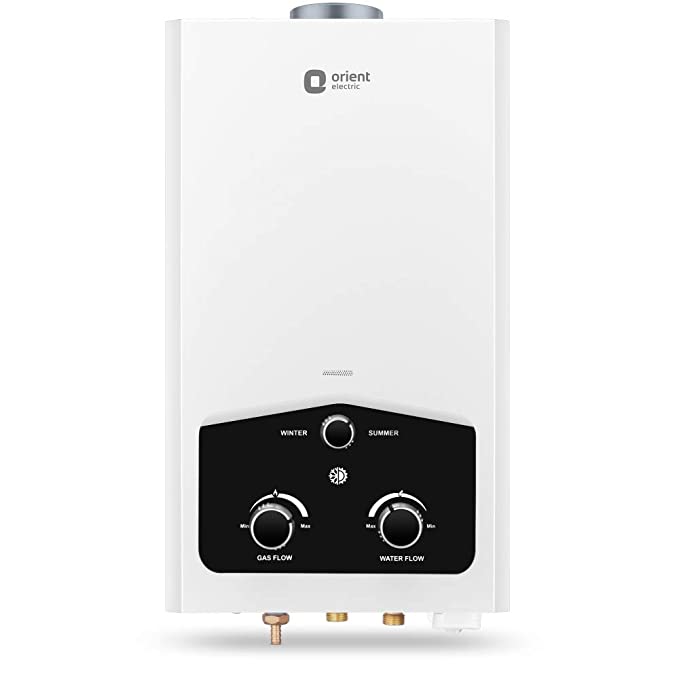 Orient Electric is one of the most reputed electronic brands in India, manufacturing a variety of high-quality appliances for its large consumer base. Owing to its great overall ratings and reviews, we were all but confident that their Techno-Dx Gas Geyser would not disappoint us. As it turned out, the product didn't only meet our expectations but far surpassed them.
What we like about Orient Electric Techno – DX:
One of the most notable aspects that stood out about this geyser was its stainless-steel burner which ensures it has a long shelf-life.
The thermal cut-off function instantly turned off the gas flow when the temperature exceeded the permitted limit, which is a testament to just how safe the gas geyser is.
The adjustable knobs of this product make sure that you can set the temperate of the geyser depending upon the season and climate.
ACTIVA Instant Aqua Gold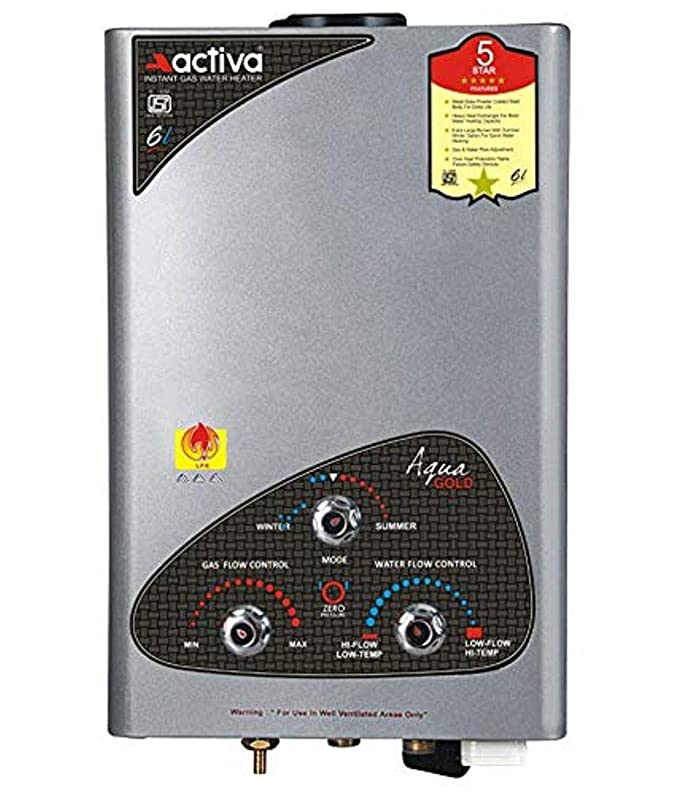 Another Delhi-based company, Activa Home Appliances, was established almost three decades back in 1993. The brand has found a space for itself in the crowded electronics market, thanks to its high-functioning products. One of their best-rated products, the Instant Aqua Gold Gas Geyser, has found a place on our list. It comes with loads of eye-popping features that made us order it online and see it for ourselves if it delivers on what it promises!
What we like about ACTIVA Instant Aqua Gold:
The exterior of the product we received was something to marvel at, with the combination of grey and black colors giving it a sophisticated look.
The gas geyser is much more pocket-friendly when compared to other ones in the market while also consuming comparatively less gas.
The burner is made with pure copper to ensure it is safe from any sort of flame failure and has a long shelf-life.
Hindware Eveto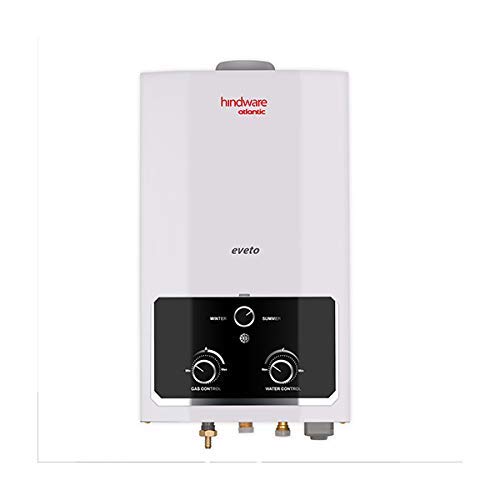 With over 5 L happy customers, Hindware is one of the most sought-after and fastest-growing home appliances brands in India. The Gurgaon-based company has a range of top-tier products whose quality can give other brands' products a run for their money in terms of features and specifications. One such appliance is their Eveto 6L Gas Geyser, which, upon use, turned out to be just as good as the customer reviews suggest.
What we like about Hindware Eveto:
The biggest USP of this gas geyser is that it's integrated with a solenoid valve, which makes it one of the safest options in the market to pick from.
The lustrous design gives it a great overall look, making it perfect to complement other appliances in your kitchen or bathroom.
The product comes with anti-dry burning protection that ensures the temperature doesn't cross the dangerous limit.
Racold 6L ODS ECO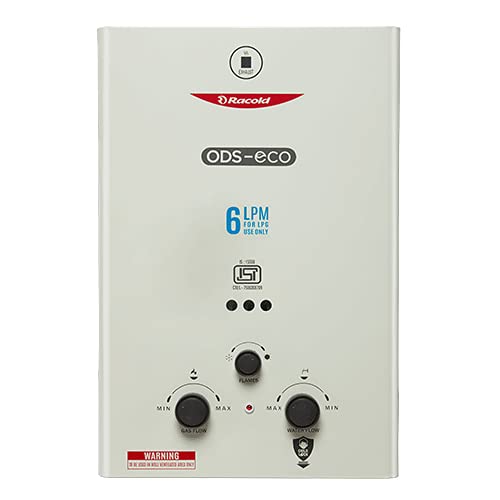 Racold is a subsidiary brand of the Italian company Ariston Thermo Group, producing water heaters and geysers. Thanks to their specialization in geysers, Racold's products are widely trusted among consumers. Upon practically using their 6L ODS ECO gas geyser, we can safely say it's one of the, if not the best in the market today, though it's slightly costly when compared to other products.
What we like about Racold 6L ODS ECO Gas Geyser:
The product comes with a stylish LED display, making it much more technologically savvy than your average gas geyser.
It has an Oxygen Depleting Sensor that ensures ample ventilation and minimizes the risk of any unwanted hazards.
The gas geyser comes in dual categories; one that is filled with LPG gas, while the other with PNG.
BlowHot Gas Geyser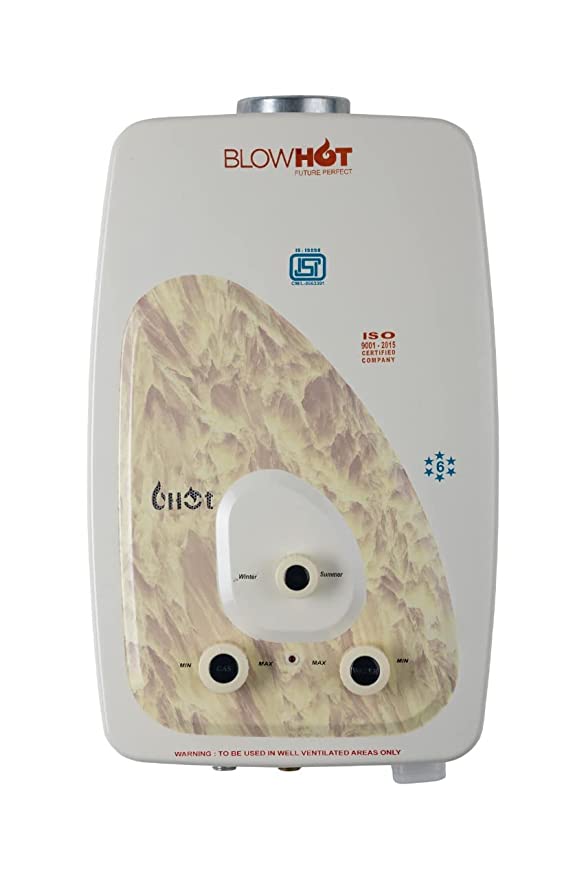 The Indore-based company manufactures a range of home appliances and electronic products that customers have embraced if their reviews on public forums are anything to go by. One of their most impressive products is their gas geyser which has a never-ending list of features. As such, we ordered the appliance to test it out for you, and boy, were we impressed!
What we like about BlowHot Gas Geyser:
The product comes with a fantastic automatic cut-off feature that shuts down your geyser after 20 minutes to ensure you save gas, and money and, most importantly, safeguards your health.
The advanced thermostat technology minimizes the risk of dry burning, ensuring the temperature doesn't surpass the risk limit.
The most assuring feature about BlowHot geysers is the fact their range of products are the first in India to get ISI certification.
Longway XOLO DLX 7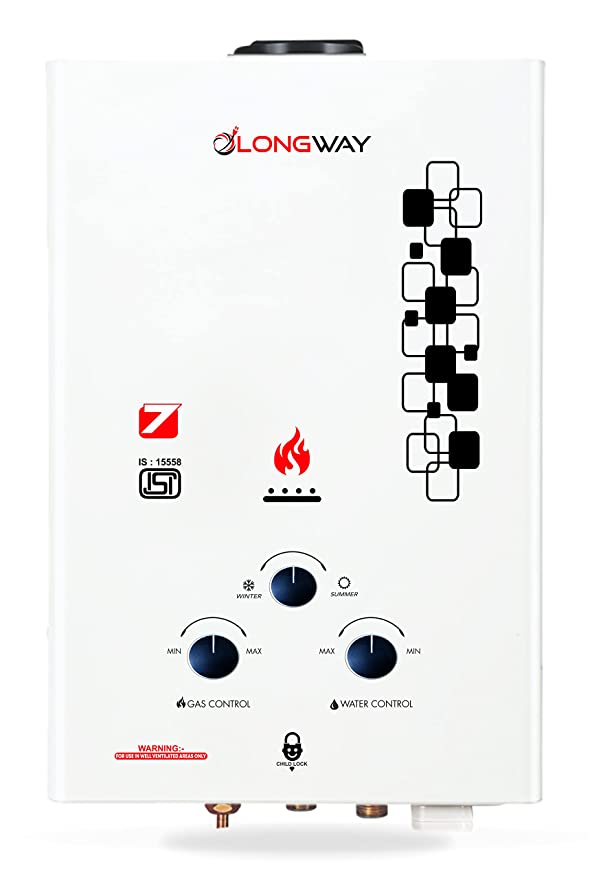 The Delhi-based electronics brand manufactures everything you would want in your home to make your life comfortable. The relatively new company has a range of super-impressive products, with one of their bestsellers being the XOLO DLX 7 Gas Geyser. For the purpose of this list, we used this appliance and found it to have some stupendous features that could make it your preferred option.
What we like about the Longway XOLO DLX 7 Gas Geyser:
The product has an anti-rust coating, making it corrosion resistant, thus improving its durability in the long run.
The geyser has a BIS-approved Copper Heating Element and is made of high-grade 304 L steel.
Most impressively, it's BEE 5-star rated, meaning it's not only eco-friendly but would also help you to make tons of savings on your power bill.
Surya Instant LPG Gas Geyser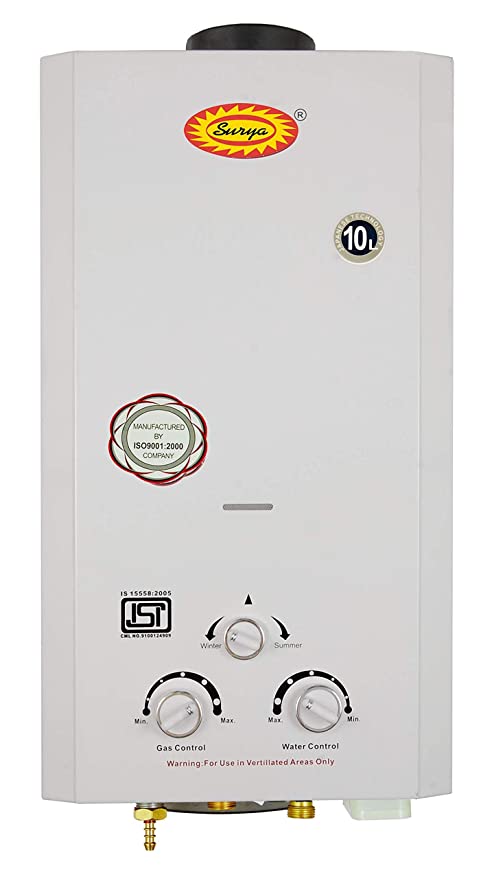 This Delhi-based company was established back in 1973 and, over time, won over the customers' trust thanks to its top-quality home appliances. It comes as no surprise that Surya also found a place on our list with its Instant LPS Gas Geyser. Though it's costlier than other products on this list, customers can get complete value for money, thanks to its seemingly endless and unique features.
What we like about Suya Instant LPG Gas Geyser:
When we looked for the product on e-commerce platforms, we found it to be available in multiple capacities, from 6 L to 10 L to 16 L and more.
The geyser comes with an impressive IC – ion induction flame-out protection setting which ensures there's minimal chance of any unfortunate mishap.
It also has a double pulse ignition and full-size reflector for better and effective performance in the long term.
Jones Euro 7 ltr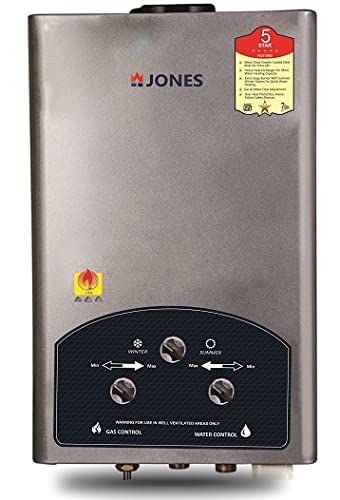 This gas geyser is one of the most affordable ones out there in the crowded market today. However, there's no compromise on its quality as it comes with some great specifications and features that would make you sit up and take notice. The fully-automatic Jones Euro 7 ltr geyser is made of stainless steel, meaning it's safe from getting rusted for a long time. And the icing on the cake is that the product comes with a 2-year warranty period.
What we like about Jones Euro 7 ltr:
The first thing we noticed upon getting the product was that it had multiple safety systems in place for protection from overheating.
The geyser is ISO approved and ISI marked, which is a testament to its quality, effectiveness, and efficiency.
Jyoti Silver LP Instant Gas Geyser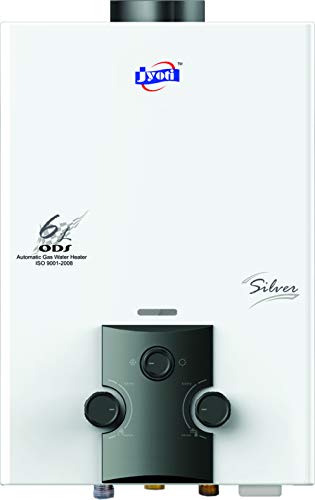 Though the Pune-based company is little-known among the masses, the quality of its appliances more than compensates for it. One of their most in-demand and popular products is the Silver LP Instant Gas Geyser, which comes with several impressive in-built features that could capture your imagination in an instant.
 What we like about Jyoti Silver Gas Geyser:
The standout feature of this geyser is that it works with 0 pressure, which ensures it can be used by people living on top floors of high-rises without any fear of an accident.
The geyser also has a special knob system that keeps the water in check in case the temperature crosses the dangerous parameters.
Best Gas Geyser Brands – Ratings & Best For
| | | |
| --- | --- | --- |
| Brand | Overall Rating | Best For |
| Bajaj | 4 | Time to heat & Easy to use |
| V-Guard | 4.3 | Energy efficiency & Easy to install |
| Orient | 4 | Instant heat & Value for money |
| Activa | 3.9 | Easy to use & Durability |
| Hindware | 3.9 | Hi-Tech Design & Easy to install |
| Racold | 4.2 | Easy to use & Value for money |
| BlowHot | 4 | Best Design & Energy efficiency |
| Longway | 4.2 | Energy efficiency & Time to heat |
| Surya | 3.6 | Easy to install & Easy to use |
| Jones | 4 | Best Design & Water Capacity |
| Jyoti | 4.2 | Budget friendly & Prevents from overheating |
The above table showcases a thorough breakdown and analysis of all the gas geyser brands featured in this listicle. Through our rigorous research, we have attempted to present to you the uniqueness of each brand in a crisp manner, backed by cumulative ratings from a number of e-commerce platforms.
Things to keep in mind while purchasing a gas geyser:
Power Consumption: Though a gas geyser consumes comparatively less power than an electrical geyser, it still contributes to your monthly electrical bill, no matter how minuscule. This is why it's wise to keep an eye out on just how much power the potential gas geyser you're looking to purchase consumes. If you come across a geyser that assures you savings on your electricity bill, there's no looking ahead. Just opt for it!
Safety and Protection: Any electrical equipment is dangerous. No matter how safely you use it, the chance of an unfortunate mishap taking place is never out of the question. As such, it's doubly essential to look for a gas geyser with ample protection mechanisms to minimize the risk of accidents as much as possible. Child-lock and flame-failure devices are the most vital features one should look for when looking for a gas geyser.
Pricing: Most buyers often tend to filter out products on e-commerce platforms in terms of pricing. This is because it's human nature to look for something which comes at an affordable rate while also fulfilling all needs. Gas geysers come in a wide variety of price ranges, depending upon the specifications and features it offers. Look for a geyser as per the budget you have in mind, instead of burning a hole in your pocket!
Warranty: Just as we mentioned in the introduction, any electrical appliance we purchase for our homes is a long-term investment. As such, it makes all the sense in the world to go for a geyser that offers a decent, preferably, at least two years of warranty.
We hope this article helped you get a thorough understanding of the best gas geysers in India today. Though we might have listed all the features, in the end, it's entirely up to you to make a decision. Go for the one that meets all your needs and makes your life more comfortable! Also, if you feel you want to go for an electrical geyser, check out the list of Best Geysers in India. Thanks for reading!